Rocky's yell echoing down the Art Museum's steps. The word love stacked on top of itself. A nearly 300 year old cracked bell hanging in a glass hall. A prison that housed Al Capone and was the model for over 300 prisons worldwide.
Ah, Philadelphia, my hometown.
I love thee for your soft pretzels sold at red lights across the city. I love thee for your brash, devil-may-care attitude. And I love thee for your rich history of immigrants that birthed America and some darned good food.
While it's been years since we reunited at Christmas — 15 to be exact, our last Christmas was the last one that the World Trade Towers saw — I miss wandering your twinkling streets, tripping over historic cobblestones 'round the corner from Ben Franklin's grave, and seeing pennies stamped in your enormous mint.
You saw my awkward duckling phase, complete with Coke-bottle glasses and braces. And when I visit you, I get lost in the gangster streets of North Philly, careening madly in search of a street to take me out to my familiar 'burbs.
This Christmas, skip the train north to New York City and her giant sparkling Christmas tree. Instead, stay in Philly, my hometown, and soak in that good, old fashioned brotherly love. Wondering what to do in Philadelphia? Read on:
Holiday Spirit
Nothing thrills like live music — live Christmas music that is. Experience a spectacular lineup of Christmas favorites performed by expert musicians coaxing unbelievable sounds from instruments. Guaranteed that you'll leave with holiday cheer in your heart, even if you felt like Scrooge at the start.
Thanks to the many German immigrants in the Philly area, you don't have to travel far to experience a traditional German Christmas Market.
At Christmas Village, in 80+ wooden booths, vendors sell holiday gifts (think: Christmas ornaments, arts, toys) and traditional German food and drinks at this outdoor market. Breathe in the sweet scents of waffles, gingerbread, and sizzling bratwurst. Stay warm with a glass of mulled wine as you marvel at the thousands of lights strung overhead.
Winter Penn's Landing
See the, admittedly, very historic spot where William Penn first stepped foot onto Pennsylvania soil through a whole new lens.
Ice-skate (skate rental $13) with your loved ones on the Olympic-sized skating rink overlooking frigid Delaware River. Warm up in the ski chalet masquerading as a heated tent with hot chocolate by roaring fire pits.
Arcades, comfy leather couches, front porch rocking chairs overlooking the frozen Delaware River — you'll see why this winter wonderland has been a holiday favorite for the past two decades.
New Year's Eve Fireworks on the Waterfront
Penn's Landing, don't walk away from me. We're not finished with you yet. On New Year's Eve, return to Penn's Landing for a rollicking fireworks show over the wide expanse of the Delaware River.
Reading Terminal
Located at 12th and Arch Streets, Philadelphia's historic public market was founded in 1892. Today, wander through 100+ merchants, finding artisan cheese, ice cream, spectacular flowers, crafts, and more.
Marvel at the 500 square foot model railroad display set up for Christmas. A train chugs around nearly a mile of track, through snow-dusted minature trees and a snowed-in village.
Stop by Philbert's sculpture and give the market's piggy mascot a kiss. Don't miss Tommy DiNic's delicious Beef and Pork stand or Beck's Cajun Cafe. Finish off your oh-so-good eating with ice cream from The Original Turkey & Bassetts Ice Cream.
Curious where cheese steaks, hoagies and pretzels — all Philly food favorites — originated from? Find out in Reading Terminal's 75-minute walking tour led by a food-writer.
Wander the streets of 1840's London thanks to this little borough's December transformation.
Shake the hand of the Ghost of Christmas Past. Or hike Little Timmy up on your shoulder for a dance to a tune belted out by the brass musicians. Exchange scowls with Ebenezer Scrooge. The gang from A Christmas Carol roam the streets for one afternoon only.
Oh, and the clincher: it's free.
Good Eats
Philly Cheesesteak
Also known as: what I'd fly cross country for in a heartbeat. Heck yeah.
Juicy thin-cut beef. Chewy hoagie roll with a flaky crust that scatters crumbs everywhere. And Cheez Whiz. (Or for me, I'll take the cheesesteak with no cheez, pleaze.)
Check out Dalessandro's Steaks and Hoagies in Roxborough about 20 minutes north of Center City, in downtown Philly. Or John's Roast Pork for old-school atmosphere — since 1930, yous guys — and a non-believer in Cheez Whiz. John's delivers a solid, delicious cheesesteak.
So, Philadelphia is crammed full of Italians. (Seen Rocky? You know what I'm talkin' about.) And those Italians make a mean pizza. Floppy. Greasy. Crust perfectly browned but melt-in-your-mouth chewy.
Giuseppe's makes pizza I dreamed about for ten years after leaving my Philly hometown. The love of their pizzas sent me on multiple pizza-devouring searches to find a Rocky Mountain version of this sublime pizza.
I never came close. Do yourself a favor and get a pie from Giuseppe. Just a 30 minute drive from Center City and you'll see — he knows what he's doing.
What to do in Philadelphia for Free
Mummers Parade
A weird parade of dancing, feathered costumes believed to be the oldest folk festival in the United States. Held on New Year's Day, this parade follows Broad Street north in Philadelphia.
The parade's roots go back to the 17th century. The oddity stems from the fact that it blends elements from a handful of heritages you'd never think would blend together: Swedish, Finnish, Irish, English, German, and African. America's a melting pot!
Elaborate costumes celebrate the inner wonkiness that you'd never guess historic Philadelphia, with its "first capital city of the United States" title, has. I've never seen the parade in person, but this uniquely Philadelphia spectacle is on my bucket list.
Boathouse Row Lights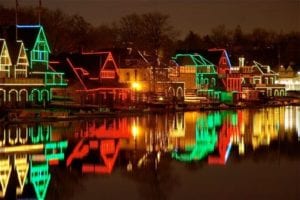 My favorite scene in Philadelphia is the handful of sculling clubs lining the Schuylkill River behind the Philadelphia Museum of Art.
At night, these boathouses are etched in lights, reflecting off the dark river out their back doors. Meander the 10-mile long Schuylkill River Trail, a paved path parallel to the river. But for the best view of the boathouses, cross the river to Martin Luther King Drive.
Macy's Light Show at City Center
More than 100,000 lights and a 4-story velvet curtain. Organ music serenades you. Stand open-mouthed at the hourly light show in good, old-fashioned spirit with this Philly Christmas tradition. No over-the-top lights — just the pure magic of a light show in the vein of Christmases past. Perfect for this historic department store on Market Street.
Packing List
Let's not beat around the bush here. Winter in Philadelphia is cold and more prone to rain than snow. Cross your fingers and toes for a white Christmas.
Your warmest hat: that chilly breeze off the Delaware ferrets out and kills all warm spots
Wind-breaker winter jacket: obviously
Comfortable walking shoes with a thick sole
Winter scarf
Tank top
Long-sleeve t-shirt
Cardigan or fleece: layers are your best friend in this moisture-laden cold
Umbrella
TL;DR
Experience the holiday joy in my hometown, Philadelphia, to feel the warmth of the City of Brotherly Love. She really knows how to celebrate Christmas right with these holiday goodies:
Boathouse Row Lights: see Philly's most memorable vista from the perfect viewing spot on Martin Luther King Drive
Dalessandro's or John's: see one of these boys for the best Philly cheesesteak
Giuseppe has you covered for finger-licking-good pizza
Mummers: see feathered costumes dancing in the Philly streets that's unlike anything you can even imagine
Want more like this?
Get weekly gear reviews, travel hacks, and packing tips sent straight to your inbox. We'll send you a carry on packing list right away.