If there's one thing I learned from working on a cruise ship it's that cruise ships are an absolute mess.
Dozens of nightly events and shore excursion options, on top of massages, gyms, concerts, shows, bars, lounges, restaurants, and buffets… everywhere.  Cruise ships are chaos in motion—literally—so packing for a cruise requires a certain kind of zen.
From scenic Alaskan glacial cruises, to family-friendly Disney excursions, and non-stop parties in the Caribbean, every cruise has something special to offer. But despite their unique amenities, themes, and far flung destinations, cruise ships have more in common than you think.
Here's a complete cruise ship packing list with everything you could ever need for your next cruise, whether it's 3 hours, or 10 days. Bon voyage!
Cruise Ship Packing Essentials
Carry On Rules Apply
Ok, so carry on rules don't actually apply on cruise ships, but they should. The rooms or "berths" if you're hip to ship lingo (everything aboard a ship has to have a cool nautical nickname) are very, very small. Even the expensive rooms. You'll usually only have enough room for one bag per person. Don't hog the whole room. You're better than that.
A cruise ship is basically a week-long boot camp to perfect your carry on ninja packing skills. Everything aboard ships is small, compact, and extremely efficient. If you're on a really old-school cruise, the shower head might be located directly above the toilet seat. Seriously.
Take a cue from your environment and embrace the power of packing light. Also, don't spend more than one second longer than you have to in your room. Your shower has a toilet in it for heaven's sake.
Pack Your Important Stuff in a Carry On. Please.
If you can't condense your luggage to just a carry on (big mistake, but hey, I'm not here to judge), make sure you pack any essential items in a carry on. Keep important stuff like contact lenses, medication, and at least one change of clothes—including your swimsuit—within arms reach.
Even if your bag doesn't get lost at sea, it'll take a few hours for it to get to your room. Don't sit around waiting for your stuff—pack what you need to hit the ground running, and explore the ship while everyone else waits for their bags. Strange things happen at sea and luggage goes missing, but if you have the bare essentials and a pair of board shorts, you'll be lounging by the pool in no time.
Bring a Valid Passport (Even for Domestic Trips)
You should absolutely bring your passport with you every time you cruise. Certain destinations require it (the Caribbean, Europe, etc.), but it's still a solid idea even if you're just cruising the California coast.
Weird things happen at sea. Storms blow you off course. Ports close. Engines fail. Pirates happen (seriously). Norovirus outbreaks cripple crew and passenger alike (I've seen an outbreak, and believe me, you'll want to head for the nearest port no matter where it is). Heck, my friend's ship even sank once off the coast of Alaska. Not kidding. Cruise ships are the new wild west, but even crazier because you're on the freaking OCEAN.
They don't call it "International waters" for nothing. Bring your passport.
If you insist on not bringing your passport, double and triple check the passport requirements of your cruise ship and destinations. It will suck when you have to stay on board, or worse—they don't let you board at all—because you didn't read the fine print.
Nautical Nerd Alert: Non-American flagged vessels (which is practically every single cruise ship company in the world, including many in operating in America) have to make one foreign port of call between departing and returning to American soil. It's a super weird maritime law—one of many—but suffice it to say odds are, you're going to go through passport control on your cruise.
Cruise Ship Packing List
Enough about the rules and passports. Here's the list of what you should actually pack for your next cruise:
Hybrid Board Shorts — Men

Obviously you're going to pack a bathing suit. I know you don't need to be told that. However, it bears mentioning that you can't just pick any bathing suit. You'll spend a shocking amount of time in your trunks, so make them stylish, functional, comfortable, and above all else quick drying!
Look for a pair of shorts with more than 5% "elastane" (for stretch) and at least one fully sealing pocket. Velcro pockets are fine, but only the *skritch* sound of ripping velcro just reminds me of high school when I had a No Fear wallet with $4 in it attached to a three-foot metal chain. High school was a rough time.
Silent, rust resistant zippers are a common staple on boardies, and I'm a big fan of these swimsuits:
O'neill Traveler Hybrid Board Shorts are a solid line of swim trunks that look great in and out of the pool. Options start at $24 quickly heading up to $50 for more stylish options like the Locked Overdye Hybrid Shorts ($52)
Billabong's Lo Tide Stretch Board Shorts ($21 on Amazon) are a little more stylish—especially the ones with the white waist band trim (in my humble opinion)—and cost a lot less.
Reversible Bathing Suit & Dress – Women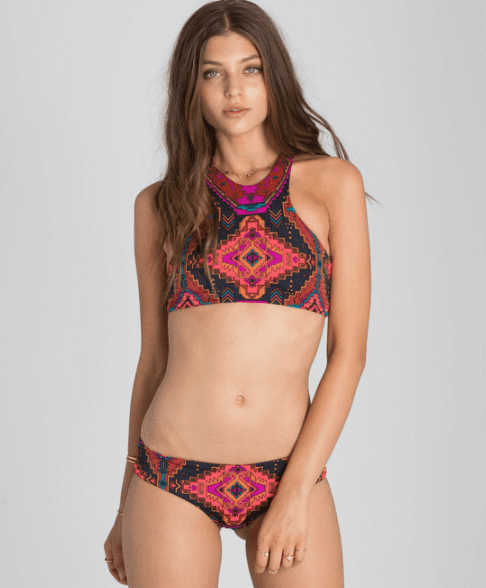 While you can mix and match inexpensive bathing suit tops and bottoms from places like H&M, a reversible bathing suit is such a great way to look awesome (twice) while saving lots of space.
High Neck Reversible Bikini Top from Billabong ($38) looks incredible and is comfortable (15% elastane)
Another option is a simple, classic cover up while reading by the pool. Billabong features tons of options including the Lex Beach Pant ($50) (which goes great with that reversible top, btw).
Take it one step further and pack a reversible dress and you'll get two nights and two looks out of the same cute style.
Buy a Nautical Themed Blazer

It's always a good idea to pack a lightweight jacket or fleece, just in case, even for tropical cruises. It can get cold in some overly air-conditioned rooms, and the top deck of a ship can get really windy, especially at night when you're doing your super low-key "King of the World" impression. Don't worry; nobody saw you.
However, another more fashionable option unique to cruise ships, is packing a stylish blazer or sport coat. A lot of cruises have formal, or semi formal nights—although it's slowly become a thing of the past—so it pays to pack at least one "nice" outfit, if for no other reason than because you want to look fly as hell.
Leave the tuxedo at home and invest in a simple, well-made blazer. They already look nautical, provide cover on windy days (aka "every day at sea"), and they travel really well.
The Traveler's Hopsack Blazer ($295) is fresh to death, wrinkle and stain resistant, and features lots of pockets including a zippered security pocket for that passport that you're definitely bringing with you.
If $295 is a bit too steep, the Easy Care Travel Blazer ($125) from L.L. Bean (yeah) is a solid option.
Simply fold the jacket inside out when you pack it, and you'll be wrinkle free and dapper as all heck at cocktail hour. The best part about a good blazer is that they make any shirt look fancy—even that "1 tequila, 2 tequila, 3 tequila, Floor!" t-shirt.
Boat Shoes
If you've read anything I've written before, it's no secret that I I love boat shoes. So no cruise ship packing list would be complete without a quick look at the best boat shoes on the market—Sperry Top Siders.
Nothing beats the Authentic Original Boat Shoe ($94). The classic lines, timeless style, and surprising durability of these shoes keeps me coming back year after year. However, if you're looking to really up your game, look no further than the Sperry Gold Cup boat shoe.
Featuring hand sewn leather, memory foam footbed, lambskin lining (unbelievably soft), and oh yeah—24k gold eyelets—this shoe is the Cadillac of boat shoes.
You do a surprising amount of walking on cruise ships, so wearing a single pair of comfortable, stylish shoes (that can get a little wet) will tick a lot of boxes and free up tons of room in your carry on backpack. Invest in a quality pair that lasts for years.
Sunscreen
Bring some. Moving on…
What Else to Pack for a Cruise
Portable Battery Charger

I don't want to say that a portable battery charger is an essential item on your cruise ship packing list, but it's super close. Cruise ships are all about unplugging and relaxing without the buzz and urgency of your smartphone…but who are we kidding. You're gonna be on that phone taking pictures, swiping right, and listening to podcasts even when you're 100 miles away from a good signal.
The last thing you want to do on a nice day is head down to your teeny tiny room to charge your phone. Find a portable battery charger that holds 3+ full charges (anything over 10400mAh), throw it in your daybag, and you're in business.
The Anker PowerCore Mini+ is cheap ($12) and the size of a lipstick tube and Mogix 10400mAh packs a wallop while only weighing 6.5oz.
Travel Power Strip

If you do have a lot of devices, are a digital nomad, or just like charging a lot of stuff, invest in the compact, yet insanely versatile Belkin Mini Travel Charger ($17.50).
The swivel design packs neatly, and the three available outlets and additional two USB ports means that if you can't charge everything you brought all at one time, you packed way too many gizmos.
Cruise Ship Apps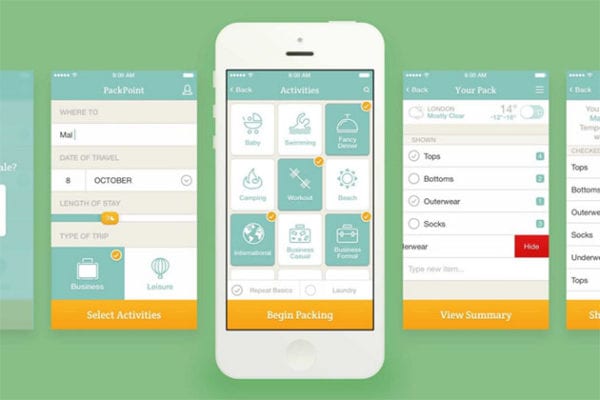 All you need is wifi and a full battery to take command (figuratively) of the ship's social calendar. Don't miss a thing with all the ship info and schedule in your pocket. Download these essential cruise ship apps and make your phone the ultimate cruise ship wingman:
Cruise Ship Travel Hacks
Bring Your Own Insulated Travel Coffee Thermos
Yeah, I'm a weirdo, but the following two things are true on every cruise ship:
Cruise ship buffet lines are longer than my high school wallet chain
Cruise ship coffee mugs are tiny
Cut out the middleman and bring your own travel coffee mug. Fill that Big Gulp sized bad boy with steaming hot brew and shake off the hangover (and the shame) from last night's Karaoke/Conga Line/Twister night, you party animal.
Order a Coffee Wake Up Call
If room service is an option, and you don't want to be "that weird guy with his own travel coffee mug" take advantage of what might be the most genius cruise ship travel hack I've ever heard: Order a "Coffee Wake Up Call."
This life-changing tip comes from intrepid traveler and NYC-based swing dancer, Lainey Silver, who teaches swing dancing classes on the Carnival Lindy Cruise every Spring.
"If room service is included," Lainey advises, "Pre-order coffee to arrive when you plan to wake up. There's nothing better than a coffee wake up call!"
Just the thought of getting a phone call where someone tells you that a warm, fresh, FREE cup of coffee is headed to your room makes me want to take a nap. Then wake up from that nap to a fresh cup of coffee. I want that. I want that every single day.
For a full look at how Lainey packs (in a carry on) for dance events, check out her Packing Conundrum.
Bring a Bathroom Organizer with a Hook on It
Cruise ship bathrooms are itty bitty, so if you have a lot of lotions, shampoo, makeup, or other products, save counter space (and sanity) by hanging an organizer over the door or on the shower rod. There's also another benefit to hanging your stuff instead of placing it on a flat surface—cruise ships sway. You don't want to come back to your cabin to find everything on the bathroom floor after a rough night at sea.
Say, "Hi,"  Before You Cruise with "Roll Call"
If Tinder isn't your speed, you can always reach out to other potential cruisers ahead of time with "Roll Calls."
Roll Calls are essentially online message boards where other cruisers post and reply to meet other like-minded travelers in the same boat (see what I did there? Boat puns are all about subtlety…and boats).
It sounds kind of hokey—and it totally is—but in the good way. Cruise ships themselves are kind of cheesy, And that's ok. Lean into it. If you're not willing to put yourself out there, you're going to have a boring cruise. Talk to someone you don't know. You might like it.
TL;DR
Cruising is a lifestyle that takes a lifetime to master. Pack light, stay social, and go with the flow because anything—good and bad—can happen on the open ocean.
Download "Shipmate" to stay up to date on your ship's social agenda
Keep it in a carry on
Boat shoes are amazing
A blazer makes anything look fancy
And don't be discouraged if you miss the mark packing for your first cruise. There are plenty of great cruise ship deals to get back out there and try again!
Want more like this?
Get weekly gear reviews, travel hacks, and packing tips sent straight to your inbox. As an added bonus, we'll send you a carry on packing list right away.