What to Pack for Bali and Travel Tips
The Tortuga Promise
At Tortuga, our mission is to make travel easier. Our advice and recommendations are based on years of travel experience. We only recommend products that we use on our own travels.
By the time I got to Bali I was ready for a break. After nine months of slow travel in Southeast Asia, through Thailand, Vietnam, Cambodia, Laos, Malaysia, Singapore, then road-tripping two of Indonesia's tougher islands, and hating Jakarta, Bali felt like a long slow exhale.
You see, Bali doesn't feel like the rest of Indonesia. With a big Hindu population, the culture has a different vibe than the predominantly Muslim rest of the country. On top of that, the tourist infrastructure is well established, so it feels "easy" after road tripping the back forty of Sulawesi and tumbling the length of Borneo the hard way. Just when I thought I couldn't possibly eat one more plate of nasi goreng, or mi-anything, Ubud emerged from the mists and with it: salad. Salad is in short supply off the beaten path in Southeast Asia.
Bali is a digital nomad hotspot (the recent establishment of Hubud making connectivity that much better) that is transforming its sleepy expat status faster than some would like. For Australians and Kiwis, the island is a quick and affordable getaway (Australia finally lifted their travel advisory a decade after the nightclub bombing). The beaches are amazing, the interior of the island is stunningly beautiful, and the unique culture makes Bali a place that calls many people back repeatedly. For me, it was mostly about the salad. Ubud has some great restaurants.
In terms of what to pack for Bali, the climate is fairly constant, so whether you're going April- October, in the drier high season, or traveling in November- March when the weather is wetter, the temperature isn't going to change much. Higher altitude will be cooler, if you plan to trek, pack accordingly, and in the wet season, add a light rain jacket.
Tortuga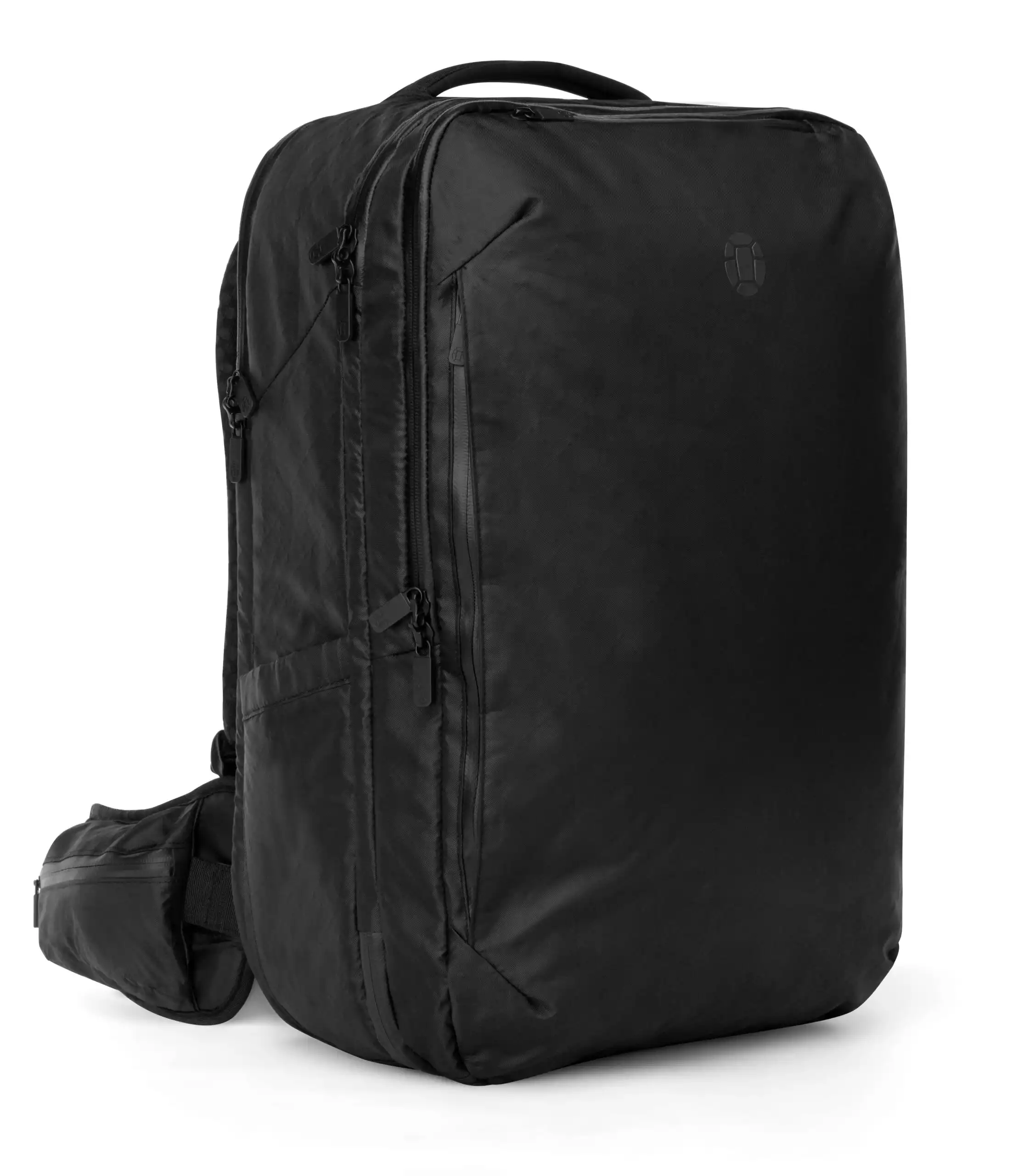 The Best Luggage for Bali
Like the rest of Southeast Asia, your best bet is a carry on sized travel backpack. Not only will you avoid checked bag fees, lost luggage, and waiting at the luggage carousel, you'll be able to navigate the city hands-free with ease. The Travel Backpack is ideal for a trip to Bali.
If you're traveling in the wet season, get a backpack that will keep your gear safe if you get caught in a sudden downpour. The Travel Backpack is made of waterproof sailcloth so you won't need to worry about clothes — or more importantly, your electronics — getting wet.
You don't want to be dumping out your bag every time you need to find something either. The Travel Backpack opens like a suitcase so you can see everything you packed.
What's more, the Travel Backpack has a height-adjustable suspension system and a padded hip belt so you'll be comfortable no matter what your travels throw at you.
What to Pack for Bali: Cultural Sensitivity
In spite of the influx of foreigners in the past years the local Balinese culture is a conservative one. You'll notice that both men and women tend to wear clothing that covers their shoulders and knees. There is a relaxed attitude towards foreign visitors, and you're unlikely to have any trouble wearing what you would wear at home, bikinis on beaches are not a problem.
However, to enter the temples you'll need to cover your shoulders and your knees, both men and women. Pack a sarong so that you're equipped to cover, otherwise you'll be provided with one and probably charged for it.
Tortuga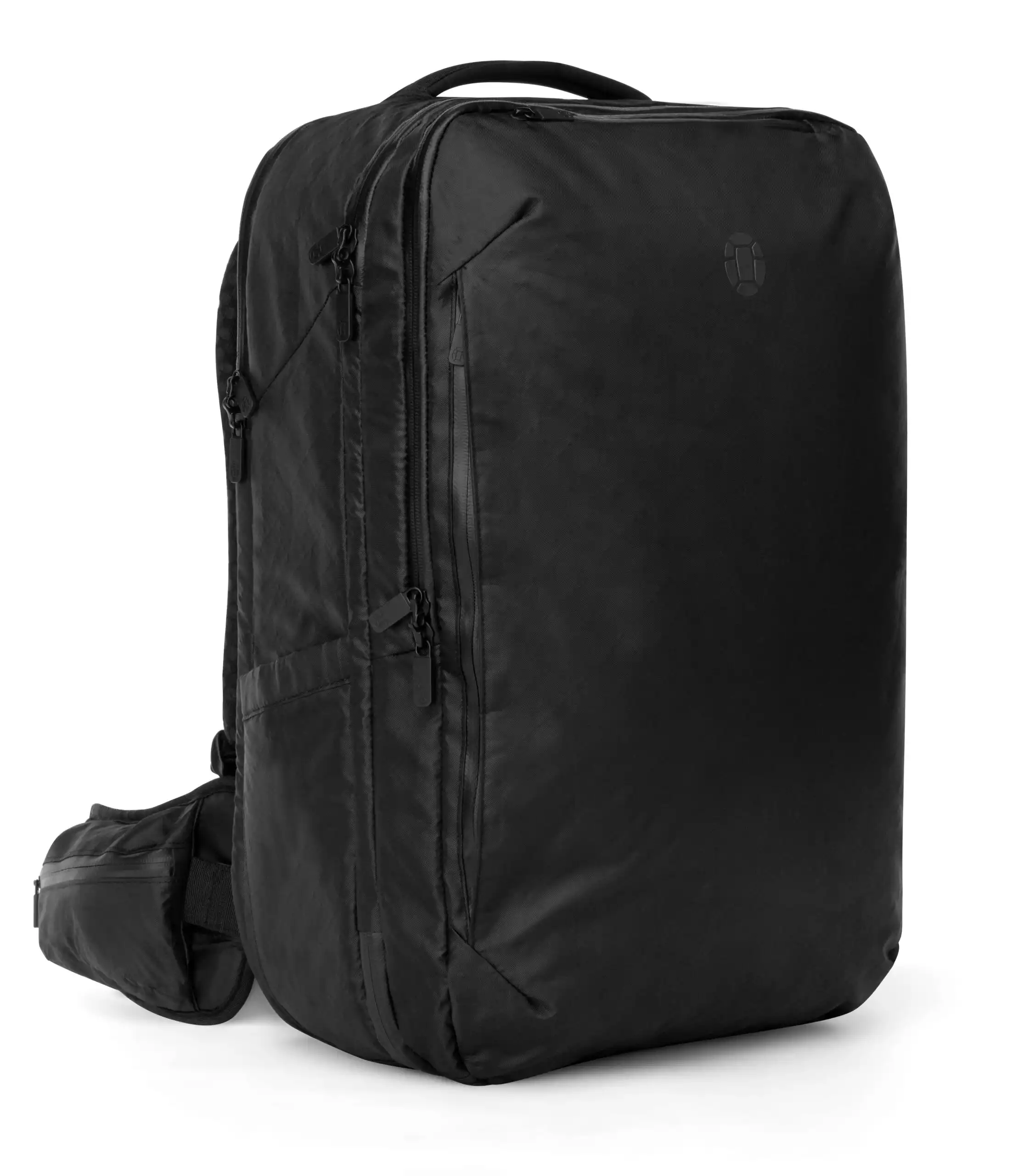 What to Pack for Bali: Adventure
There are numerous hiking treks to be had, particularly in East Bali, as well as cycle tours (you can rent a bike, no need to fly one). Of course, there are boat and diving tours from the coast and white water raft trips on the rivers. I highly recommend that you rent a car and have some driving adventures all over the island.
The one "adventure" that is widely advertised that I don't recommend is an elephant ride tour. Geoff Manchester, of Intrepid Travel does a good job of explaining, and linking to more information on why this is not a good idea.
"Elephant issues have been a strong area of concern. Having such an enormous wild animal restrained for many hours at a time and used for rides or to do human-like behaviours, such as kick a soccer ball or paint pictures with their trunks, has never felt right."
There are tons of yoga classes to be had as well as walks through places like the Monkey Forest in Ubud for low key adventures. (DO NOT touch the monkeys… they bite!) Athletic clothes and a solid pair of walking sandals would not go amiss.
What to Pack for Bali: Nightlife
Whether you're staying in Denpasar, Ubud, or one of the smaller beach towns, you'll find a range of evening possibilities. Bali has numerous nightclubs in the more touristed hubs and a number of really delightful evening venues in the towns where expats have put down roots.
One of my favorite memories of Ubud was an evening spent Salsa dancing at Cafe Havana on Wednesday night. You might want to pack your dancing shoes!
Bali Packing Essentials
3 Short sleeve tops
3 Pair of shorts or skirts
1 Pair of sandals (make them hiking style and they can be your only shoes, unless you're going dancing!)
4 Pair of underwear
1 Nice dress or collared shirt
1 Swimsuit
1 Light jacket
1 Daypack for day trips and adventures
1 Pair of yoga pants
1 Athletic shirt
1 Sarong, for a quick cover up in temples or cool evenings
Final Tips for Visiting Bali
Bali is one of those places you could return to over and over, finding your favorite hideaway and continuing to explore. There really is something for everyone, whether you're a week long tourist or a six month digital nomad.
Hit the beach, or several
Ubud makes a great base, but branch out
Head into the mountains to see the "natural Bali"
Drive through the villages, get out, look around
Visit at least one Hindu temple
Have breakfast at Bali Budha
Go for salad at Alchemy, an amazing raw food restaurant
Get off the beaten path and have an adventure
If you're packing for Bali, don't forget:
A water-resistant carry on travel backpack will help you avoid luggage fees, make it easy to pack and unpack, and navigate Bali with ease.
You'll need to cover knees and shoulders in temples and traditional settings
There's a small but thriving salsa scene in Ubud, pack dancing shoes
Plan to get off the beaten path and have an adventure: pack a daypack and water bottle
Yoga or fitness clothes wouldn't go amiss, you'll find classes in the population centers
Pack at least one nice outfit for evenings out