For your Middle Eastern adventure, lightweight, loose fitting, and modesty are the names of the game.
As I write this I'm remembering the taste of the most delicious waffle smothered in dark and milk chocolate, the views of a soccer field inside a mall, the smile that overtook my face in a memorable moment wearing a rented parka while meeting two penguins, and the joy coupled with nausea, of an epic dune bashing ride, feeling of heat that even this summer-baby reckons was insane. These memories are only a smidgeon of my time in Dubai and it immediately became a place to which I would happily return.
Upon arrival I was in awe of this mystical metropolis in the middle of the desert. I saw restaurant chains from around the globe, local cultural attire mixed with western trends, glittering attractions of the highest heights, souks with the most colorful and scented spices and a world class public transport system. My second visit to this city was in the form of a 10 hour layover from about 8pm onward… and wouldn't you know, the Dubai Mall was buzzing as much at midnight as it had been the last time I was there in the middle of a weekend afternoon (and yes – if you're wondering – we most certainly did have that waffle again).
Dubai is a cosmopolitan city located in the United Arab Emirates. Each year, hoards of tourists and travelers head to where luxury meets desert, spas and shopping are king, camels rides and jeep tours abound, and sparkly buildings, quite literally, rise from grains of sand. Your packing regimen will depend on whether you're an active traveler, shopping guru, cultural explorer, business person, or a blend of them all.
No matter what type of traveler you are – consider the culture, pack items that have more than one use, know that you can buy what you need upon arrival, and above all pack light in just a backpack.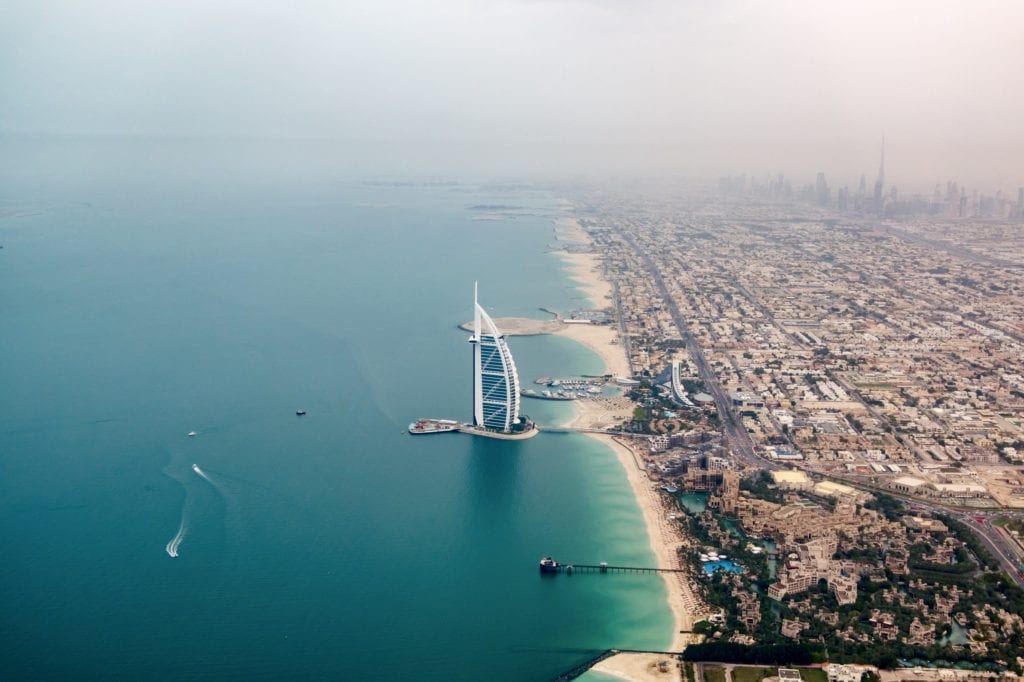 What to Expect in Dubai
Dubai is truly an international hotspot. High fashion mixes with cultural heritage, there's a merging of cuisines and cultures of all kinds. If you're stocking up on supplies, you'll find British pharmacies and supermarkets (I spent a good half hour stocking up on snacks in Waitrose) alongside local options. There are all sorts of modes of transportation available: Taxis, Uber, bicycles and a clean, cool, and easy to follow metro system are at your fingertips.
Keep in mind…

Old Dubai vs. New Dubai
There's a difference between Old Dubai and New Dubai. Old Dubai is more traditional and is set in the north, while New Dubai, in the south, is home to the likes of Downtown Dubai and the Marina District.
Cultural Expectations in Dubai
The UAE is a Muslim country. As such, it's traditionally more conservative than many countries in Europe and North America. Expectations for men and women, as well as how they interact, are probably different than in your home country.
Homosexuality is punishable by up to ten years in prison and even the death penalty under Sharia Law. Having a sexual relationship with someone you're not married to also has a punishment carrying jail time.
Public displays of affection are not a good idea, regardless of your relationship status. While it's definitely a modern city, smooching and even holding hands in public are not looked upon highly. And regardless of your feelings on the matter – being a culturally aware and respectful traveler takes precedence. For some travelers it will be a health and safety issue.
Modest Dressing in Dubai
Although a major cosmopolitan metropolis, in Dubai, you should plan to pack some modest clothing. Sure, western attire is welcome and business attire is fairly similar – but, modesty is not only an implied stylistic sense, it's also culturally accepted and loosely requested.
Pack something that can cover from shoulder to knee (men and women) regardless of whether you're touring the city or chilling on a sandy beach.
Covering your chest and arms is always a good idea (tank tops and sun dresses aren't the best option – hotel pools are an exception) and although women don't need to cover their heads, add a scarf/pashmina to your repertoire if visiting a mosque or sacred site is on your list of things to do.
Be a conscious and culturally courteous traveler.
What to Wear in Dubai
For your Middle Eastern adventure, lightweight, loose fitting, and modesty are the names of the game. Hot and humid is the norm, desert nights can get a bit chilly and in all seasons powerful air-conditioning cools most indoor establishments, some to the point of chilly.
Your basic Dubai packing list is as follows:
Toiletries to Pack for Dubai
Packing toiletries is always a challenging matter. Consider purchasing what you need upon arrival and keep in mind that unless what you're craving is brand specific, you're bound to find it in Dubai. If you have specific allergy or brand needs, then bring them – if not, carry what you need for the first few days and fill up any other necessities with local items. If you're like me and have sensitive skin – plan accordingly – the sun is no joke in the desert.
Consider packing:
Extras to Pack for Dubai
Of course, most of us want to be prepared for it all , but commit to packing less and keeping it all in a carry on sized travel backpack. Take a Marie Kondo approach to packing – less is definitely more!
If you have a little space left, then you might add:
When to Visit Dubai
Dubai is, quite literally, in the desert! No, you won't see Aladdin and Jasmine singing and soaring amidst a magic carpet ride – but the part of the Disney movie that does come to life is the Arabian desert and all its glory.
Set on the shores of the Persian Gulf, this hot and humid desert metropolis has truly desert weather. Summer temperatures can definitely crack 100 degrees Fahrenheit (with May and October being some of the hottest months) and the evening desert air can give you a slight chill.
Although winters are far milder than many other cities, the days can drop to 70 degrees and the nights can get as low as 50 degrees. Some of the best times to visit are between November and March when the temperature is around 90 degrees). There will be a little rain in December and through March.
Pack a light jacket to help with those chilly evenings, and to keep you warmer inside as no matter where you are – the air conditioning is awesome, and always on high!
Traveler's Healthcare in Dubai
Packing a basic health kit is a good idea no matter where you are going, and (if you're like me) truly imperative if you have any sort of health conditions or take regular medications.
Dubai has chemists, doctors, pharmacies, and mega hospitals should you need to avail yourself of those services while you're traveling abroad.
First Aid Kit for Dubai
Always pack a little first aid kit so that you're prepared for minor healthcare emergencies. Consider including:
What to Pack for Dubai: Tech Stuff
Let's be honest – most of us travel with devices large and small, cords of all kinds and external batteries to keep our gadgets going as long or longer than we can.
Seriously, in the age when we're carrying a computer in the palm of our hands we can definitely pare down, carry only the true necessities, and do our best to experience the moments and the memories being made. And, without question, in Dubai, if you need a replacement anything – they'll have it.
You might want to pack:
Where to Visit in Dubai
Beyond the looming skyscrapers and the sparkling lights of the city – there's more. See what life was like as a trader hawking wares at the splendid souks, tour a local mosque or heritage site and learn as much as you can about the local culture, or spend a day out in the Arabian desert dining on traditional cuisine and experience entertainment with an Arabian flare.
One of my favorite things about this city was that regardless of outfit, belief system, food preferences, financial holdings, cultural heritage or upbringing – wherever we went we saw thousands of people going about their day, interacting kindly with one another, shopping, sharing space, and doing their thing.
A line of tables at The Cheesecake Factory had people in full traditional garb, people in partial religious coverings, men and women in business attire, children decked out in outfits of all kinds, and people who had come in from a hot day outside and were cooling off in more traditional western summer attire. Life was happening and whether a plate had avocado egg rolls, beef bacon, or a heaping helping of dessert – the world was still happily spinning, uninterrupted on its axis.
You can even spend an epic day – literally – in the mall! Sure – you won't get the same cultural game on as a day in the old city – but between the movies, the ice rinks and the ski slopes, the decor, the food, the people, the aquariums, and more – you can surely enjoy yourself on a long evening layover, or a day to escape the desert heat. This is one of the few places that the mall is a must-see destination.
Be sure to check out:
Conclusion
Whether it's Lawrence of Arabia, Aladdin, or your own personal expedition – spending time in the Arabian desert is truly the stuff of movies and dreams. If you put your mind to it you won't need a magic lamp to provide your wishes – you'll accomplish them all on your own.
Gain cultural awareness, hang with a penguin, breathe in the aroma of spectacular spices, try new foods, learn about Middle Eastern architecture and varied religious beliefs and spend your evenings in the arms of the impeccable desert night sky.