Florida is filled with sunshine, theme parks, nature, city life, and, of course, beaches. Bypass the hoards of tourists dragging roller bags by packing light in a travel backpack. The Sunshine State is waiting for you.
From the time I was two years old, Walt Disney World was my family's holiday destination. Once a year we'd pack our bags and head south to find the magical mouse and his gang of happy mates. For us, a trip to Florida was often a much-needed escape from a New York winter or a fun way to head into spring. As the kids grew, we continued to head south, but the destinations changed. There were many visits to family and even cruises out of the Fort Lauderdale area, a visit with a friend attending Tampa's University of South Florida, a west coast extravaganza on sunny Marco Island, and a drive across the famed Seven Mile Bridge deep in the keys.
These days my parents can't wait to head south for weeks on end every winter. Retirement is treating them well as they ditch New York for the warmth of the Florida sunshine. There are friends who constantly remind me about the nightlife in Miami, the northern fun near Jacksonville, and a former student who often shares her joy about working in Orlando's mecca of Disney magic. The Sunshine State has always been a part of my existence and it has more to offer than just vitamin D.
When to Visit Florida
If you get to choose when to travel, choose wisely. Consider the temperature in which you prefer traveling, the seasonal shift in crowds, the time when the price is best for you, and of course, factor in hurricane season. Whether you're looking for the least amount of time you'd have to wait for your butterbeer at The Wizarding World of Harry Potter, the best time to visit Grandma in Delray Beach, or the most amiable weather for you – do your research, pack accordingly and always purchase travel insurance.
In subtropical Florida, humidity is highest from June through September
High season in subtropical Florida is mid-December through mid-April
Northern Florida has higher tourism rates from late May through early September
Hurricane season is from June through November (if visiting then, be sure to purchase travel insurance)
Consider shoulder seasons for better pricing (April-May/September-November)
When Orlando and Walt Disney World are your destination, know that all holiday weekends and holiday seasons are the busiest and most expensive (make restaurant and show reservations ahead of your visit)
Choosing a Travel Backpack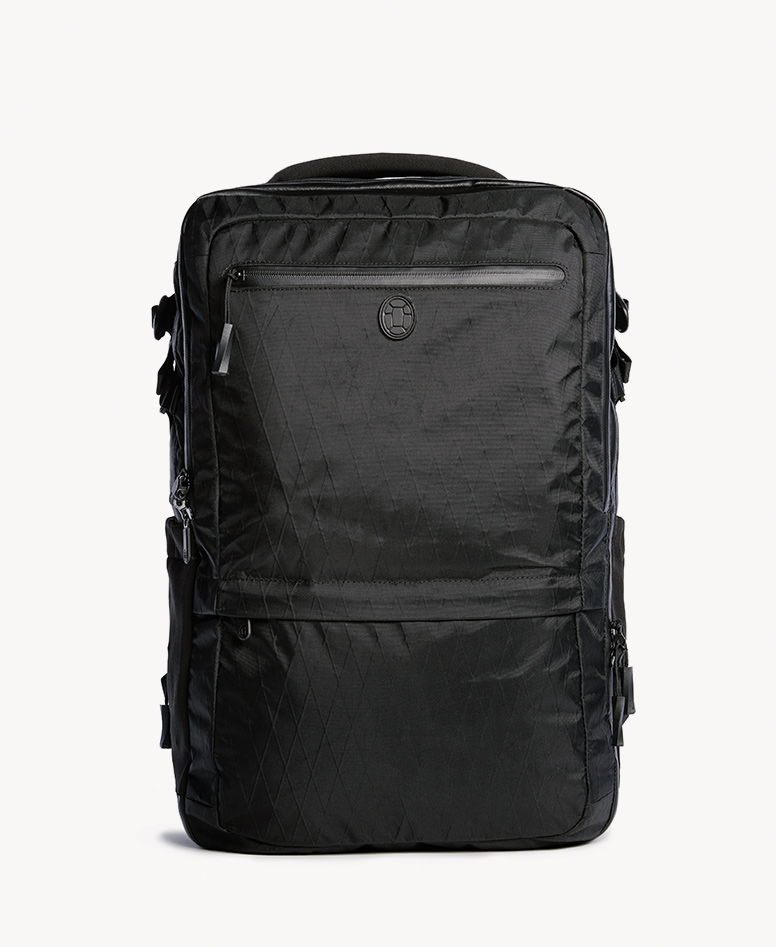 Newsflash, in the summer it rains every day in Florida. Well, no need to worry about a rain shower on your travel day because the Outbreaker is made of waterproof sailcloth. Your stuff will stay dry.
The adjustable harness system and extra cushy shoulder and hip straps on this bag make it an extremely comfortable carry. The obsessive level of organization on the inside means that everything has its place and packing is a joy.
What to Pack for Florida
You know those 'don't leave home without them' items that are always with you no matter what – pack those first. These are the items that don't care where you're going, they're coming with you. Camping in Dry Tortugas? Grabbing ice cream in Fort Lauderdale? Visiting the panhandle? Partying in Miami? Your personal items don't care where you're headed… they're coming along for the ride. Who you are, how you pay for stuff, any medical necessities, and the number to call if you need medical assistance have to make the cut. The rest, truly, is optional.
Basic Packing List
Your Floridian adventure can take on many forms. For the most part, your clothing choices will be straightforward – but you might need some additions if you're headed to a NASCAR event in Daytona, a bachelorette party in South Beach, or an intergenerational adventure at Disney. Whether you're hitting the parks, the nightclubs, or the beaches, be sure to pack the basics.
As for what to pack it in, we recommend the Outbreaker 45, as it's the maximum sized carry on allowable on flights in the USA and it will allow plenty of room for you to pack the fun extras, or bring a few souvenirs home. Who doesn't like to do a little shopping on the beach boardwalk?
3-5 t-shirts or tank tops
2-3 shorts, capris or skirts
2 long pants or jeans
1 long sleeve shirt
1-2 sundresses
1-2 nightlife outfits
5-7 underwear
5 pair of socks
1 sweater, sweatshirt, light jacket
1 pair of sturdy shoes (wear to fly)
1 pair flip flops or flats
1 daypack
1 sarong or cover-up
1 hat
If you're going to northern Florida in the winter then you also want to consider packing a warm hat, light gloves and a scarf. Believe it or not, it can get chilly, even as far south as Orlando and the Tampa Bay area!
Personal Item Packing: The Necessities
You personal item should be a daypack that fits entirely underneath the seat in front of you on an airplane. The dimensions for your personal item will be smaller than the dimensions of your main carry on bag, so check with your individual airline to double check their regulations. 
Bonus: The Outbreaker Daypack — our go-to personal item — is the perfect day bag for Disney, a cruise outing, beach day (it's almost perfectly waterproof!), or around town.
Wallet & ID
Passport/visas (if you're thinking of heading outside of the continental borders or are coming from abroad)
Travel documents
Change of clothes (especially if you're checking luggage)
Medications (daily, necessary, allergy)
Headphones
Gum or mints
Sunglasses, prescription glasses, or contacts
Chapstick
Antibacterial wipes
Fuzzy socks & flip flops
Make up
Deodorant
Toothbrush
Tissues
Smartphone & charger
Portable battery pack & connectors
Camera & lens, charger, batteries (2), memory cards (2), & an external hard drive
Lacrosse or tennis ball (perfect to eliminate back pain in flight)
Toiletries
If you're flying to your southern destination, you'll need a liquids bag (unless you're purchasing all liquid related necessities upon arrival). With the 3-1-1 rule still in effect, each traveler gets to bring one quart sized plastic zip top bag. Fill your bag with any liquid or gel based toiletries or products that are under 3.4 oz/100 ml and you're good to go. Epi-pens, medications and baby formula do not need to be in this bag. If you're driving to your destination, skip this part and feel free to fill your car, truck or camper van with all sorts of everything you'd like to bring with you on your Floridian excursion. And remember, it's Florida: You can buy what you need when you get there.
Travel size bottle of sunscreen
Unscented antibacterial lotion
Travel size toothpaste
Travel size bug spray
Unscented Lotion
Cortisone, Benadryl, or anti-itch cream
Superglue
Eye drops (allergy or saline)
Travel size contact solution (if necessary)
Mini-First Aid Kit
Those 'what if' scenarios run amok in all of our minds. Since there's NO WAY to actually cover all of them, I recommend bringing along a tiny first aid kit with a few things for those possible 'ouchies' that might detract from that vacation you've been dreaming about forever. Keep in mind, unless you're visiting a remote destination (like the Dry Tortugas or spending a lot of time on the Intracoastal), you can pick up any first aid needs at a nearby drugstore or local supermarket (like Publix).
Pain reliever (Tylenol, Paracetemol, Ibuprofen)
Allergy meds (Benadryl, Claritin, Loratadine, other antihistamine)
After-sun gel
Immodium/Loperamide
Neosporin or antiseptic cream
Epi Pen if necessary (2)
Bandaids, athletic tape & gauze
Tums, Pepto Bismol, or antacid tablets
Safety pins
Butterfly bandaids
Ace bandage
Miscellaneous 'Musts'
Each of us is on our own individual adventure. As travelers, we each have a different sense of 'why,' different needs along the way, and have a different ideas about to pass the time. A weekend in Orlando doesn't leave a lot of down time, while spending a week on the shores of the Atlantic might be another story. If you're heading off on a Caribbean cruise and have a few days on either side in a port city – that's one thing, but if you've got tickets for a weekend filled with multiple games of spring training baseball that's a different vacation altogether. If, after you've packed all of the important stuff, you still have room and wish to carry items that fall into the 'want' category – go ahead. Remember, if you can manage without them, you'll have more room for those souvenirs that will continually remind you of your Floridian journey.
Pens, journal, & sharpie marker
Coloring book, crayons, & colored pencils
Books, magazines, an e-reader or tablet with chargers
Pillow & ear plugs
Extra layers
Daypack Packing
Most of the year, Florida is hot and sunny. In the summer, particularly in the south, it rains almost every afternoon. This means you've got to pack your daypack carefully to cover the all the bases. Be sure to include:
After-sun or aloe gel
Hat
Sarong or cover up for when you need to get less sun
Packable rain jacket
Dry change of clothes
Swimsuit
Packable Towel
Where to Visit in Florida
Each visit to the Sunshine State is a new one. You might check out the sunsets in Key West, visit the oldest schoolhouse in St. Augustine, cruise the strip in South Beach, or take in spring training in Tampa. Perhaps you're collecting seashells in Sanibel, participating in Daytona's spring break craze, exploring the Everglades or meeting Mickey in Orlando. Regardless of whether you're flying into one city and out of another, driving to your destination or throwing darts to choose your stop of the day, Florida offers visitors a treasure trove of natural wonders and city life. Go explore them all.