I'm about to set out on a 1-month journey to get a taste of a work and travel program, and I've checked off most of the items on my to-do list. I've talked with my boss about what systems of communication we can use while I work remotely, I've done my research and made a "must-see" list, and I've booked my flights. There's only one thing left to do: pack.
One suitcase, one carry on, and one small backpack later, I'm finally done it. I've managed to fit everything I'll need (or at least think I need ) for this journey into three pieces of luggage. I'm feeling pretty proud of myself.
When I first thought about every type of life that I'd be living on this trip to Argentina, I was incredibly overwhelmed. Not only would I need casual daywear for exploring Buenos Aires, I'd also need athletic clothing that could take me on a bike tour through the city, breezy dresses for tango classes and nights spent in Argentinian speakeasies, and at least one formal outfit fit for local networking events. On top of that, I'd be spending a majority of my time at the workspace, typing away behind a laptop screen, taking calls, and editing articles.
Add professional tech to my "to pack" list.
As soon as I started to feel impressed with my ability to condense a month's worth of needs into a reasonable amount of space, I started to wonder what it would be like if I had to pack for an entire year on the road, and fit everything I'd need for that type of adventure into the same amount of space.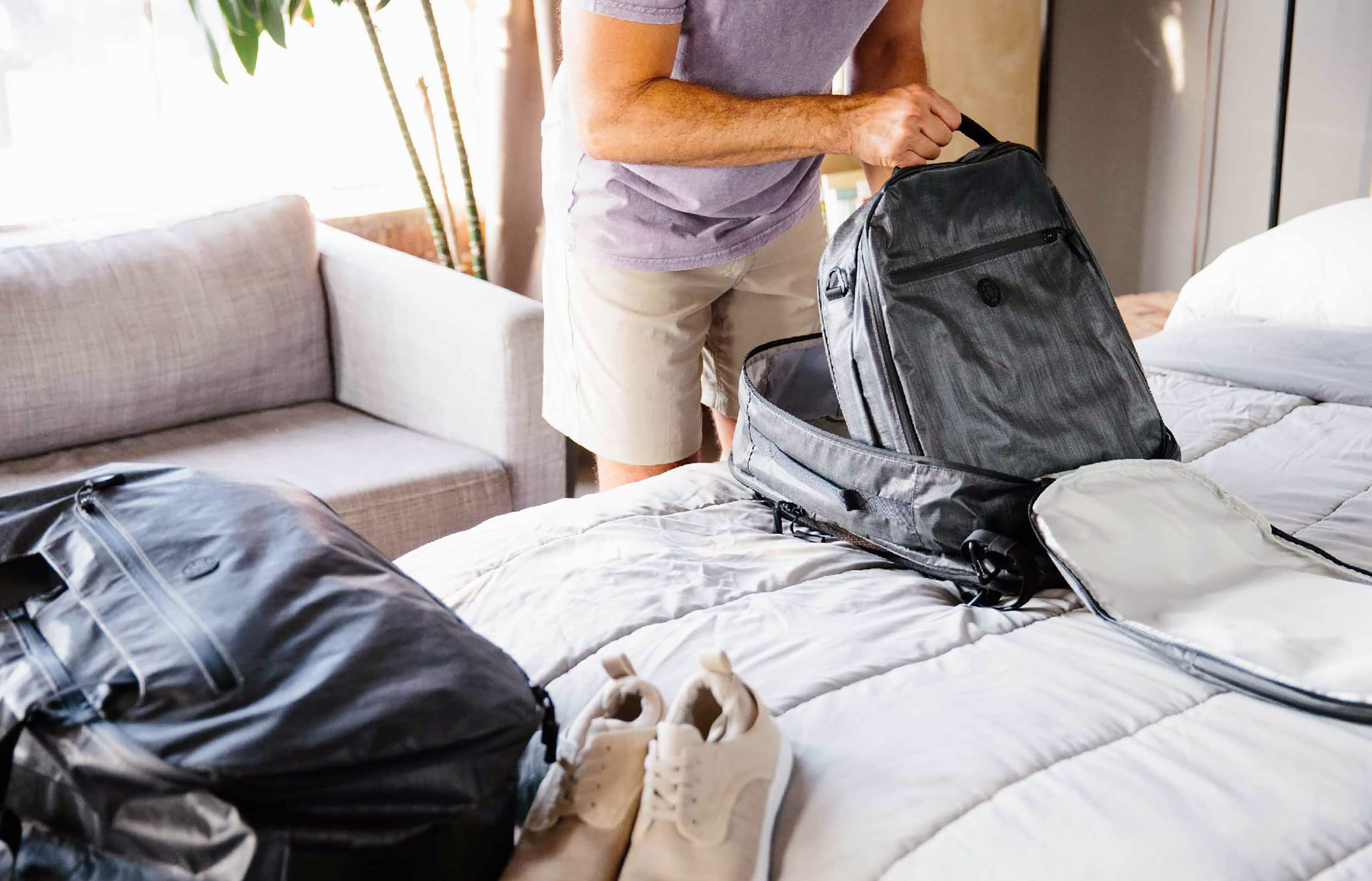 How to Pack for a Year of Travel
That's the exact challenge that
Remote Year
participants face before they leave for their long term travel adventure. As participants of a
work and travel program
, they've signed up to travel to 12 cities over the course of four or twelve months, living like locals, and working remotely in workspaces and cafés alike. They get to keep their full-time jobs or freelance gigs as they travel, immersing themselves in diverse cultures and expanding their global perspective along the way.
With 365 days of adventure, work, meeting new people, and life-changing experiences to consider, it's safe to say that they have a lot to think about when it comes to packing. Luckily, they have access to a community of remote workers that's done it all before. Former Remote Year participants, referred to as the Remote Nation, are more than willing to share a few tips and tricks to save their fellow travelers some trouble. Today, I'm passing along a bit of that knowledge to you.
Here are the top packing tips to come out of the Remote Nation for a year's worth of travel:
Invest in the Right Gear
Any seasoned traveler will tell you that a great trip starts out with great gear. What's worse than a bag that is not only flimsy, but completely unfit for the job that you need it to do? After all, you're not just an average tourist – you're a remote worker with special needs and desires for your gear.
Some
minimalist travelers
are able to get through this 12-month trip with only a travel backpack, but for those of us with less self-control and a greater need for personal possessions, Remote Year participants recommend one checked bag along with a carry on travel backpack. Depending on your line of work, you might need extra luggage to hold gear like camera equipment or an extra monitor.
The important things to consider when you're choosing your bags are: durability, security, and whether or not the bags that you've chosen actually fit your unique travel needs.
Durability
The bags that you choose, whether checked or not, should be able to withstand a multitude of conditions. There's a good chance that they'll be tossed around, used during snowstorms, sandstorms, and thunderstorms alike, then squished in the overhead compartment of a plane. You'll want to be sure that, through it all, your belongings will hold up.
Security
No matter where you go, there is always the potential of having your belongings stolen because you are unfamiliar with your destination. Your bags should help you circumvent this issue with built-in locks, the ability to add a lock of your own, or even cut-proof material to keep your bag from being taken right off of your back.
Fits Your Needs
If you're a remote worker, you know the importance of having all of your gear in order. Your bag should fit everything you need to get your job done and keep it organized so that you're not spending more time rummaging around for your headphones than working.
Do Your Research
This goes for your traveling wardrobe as much as it does for your tech: take the time to do your research.
If you haven't traveled for an extended period of time in the past, it's easy for things that seem obvious to slip your mind. Different continents, and even countries within them, have various outlet setups, voltage levels, network configurations, availability of Wi-Fi, phone systems – the list goes on. Before you head out, do a bit of research into each of the cities that you're traveling to so that you're prepared with the gear you need before you leave your home country.
For Remote Year participants, this step is taken care of ahead of time. Before they leave on their work and travel program, they're presented with a
ton
of information about the cities that they're visiting, including all of the considerations listed above. These City Guides are created by local, on-the-ground members of the Remote Year team, so Remote Year participants know that they can be relied on for accurate information.
Here are a few things that you'll want to pack, no matter which cities you're traveling to over the course of the year:
Universal plug adapter

Voltage converter

Portable hotspot

An unlocked, backup phone (not a necessity but a really good idea)
Consider the Climate When Choosing Clothes
When you're embarking on a year of travel, it's likely that you'll encounter diverse cultures, landscapes, and climates. This is definitely something you need to take into consideration when you're packing, as you'll need to make sure you're covered in any situation. Here are a few things to consider bringing with you to avoid a weather-related freeze or heat meltdown:
Packable outer shell – the more compact the better

Thin pullover that can be layered over warm-weather clothing at night
For the hot days:
Breathable shorts

Lightweight tank tops
Rain jacket or other waterproof outer layer

Waterproof boots or hiking shoes that can withstand exposure to water

Waterproof tech case – the whole remote work thing doesn't work so well if your laptop is shot!
Do Double Duty
To keep your luggage in-check (and under the weight limit), it's important to think about whether what you're packing can serve more than one purpose. This is a particularly good rule to follow when it comes to the clothing that you bring: "Can this piece be worn in more than one situation?"
"Each item should work for two scenarios,"
Casey Carr-Jones
, a member of Remote Year Magellan, said. "My workout clothes double as pajamas. The outfits that I wear to the coworking space could also look great on an evening date."
Choose Materials Wisely
Another tip to make sure that your clothing is going to last throughout the year is to pick the right materials.
"Nearly everything I own is merino wool," Zach Boyette, a member of Remote Year Kaizen, said. "It's magical. You can wear it multiple times in a row, it dries quickly, packs small, and it never smells bad."
Then, once you have pieces that are made of the right materials, it's important to take care of them correctly so that they last your entire trip.
These are the Remote Nation's tips for how to keep your clothing fresh and new for 365 days:
Wash on cold

Use the "low" spin cycle

Always hang-dry your clothes

Stay away from "wash-and-fold" laundromats – their machines can rip your clothing!
Remote Year Packing List
It's the moment you've been waiting for, the one where we unveil the packing list that has been tried and tested by members of the Remote Year community. This list is a combination of what we've heard about packing from both women and men, so note what you'll need, and leave out what you won't. With that in mind, here's what you
actually
need to pack for Remote Year, according to people who have done it:
3 t-shirts

3 tank tops

2 long-sleeved shirts

2 sweaters

1 blazer
3 day dresses

1 date night dress

2 pairs of jeans

3 pairs of shorts

1 pair of pants

3 workout tops

4 pairs of workout/sleep shorts/pants

1 quarter-zip pullover

1 packable outer shell

3 bras
9 pairs of underwear
9 pairs of socks

1 belt

1 cover up

1 pair of dress shoes/heels

2 pairs of sandals

1 pair of casual shoes

1 pair running shoes
Be Realistic, But Give Yourself a Break
There always seem to be a few things that end up in your suitcase that have you wondering later, "Why did I ever pack that?" For me, it's a stack of magazines that I was hoping to get through, and whose weight I ended up dragging with me on the flight both to and from Argentina.
For others it is a sentimental item like a favorite mug, or a photo album, or a seemingly unreasonable item like a chef's knife for a foodie, or a traveling guitar for a virtuoso.
It's okay to get a little wild with your packing – you're going to be gone for an entire year after all!
Pro tip: try to limit yourself to one "unnecessary necessity." You'll find that throughout the year it will mean even more to you because it was the one thing that you just couldn't leave behind.
Edit, Edit, Edit
Finally, and you have to have known that this was coming, Remote Year participants beg you to edit what you pack. Overpacking is a sign that you're leaving behind the world that you're comfortable with, and you're worried that if you forget to pack something that you'll be lost in the world that you're setting out to explore. That's completely normal, but we urge you to fight through it.
Be confident in your choices as you're zipping up your suitcase, and know that, even if you forget something, there's a good chance that the city that you're traveling to will have it, or something similar. This is the case when it comes to toiletries. Set yourself up to get through the first few weeks, but know that other countries have shampoo, deodorant, and mascara too. They might even be better than the kind that you're used to.
TL;DR
Remote Year
participants know their stuff when it comes to packing. Here are their top tips for how to pack for a year of travel:
Invest in the right gear

When it comes to tech, do your research

Consider the climates you'll be traveling to

Make your clothes do double duty

Choose materials wisely

Be realistic, but give yourself a break

Edit, edit, edit
Want more like this?
Get weekly gear reviews, travel hacks, and packing tips sent straight to your inbox. As an added bonus, we'll send you a carry on packing list right away.