What to Pack for San Diego Year Round
The Tortuga Promise
At Tortuga, our mission is to make travel easier. Our advice and recommendations are based on years of travel experience. We only recommend products that we use on our own travels.
The weather in San Diego is beautiful year round. Pack a light jacket, sunglasses, and light layers. Pop a daypack into your travel backpack. You'll use it every day, around town and on the beach.
I ducked behind a tree planted in the sidewalk. Down the block, our friend chatted with an older man. His hands gestured as they talked.
I felt so guilty. Like I was buying an illicit substance.
"Do you think he found some?" My friend asked. It was her husband chatting with the guy down the block. He had done this before. We were newbies.
Tortuga
Her husband and the older man's hands exchanged something.
People flowed past us on the sidewalk, heading in the same direction. Excitement tingled in the warm night air. The first day of May, to my winter-chapped skin, felt like the warm caress of June.
"Looks like it." My husband said. "We're on."
The San Diego Padres were playing the Colorado Rockies in the baseball stadium two blocks away. And we had just bought tickets from a scalper.
Oooh, dangerous!
I'd never gone on spring break, but this is what it must feel like. Sunshine. Alcohol. Freedom.
Two days before had been my last day at my job of 8+ years. The day before, I had hopped on a plane, luxuriated in day-drinking, wandered the U.S.S. Midway, and gobbled up finger-licking pizza in Little Italy.
San Diego, the city spooning an ocean, is a destination for all twelve months. (Not just for when you quit your job. But if you did, I highly recommend going to San Diego.)
Things You Should Always Pack for San Diego
Flip flops
Some natives swear they live year round in flip flops and shorts. You'll definitely want to pack your flip flops in this casual-cool city. If only to get your toes more quickly into the sand.
Sunscreen
Pack sunscreen to ward off sunburns from days frolicking on the beaches, exploring the San Diego Zoo, or catching a baseball game at Petco Park perched high above the city.
UV-protected Sunglasses
Protect your eyes against sun-glare and ocean-glare with UV-protected sunglasses. San Diego's 270 days of sunshine ain't no joke. Plus, a pair of Wayfarers fit right in with this city's casual vibe.
Light Jacket
Nighttime cools down in San Diego. The ocean sends off a chilly breeze. Even in the hottest months of July or August, expect cooler nights that'll make you wish for a warm sweatshirt or light jacket to ward off the goosebumps.
Layerable Outfits
If you leave your hotel in the morning before the sun's warmth hits, expect to peel off some layers as the day heats up. Then, as the sun sets, slip those layers back on to stay warm in a brisk ocean breeze.
When planning your outfits, aim for "California Casual." Think effortless cool: A maxi dress or skinny jeans with flowy tank top and flip flops for women; collared shirt and khaki shorts for guys. Even at the nicer restaurants, most of the patrons will be in a collection of maxi dresses or skinny jeans.
Daypack
You'll need someplace to keep all those layers you're shedding. And a water bottle to stay hydrated on hot summer days. In San Diego, you're going to walk a lot, through the Gas Lamp District and along the waterfront, so opt for a daypack with padded shoulder straps, and a well organized interior to keep the load of your layers and necessities balanced over the long hours of wandering.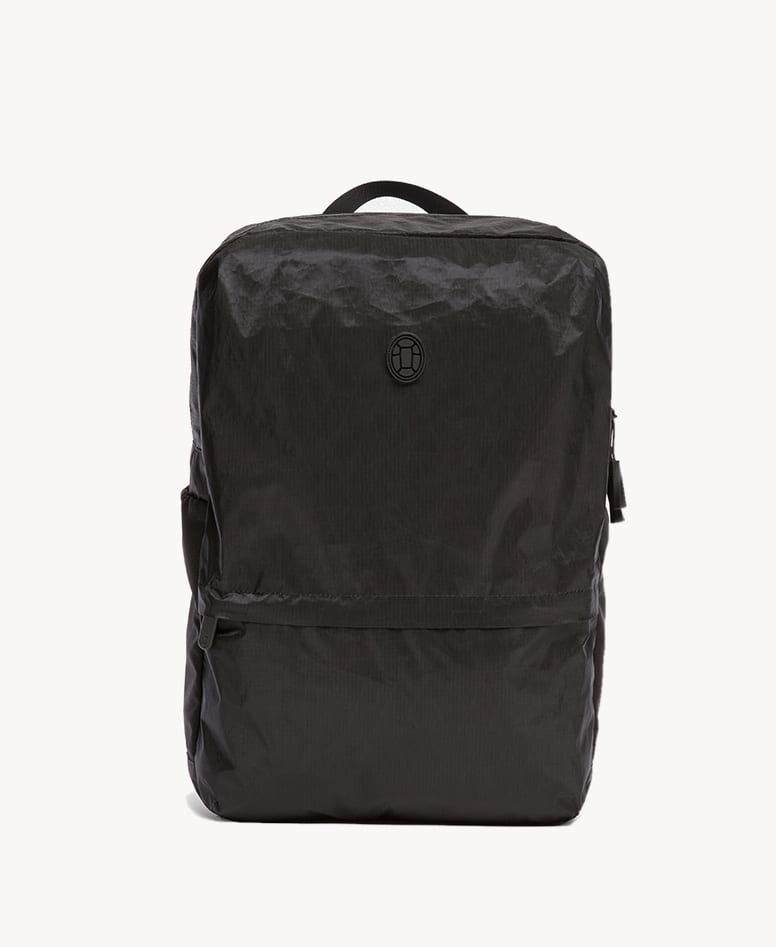 The Outbreaker Daypack was designed to be light and simple. That makes it perfect for San Diego. At just over 1 pound, the daypack will never weigh you down. The laptop sleeve and front, quick-access pocket are all you need to stay organized.
You'll never have to worry about the weather, or a splash at the pool or beach. The waterproof sailcloth and water-resistant zippers will help keep your essentials dry and within reach.
What goes in your daypack for San Diego?
Sunscreen
A swimsuit & travel towel
A sarong as an impromptu picnic blanket or to lay on in the park or by the waterfront
A pocket kite, just for fun, to join the real kite fliers in the park
Beer bottle opener for beach picnics
Binoculars in the winter, for whale watching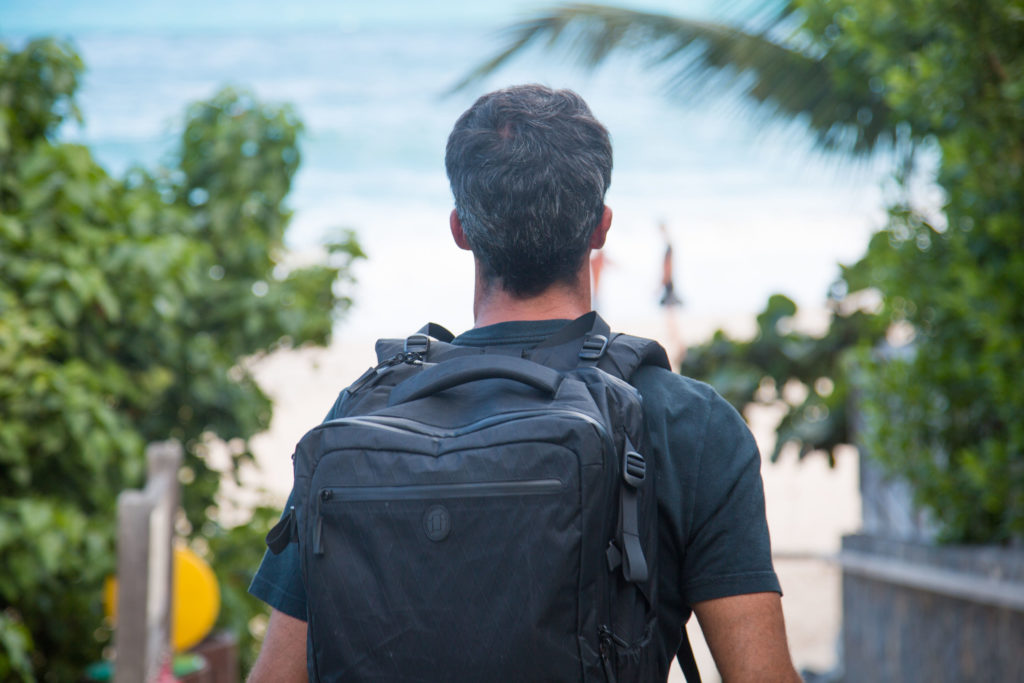 Summer: What to Pack for April to June
Consider these months the dress rehearsal for San Diego's hotter summer months.
I've been in San Diego when a maxi dress is perfect on a May day. But the next day, I'm grateful for my jeans and light jacket. Layers are key to staying comfortable in San Diego's whimsical weather.
Dig your toes into the warm sands of La Jolla Shores Park and find a good spot to people-watch. Or follow the shoreline down to the cove where you might spot sea lions basking on the beach.
In April to June, pack:
A cute maxi dress for warmer days
Scarf
At least one pair of shorts for days hinting of summer heat
1-2 pairs of pants: Trust me, you'll want some jeans for nippy April days and cooler summer nights
Rashguard: Until July hits when the ocean is finally warm enough for sans wetsuit
Summer, Part 2: What to Pack for July to October
Ah, this is what summer feels like. Long days created for strolls on San Diego's miles of white beaches. Hot sun on your face, warm ocean breeze, and just plain good living.
1-2 pairs of shorts
A cute maxi dress or sundress
Your favorite pair of sandals
Swimsuit
1 pair of pants for cooler summer nights next to the ocean
Beach cover-up
Cardigan for nights when the light jacket is too stifling
Waterproof sunscreen for all your beach-time frollicking
Sense of adventure (and comfortable shoes) for exploring Balboa Park, San Diego Zoo, Little Italy, and U.S.S. Midway
Baseball hat to catch a Padres game (after buying last-minute tickets off a street scalper)
Tortuga
Winter: What to Pack for November to March
Depending on what winter looks like in your home, winter in San Diego may feel like spring or autumn to those used to snow
Outfits that layer will be your best friends in San Diego's winter. The weather fluctuates, so one day it might be a gorgeous 80F and the next it's a chilly 50 degrees. Nights can be downright cold, making you wish for a cozy sweatshirt to snuggle up in.
If you're by the water, expect it to be at least 10 degrees colder than inland. Meaning goosebumps galore if you're taking a twilight stroll on the West Coast's longest concrete pier in Ocean Beach.
In winter don't forget to pack:
Scarf to ward off brisk ocean breezes
Rain jacket for San Diego's occasional days of winter rain
1-2 pairs of pants
1 pair of shorts… if 60 degrees feels like summer to you
2 long-sleeve shirts
2 t-shirts
Binoculars to spot California grey whales off Point Loma starting December 15
Comfortable shoes for wandering the historic Gaslamp Quarter's trendy restaurants, Seaworld, and Hotel Del Coronado's white wrap-around porch
Best surfer attitude to catch an Uber out to South Beach Bar & Grill in cool-vibe Ocean Beach for the best fish tacos (Ever. Seriously.)