What to Pack for Seattle Any Time of the Year
The Tortuga Promise
At Tortuga, our mission is to make travel easier. Our advice and recommendations are based on years of travel experience. We only recommend products that we use on our own travels.
Seattle tops my list of favorite cities in the world. Obsessed with good beer, coffee, music, and epic outdoor adventures, it's a city that captured my heart with its effortless cool in the year that I lived there. Unlike New York or San Francisco, Seattle isn't obviously hip, which adds to the appeal.
However, there is one downside to Seattle: the rain. While it does rain often in Seattle, the summer months are the exception. From June to August, the weather is typically a sunny, 70-80 degrees with 14-15 hours of daylight. Throw a temperate rainforest or mountain full of wildflowers in there, and the Seattle area is pretty much the perfect place to be in the summertime.
That said, there's still a lot to enjoy about Seattle at any time of the year. So whether you're heading to Washington state in January or June, here's what to pack for Seattle.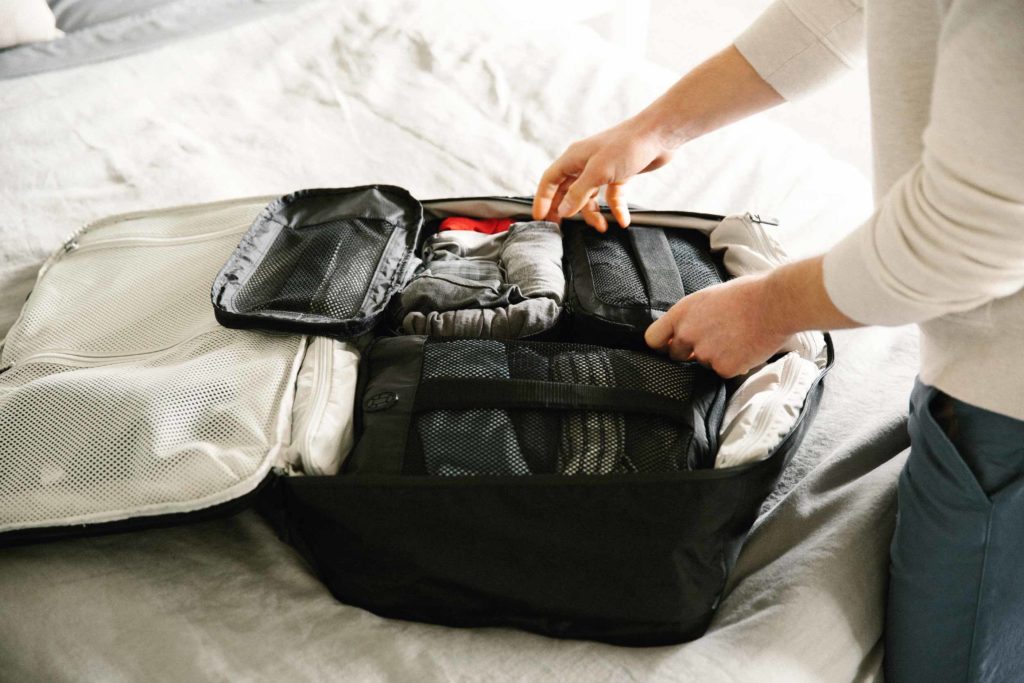 What to Pack for Seattle
For any trip to Seattle, be sure to pack:
Rain jacket
Outdoor adventure gear
One outfit for a concert/show
Rain Jacket or Shell
Seattle locals don't really use umbrellas. I know, I know. "But it's the rainiest city in America!" Actually it's not. "How do they survive without umbrellas?" With rain jackets, duh.
Seattle's rain is usually a light drizzle, not a torrential downpour, so rain jackets are typically just fine for keeping you dry. Plus, they're much more practical than an umbrella on any of the hikes within an hour or two of Seattle.
If you don't have a good rain jacket, Seattle happens to be home to REI. Use it as an excuse to swing by the flagship REI store and check it out.
Outdoor Adventure Gear
Given the number of The North Face and Patagonia jackets in downtown Seattle, it sometimes seems like half of the city is ready to jump on a trail at any given time. And you should be too. From the coast to the Cascades, there's so much wilderness to explore in and around Seattle. Make time to do something outdoors (even if it's just a morning walk at Alki beach or Discovery Park) while you're in Seattle and bring:
Hiking is great while traveling because it doesn't require a lot of bulky gear. However, if you'd prefer to explore the wilderness surrounding Seattle by rock climbing, biking, kayaking, skiing, snowboarding, or camping, there are plenty of places to rent equipment. REI is a great first stop for most gear. For cyclists, the Cascade Bicycle Club is your best resource.
One Outfit for Going to a Show
If you're a music lover—grunge or otherwise—Seattle will have more than enough going on to keep you entertained. After all, music heavyweights from Kurt Cobain to Macklemore have called the city home.
Seattle is also home to (in my opinion) the best local radio station in the nation, KEXP, which also does a great job of highlighting concerts and music events in Seattle. If you're around in July, I hear that the Capitol Hill Block Party is a blast.
With all the dance parties, shows, and concerts happening in Seattle, be sure to bring one going out (to see a show) outfit. Ripped jeans and slouchy sweaters are more than encouraged.
Tortuga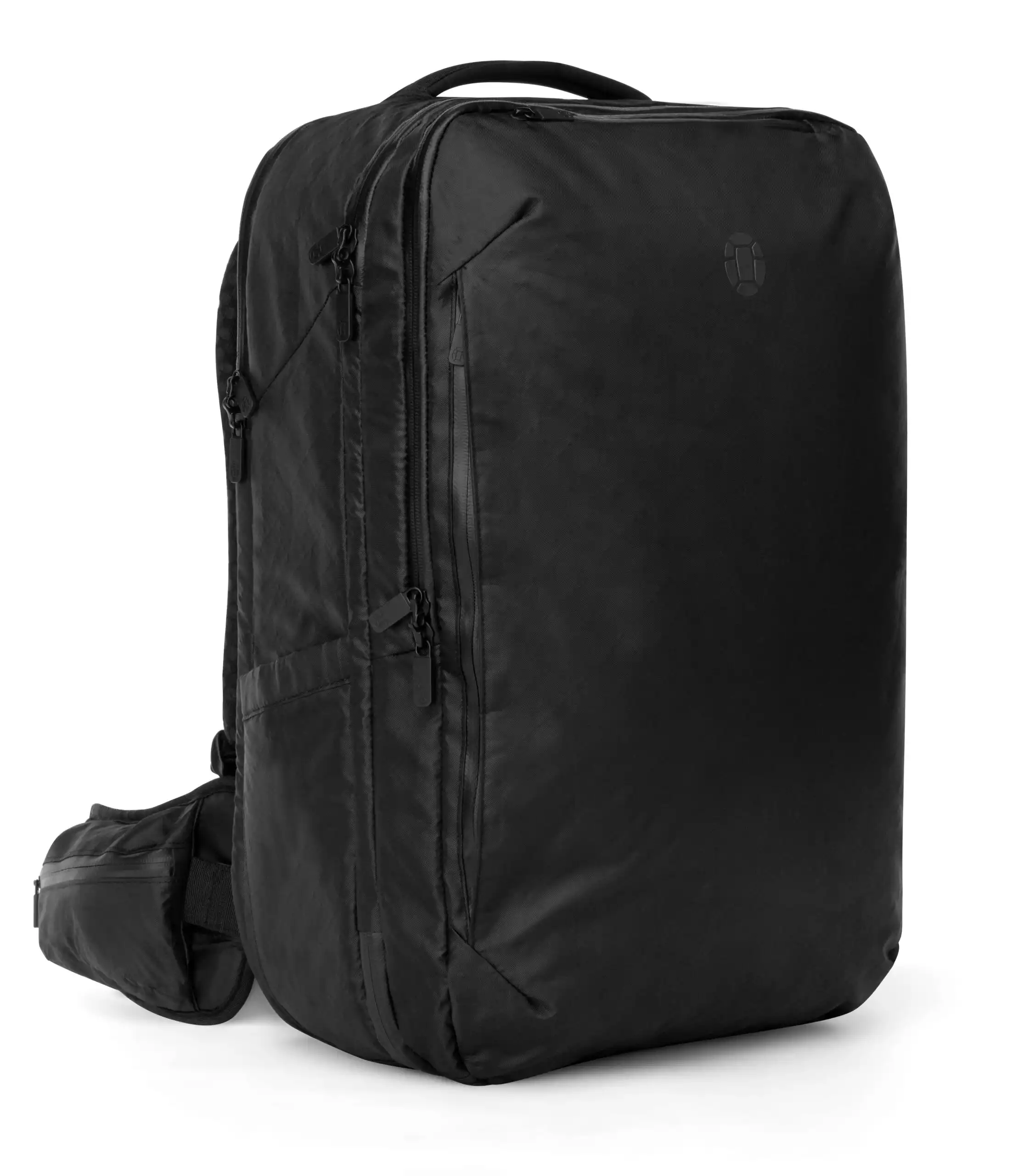 Weatherproof Travel Backpack
Seattle means rain, right? Well, no need to worry about a rain shower on your travel day because the Outbreaker Backpack is made of waterproof sailcloth. Your stuff will stay dry.
The adjustable harness system and extra cushy shoulder and hip straps on this bag make it an extremely comfortable carry. The obsessive level of organization on the inside means that everything has its place and packing is a joy.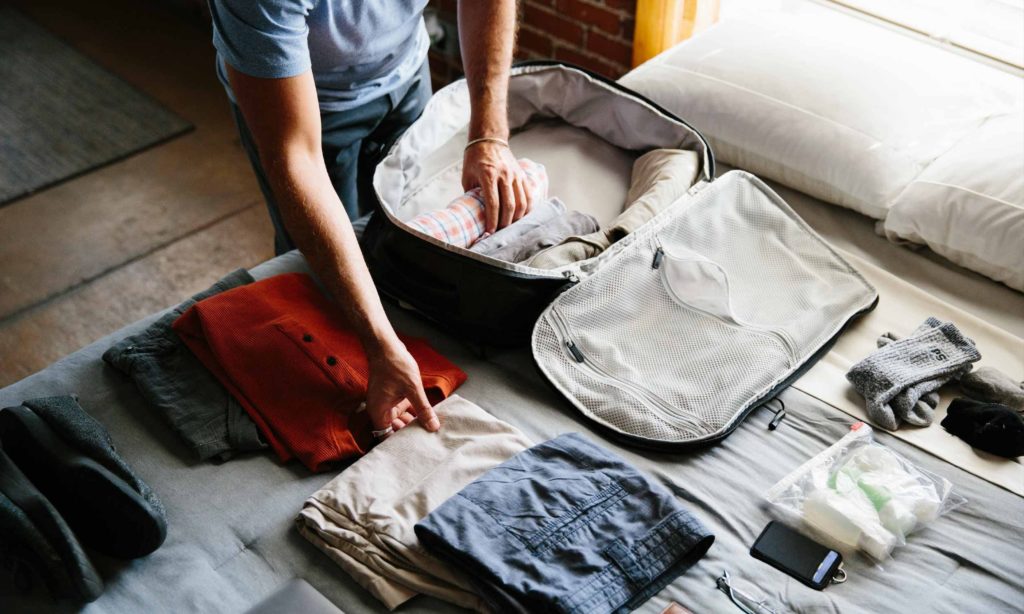 What to Pack for Seattle in September Through May
From September through May, Seattle sees the most rain. October is when things begin to really cool down and May is about the time that relentless grey overcast begins to let up. During this time of year, be sure to bring:
Rainproof Boots
A pair of rainproof boots — or boots that will hold up well in the rain — is the best footwear to bring. A few of my favorites include:
Tretorn: I wore their fleece lined rubber boots every day for 6 months in Seattle, but the low boots are more practical for travel.
Go for a leather or rubber upper, not suede.
What to Wear in Seattle Winters: Down Jacket & Warm Layers
Seattle doesn't get quite as cold as the New York or other parts of the northern half of the country during the winter, but you'll still want to bring warm layers like:
Down jacket (waterproof or resistant if possible)
1-2 sweaters
Beanie
Generally, a pair of skinny jeans, slouchy sweater, and boots will always work if you're unsure about what to wear in Seattle.
A Good Book
When the sun sets at 4:30, and you just can't take the weather outside anymore, there's no shortage of cafes or breweries in Seattle to hunker down in while reading a good book. Check out Elliott Bay Bookstore, a seriously awesome pitstop if you don't have anything good to read at the moment or just love books.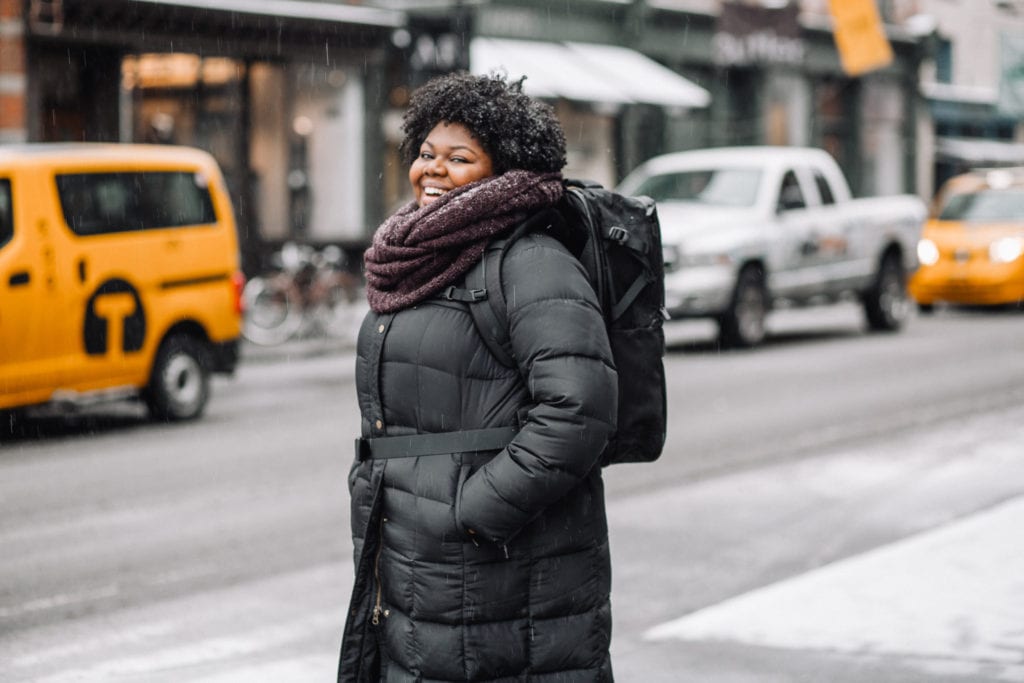 What to Pack for Seattle in Winter
On a 3-day trip to Seattle in December, this is what my packing list looked like:
Clothing
Rainproof boots
Sneakers
Down jacket
Rain jacket (My down jacket isn't very waterproof. I ended up not using this.)
Yoga pants
2 t-shirts
Sweater
Infinity scarf
Hat
Other Items
Book
Toiletries (shampoo, conditioner, soap, toothpaste, toothbrush, lotion, deodorant, eyeliner, chapstick)
Phone and charger
Laptop and charger
Headphones
Wallet, ID, etc.
Everything fit in my Tortuga Travel Backpack. I also had a small crossbody purse for my phone, wallet, keys, and chapstick.
Tortuga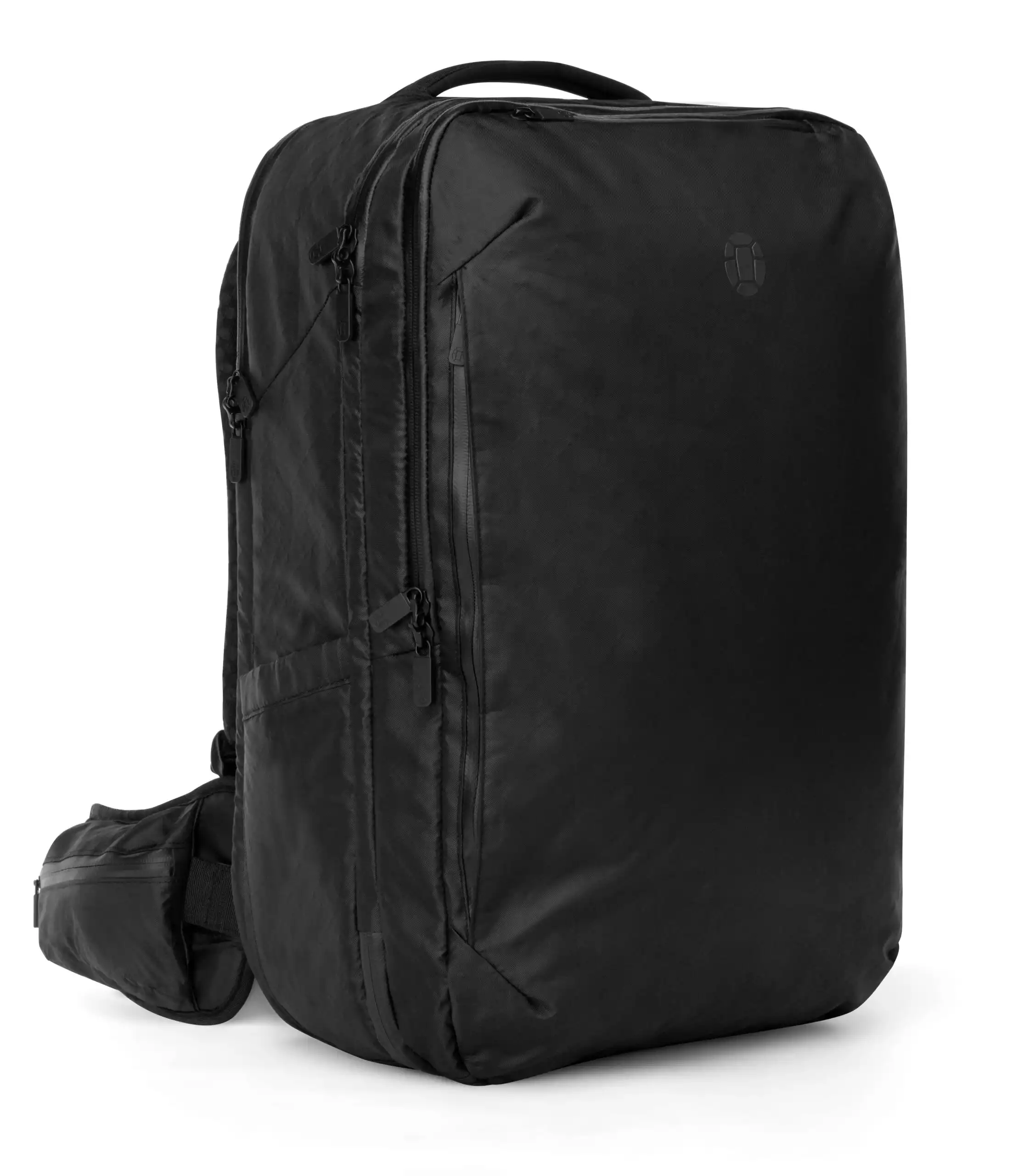 What to Pack for Seattle in June, July, and August
Summer in Seattle is probably the city's best kept secret. If you'll be here in June, July, or August, ditch the sweaters and rainproof boots and instead bring:
Sandals
Warm-weather clothing
Sunglasses
Bug spray
Swimsuit
Camping gear
Shoes for Seattle: Sandals & Sneakers
With nice weather and minimal rain, a pair of sandals and a pair of sneakers are the best shoe combo for a trip to Seattle in June, July, or August. Even if you plan on sticking within the city limits, I'd still recommend bringing sneakers that you can hike in since Seattle parks, like Discovery Park, have great trails.
What to Wear in Seattle in June, July, and August
Summers in Seattle are warm enough for you to wear shorts and cute dresses during the day, but you'll still want to have a sweater or light jacket for evenings. If traveling here during the summer, make sure to bring the following:
Dress, skirt, or pants
Pair of shorts or capris
Tank top
Sunglasses
Sweater or light jacket
If you plan on doing any hikes this time of year, you should also make sure to bring (or buy) sunscreen and bug spray. Also note that camping spots at high altitudes can drop into the 40s at night.
Swimsuit
On those rare, really warm days in Seattle, locals will hang out at Madison Park Beach, Madrona Park, or several other swimming beaches and take a dip in Lake Washington. Bring a swimsuit — just in case! — and join them.
Camping Gear
As I mentioned earlier, you can rent tents, sleeping bags, and other camping gear in Seattle if you'd rather not pack all of that stuff. However, if you plan on spending time in the Washington wilderness and are on a budget bring your camping equipment and enjoy that piney mountain air.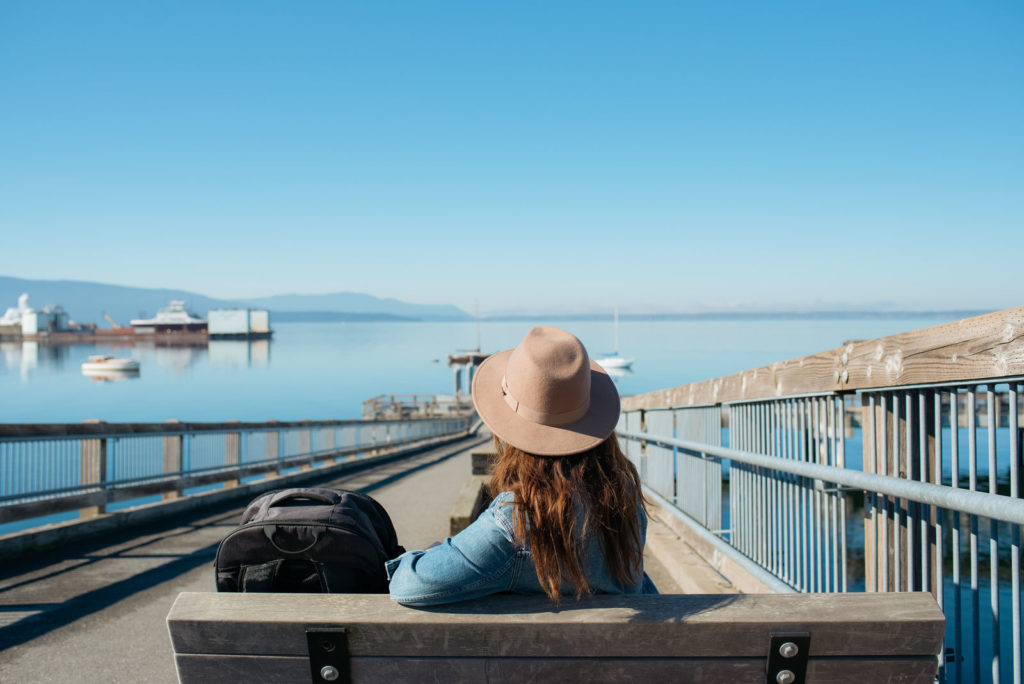 Seattle Packing List for Summer
Last year, this is what my packing list looked like on a 10-day trip to Seattle in July. I was there for the Seattle to Portland bike ride, so I've left out my bike, bike gear, and tent.
Clothing
Sandals
Sneakers
Pants
Yoga capris
Mini skirt
2 t-shirts
1 tank top
Rain jacket
Sweater
Infinity scarf and hat (necessary while camping but not in the city)
Bathing suit
Other Items
Book
Toiletries (same as above)
Phone and charger
Laptop and charger
Sunscreen
Bug spray