What to Pack for Thailand
Regardless of the time of year, when traveling to Thailand you should make sure you pack the following in addition to your usual travel essentials. Even if you forget something, you can easily find most of what you need in Thailand — especially Bangkok, Chiang Mai, and Phuket.
I first traveled to Thailand while living in Madagascar. Going from one tropical country to another, I figured that packing for three weeks in Thailand would be just like any other trip I had taken in Madagascar.
I was only sort of right. While my bug spray and rain jacket were essential, I brought absolutely the wrong pair of shoes, and didn't fully think about how developed, or conservative, Thailand is (let's just say, I wasn't prepared for AC on busses).
Now, after having spent quite a bit of time there, my packing list is much more Thailand-friendly. So for your next trip to Thailand, use this easy guide to help you figure out what to pack for Thailand:
Pack a Travel Backpack for Thailand
Thailand is best navigated with a backpack. You'll be happy to not be wrestling a suitcase up the stairs to the elevated train in Bangkok. Opt for a backpack instead. And since it's Southeast Asia, you'll want something water-resistant. The Outbreaker Travel Backpack is the perfect piece of luggage for Thailand.
Built for city travel, it is well-organized, comfortable, and made of waterproof sailcloth to keep your stuff dry when that unpredictable afternoon monsoon rain hits.
It's also carry on sized. Not only will you avoid checked bag fees, lost or damaged luggage, and waiting at the luggage carousel, it's also easier to navigate a city — and its public transportation system — with a smaller pack.
Pack Slip On Shoes for Thailand
You have to take your shoes off frequently in Thailand — not just for entering someone's house or a temple, but also to go into a cafe, restaurant, shop, or massage parlor. Instead of wasting time unlacing impractical hiking boots or strappy sandals every time, pack a pair of breathable, slip on shoes.
My personal favorites are a pair of plastic jelly flats that you can find in just about every market in developing nations worldwide (including Thailand). They cost $3 – 5 USD per pair, are waterproof, comfortable, easy to slip on and off, and help me feel just a tad bit more as if I'm dressed like everyone else.
Comfy flip-flops sort of work, but will slip around in the rain. Slip on sneakers like Toms aren't the best since they'll take forever to dry when wet. Good alternatives are slip on sandals.
Water Bottle
You can refill water bottles with filtered water for just a few cents in Thailand, so save some money (and space in the landfills) by bringing your own water bottle and filling up as you go. A Tortuga favorite is the Vapur Element foldable water bottle since it packs down extra small while I'm en route and is super durable.
Bug Spray & Sunscreen
You can get both in Thailand, but to avoid high prices and to make sure you have some right when you land (these aren't "just in case" items; but no, malaria is not an issue). I'd suggest packing at least a small bottle of each before leaving.
Rain Jacket
Even outside of the rainy season, which runs from May – October, there's always potential for rain in Bangkok. Between hikes with elephants and moto-taxi rides, you'll want to bring a rain jacket shell with you. Rain jackets with zip slits under the arms are especially nice, since they'll get you some ventilation while keeping you dry(ish).
Rain Cover & Dry Sacs
For the same reasons, unless you're bringing a highly water-resistant backpack like the Outbreaker Backpack I mentioned earlier, bring a rain cover for your bag as well. If you want to be super protective of your belongings, I'd even suggest packing your things in dry sacs, especially electronics, just in case.
REI has a wide selection of dry bags in all sizes and colors — I personally use the Sea to Summit brand the most.
Sweater or Sweatshirt
Though it's usually hot and muggy throughout most of the country, you'll want something warmer for the plane ride and chilly AC on busses. Furthemore, temperatures have been known to drop to as low as 68 degrees in Bangkok during the high season (December – February). A hoodie is perfect.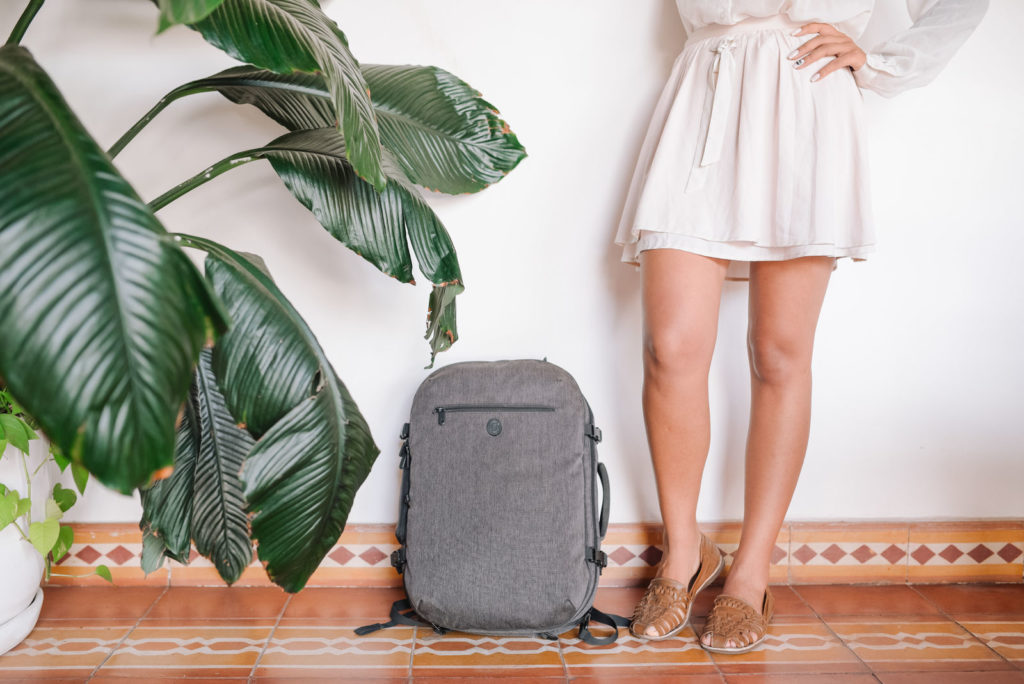 Warm Weather Clothes
Regardless of time of year, be prepared for warm (dare we say, balls hot?) and humid temperatures. A good wardrobe to travel with in Thailand would include:
3 – 4 t-shirts or tank tops (no spaghetti straps)
2 – 3 pairs of longish shorts or loose pants
2 skirts + 1 dress
Also keep in mind that it's not a good idea to wear super short shorts or strappy tank tops — especially in Southern Thailand, where there's a large Muslim population. Bangkok tends to be a little more flexible with how conservative you dress, but even so, it never hurts to play it cautious and leave the crop tops at home.
Definitely don't pack too much. Hand washed items will dry very quickly, and you can always find a laundry center to wash your clothes for you (in a machine) for just a few dollars per load.
A Sturdy Daypack
A friend of mine who lived in Bangkok for several years had her purse, a small, cross-body number, snatched off her while she was riding a moto-taxi to the airport — her passport, phone, and money still inside.
I don't mean to scare you — it's the only time it happened to her in two years living there (albeit terrible timing). Just, consider bringing a sturdy daypack that's hard to rip off you or slit. I recommend the Outbreaker Daypack — its durable sailcloth fabric is harder to cut through than traditional fabrics and a backpack is a lot harder to snatch off you compared to a crossbody bag.
Bathing Suit & Sarong, or Quick Dry Towel
Between beaches and swimming holes, you'll have plenty of opportunities to go swimming, so bring your bathing suit.
I'd also suggest bringing a sarong or a quick dry towel. While guys may want to opt for a quick dry towel, I personally love traveling with sarongs.
In addition to being your beach blanket and emergency towel, you can also use them as a scarf, beach cover up, extra layer in more conservative areas (like the Muslim south of the country) or impromptu bag for your dirty laundry (hobo bag-on-a-stick style).
Hiking Shoes
In the northern and central parts of Thailand, there are some good opportunities for hiking and exploring the jungle. Obviously, if you just plan to stick to Bangkok and the Krabi, or Phuket, beachy areas, you might not need these, but a good pair of hiking shoes are useful while in Thailand.
Definitely do NOT go for hiking boots, but rather opt for a pair of hiking sandals, like Tevas, or waterproof trail runners. I personally prefer waterproof trail runners, since they keep my feet protected while still being breathable.
Your Old Pair of Rock Climbing Shoes
Okay, not all of you will be interested in this but… Thailand's one of the most renowned places for deep-water soloing (rock climbing without a rope over deep water). If you're into climbing at all, bring your old pair of shoes and take a stab at it. But, then again, if you're into climbing, you're probably already planning on sticking a harness and 60-meter rope in your bag and heading straight to Koh Yao Noi as well, aren't you?
Converter
Many of the outlets in Thailand are the same as those used in the U.S. and Canada but they also use outlet "type C" — the circular two-prong outlet similar to that found in much of Europe.
Just in case, it's smart to bring a converter. If you're trying to save room, just bring this specific converter. However, most travelers swear by a more versatile universal converter. It's up to you.
Apps for Traveling in Thailand
Before traveling to Thailand, you might also want to think about downloading a few Thailand-specific apps. For example:
GrabTaxi — A taxi hailing app for taxis in Bangkok. Never get ripped off by a "faulty" meter again.
Next Station — Navigate Bangkok's MRT (train) with this handy trip planning app.
Google Translate — Translate signs and menus instantly with the camera feature in Google Translate — super handy when you know the word "larb gai" but don't know what it looks like in Thai.
Travel Essentials
Then of course, make sure you haven't forgotten to pack your usual hot weather travel essentials, passport, yellow card (if you're coming from a yellow fever zone), toiletries, a camera (or your iPhone), chargers, and a good book (or your Kindle).