Locals in Hawaii are some of the warmest, most welcoming people in the world. Embrace the local aloha style with good vibes and a smile and you'll be on your way to understanding what makes these islands such a special place.
Hawaii receives more than eight million tourists every single year, so the last thing you want to do is look like one, right? I mean, you know you're a tourist, and they know you're a tourist, but you don't have to broadcast the fact that you just stepped off the plane from the mainland. At least not if you want a shot at experiencing some of the more authentic sides of this island paradise.
One of the easiest ways to look (at least a little more) like a local is to embrace the clothing and styles worn by the people that actually live there. So, to help you out, here's a locals only aloha style guide for your next Hawaiian vacation with a few fashion tips, some must-have items (like your aloha shirt!), and a list of things you should avoid when you're relaxing on the islands.
Pack it all in a travel backpack to streamline your travel days. If you're planning on doing any island hopping on a smaller airline, choose a 35L bag instead of a max sized carry on so that it fits neatly under the seat in front of you.
Hawaiian Style Packing Checklist
Hawaiians and locals (yes, there's a difference) are some of the best hosts you'll find anywhere in the world. But there is some growing tension due to overcrowding and frankly, some disrespectful behavior on the part of many tourists.
Set yourself apart from the hordes of clueless tourists that think "authentic Hawaiian style" means a Tommy Bahama shirt covered in hula girls and a sunburn line from a pair of wraparound Oakleys.
Here's a short list of must-haves you should pack if you want to fit in with the locals.
What to Wear in Hawaii:
Simple, knee length shorts — Choose shorts that are at or below the knee please, and solid colors will offset your new aloha shirts (more on that in a sec)
Loose fitting linen pants — One pair of simple loose fitting linen pants or stylish travel chinos are all you need
10,000 Aloha shirts — Perfect for every occasion. Buy local if you can
Aloha sundresses — The ladies equivalent of the aloha shirt
Comfy t-shirts — Great for casual hangs, a day at the beach, or a nice hike
Sunglasses — Protect your peepers like a local
Sandals — Locals call them "slippers;" go with Locals (it's a brand) or Rainbow sandals
Multiple swimsuits — Locals wear surf-inspired board shorts and one-pieces; bring a spare for maximum comfort
Lots of sunscreen — Locals don't look like lobsters! 30 SPF or higher and make sure it's reef safe! (avoid oxybenzone & octinoxate)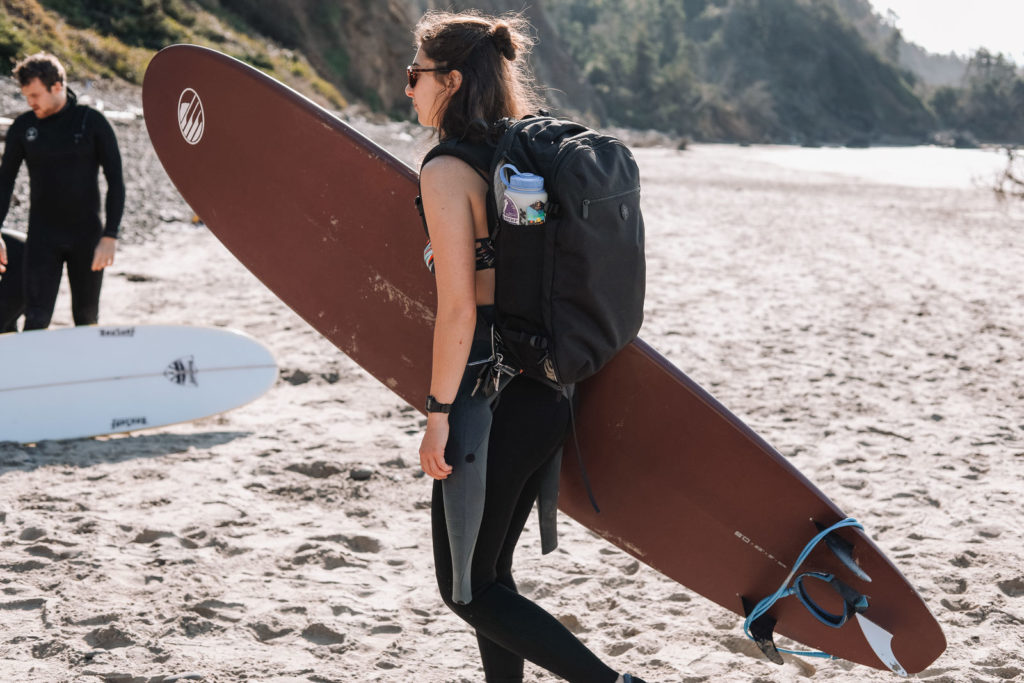 Do Hawaiians Wear Hawaiian Shirts?
Let's tackle the biggest Hawaiian style question first. The short answer is: absolutely. Many Hawaiians and locals wear aloha shirts (aka "Hawaiian" shirts) practically every day including at work, parties, to dinner, or just a casual bbq. They're everywhere.
In fact, a nice button up collared aloha shirt is considered formal dress in a lot of places on the islands. So yes, you will see locals (traditionally men, but ladies you can rock them too!) wearing all sorts of aloha shirts ranging from sun-faded vintage to custom fitted patterns.
The general rule with authentic aloha shirts is simple—keep it smart and casual. That means no bright and flashy colors or patterns. Locals typically wear more sedate floral patterns or simple geometrical designs.
Picture a Tommy Bahama shirt. Now remove all the over the top designs, neon colors, jumping marlin, and surfboards and you're getting close to an authentic aloha shirt. Sorry, parrot heads—locals don't wear cheeseburgers on their aloha shirts. And locals almost never wear aloha shirts with logos, words, or garrish cartoons and cliche stereotypically "Hawaiian" items like hula girls, surfboards, or sharks.
Basically, less is more when it comes to aloha shirts.
For this reason, some tourists can be nervous about wearing an aloha shirt, since it feels inauthentic or like cultural appropriation. But as they say, the devil is in the details. You can—and should!—wear the heck out of an aloha shirt, especially if you buy it in Hawaii. You just need to buy locally if you can, and try to embrace the more traditional look of the locals.
Ten tips for wearing an aloha shirt like a local:
Don't tuck it in: Let it hang as loose as these chill island vibes
Avoid logos, commercial products, and crass patterns: Even though it looks badass, Spiderman shouldn't be swinging around on your aloha shirt
Avoid stereotypical prints: If it has a tiki mask, hula girl, or a bunch of surfboardies or woodies (the car), it's not authentic aloha; avoid cliche images as much as you can
Embrace local style: Traditional aloha shirts have a pocket that matches the pattern, and the buttons are usually made of wood instead of plastic. Look for silk or cotton shirts instead of polyester and you'll not only look cooler—you'll be cooler
Wear neutral colored (khaki) pants: The contrast puts the focus on the shirt (where it belongs!)
Wear shorts: If you don't want to wear pants, no worries! Aloha shirts look even better with shorts. Just keep the shorts simple with a neutral solid color
Don't mix patterns: If you are wearing louder shorts, maybe skip the aloha shirt. One pattern at a time is more than enough
Get a comfy fit: Traditionally, aloha shirts are worn a tad loose. It's all about comfort on hot days.
Get a tan: I know, I know, but aloha shirts tend to look better on people that look like they've actually been to Hawaii for more than a few days
Own it: You bought that awesome aloha shirt to be worn. Don't let it hang in the closet because you feel awkward. Embrace the attention as everyone marvels at your epic shirt. Heck, lean into the local style with a (tasteful) hat or even a puka shell necklace. Actually… maybe skip the necklace.
Aloha shirts are an inclusive garment that locals and tourists can both enjoy. Just try to be respectful, especially with the patterns you wear, and you can start building your wardrobe of authentic or even vintage aloha shirts to take a slice of island life back home with you.
And please, please, please get some Loco Moco when you're there. That has nothing to do with aloha shirts, but just do it. You'll be glad you did.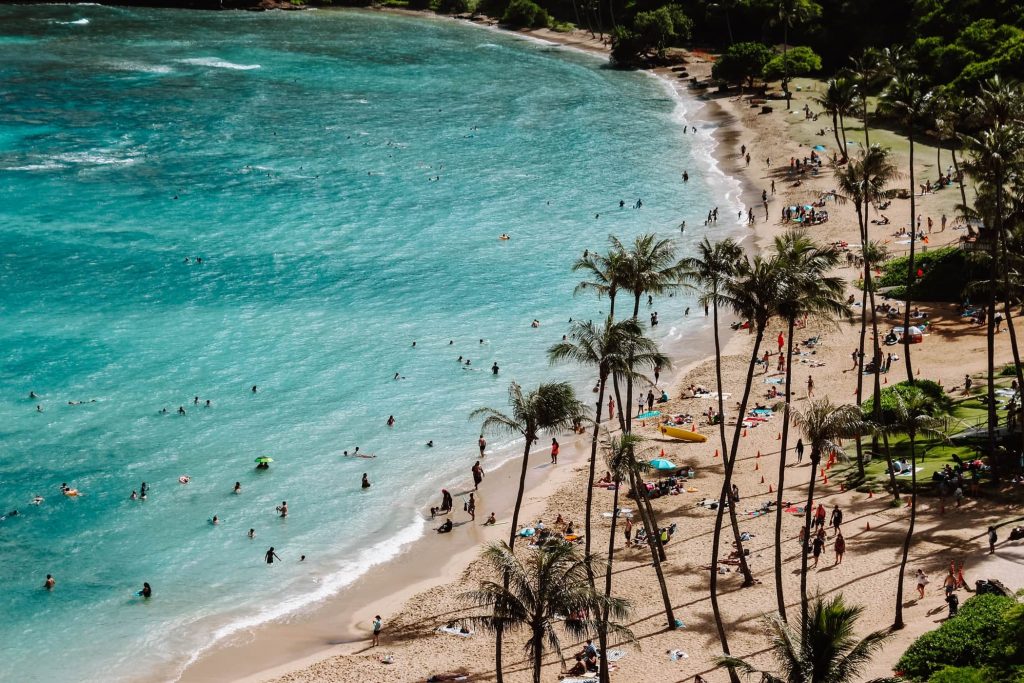 What do Hawaiians Wear?
Hawaiian style is a lot more than floral print shirts, cargo shorts, and flip flops. And it's worth noting, again, that there's a difference between indigenous Hawaiians and long term locals. Here's how to dress like a local (or at least someone who can hang with the locals) in Hawaii.
Hawaiian Style Tip #1: What is "Aloha Attire?"
You'll see the term "Aloha attire" at your hotel or restaurant if you look for a dress code. But don't panic, all it means is "dressy casual."
Aim for smart and relaxed and you'll fit in just fine. Here are some suggestions for aloha attire:
For ladies: Slacks and a blouse are great as well as an aloha style dress and sandals
For guys: Aloha shirts (obviously) with either loose fitting pants (think linen or cotton) or tasteful length shorts. Polo shirts are also great, and jackets, while stylish, are rarely required
Hawaiian Style Tip #2: Pack Simple Solid Shorts
Pack a few pairs of shorts (it's Hawaii after all). However, remember that locals don't typically wear super short shorts. Wear something a little closer to knee length (like board shorts) to look more local.
Also, brightly colored shorts are great, but remember that you're probably going to pair your color shorts (to pair with your new, locally made Aloha Shirt). Keep your shorts neutral and let your shirts do the talking.
Hawaiian Style Tip #3: Linen Pants are Classy as Heck
It's tempting to leave your pants at home, but Hawaii can get (a little) chilly at night. Especially during the winter or if you're staying somewhere with a little elevation.
A pair of simple loose fitting linen pants or travel chinos are a great way to add a little sophistication to your evening look. Just avoid anything with cargo pockets, and you'll be looking like a local in no time.
Hawaiian Style Tip #4: Don't Mix and Match Patterns
It's your vacation, so obviously this is your call, but locals tend to keep their style a little more chill. Think simple faded t-shirts and solid colored shorts or pants. No neon or garrish patterns or colors.
Also, if you keep your bottoms neutral it can really class up your pop of color or style if you do choose to.
Hawaiian Style Tip #5: Don't Get a Sunburn
It's not really a "style" tip, but there's nothing more tourist looking than a bright red face or peeling skin. Wear sunscreen and appropriate sun protection, including a hat and skin covering clothing, when you're in the sun.
Locals can usually spot a tourist at a hundred yards, but when you look like Rudolph the locals can see you from space. No amount of authentic aloha style can make up for a haole who looks like a lobster. Plus, sunburns… you know… suck.
Best Shoes for Hawaii
Your footwear is strangely important when visiting Hawaii. Not only because you need the right shoes for long day hikes (go with approach shoes or lightweight trail runners), you need to get the right kind of sandals to blend in with the local crowd at the watering hole.
First things first, local Hawaiians call sandals "slippers," and they wear slippers everywhere. They're super comfortable and practical, especially if you're kicking your shoes on and off all day to go to the beach, the pool, or inside someone's home.
When it comes to sandals in Hawaii, there are really only two real options: Locals or Rainbows.
Locals sandals are the cheaper (around $20), thin, plastic and rubber style flip flops. They literally say "local" on them, and they're aptly named. They're everywhere, mostly due to the low price and comfy fit. You can pick them up when you land at the box stores in Honolulu or basically any tourist or gift shop on most islands.
Rainbow sandals ($40-$60) are my personal favorite thanks to the buttery soft leather and durable construction. These sandals get better the longer you wear them as the leather conforms to your foot. They're also a signature sandal of surfers, so if you're trying to chase those waves, invest a little more in a sandal that will feel like a cloud and last for years.
Either sandals will make you look instantly more like a local.
What Not to Wear in Hawaii
Hawaii is a pretty laid back place where casual is the norm. When I lived and worked in Kihei, Maui as a bartender I got away with a few aloha shirts, t-shirts, tank tops, and shorts for months. But just because Hawaiians and locals are chill doesn't mean anything goes.
Here's what not to wear in Hawaii, especially if you don't want to stick out like a sunburned thumb:
White Tennis Shoes
Nothing says haole ("foreigner") faster than chunky white sneakers. The Big Island has a Wal-Mart and Target, and even that hasn't brought the dreaded clunky sneakers to Hawaii.
Leave the kicks at home and embrace sandals or at least slip on shoes like Toms or other espadrilles. They're not only more comfortable, they make sense when you spend half your day at the beach and the other half taking your shoes off before you go inside.
Socks With Sandals
You're better than that. If your toes get chilly, wear shoes.
Loud Hawaiian Shirts
Aloha shirts are the norm on most islands, but there's a limit. Bright neon shirts and novelty Hawaiian shirts with sports team logos or cartoon characters are only worn by (drunk and annoying) tourists. Enjoy your vacation, but try to do it with a little class and respect for one of the coolest local fashions you'll find anywhere in the world. Leave the neon at home.
Matching Aloha Shirts
You might think it looks cute, but locals don't wear matching shirts with their partners.
Speedos
You're (hopefully) going to spend a lot of time at the beach or at least at the pool. Embrace local style with board shorts or longer swim trunks. Speedos aren't the local style for men for a good reason— the wax on the surfboard can chafe when you're surfing.
Puka Shell Necklaces
We all loved the 90's, but Linkin Park was terrible, and so are puka shell necklaces. You will look ridiculous if you sport these. Actually, you know what, go for it. The locals can always use a good laugh.
T-shirts or Tank Tops That Say "Hawaii."
It's like wearing an "I Heart NY" shirt in New York city. Locals don't scream where they're from.
Leis
Wearing a lei is super fun, and at some point on your vacation you will surely be offered one. And that's awesome. Wear the lei you're given with pride, because embracing local culture is what travel is all about. But remember that leis are usually only worn by locals on special days (like a birthday or holiday), so they're not an essential "accessory" to your Hawaiian shirt, especially not cheap plastic ones.