What to Wear in Italy to Look Like a Local
Keep your packing list small with a few stylish, quality basics that you can wear with just about anything. Create a streamlined capsule wardrobe and you'll be on your way to looking Italian.
Italy just might be my favorite place on Earth. This probably explains how a "quick" visit to Rome a few years ago turned into me living and working in Italy for nearly a year.
The warm people, melodious language, rich culture, millennia of history, white sand beaches, glittering cities, gorgeous coffee, and of course ultra-chic fashion all combine to create an intoxicating blend of endless relaxation and effortless style. The best way to experience the "real" Italy is to look the part, and the first step to living that dolce vita is knowing exactly what to wear in Italy—and what not to wear.
The best first step is to keep your packing list small with a few stylish, quality basics that you can wear with just about anything. Create a streamlined capsule wardrobe and you'll be on your way to looking Italian.
Here are the clothes and styles you should pack in your backpack so you don't look like a tourist on your next incredible trip to Italy.
Italian Fashion Style Guide: What to Pack for Italy
This is a style guide for traveling to Italy—a "best practice" for looking a little more fashionable than the average traveler. It's not a complete packing list.
If you want a full rundown of everything you should pack for Italy I've written an extensive Italian packing list here that includes recommendations for gear, luggage, clothing, and what to pack for summer or winter in Italy.
Now that that's out of the way, here are my eight biggest style tips for packing for Italy so you look as chic as any Italian on the street.
Wear Clothing that Fits Well
Italians don't dress that much different than people in other European countries, yet for many people, Italians are the epitome of chic. Why? Because Italians care about how well their clothing fits. Yes, some Italians rock a $2000 tailored merino wool suit, but even the cheap stuff looks great when it fits well.
Fitted shirts, snug pants, and streamlined blouses are all hallmarks of Italian fashion. Even when women's fashion embraces a bit of drape—like linen culottes—the waistline is cinched or tailored to perfection.You don't have to spend hundreds of dollars on the newest "stylish" clothing to look quintessentially Italian. Just get clothing that fits well—it can be as simple as a great fitting t-shirt and jeans—and you'll look (and feel) so dang sophisticated.
Embrace Wool and Linen
Italians have the almost mythical ability to look put together all the time. They manage this effortless brilliance with a great fit (see tip #1), but also with a few simple transitional seasonal fabrics.
Merino wool is a great travel fabric because it handles sweat and heat in the summer and cold wet days in the winter with the same ease. Pick up a few basic merino wool t-shirts and finish off your stylish packing list with one to two merino button-downs and you'll be prepared to explore the ruins of Rome or the cafes of Florence like a local.
Just keep the prints simple or better yet, opt for solid neutral colors to mix and match for multiple outfits that work at sunset happy hour or a raging late night club in Campo di Fiori.
The same goes for linen. Honestly, I've never been the biggest fan of linen, since it can wrinkle in transit. However, summer in Italy can be hot, and linen is just the coolest fabric for, well, looking cool on sweltering days. Find a pair of linen pants or shorts you can wear while exploring the town and bring along a nice linen top to wear with jeans or shorts for happy hour aperitivos by the river.
Pack Button Downs and Collared Shirts
Italy is the place for a simple, classic button-up. Even if you're not a button-up kind of guy (or gal) you'll want at least one nice-looking shirt for going out. Especially once you see how classy Italians can be.
I recommend a nice linen or cotton blend long-sleeve button-up that breathes so you can roll the sleeves up during the day and then transition into a put-together nighttime look by adding a blazer or just rolling the sleeves down.
A nice button up shirt goes a long way—for men and women—but it shouldn't look stiff or too formal. Avoid checkered prints (they make you look like you work at a hedge fund), and ditch the vertical stripes. Picture something you'd wear to a classy beach BBQ in Massachusetts and you're in the right ballpark.
If you don't like long sleeve shirts or it's summer, add a pop of color with a fun print for going out during the day or clubbing at night. Seriously, bring at least one nice shirt with a collar in Italy so you don't look like a total schlub. The Italian dress code demands it.
What to Wear in Italy for Women: Shorts Shorts are So Chic
Italians love a nice pair of short shorts, and not just for women. Guys, girls, grandmas—everybody wears shorts, and they're probably a lot smaller than you're used to. If you're traveling to Italy during the summer, get ready to wear shorts that show a little thigh, because Italian style is pretty skimpy. And that's ok.
Pack a pair of colored travel shorts and you'll look like a local. Light blue or green typically pairs well with other clothing, but feel free to opt for a little extra "Italian" touch with a wild pattern if you're looking to make an impression.
Honestly, when it comes to shorts, there are no rules. Go nuts. Bedazzle your name on the back pocket if you want—no one will even notice.
What to Wear in Italy for Men: Your Blazer
If you've ever thought, "Hey, travel blazers seem super stylish and handy, but I don't really know where I'd wear one," Italy is the right place for you. You can class up dang near any outfit with a well-made travel blazer, and blazers look quintessentially Italian.
Opt for a good fit over a bunch of needless "travel" features (like secret pockets and rain-wicking nonsense). Basically, find a travel blazer that you'd actually want to wear somewhere other than a plane and you're all set.
The color depends a lot on you, but you can't go wrong with a nice functional navy blazer for just about any occasion.
If you want a deep dive into how to pick a great travel blazer and some of my favorite brands, here's my extensive article on how to pick a travel blazer that fits and looks great.
Sunglasses are Stylish (and Safe)
Your mom was right—you gotta protect your eyes. Luckily, sunglasses are very much in style in Italy. I think it's all the Vespas…
Traditional "sports" style sunglasses aren't really worn in Italy, so leave the Oakleys at your dad's fishing cabin. Opt for a nice pair of Wayfarer style frames (a la vintage James Dean) or timeless Ray-Bans.
Italian style honestly hasn't changed that much since the 1960's (which is kind of a good thing), so dust off some throwback shades and bask in the jealous glare of other tourists as you get invited to all the Aperol spritz rooftop parties.
If you're more into that modern look, bamboo or wooden frames are also very in right now. And if you're not sure what to wear, you can always pick up a pair of cheap knock-offs from the guys on the street in Rome, or a really expensive pair in a boutique. Your call.
Ray-Ban Wayfarer Sunglasses ($150+)
Woodies (wooden sunglass frames) ($60)
Have Fun With It
The best part about traveling to Italy is that Italians couldn't care less about what you do. If you've ever wanted to experiment with some avant garde nonsense, Italy is the place for you.
Curious to see what your butt looks like in bright red skin-tight jeans? Wear them to the Colosseum. Thinking about a t-shirt with two-foot tall reflective gold letters that says "Ciao" in cursive? Heck yeah, buddy. They sell 'em everywhere.
Italians can be incredibly stylish, but style doesn't just mean coloring within the lines. Italy is full of artists, designers, dreamers, and heroes who dress a little differently than the rest.
Try out some new styles and see what happens. If you're authentic to yourself, you'll always be a hit in Italy.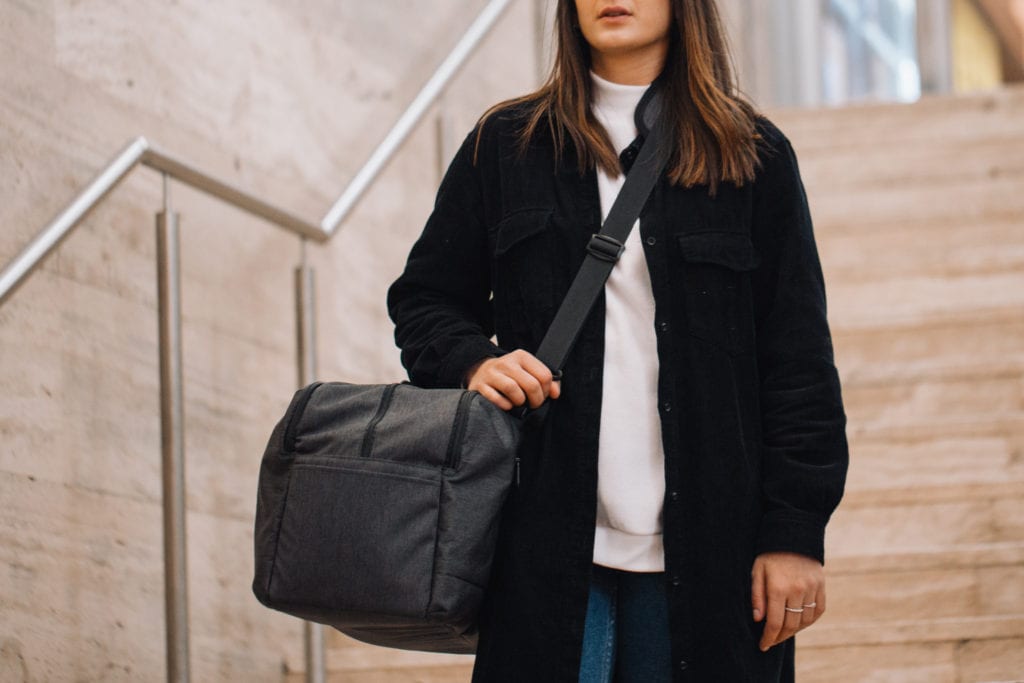 Invest in a Few Nice Pieces
The final key to packing for Italy is to relax.
It can be tempting to load your bag with tons of different stylish looks, but remember, you're still traveling. It's important to keep your bag as light as possible when you travel to Italy. Most of the places you'll want to visit are hundreds of years old, and they love six-floor walk-up apartments and hilly cobblestone streets.
Keep your packing list small with a few stylish, quality basics that you can wear with just about anything. Create a streamlined capsule wardrobe using the tips above and you'll be well on your way to looking Italian. Remember, well-crafted, simple clothing that can be worn at the beach or in the piazza sipping an Aperol spritz is all you need.
Not sure if you're bringing too much? Lay out all of the clothes you're thinking of packing. Does everything do together? Can you mix and match most pieces for multiple looks? Remove items that only go with one other piece and sub in a couple of do-everything basics like stylish travel pants and merino shirts to handle most of your day-to-day looks.
Remember, the key to Italian fashion isn't looking like you just stepped off the runway, it's about looking as good as that old man walking to the corner or the impossibly chic barista making your coffee. If you look like them, you're doing great.
What Not to Wear in Italy
While Italians are notoriously (almost dangerously) relaxed about certain things, they can be a bit… dismissive, if you look out of place. Plus, Italy is more fun if you try a little to blend in, and who knows—you might actually soak up a little of il dolce vita if you walk a mile in another man's Italian loafers.
I know they're comfy, but don't pack those crocs (and a few of these other items) and you'll have a better trip to Italy. I promise.
Leave the Socks at Home
Here's a fun fact—Italians don't really wear socks, or at least not socks you can see. Ankle socks are fine, but many Italian men and women simply buy nice espadrilles or loafers and go al fresco. It's a chic, sleek look that goes well with a cuffed pair of travel chinos or culottes, and the best part is, it's one less thing to pack!
A stylish pair of leather straps sandals are also a go-to for many Italian women, if not quite as many guys. You can apply the same logic to high heels—strap sandals are the name of the game.
Bonus: you can kick your shoes off and enjoy a little gelato in the park or maybe even reenact La Dolce Vita in a fountain or two if you're in Rome on a warm summer day.
Don't Wear a Snapback Cap
I love my Wallowa trail hat from Tillak, but it's a trail hat and honestly isn't built for a stylish Italian vacation. Italy is not the time to rock a baseball cap, no matter how cool it looks.
Caps and snapbacks immediately mark you out as a tourist in Italy (and most of Europe). Best case, that's annoying. Worst case, you become a target for theft, scams, harassment, or just getting ripped off or ignored by Italians.
If you have to wear a hat to protect you from the sun, snag a more stylish travel hat for your Italian adventure or pick one up when you're there.
Don't Order Cappuccinos in the Afternoon
Ok, this isn't technically a "fashion" tip, but it is a style tip, so pay attention.
You're going to spend time in Italian cafes in Rome, Florence, or Milan. Dressing the part is a great way to look like you belong, but the most important style tip is ordering coffee like an Italian. That means, do not order a cappuccino or a latte after 11 am.
Coffee with milk is considered a morning drink, and they'll look at you like a weirdo (or a dumb tourist) if you get a coffee with milk in the afternoon. Also, now that we're on this subject, don't order a "latte." It means "milk" in Italian, and if you order one that's exactly what you'll get. A nice cold (probably little) glass of milk.
Summary of What To Wear in Italy
Italian fashion is a timeless art that's been perfected over the years, but that doesn't mean you can't look like a local with a few simple pieces of quality, stylish travel clothing. Opt for a great fit over a flashy look, invest in a few simple pieces, and keep it light and mobile, and you'll be living that #dolcelife faster than the sun sets over the Forum (it happens fast).