What to Wear in London to Avoid Looking Like a Tourist
London is calling, and she's trying to tell you that she's not like the others. She's, well, special. She's Paris' more functional cousin and New York's classier best friend. She can wear a killer fascinator to high tea in Chelsea and rock light-up platforms to a show in Brixton in the same day. Oh, and she never forgets her umbrella.
If it isn't clear by now, London is one of my favorite cities.
You never know what you're going to get with London. It is where the world meets, over a pint for a football match at the pub or a warm cuppa (cup of tea), inside while it rains. Sitting in Victoria Station is one of my favorite people watching places of all time, simply because you can lose count of how many uniquely dressed characters are running by, politely (read passively aggressively) trying to push past groups of tourists to run for a train or the Tube (London's Underground).
Unlike my previous posts on Vienna and Paris, I'm relieved to say that there isn't as much conservative or fashionable uniformity when it comes to London. From the Canary Wharf tailored suit banker, to the Afro-Caribbean Brixton hipster, to the Chalk Farm smoothie-drinking yogi, every neighborhood is like its own village or bubble within the city. In other words, while the city remains a fashion capital, it is not the sum of its parts.
London remains a mosaic city. So, while you can certainly dress your best, you won't receive unwelcoming stares for not doing so.
If there was something though that Londoners agreed on, it would be that the city dresses for the weather. I'm not going to fall into the false trap of claiming that London is the rainiest city on earth, because it just isn't compared to other cities, even within the UK. However, it does rain quite a bit and when it is hot, it can be scorching – sometimes both on the same day.
So, let me dole out some tips on how to pack your backpack to be fashionable, casual, and comfortable throughout the year in London… read on!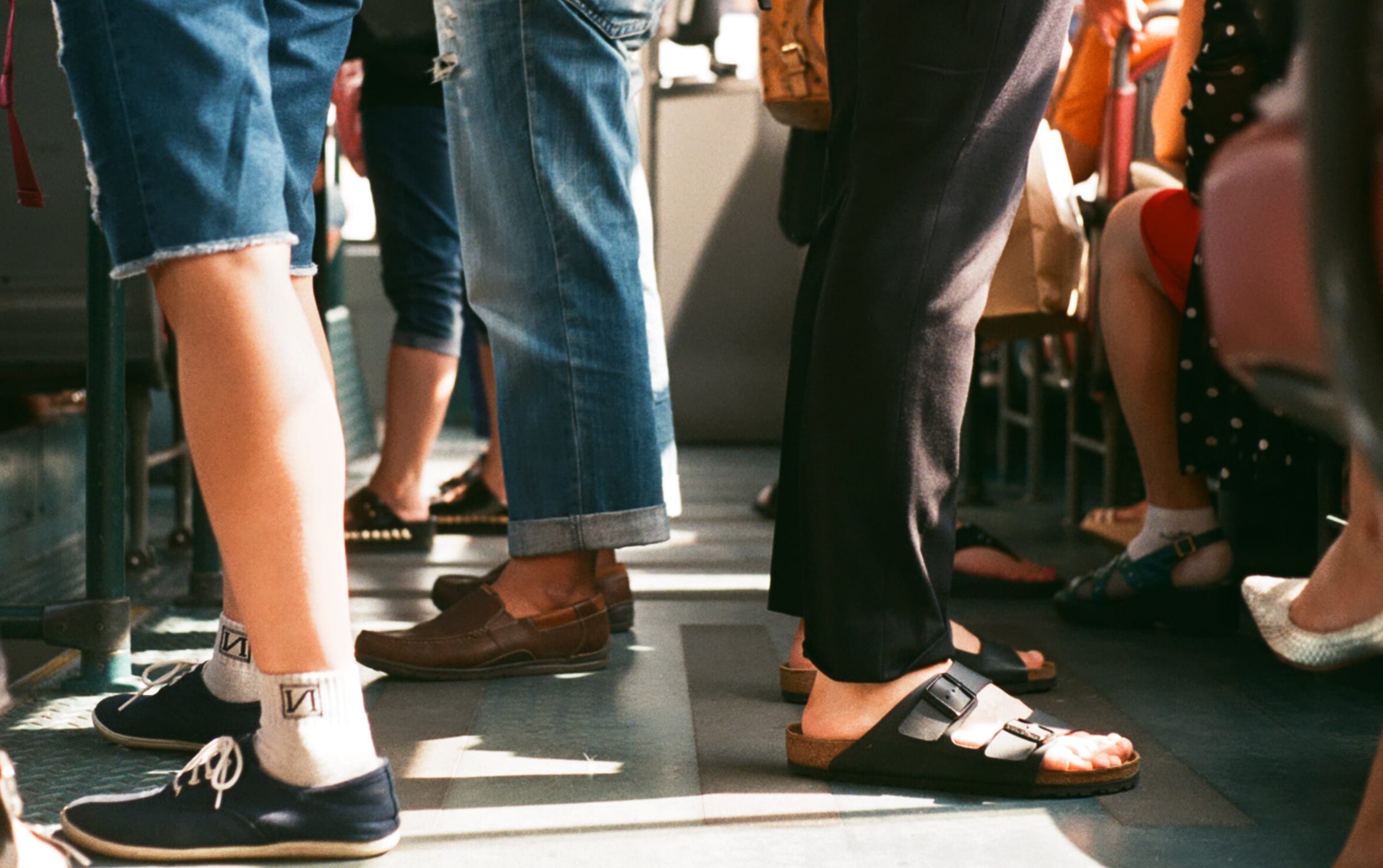 What to Wear: Shoes for London
But first, let's talk footwear.
As usual, I need to emphasize that comfortable shoes are essential to navigating London without losing your sanity.
There is not really an 'off-peak' to London. The city is constantly busy and ranges from 'packed' to the point of suffocation in the most touristy areas, like Piccadilly Circus and Parliament.
If you want to get in and out of places quickly and comfortably, plan to walk.
If you're dressing up for a show in the West End, then dress shoes and heels are definitely appropriate.
That being said, I'd recommend wearing leather ankle boots with sturdy soles during the spring, summer, and autumn and leather shin-height boots during the winter when you're trying to get from A to B quickly and comfortably.
Do not wear wellies (knee level rain boots) – these are reserved solely for the countryside, and there's no reason to wear heels unless you're going out or attending a formal function. Leave the flip flops and sneakers back home!
What to Wear in London: Autumn
Personally, I love autumns in London. There's nothing like walking down a tree-canopied street lined with Georgian houses with a flat white and a croissant in hand.
It's the time of the year to start layering until summer comes again, so ladies, jeans and button down top or a dress with leggings, accompanied with a sweater and light jacket is a wise outfit.
Fellas – it's time to rock the sweater over a button down with a pair of fitted jeans or trousers.
Rain and temperatures around 50 and 60 degrees hold steady from September to November. In other words, ladies and gents, autumn kicks off the 9-10 month rainy season until the summer hits and tossing an umbrella in your daypack is a must if you're not wearing a raincoat.
What to Wear in London: Winter
I've always found London's winters to be confusing. Sometimes it feels like a spring day and other times it feels like a winter wonderland.
November tends to kick the season off with light to heavy rain – with snow more likely in January and February. Remember that the Gulf Stream heats Great Britain, so it's not exactly climate change causing milder temperatures in the 40s and 50s during the winter months.
That being said, ladies and gents, layers are our friend once again. It's usually a safe choice to have an insulated coat with gloves and a hat at the ready (temperatures sometimes fluctuate pretty radically throughout the day). A sweater with a blouse or shirt underneath with some fitted trousers should keep you cozy and give you something to shed in case it's too toasty at the local pub.  
What to Wear in London: Spring
Whatever you do, please do not wear shorts at the first sight of the sun.
The weather is likely still cold enough to wear trousers and also is variable enough to change mid day.
When it comes to spring, the last thing you ever want to do is think that it will be a day without rain. Ergo, make it your rule to always carry your raincoat or umbrella with you no matter how sunny it is in the morning.
Towards April and May, you can certainly begin to start turning in your winter layers for lighter ones. Lighter jackets and sweaters are certainly a start.
Ladies can start thinking about dresses again (accompanied with a sweater, depending on how cold it gets in the evenings).
Men, you can likely get away with a short sleeved shirt, a sweatshirt in hand, and lighter trousers.
What to Wear in London: Summer
London summers can be absolutely scorching. At the same time, everyone will be taking advantage of the heat to wear as little as possible, given that the majority of the year is spent layering.
Ladies – colorful summer dresses, hats, shorts, and blouses will likely be on show especially if you're lounging around the parks.
Guys, a button-down shirt and some pastel shorts would be a typical summer outfit for the British lad.
Though 20% of London is made up of green spaces, definitely be sure to bring a pair of sunglasses and wear some sunscreen as you may not always find adequate shade on London's busy sidewalks.