What to Wear in Morocco: A Style Guide for Travelers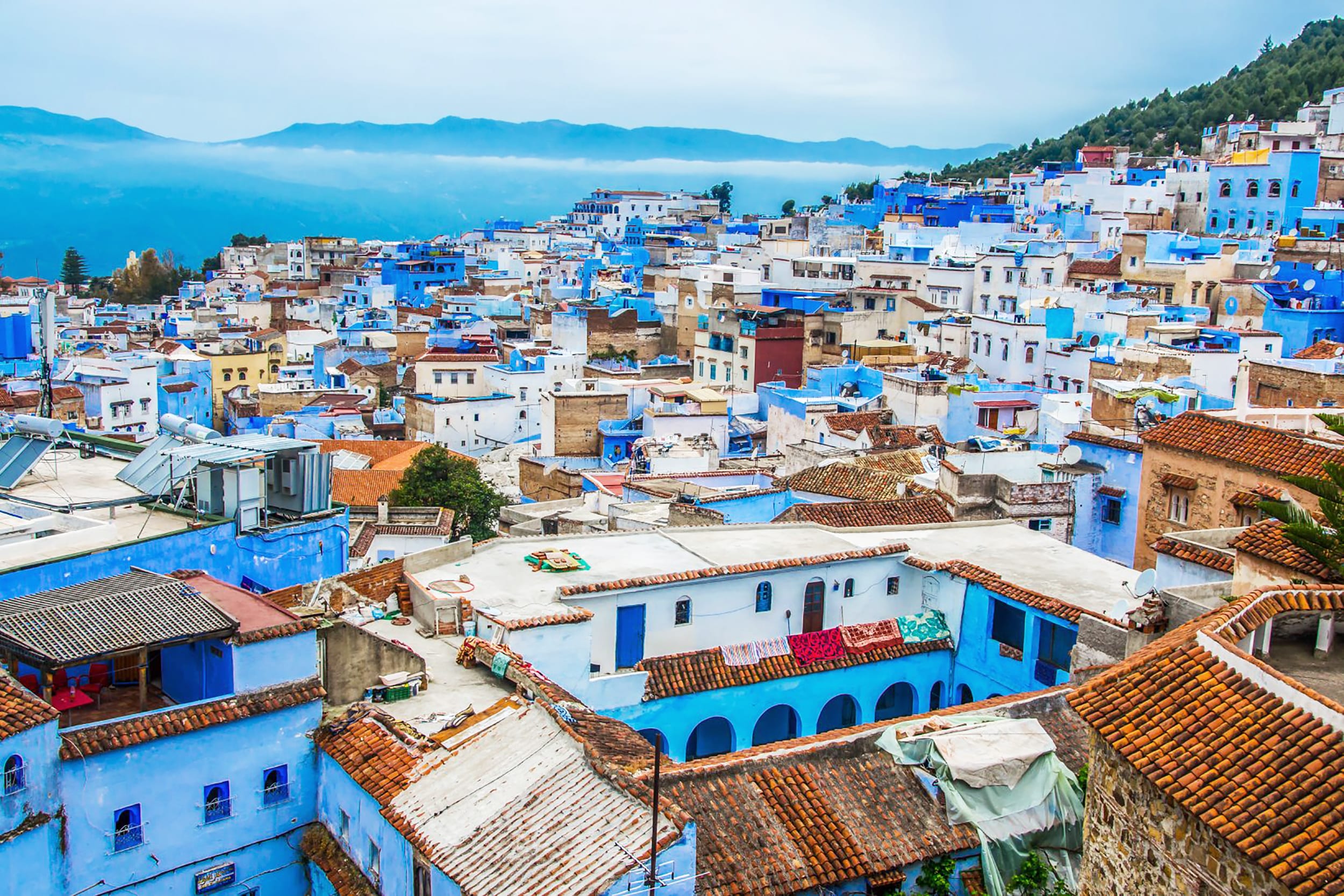 Morocco is a gorgeous Muslim country with rich heritage, stunning architecture and beautiful natural landscapes. While it has much more to offer than a photo-op, you'll still want to leave home with beautiful pictures—and what better to pair those pictures with than an à la mode wardrobe?
So, you've finally decided to book the flight to the easternmost corner of North Africa. While researching, you've heard that the 1942 film Casablanca wasn't actually filmed in Morocco, seen pictures where many Moroccan women still wear traditional long jeleba dresses on streets, and decided that you're going to book a "glamping" trip in the desert, but you're not sure what "glamping" means. What do you do? How do you dress for a trip where all your sources of information feel like a paradox?
Having spent a lot of time in Morocco, let me help you navigate the clothing dos and don'ts. You'll be able to put together a wardrobe reflecting your own clothing taste that simultaneously respects the complexities of Moroccan culture.
Moroccan Style 101
To figure out how to dress in Morocco, you have to understand why there seem to be so many paradoxes to its culture; the various contrasting depictions of Morocco in popular culture merely reflect how complex and dynamic the culture is. "Tradition" and "modernity" are not binary ideas, and the path to a society's growth is not linear. It is not rare nor negative for a society to be traditional and modern at the same time, and our way of behaving, communicating and dressing within a different culture is indicative of our respect for that culture.
Some Moroccans prefer more traditional clothing styles—often in the form of a jeleba dress—for their daily activities, while others adopt Westernized fashion, taking notes from a European style guide. Oftentimes, observers will simplify this into a "youth/older generation" age difference, or associate this distinction to class difference. In reality, the difference is much more complex and less clear cut. Clothing doesn't necessarily reflect religious beliefs or conservativeness; it is simply what is fashionable or comfortable for each individual.
A Moroccan friend once commented to me that she felt it was strange when female Western tourists to Morocco had one of two outfit choices. Either, they tried to "fit in" by importing their idea of "Moroccan fashion," in the form of the mismatched remnants of the boho chic wardrobe they retired to the back of their closet after 2009. Or, they tried to pick their skimpiest summer clothes, as if to assert their foreignness in a new country. In reality, she commented, tourists would be much better off if they just wore the "typical" style of clothing that they wore in daily life at home. I responded, that perhaps we just didn't know what to wear—after so many stereotypes, misunderstandings and Instagram influencers have colored the way that Morocco is seen from a foreign perspective!
To fit most comfortably into your clothes when you travel, simply pack in the style that you usually wear. There are a few rules for covering up, both for pragmatics and respect, but otherwise, stick with your usual clothing style! Moroccans are not judgmental; they are welcoming and tolerant of cultural differences, but expect that we will be understanding and tolerant, too.
A Travel Backpack is Perfect for Morocco
Trips to Morocco generally involve covering a lot of ground in a short period of time, and there is nothing more exhausting than lugging heavy rolling bags out of hotels and onto city transportation.
You'll want to choose a travel backpack that is right for your needs and frame—no backpack is one size for all—but you'll feel much more comfortable traveling between cities when all you need is easily carried on your back.
When I traveled through Morocco as a study abroad student two years ago, I took the 35L Outbreaker Backpack as a carry-on. Although I also brought a larger rolling suitcase since I was staying a much longer time and had many books to carry, the Outbreaker Backpack was perfect when I took trips on extended weekends or school holidays. Backpacking made solo city travel a breeze.
What to Wear in Morocco for Different Seasons
Morocco borders the Atlantic Ocean, and many of its large cities are on the coast. This means most cities experience hot and humid summers, but cool, milder winters. Here is what to wear throughout the year:
What to Wear in Morocco in Spring and Fall
If you're visiting in the spring (March-May) or the fall (October-November), you'll comfortably wear shirts and pants without needing too much thought about extra layers. However, you may want a sweater or cardigan for nightime, or if you're planning on visiting the desert.
What to Wear in Morocco in Winter
If you're visiting during the winter (December-February), it's important to remember that most of Morocco has a mild winter, but central heating is not widely available. For this reason, you'll want to pack extra layers—a long-sleeve or tank top base, cozy sweaters, and warm socks. A packable winter jacket, such as the Patagonia Micro Puff, will also be extremely versatile to pull out when the temperatures drop. If you're visiting a city in the Central Atlas Mountains of Morocco (think: Fes, Meknes), this is especially important, as these cities are drier than the coast, and temperatures fall low during the night.
What to Wear in Morocco in Summer
Despite being the most sweltering time of the year, summer is Morocco's peak tourist season. If you're visiting during the summer (June-September), you'll want to pick the lightest possible fabrics, like cotton and linen. You'll also need to plan on frequently washing, as the humidity will soak through your clothing very quickly. Uniqlo releases a set of linen shirts and pants each spring, right before the summer travel season—they are my favorite to stock up on.
What to Wear in Morocco for Women
If you've read up on any other advice on how to dress in Morocco, you've probably gotten the message that you'll want to "cover up." For men, this is simple—don't go shirtless anywhere except on the beaches. As in many other Muslim countries, it is for women where dress codes seem more ideologically and pragmatically complicated.
As women, we've heard a thousand times that it is safer to travel in more conservative clothing. Catcalling is frequent, as in many places throughout the world, and is likely to happen regardless of clothing choice. But, the travel guides say, dressing modestly will help lessen unwanted attention.
While, personally, I believe that women should be able to dress however they want, whenever and wherever they want to, I agree with "covering up" for a different reason. It is unfair that, as women, we face unequal standards and expectations throughout the world—why deal with it when we're on vacation? Legally, you can dress in Morocco however you'd like. There is no law banning 2" inseam shorts or crop tops, and you may see others tourists or Instagram models sporting these styles at tourist destinations.
However, I find it more respectful to local women to follow the local standard of dress. "Covering up" does not equate to dressing "conservatively."
In Morocco, you'll find that many girls and women regularly go about their day in short sleeves and skinny jeans, and they do not wear a headscarf. Unlike some other Muslim countries, Moroccan women also do not wear other forms of Muslim headwear (such as a niqab or burqa). A jeleba is more "shapeless" than Western clothing, but it is a Moroccan cultural symbol rather than a religious one. For many, it is worn simply for comfort, made of lightweight, breathable fabric in the summer and a heavyweight, warm knit in the winter.
When we dress to conform to local standards, it does not represent passive agreement to a set of political, social or religious institutional norms that are not our own. Rather, our willingness to temporarily adapt shows our willingness to learn, understand and not make hasty judgments about social customs that are not our own. This is respect and tolerance that we should convey to other communities, if we want to be accepted and invited as welcome visitors.
Of course, how you ultimately choose to dress is an individual decision up to you—but you should always be aware and conscious of how your appearance and behavior affect the message you convey to the society that you interact with.
The core of my personal go-to Morocco wardrobe is 3-4 long-sleeved and short-sleeved shirts that cover my shoulders and chest, a pair of lightweight skinny jeans (where the fabric is not too heavy!) and a pair of linen pants. I prefer cotton blouses over t-shirts because I find they photograph better, and I build the rest of my wardrobe based on where in Morocco I'm planning to travel.
What to Wear in Morocco Depends On Where You Go
To fit comfortably into your clothes when you travel, you should think about where you're visiting:
What to Wear in the Medina
Contrary to what Instagram feeds have fed to our imaginations, harem pants and ragged T-shirts do not help you better fit into Moroccan medinas. They only help you fit better with the other tourists— if that's fine with you, there's nothing inherently wrong with dressing this way!
But, this is a style guide, not a national executive order, and I firmly believe that you will look better, feel better and stress less while packing if you stick to the same outfits you'd wear at home. Right now, I'm rocking a cotton ASOS top, Madewell skinny jeans, and a Massimo Dutti cardigan— and that's what I would bring to Morocco with me if I were packing for a trip now.
You'll also want a sturdy pair of walking shoes, as you'll spend much of the day on your feet.
What to Wear in Metropolitan Areas
Think: Malls, fancy restaurants or boardwalks in Marrakech, Casablanca, Tangier— These are areas that Moroccans frequent for travel as well, either for local entertainment or for domestic tourism.
Wear what you feel most comfortable in, and these are also the areas where you can certainly dress to cover less (think: shorts for both men and women, or a cute sundress). If you want to dress as locals do, here is where you pull out your European chic, including red lipstick for some extra feminine flair.
What to Wear in Mosques
The only mosque in Morocco that non-Muslim tourists can visit is the Hassan II Mosque in Casablanca because all other Moroccan mosques are treated as houses of worship rather than tourist attractions. No worries though, Hassan II Mosque is the most worthwhile mosque to visit, as the largest mosque in Africa with the world's second tallest minaret. Make sure to cover your shoulders, chest and knees (both men and women). Women do not need to cover their hair.
What to Wear in Chefchaouen
One of Morocco's most popular tourist cities, Chefchaouen is Morocco's blue jewel, known for its famous blue buildings. You'll want to follow the advice for dressing for the medina (see above), but this will also be one of the medinas you'll likely take many photos in. Opt for neutral clothing colors, which will make the colors of the city stand out brightly.
What to Wear on the Beach, or for Surfing
Many Moroccan beaches are popular destinations for local and foreign tourists alike. Men will feel comfortable wearing their typical swim shorts, and women can wear a one-piece or bikini swimsuit. This is especially true on the popular beaches of Tangier, Essaouira and Agadir.
If you're straying off the beaten path, smaller Moroccan beaches are sometimes frequented only by local Moroccan boys, who play on the beach with their friends. Don't let this deter you from visiting though because these beaches can have the softest sand and most beautiful scenery.
Women might feel more comfortable in these cases in a one-piece swimsuit instead of a bikini. For versatility in all occasions (and for minimalist packing), I generally prefer bringing a single one-piece swimsuit, which I can hand-wash and dry quickly in the hot Moroccan sun.
Surf destinations often have many local shops that offer surf rentals (no need to bring your own equipment) as well as full-body wetsuits. You'll want to bring your own rash guard though, if you prefer that instead. You'll also want to bring a travel towel. I love Nomadix's ultra-light towels, which are packable to a tiny size and have gorgeous prints. (One of their patterns is even named Casablanca!)
What to Wear for a Sahara Desert Trip
If you're visiting the Merzouga Desert (which is the more precise name of where tourist trips into the Moroccan Sahara begin), you'll be either camel-riding for a day trip or also "glamping" overnight (i.e. "glamorous camping" in luxury tents). Like in all desert climates, be prepared for a warm days and cold nights. You'll want to prepare by bringing an extra layer of clothing for the nighttime if you plan to sit out on the sand and stargaze.
You'll also want to take note of your shoes: *do not* wear your nicest pair of white Adidas, as you'll inevitably find sand in them when you return home. I recommend open-toed flip flops—easily packable and easily rinsed.
What to Wear to Rural Areas
Morocco's rural regions and villages make up most of its physical land mass, although they are areas less visited by tourists. They are also more conservative. If you're a woman, you'll definitely want to cover shoulders, chest and knees here, and you might prefer looser clothing.
Packing Makeup for Morocco
Some female tourists opt out of makeup altogether, especially on summer trips to Morocco, because the humidity can wash your makeup right off of your face. If you're not so keen on leaving your makeup at home altogether, you'll want a heat-proof makeup selection.
I recommend packing light, as you'll want plenty of room for souvenirs and other gear, and bringing along a bag of just essentials.
If you're looking for face coverage, I recommend a light BB cream with high SPF coverage. Solid blush sticks can double as lip color, and waterproof mascara will be your best friend. For non-summer seasons, it is easier to choose makeup to pack, as you won't need to worry about makeup melting an hour into the day.