Layers are the key to looking and feeling cool any time of the year, but if you realize you've made a fashion faux pas, you're right in the heart of some of the hippest stores in the world. You'll be just fine.
When you think of New York City you probably picture towering Manhattan skyscrapers, streets jammed with yellow cabs, chic rooftop cocktail bars packed with glamorous hipsters, and of course, the hordes of tourists at places like Times Square.
New York City is big, busy, and bustling, which is why so many danged tourists come to visit the Big Apple in the first place (no one who lives here ever calls it that, btw). But the last thing you want to do is look like you don't belong.
Tourists don't know how to walk on our sidewalks, cross our streets, or ride the subway, so New Yorkers can be a little… gruff with people that obviously look like they're from out of town.
I've lived in New York City for more than 10 years, bartending in painfully hip speakeasies in Williamsburg, and rubbing elbows with millionaire VCs at Midtown happy hours. And if I've learned anything about New York it's this—if you want to experience the "real" New York, you have to look the part.
So, to help get you started, here are some of my hard-earned style tips and general packing rules to help you visit New York in any season without looking like a complete tourist. Enjoy.
Look Like a New Yorker: New York Style Tips
NYC Style Tip #1: New Yorkers really do wear black
It's true. New Yorkers really do wear more black and dark colors than people in most other major cities. And the reason is simple: Black clothing is functional as hell.
Year in and year out, season after season, black clothing just looks good. Dark tones pair well with just about everything from fitted jeans to high heels, and work for nearly every social situation. In fact, the color black has been unofficially Fashion Institute of Technology approved as an unofficial fashion palette for New Yorkers since the 70s. (FIT is kind of a big deal).
The good news for you is that black travels really well. Darker colors hide stains (which is another reason we New Yorkers love it), and can handle sweat, snow, salt, and whatever that sticky crap is that you just sat in on the subway.
If you have the budget for a few quality neutral black and dark grey pieces, they can be the core of a great travel capsule wardrobe, making it easy to pack for any trip, including NYC.
Honestly, I love bright colors—mustard colored pants, coral t-shirts—but even I've embraced the effortless style and simplicity of a nice fitting pair of black jeans. They go with everything and work for just about any situation, which is kind of the whole point. Because, in New York, you never know if your happy hour hang will eventually turn into a painfully hip rooftop party, after hours museum gallery, or dive bar crawl.
Stack your wardrobe with a few black or grey merino wool t-shirts and a dark colored pair of travel pants—making sure that they actually fit you well!—and you'll be ready for (almost) anything the city can throw at you.
NYC Style Tip #2: Wear a pop of color
Ok. Yes, while it's true that many New Yorkers slowly weed color out of their closet, that's not to say we don't know how to get weird. Because, obviously, we do.
The secret to dressing like a real New Yorker is taste. Adding just a dash of color to your outfit—a nice silk scarf, bright colored sneakers, or a sweet tropical themed belt—will create a conversation starter in crowded bars or even on the train. Accent pieces and accessories go further than full-blown outfits, so keep it as minimal as you can to make your favorite items stand out even more.
That being said, neighborhoods like Williamsburg, LIC, Greenpoint, Red Hook, and Bushwick, are almost comically colorful. Hipsters, while not the glorious peacocks they were in 2008, are still everywhere. So, don't be afraid to rock those palm tree culottes or neon fanny pack, you beautiful weirdo. Just own it if you do.
NYC Style Tip #3: It's all about your shoes
New Yorkers walk a lot, and when you visit the city you'll be walking a lot too. And that's a good thing, because walking the streets of Brooklyn and Manhattan (and Queens, I guess?) is the best way to actually get a feel for the city. Plus, you'll save a ton of money not taking cabs.
The thing about walking in New York is that, yes, while it's important that you wear a comfortable pair of shoes, it's probably even more important that you wear a stylish pair of shoes. Or at least pack a good pair of kicks.
This can mean different things depending on what kind of nightlife/social life you're into, but the rules span pretty much every scene in New York. If you're wearing old, scuffed, faded hiking boots or "gym" shoes, you're just gonna stick out as a tourist. It's dumb, but true.
And, if you're actually trying to go out to some of the nicer bars and clubs, especially in Manhattan, you might not get in if you look like a doof.
Stylish sneakers that you can actually wear out at night are the way to go, because, like I mentioned earlier, you don't want to have to go home to change after a few hours of sightseeing. Some of the best things in New York happen on the spur of the moment, and navigating the subway just to change your busted kicks takes a lot longer than you think.
AllBirds wool runners are a decent compromise between stylish and comfy, as well as a nice pair of Toms if you're feeling laid back (and it's warm). Ladies, pretty much every woman in New York is wearing a pair of Rothys slip on flats, so toss a pair in your bag (or just wear 'em) and you'll be good to go. For winter, a nice pair of chukka boots might be the coolest thing you can wear that will also keep your feet warm and dry.
Do you, but whatever shoes you wear, make sure that you choose them on purpose, not just because they're kind of comfy. We'll notice.
NYC Style Tip #4: Layers are key
Layers are always a good idea for travel, but that's especially true in New York City, regardless of the season. The average tourist will encounter radical temperature swings from either blistering (or freezing) subway cars to scalding (or freezing) city streets, and warm (or freezing) bars and museums. You could get whiplash dressing for all the microclimates in NYC. 
The (stylish) solution is to wear a few layers. That way, when you work up a sweat hiking around Midtown, you can just take off your top layer (probably a light sweatshirt or long sleeve shirt) and you're still good to go with your dark t-shirt. Same goes for the reverse. When you get chilly on the subway or a weirdly cold art gallery, it's nice to know you can just put a light layer back on instead of a bulky coat.
New Yorkers love textured layers. Cable knit sweaters. Soft merino wool t-shirts. Drapey blouses over tank tops. Keep your packing list modular and you'll be fashionably ready for all the wild swings this city can have all year round.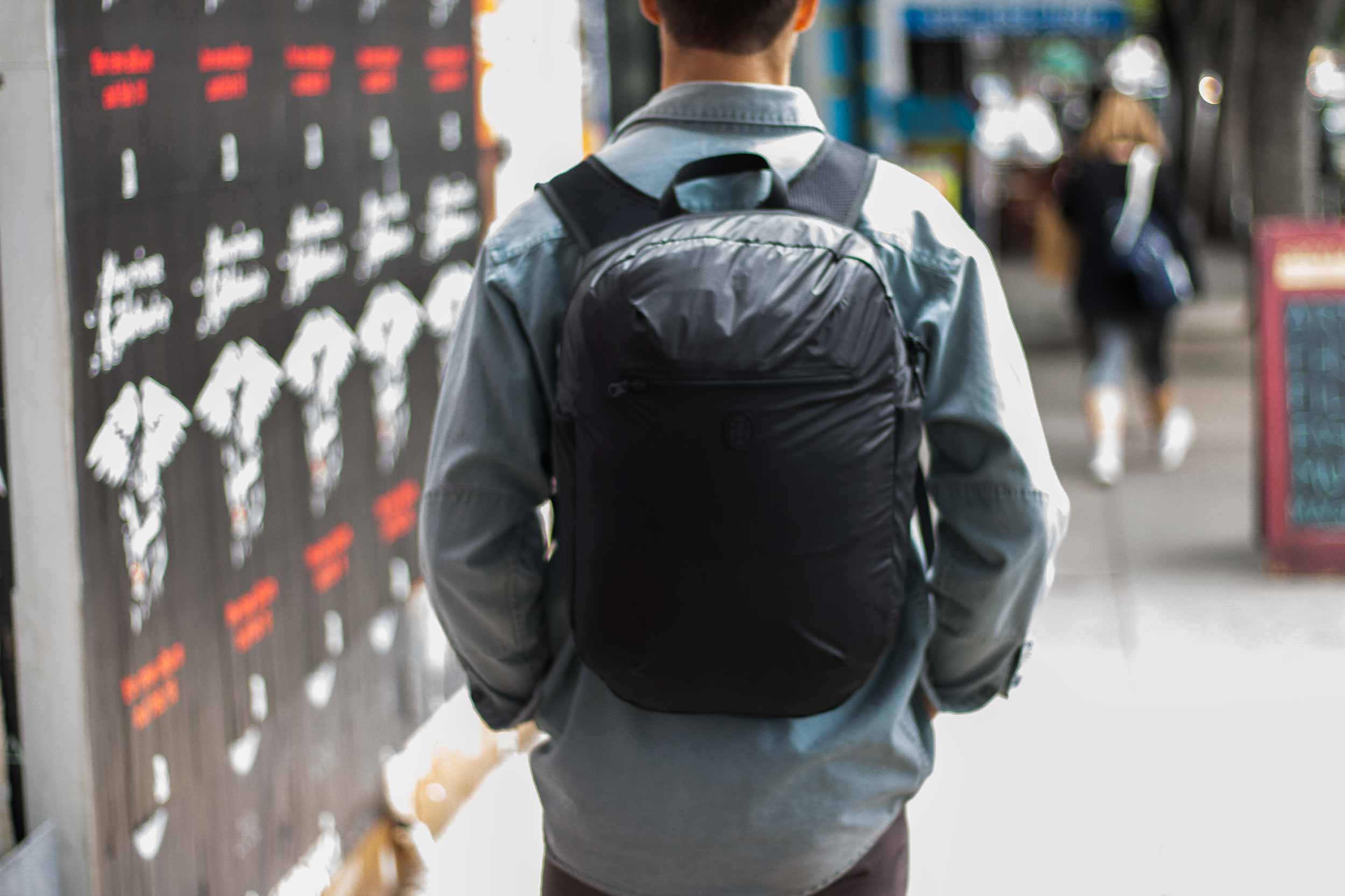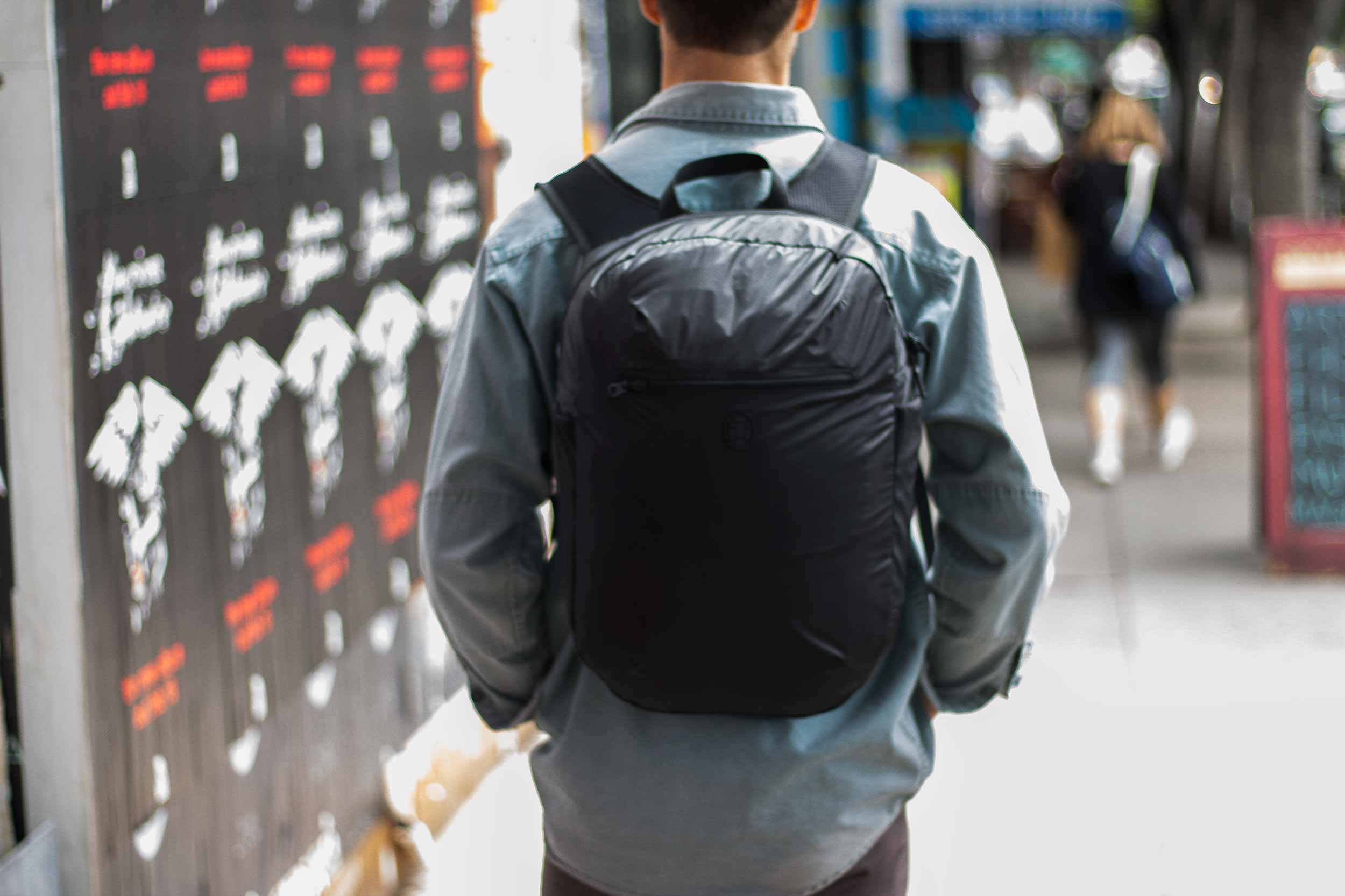 NYC Style Tip #5: Bring a day bag
New York is one of the few major cities I've been to where it's not weird to carry a backpack. Seriously, nearly everyone in New York is rocking some kind of designer roll top camera bag, workout duffle bag, or straight up daypack full of all the stuff they'll need after work. 
Almost nobody "quickly" goes home to change for happy hour or grab what they're wearing for a night out. They're too busy working 'til 8pm then sprinting to a spin class to head all the way back to Queens for a different pair of pants.
You'll see billion dollar hedge fund managers with the same sling bag as hipster bike messengers, which is great news for tourists, since it means you can carry your map, water bottle, and extra layers without looking like a tourist. The key is to bring a small daypack that you can roll into your larger carry on bag. And take your backpack off when you get on the subway. You're better than that.
Now that you know the basics, here are some season specific ideas and tips for what to wear in New York City.
What to Wear in New York City in Autumn
Autumn in New York is my absolute favorite time of year. Piles of musty gold and red leaves in the park. Crisp air as you weave your way through the crowded concrete slabs and bustling city streets. It's just the best time of year, and arguably, the most fashionable.
New Yorkers have a lot of fall accessories and stylish looks. Don't show up in your old cotton hoodie. The key to stylish fall look in NYC is a killer lightweight coat or jacket, a textured sweater, and good shoes. Oh, and a good hat. Your outerwear is your a-game during fall and winter, so if you want to get those likes on the 'gram as you pose in the park, pay attention.
Bring a roll top wool beanie to fit in with the cool kids, but also to keep you warm. I like to add a pop of color with a bright red or yellow hat, a la the masterminds over at Moment, but you do you. 
As for bottoms, keep it simple. A nice pair of travel pants like Bluffworks chinos or Outlier slim dungarees) are stylish yet understated for a great all day look. Ladies, black jeans or leggings will blend right in.
Oversized coats are still fashionable as hell, but don't overdo it. It's not going to snow on you (probably), so you can leave the puffy coat at home. Wear that cool leather jacket or shacket and add a chunky sweater or merino long sleeve for extra warmth on blustery days. Wool layers travel well (aka they don't get wrinkled), so you can easily pack a few wool long sleeve shirts in a carry on and look sharp without ironing anything.
Most New Yorkers also wear a scarf in the fall and winter, so up your style game with something cozy and cool, and don't forget to stay warm and dry with a pair of chukka boots.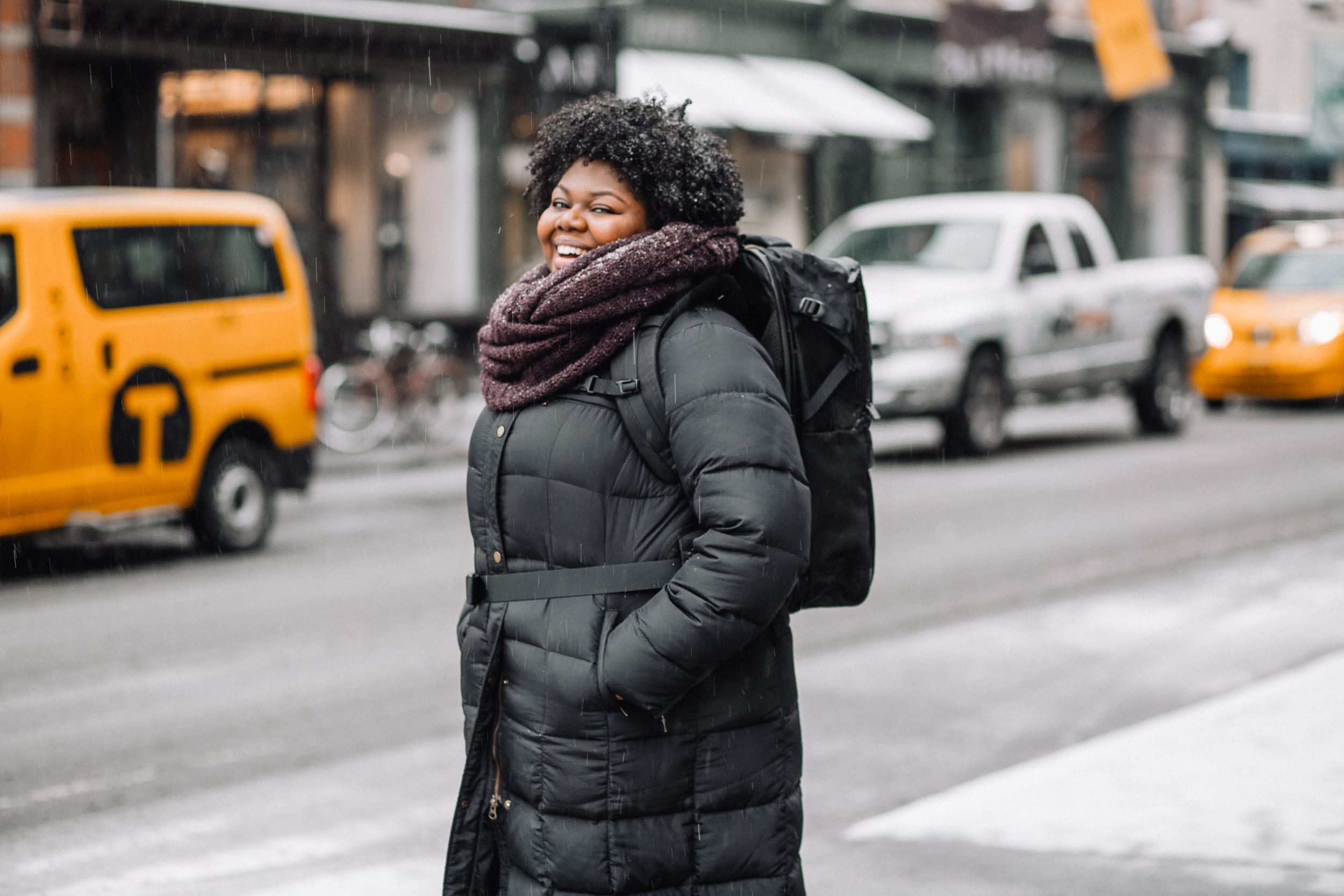 What to Wear in New York City in Winter
When it gets really cold, usually from late December-early March, it's time to bring out the big guns. Pack a really good jacket or coat and don't worry about looking cool. The real time to shine in winter is when you get inside.
Plan to shed your outer layers when you step inside of any NYC bar or restaurant like the beautiful butterfly you are. Dump your big bulky coat in the corner and show off your chic sophisticated style with a monochromatic outfit of dark, yet well-fitted pieces. Tailored black jeans are always a solid idea, as well fitted flannel shirts and statement sweaters.
In winter, your main goal is to stay warm outside, but look cool as hell once you step inside.
What to Wear in New York City in Spring
Spring is a tough season to pack for in New York City. No, really. It's a pain in the ass. You can get a very nice, warm spring day, then watch the temperature plummet into a drizzly mess the next morning. The only way to really prepare a stylish packing list for spring is to expect the worst. 
That being said, spring style tends to be a lot lighter in New York—almost alarmingly so. People are usually so excited that winter is over that they wear shorts and a t-shirt the second it looks nice outside (even when it's still in the low 50s). Don't fall into that trap.
Obviously, pack one pair of shorts in case you hit that random sunny day, but lightweight fitted pants are still the way to go in spring. Roll your pants up if it gets sunny, and make sure you bring a lighter version of the layers I recommended for fall. A wool hat goes a long way, as well as merino shirts, light sweaters, and even flannel.
I wear my Edgevale shacket pretty much all the time from February to May. The pockets are awesome for stashing gloves and a hat, and it looks good inside and outside my favorite Williamsburg dive bars.
When you visit New York in spring, bring a nice light, waterproof jacket for cold, windy, wet days, but remember to add some quality merino layers underneath. These are clutch. They not only look great, but keep you sane while you shrug off the occasional rainstorm or sub 50 chill.
What to Wear in New York City in Summer
Ah, summer in New York City. Humid, muggy, sweaty, and just plain wonderful. Hopefully you'll spend most of your time outside either in the park or walking the city streets. And that means losing some layers and showing some skin.
Shorts are completely acceptable in New York City—if they look cool. Cut off jeans shorts (aka "jorts") still rule the Brooklyn borough, and fitted hybrid shorts are more than acceptable for rooftop pool parties (yes, they're real and they're amazing). Make sure you pack some lightweight pants though, since shorts aren't a great look at night.
Bluffworks travel chinos are the ultimate city look for warm days, since they're still light and looks great with a few cuffs around the ankle.
Tank tops are also still super in for day or evening wear. Seriously, unless there's a specific dress code (and who'd want to go somewhere with a dress code?), you can always wear a tank top in NYC. Just get one that fits.
Ladies, skirts, sundresses, or your favorite travel dress will be just fine. Aim for something simple that moves seamlessly from day to night with the addition of an accessory or two. 
Other than that, the only rule for summer in New York is simple—don't wear sandals. New Yorkers don't wear sandals, even when it's hot as hell, for one very good reason. New York is gross. If you wear sandals your feet will be covered in grime, muck, and grit. Seriously. Sandals are nasty. Stay cool with a lightweight pair of Toms shoes instead.
 Oh, and always bring a swimsuit. Coney island is awesome.
TL;DR: What to Wear in NYC
Packing for New York isn't that hard. Build your capsule wardrobe around a few, good neutral, dark merino wool t-shirts or henley shirts and a few pairs of comfy, fitted travel pants. Then add a pop of color with a flannel shirt, wool hat, scarf, or other accessory.
Layers are the key to looking and feeling cool any time of the year, but if you realize you've made a fashion faux pas, you're right in the heart of some of the hippest stores in the world. You'll be just fine.
Layers are essential: 

Pack enough lightweight clothing to layer and change as the temperature (or situation) shifts

Accessories are key: 

One of two little touches—like a stylish hat, scarf, watch, or belt can elevate any look

Shoes matter: 

New Yorkers walk a lot, but we still care about our shoe style; don't bring your busted gym shoes to the streets of Manhattan 

Fit is everything: 

You can get away with a lot of weird looks as long as your clothing fits well
Want more like this?
Get weekly gear reviews, travel hacks, and packing tips sent straight to your inbox. As an added bonus, we'll send you a carry on packing list right away.