What to Wear in Portland: Your PDX Packing List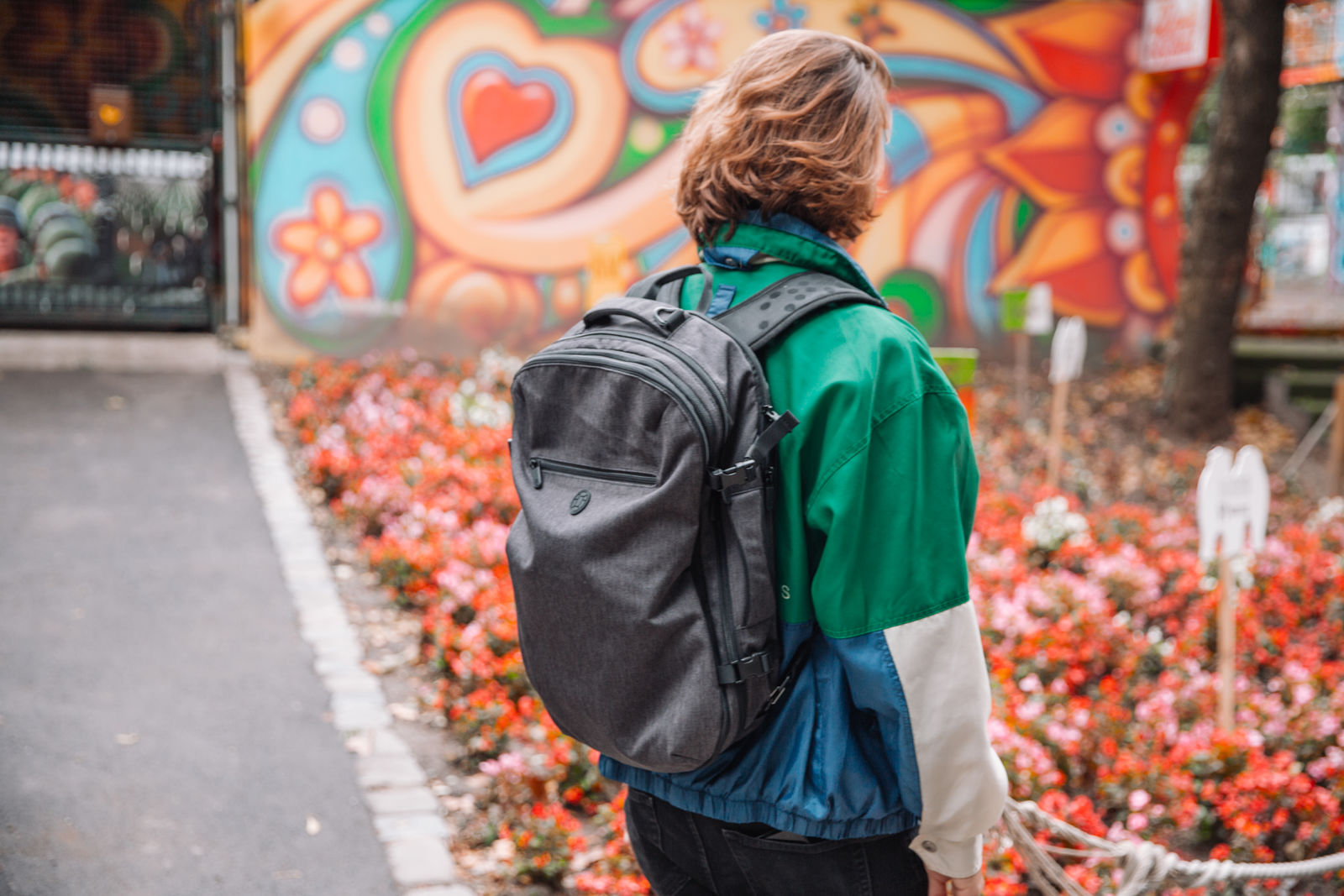 There's no doubt about it, traveling can be hard work. Organizing your gear, making reservations, scouring the must-eat's, must-do's, must-drink's, AND packing?! — it can be overwhelming. But it's 100% worth it, especially when your airplane's wheels will be touching down in PDX. Here, the fun starts even before you leave the airport if you make a point to check out it's famously retro carpet and gift shops boasting locally made products!
As you wander all five of Portland's quadrants, every ounce in your carry on backpack counts. Whether you want to get out under the neon lights of Voodoo Donuts, find a neighborhood co-op, or dive intp your next favorite nano-brewery as fast as possible, we're here to make your Portland trip planning a smooth experience. We've put together some tips for traveling to the City of Roses, including a handy Portland packing list to help you know what to wear in Portland.
The Ultimate Portland Packing List
Be Smart About Luggage
As you mosey around on the TriMet, hopping from the McMenamins pools, to a divey Ethiopian lunch, and then to snap a photo of the White Stag sign, you don't want to be dragging a heavy, outdated suitcase behind you. Well designed travel backpacks are the way to go instead, allowing you to double down on convenience and mobility. That's why we recommend you stuff your gear into the Outbreaker Backpack — it opens like a suitcase, but carries like your favorite rucksack.
Since we're on the subject of practicality and travel, do the right thing and pack a second smaller backpack. A packable daypack will add extra capacity for souvenirs; you are planning to stop by Powell's books, right? A daypack can make your activities away from your hip community hostel, or Airbnb even more pleasant.
Bring Your Favorite Electronics
How else will you keep your friends in the loop about your Pacific Northwest escapades?
Chargers
Camera or phone camera
Tablet or laptop
Mobile phone
Visiting Portland from abroad? Be sure to bring:
Must-Pack Clothing for Portland
Adjust this list according to the length of time you'll be traveling in Portland, the weather report, and how you plan to fill your itinerary. Here's how to pack light for a week, but if you're saying longer, you might want to roll a little tighter to squeeze more in.
Portland Packing List for Men
Portland Packing List for Women
3-4 pairs of shorts or skirts, or pants (depending on the season)
3-4 shirts
1-2 dresses (1 nicer dress for going out)
1 light jacket
1-2 sets of workout gear
2 bras (1 sports, 1 regular)
3-4 pairs of socks
3-5 pairs of underwear
1 set of lounge wear/pajamas
2 pair of multi use shoes (wear one, pack one)
Planning to Spend Time in Nature?
Hoping to Bar Hop?
Add 1 pair of trendy shoes
Add 1 nicer outfit
Add 1 plaid button down
Add 1 denim jacket
Itching to Chill?
Add a lightweight park or picnic blanket
Add a sunhat
Add a cozy sweater
Other Portland Packing Necessities
A rain jacket or outer layer — this is a temperate rainforest, after all!
Towel and washcloth
Condoms
Makeup (only the essentials)
Reusable water bottle (coffee cup too if you want to look #soportland)
Your bike, if possible! Or rent one! It's perfect for crossing bridges and quadrants
Remember — if you forget to pack something, there's undoubtedly a little boutique or fan-favorite chain where you can stock up on what you're missing. In fact, you might want to accidentally "forget" your outdoor gear; Next Adventure's bargain basement is incredible.
What to Wear in Portland
Whether you're a longtime resident or just trying to hang like a local during the Portland Jazz Festival, these are the tips that everyone should check off their outfit bucket list in PDX.
Outdoor Casual
Most Portlanders are about to leave on an outdoorsy getaway or are just returning from one, and you can bet they dress like it. Walking through parts of the city feels like a fashion show for Patagonia, the REI Co-Op, Prana, and Colombia — mainstays from your local REI. You can always tell a true Portlander from a visitor by their shoe choice (most locals opt for shoes that work in the rain as well as the sun).
Pack your sweat wicking layers and hike-friendly tops and bottoms to diminish a quick "outsider" label.
Relive the 90s
The Portlandia theme song wasn't lying when it said the dream is alive. Thanks to Portland residents' affinity for all things plaid, muted, and grungy, you can definitely throw back to white washed jeans, denim overalls, and — if you're feeling wild — shoulder pads.
All that's missing is your to-go mug of Stumptown pour over and a cigarette.
Don't Think Too Hard
As a self-proclaimed weird place, anything goes in Portland. The best way to rock your look is to wear what makes you feel good — with confidence. Whether you're chowing on Potato Champion, falling in love with the cascade hops, or sipping yerba mate straight from the gourd, the way to really fit into Portland's fashion scene is to make it your own.
Bonus: Pack Lots of Green
If your visit happens to overlap with a Timbers game, you'll be thrilled that you packed your ponderosa and moss green outfit to join thousands of fans in Providence Park.
This is a comprehensive Portland packing list and you may not need it all — it just depends on what type of Portland adventures you aim to have. If you plan on hiking up the gorge most of the days or whiling away afternoons in the rose garden, you might want to leave your heels behind. On the flipside, if your cup of Portland kombucha tea revolves more around Pacman at Ground Kontrol or long brunch lines at Sweedeedee, omit your hiking pants.
No matter what, be sure to bring a fully charged camera and a glowing acceptance for all things strange.
Keep Portland weird! Get ready for sights, sounds, and — sometimes unfortunate — smells of Oregon's Rip City.