Why North Face Backpacks are Unideal for Travel
Carry On Size
The North Face's primary travel offering, the Overhaul 40 Backpack, has dimensions of 21" x 12" x 7".
The maximum size for a carry on is 22" x 14" x 9". That means when you take this North Face backpack, you're leaving at least five inches of extra space at home.
With that space, you could bring an extra pair of jeans, or even a couple extra pairs of clean shirts, socks, and your favorite jacket that makes you feel invincible. Or, leave some extra room for souvenirs you acquire on the road.
Worst part is, according to one reviewer, you only get the full 40L size when you expand the North Face Overhaul. At that point, he says, "it may no longer be carry on size."
The best travel backpacks, like the Setout Backpack by Tortuga, maximize carry on limits: 22" x 14" x 9".
Tough to Pack
This North Face travel backpack opens in the worst way possible: from the top. When a backpack packs from the top, you have to dig through all of your stuff to find what you want. Get ready for crumpled, wrinkled clothing.
But you shouldn't have to do that. Because your travel backpack should be the best of two worlds: maneuverability of a backpack and packing ease of a suitcase.
In other words, your travel backpack should be like the Setout Backpack.
You pack it like a suitcase, unzipping in a clam-shell manner. So your stuff stays nicely organized, in one spot, and you can find clean socks, t-shirt, or warmer jacket in two seconds flat.
Tough to Organize
North Face is loyal to its hiking background: their backpacks open from the top instead of from the side. It's one big open space of chaos waiting to happen.
No internal pockets to keep you organized on the road. Just two big areas: one zippered pouch on the flap and a larger, main compartment. Perfect breeding ground for disorganization and countless minutes wasted trying to find clean socks.
Tortuga's Setout keeps you organized with the flap split into two handy zippered mesh pouches.
So you can keep clean shirts in one, and dirty laundry in another. Or organize those flaps however best suits your needs. Like casual clothes in one, and professional shirts in the other.
Meaning you can find what you're looking for and adventure faster, with less cursed struggling with your backpack. Isn't that your ideal trip?
Bad Ergonomics
Did you know that a high-quality, padded hip belt transfers 80% of your bag's weight to your hips, saving your shoulders from tight, headache-inducing knots?
Until you're carrying a full backpack, you don't realize a hip belt's true magic.
The North Face Overhaul does have a hip belt, but it's flimsy and unpadded. North Face didn't build their travel backpack with the same quality and attention they give to their outdoors products.
On the other hand, the Setout Backpack has full-weight bearing hip belt. So your hips carry the full 80% of your bag's weight. Meaning your shoulders feel light and fancy-free.
Speaking of your shoulders, they're fragile creatures which is why we made our shoulder straps from injection molded foam. That's the same foam used in the soles of your favorite running shoes. Over time, that foam breaks in — in the best way possible — and conforms to the shape of your body.
We also added in a molded back panel to dry off your sweaty back and a sternum strap — just like the North Face backpacks have — so you get the best of hiking and travel backpacks.
Choose a Backpack Made for Travel
When you're ready to ditch the hiking backpack modified for travel, check out the Setout Backpack — a travel backpack designed for the rigours of the road with your comfort top of mind.
Related Articles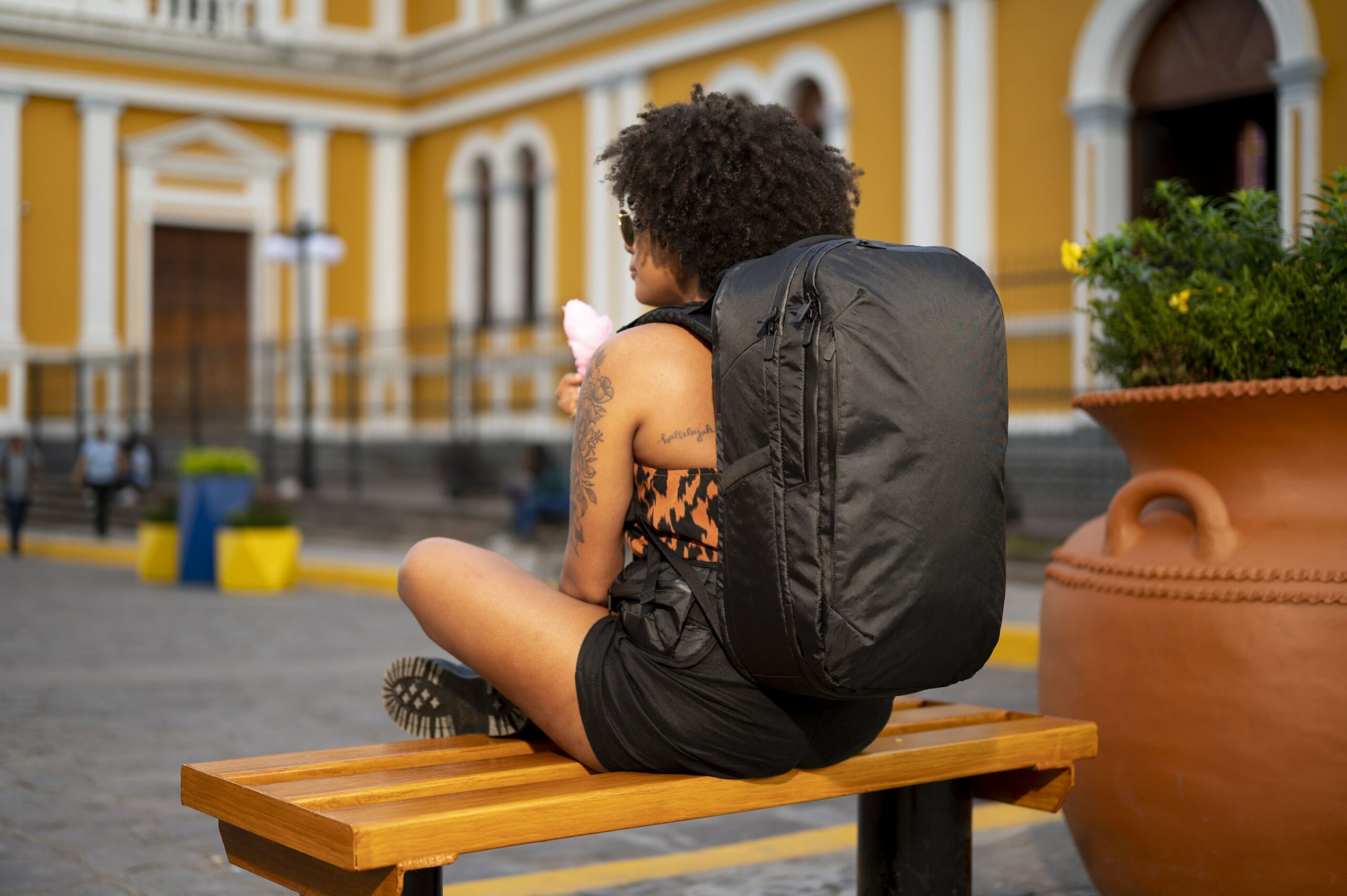 40L: Max International Carry On
Shop Now