Winter Packing List: How to Pack Light for Cold Weather Trips
The Tortuga Promise
At Tortuga, our mission is to make travel easier. Our advice and recommendations are based on years of travel experience. We only recommend products that we use on our own travels.
Packing light in the winter is harder than packing light in the summer. That's a fact. On cold-weather trips, you'll need heavier clothes, more layers, and extra accessories. Your winter packing list should take this into account while still being short enough for everything to fit in your carry on bag.
Just because you need a coat and hat doesn't mean you have to check a bag. But it does mean you'll have to carefully plan what to bring.
Whether you're headed somewhere colder for the holidays or going skiing in Hokkaido, here's how to pack light for winter travel.
Tortuga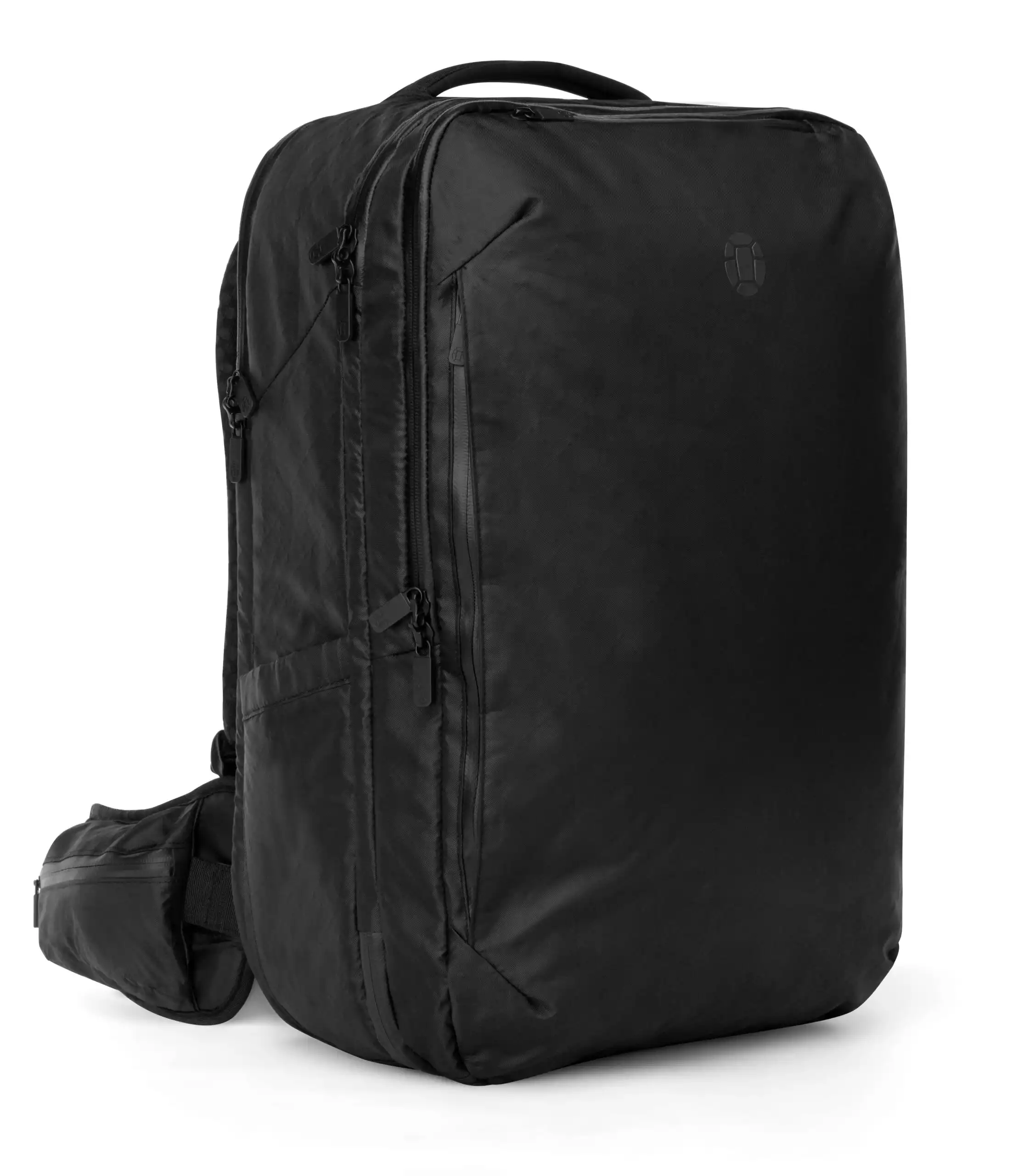 How to Pack for Cold Weather
Before we get to the packing list, let's start with two basic principles of packing light. Four of the Seven Secrets to Packing Light take precedence when you're prepping for a winter trip.
Pack Layers, Not Bulk
First, pack in layers, not bulk. Heavy sweaters and sweatshirts can take up a lot of space in your luggage.
Dress in thinner, insulating layers. Think base layers, long-sleeve t-shirts, and thin sweaters.
The individual layers will take up less space in your bag and give you more clothing options. We discussed this strategy at length in our article on packing for an around-the-world trip.
If It's Bulky, Wear It
Next, wear your heaviest stuff. Let's say you have a heavy sweater that you love and want to bring on your trip. That's okay. But you should only bring one and should wear it on the plane. Wear, don't pack, your heaviest stuff. Wearing that sweater rather than packing it will save space in your luggage.
Of course, this also applies to your winter coat. Wear it onto the plane, even if you don't plan to wear it throughout the flight. Take it off and stuff it in the overhead bin when you get warm.
Pack Your Lightest Pair of Shoes
For a winter trip, you might want a pair of boots to keep your feet warm, especially if you'll be doing any outdoor activities.
Wear your boots. Don't pack them. If you need a second pair of shoes, make sure they're smaller and lighter than your boots. Pack that pair.
Wear the Right Fabrics
Wearing high-performance fabrics, whether natural or synthetic, is important in more extreme weather. In winter, wear wool for its high warmth-to-weight ratio.
Merino wool is "nature's performance fabric" for its temperature-regulating and anti-odor properties. You might already own a wool sweater. We recommend merino wool for socks and base layers.
If you follow these rules, you'll be able to pack for a cold-weather trip in a carry on.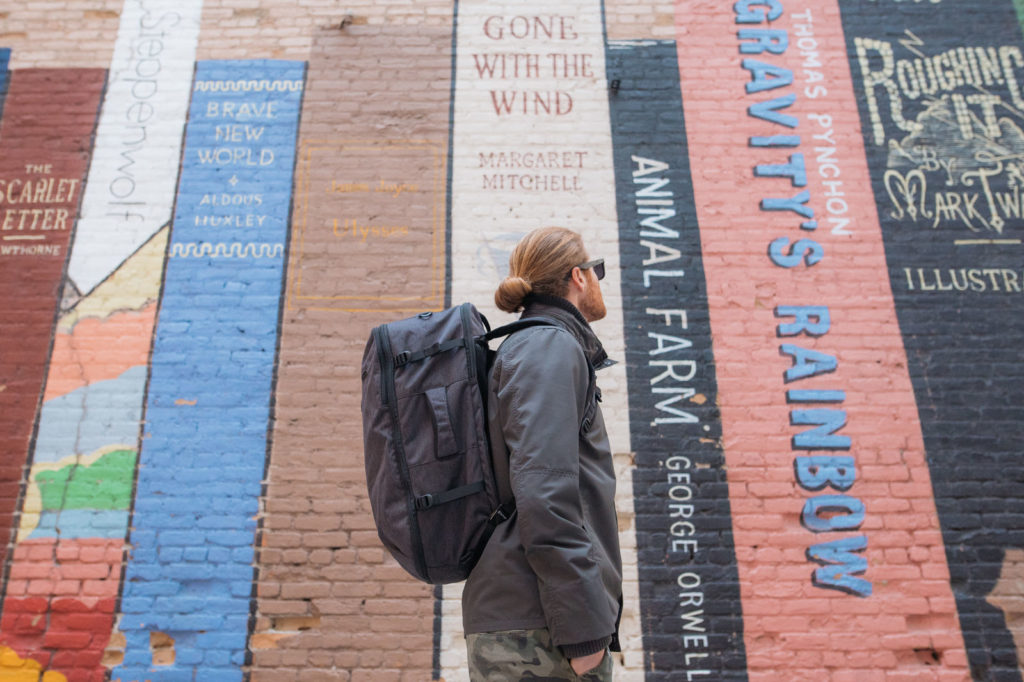 Winter Packing List
The winter clothes you choose to travel in might be different than the ones you wear in cold weather back at home. Great winter travel clothes will pack down compactly, rather than adding unnecessary bulk to your bag. They'll also hold up to the environment, since you'll likely spend more time outdoors than normal. Finally, your winter travel wear should be easy to layer and to wear across multiple days and situations.
For cold-weather trips, here's what you should pack.
Fitted Sweaters (1-2)
I live in San Francisco, so I already wear sweaters every day of the year. When I travel, I leave my fun, oversized sweaters at home and pack my fitted sweaters instead.
Lightweight merino wool, cashmere, or cotton sweaters will pack most easily.
Read the buyer's guide to travel sweaters and sweatshirts.
Long and Short-Sleeved T-Shirts (2-3)
The best winter travel clothes are the ones that layer well. In addition to your sweaters, pack two to three tops to serve as your first layer.
Choose a mix of long and short sleeves, so you can be just as ready for a full day in freezing weather as you are for an evening by a cozy fire.
Read the buyer's guide to travel t-shirts.
Base Layers
Pack a lightweight pair of long underwear (leggings and long-sleeve shirt) to make any outfit warmer. Any brand that makes good merino wool clothes will also make good base layers.
Smartwool sells multiple options, including long underwear and leggings, for men and women.
A warm, insulating base layer can be worm even under warm clothes like a sweater and jeans, especially if you'll be outside.
Read the buyer's guide to women's base layers.
Bottoms / Pants (2)
For cold weather trips in urban areas, I'll usually pack a pair of pants or leggings, a mid-length skirt, and warm, wool-lined tights. Jeans are also fine for winter travel, though not ideal if there's any snow in the forecast.
Read the buyer's guides to travel jeans, leggings, and men's pants.
Down Jacket
Down jackets are the best coats for winter travel. They pack down small when not in use, are warm for their size, and will be more weather-resistant than more fashion-forward coats.
We recommend brands like Patagonia, Arc'teryx, and Columbia for well-made down jackets that will last through years of adventures.
Uniqlo's Ultra Light Down is a good budget-friendly option for mild weather.
Read the buyer's guide to winter travel jackets.
Warm, Lightweight Scarf
A scarf is a winter packing must. While you won't want to sacrifice warmth, you do want a scarf that won't take up too much room in your pack. A lightweight jersey or merino wool scarf will give you warmth without bulk.
Read the buyer's guide to travel scarves.
Hat and Gloves
Wear a wool or wool-blend beanie to keep your head warm and to retain heat.
For a different look, try the Outdoor Research Transcendent Beanie ($45), a down jacket on your head that packs down small enough to fit in your pocket.
Shoes: Boots and Sneakers (1-2)
For cold-weather travel, opt for a waterproof or water-resistant, neutral-colored pair of boots that pair well with all of your outfits.
If you're looking for a new pair, Sorel is my go-to brand for both men and women for waterproof, winter-ready boots that actually look stylish.
Menswear site Put This On says, "For minimum slippage on snow and ice, you want an outsole that is relatively soft with maximum tread." In other words, choose boots with rubber, not leather, soles for inclement weather.
Depending on your trip and itinerary, you can also pack a pair of sturdy sneakers to wear on nicer days or for indoor workouts.
Read the buyer's guide to travel shoes for every trip, even winter trips.
Socks (Several)
To keep your feet warm, grab a few pairs of wool socks. Again, merino wool is our preferred winter sock material, because it's warm, odor-resistant, and sweat-wicking. Plan to wear each pair two or three times before washing and hand wash them longer trips.
Read the buyer's guide to travel socks.
Tortuga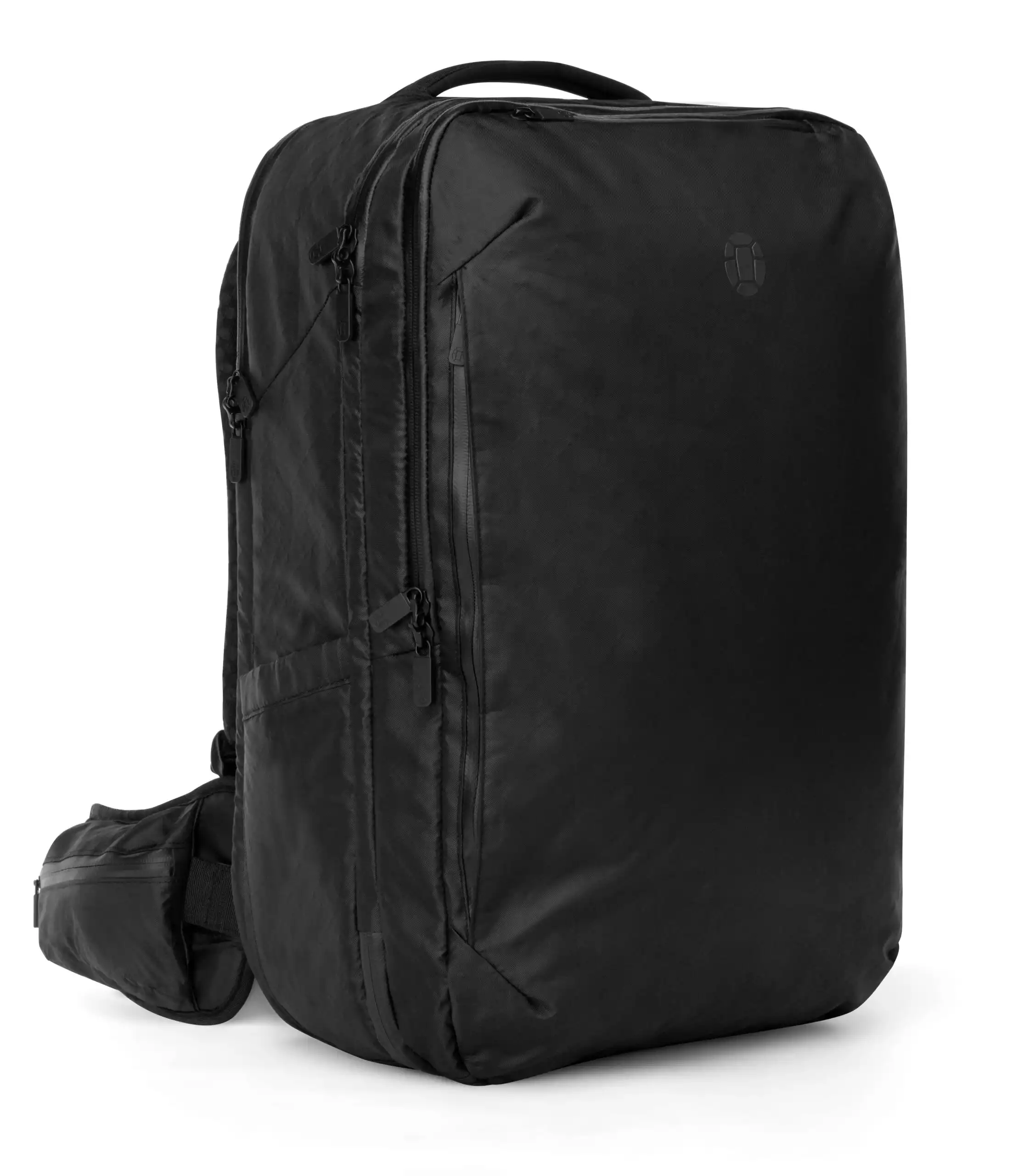 Max-Sized Travel Backpack
To fit all of your winter clothes, choose a maximum-sized travel backpack like the Tortuga 40L Travel Backpack. You'll have plenty of space for your layers while still being carry-on-compliant.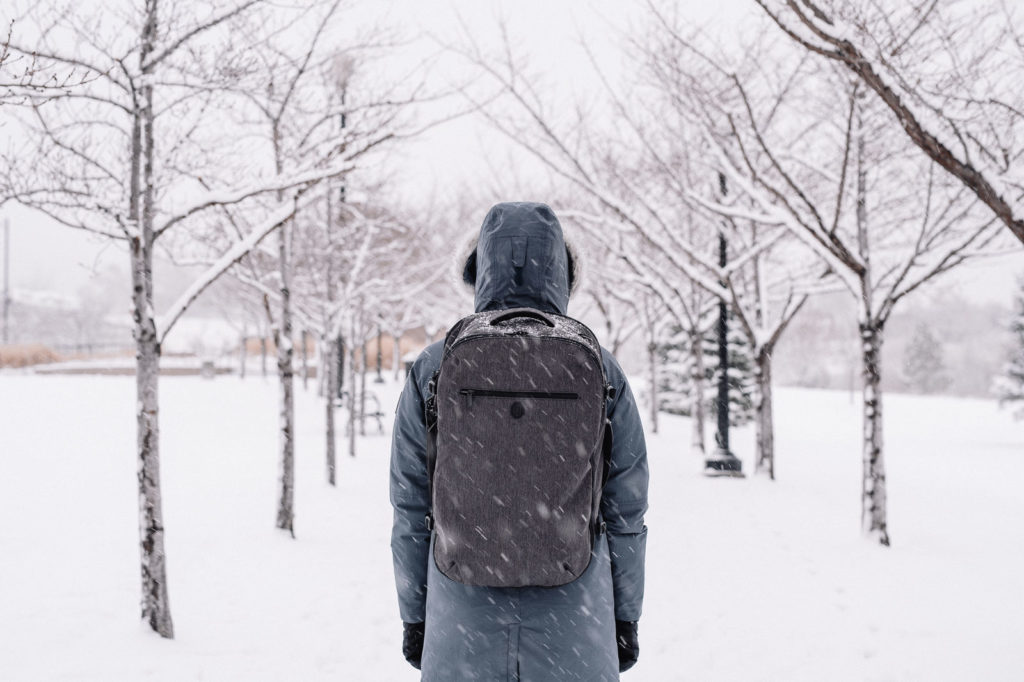 Packing Tips for Cold Weather Travel
No matter how much you try to reduce bulk, winter clothes simply take up more room in your luggage. Here's how to pack bulky winter clothes for travel.
Use Compression Sacks and Packing Cubes
To create space for other items, pack your winter travel clothes in compression bags or compression packing cubes. These nifty bags will press out any excess air from bulkier items like sweaters, jackets, and ski pants.
Stuff Small Items into Your (Packed) Shoes
Pack gloves, socks, and other small items in your second pair of shoes (if you're bringing more than one pair).
Borrow or Rent Items at Your Destination
If you're visiting friends or family, see if you can borrow things like sweaters or coats. No matter where you're headed, you can also rent items at your destination, especially if you'll only need them for a day or two.
Ship Items in Advance
Ship gifts directly to your family's house before you go home for the holidays. Or, if you're on a trip that takes you through multiple climates and destinations, mail some of your stuff home with USPS's flat-rate service.
Traveling with Winter Sports Gear
Packing for a ski trip is a whole different challenge. You'll need your gear and additional clothes.
With gear, you have two options: bring it or rent it. While shipping gear may seem attractive, frequent traveler and snowboarder Angelina says, "Never ever ship your skis or snowboard. There are horror stories of people never seeing their boards or skis again. It's not worth the risk of losing an expensive set of skis or snowboard. If you have to ship, though, insure it."
If You're Bringing Gear
There's no way around it: you'll have to check a bag. If possible, pack everything but your equipment in a carry on so you can avoid paying for two bags.
Keep an eye on weather patterns. Will you need your heaviest coat? Or could you go with a lighter one?
Buy lighter gear if you can afford it.
Bring only what you need and leave non-essentials at home.
Optimize space by puting small gear in your ski boots.
Share the snowboard or ski bag with friends to save money on checked luggage.
Pack more than just your skis/snowboard in the bag. Keep it under 50 pounds, or you'll likely have to pay an oversized luggage charge.
Get a good bag.
If You're Renting Gear
Most serious skiers and snowboarders I know say they hate this option. Renting is expensive, time consuming, and the equipment is often not good quality. Still, sometimes you've got to rent, especially if you're not very serious and don't own your own gear.
Bring your own ski boots. They're the one item you can still fit in a carry on, and you'll feel more comfortable in your own shoes.
When renting gear, look for packages with your lift ticket.
Know where to rent. Resort demo centers have better gear. Local ski shops tend to be more affordable.
Need more than gear? Rent jackets and other clothes at outdoors stores like REI.
Packing for Winter
If you're traveling in the winter or to a cold weather destination, you can still pack carry on only. To pack light for a winter trip:
Pack lightweight, easy to layer clothes in a max-sized carry on bag.
Opt for a down jacket.
Merino wool is one of the best materials for winter travel clothes.
Use compression sacks or packing cubes to shrink bulkier layers.
Wear your bulkiest layers in transit.
Borrow or rent larger items and sports equipment at your destination.