The Carry-On Only Packing List for Women
The Tortuga Promise
At Tortuga, our mission is to make travel easier. Our advice and recommendations are based on years of travel experience. We only recommend products that we use on our own travels.
There are endless options in the clothing department. Everyone will have her particular favorites that end up being go-to travel pieces. As a rule of thumb, if you wear it at home, you'll wear it while you're traveling.
Sometimes, women have a reputation for overpacking. For some of us, that's well deserved, but we all know that men overpack too. Are you ready to buck the stereotype, increase efficiency in travel, and enjoy saving time, money, and energy by learning to pack lighter?
Ladies, these packing tips are for you. No matter where you're traveling, use this packing list for women to make sure you have everything you actually need–without bringing half your closet.
Tortuga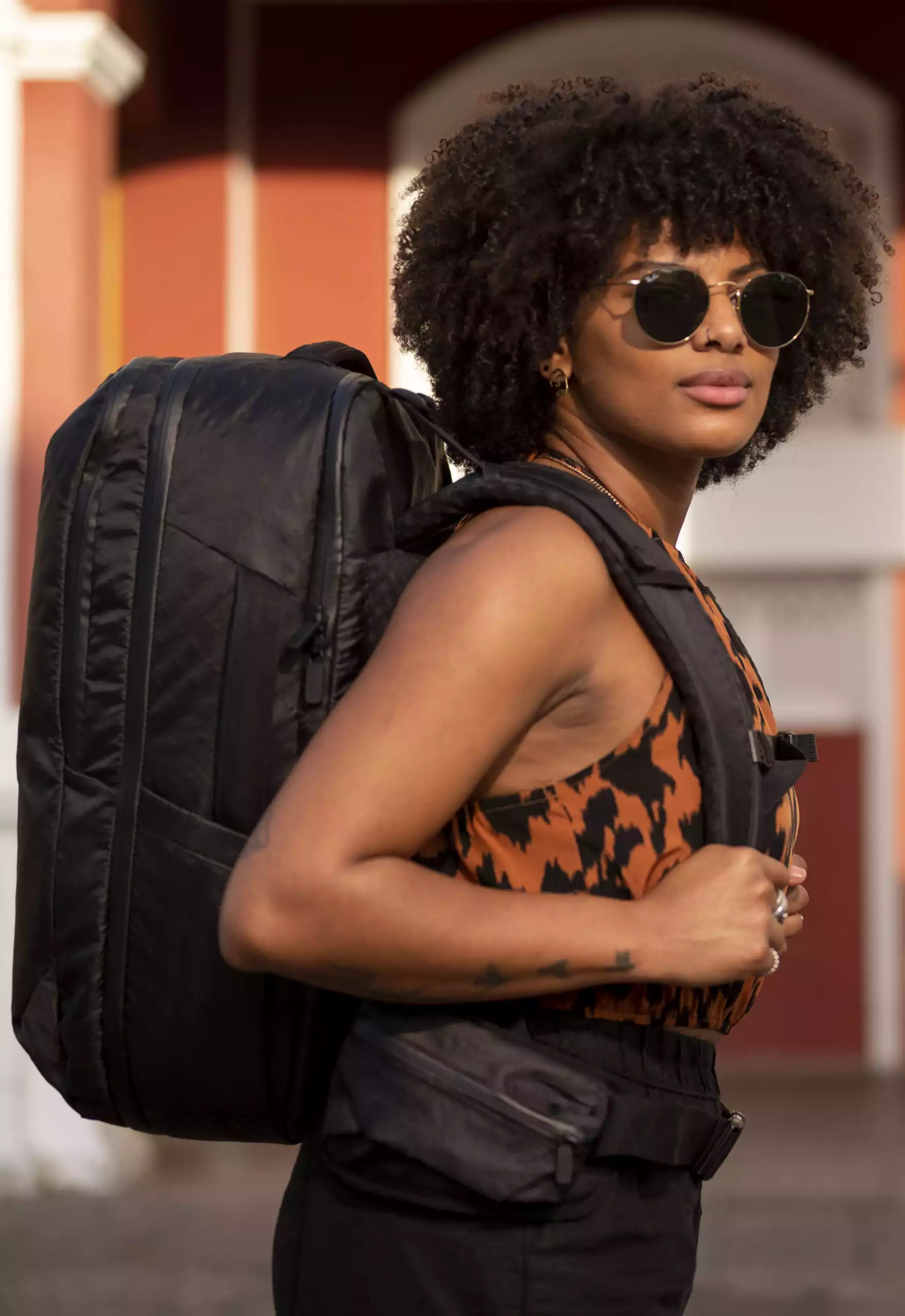 Best Women's Travel Backpacks
You need a travel backpack that's comfortable, organized, and roomy enough for all your stuff.
Pros:
Carry-on-sized

Discreetly designed

Comfortable to carry

Adjusts to your body type
Shop at Tortuga
Quick Tips for Packing Light
At first the idea of packing in only a carry on travel backpack can seem daunting, but I assure you it's not. Once you see how much space 45L actually is, you'll realize that you've got plenty of space to bring everything you need for a whole week; longer, actually.
The basic principles of packing light, for carry on only, are as follows:
Choose the right (sized) bag
Add organizers (and use them!)
Pack only what you need
Invest in multi-purpose items
Take advantage of airline personal item allowances
Wear your bulkiest clothes on the plane
Limit yourself to two pairs of shoes
Stuff your bag's pockets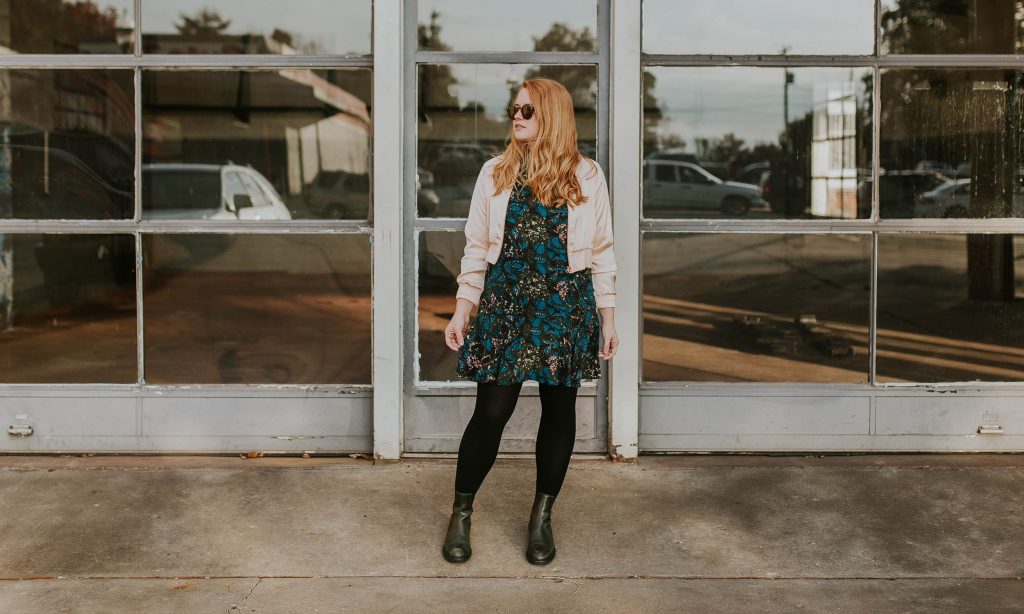 Carry-On Packing List for Women
No matter where you're going, ladies can use this packing list as a starting point. Once you have an idea of what to put in your bag, we'll go over tips on how to develop a travel wardrobe you love, pack light, and ways to adjust this list for different types of travel.
Clothing, Shoes, and Accessories
Most experienced travelers pack the same basic wardrobe, no matter where they're going. Of course if you're traveling in winter, you'll add warmer things. And in a warm climate you'll swap out pants for a sundress. But the basics of what you pack don't change that much from trip to trip. Layer up, focus on items you love wearing, and pack the following clothes:
4-5 tops
1 long sleeved shirt, sweater, or blazer (for business trips)
1 jacket
2-3 bottoms
1 dress (if you bring a dress, bring one less pair of bottoms or top)
2-6 pairs of underwear, depending on your trip length
2-6 pairs of socks, depending on your trip length
2-3 bras (sports bra and everyday)
2 pairs of shoes
1-2 swimsuits, depending on your destination
1 set of PJs
1 set of workout clothes
Scarf, shawl, or sarong — especially for more conservative destinations
Toiletries and Makeup
Like your travel wardrobe, you'll also want to simplify and shrink your makeup, toiletries, and beauty products when you're on the road. Decant bigger bottles into travel-friendly bottles. Swap liquids for more compact and TSA-friendly bars and powders. And, even if you love makeup and have a seven-step skincare routine, stick to the essentials.
Shampoo (a bar shampoo is easier to pack)
Conditioner
Toothbrush
Toothpaste
Soap
Lotion(s)
Cleanser
Razor
Deodorant
Chapstick
Basic face makeup (foundation, concealer)
Makeup essentials (lipstick, eyeliner)
Travel-sized bottle of hair product (if you use it)
Feminine hygiene products
Electronics and Travel Essentials
Even if you made sure not to forget that one red lipstick that makes you feel like a badass babe, you're also going to need to pack the following travel essentials:
Passport or ID
Wallet
Pen
Notebook
Healthy snacks
Eye mask
Travel pillow
Travel blanket or blanket scarf
Headphones
Phone
Camera
Laptop or tablet (optional)
Chargers
Adaptor (if going international)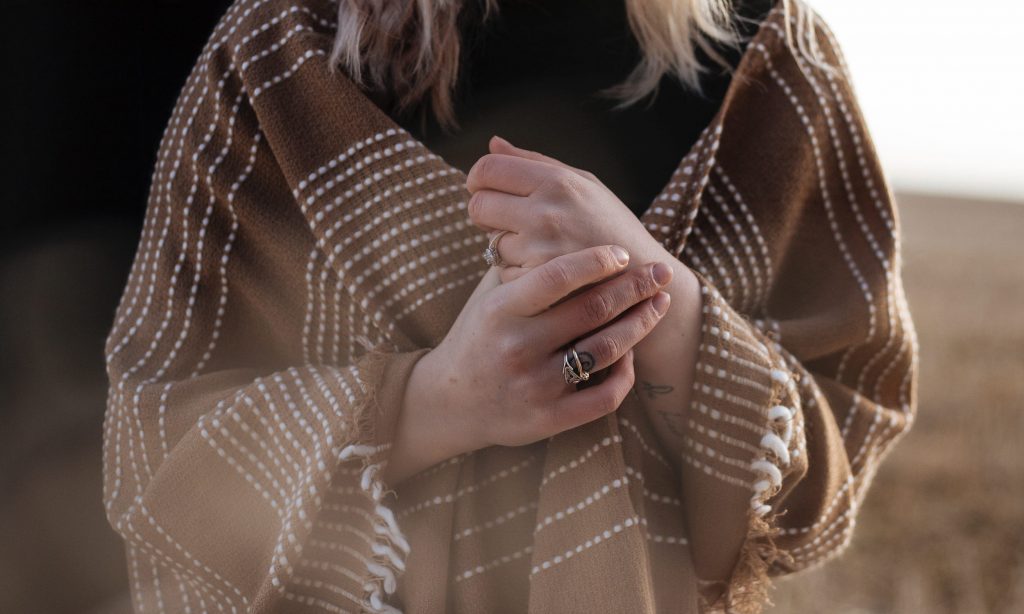 Light Packing Tips for Women
Now that you know what to pack, here are some tips on how to pack it all smartly.
Choose Your Travel Day Outfit Strategically
The first rule of travel day, especially when traveling carry on only, is to wear the bulkiest items you're taking. This means your heaviest shoes, jeans and chunkiest sweater. Beyond that, there are some considerations for choosing a travel day outfit to that is both stylish and comfortable to wear on the plane and beyond.
What makes a good travel day outfit? Look for a combination that is:
Stylish
Comfortable
Quality
Pays attention to detail
Layering is a good idea on travel days, because we all know that feeling of freezing in the airport air conditioning and then sweltering while we wait after boarding the plane. If you're flying between climate zones (hello winter escape!) this becomes even more important.
Keep Your Personal Style While Traveling
You don't have to pack a wardrobe full of clothes that don't feel like you. To maintain your travel fashion without a wardrobe revamp:
Identify your favorites (the things you wear all the time)
Identify items that do double duty or layer well
Start with neutral color base layers
Use accessories to make outfits "pop"
Develop a Capsule Wardrobe
Developing a consistent set of clothes that you wear most of the time (at home and while traveling) is called building a capsule wardrobe. The basic idea is that you develop a uniform of good quality, reliable pieces that reflect your style and that you love wearing. Then, build on those with a few accents and accessories. Easy, right?
The "rules" of developing a capsule wardrobe are as follows:
Buy quality, not quantity
Choose fabrics carefully
Harmonize color schemes
Stick to 10-12 items you can mix and match
Also consider how easily certain fabrics wrinkle. While there are packing strategies for reducing wrinkles, it's best to pack wrinkle resistant fabrics to begin with. And what about swimsuits? Pack one. Always. Even if you're headed to Antarctica!
Choose Clothes You Can Layer
The key to a packing light is beginning with the right base layers.
Choose items that are:
Mix and match (in the same color family and neutral)
Quality fabrics (Merino wool is a team Tortuga favorite)
Layerable
Comfortable and make you feel great
Consider Travel Specific Underwear
What goes under your base layer… underwear… matters too. Maybe you'll travel with the same underwear you wear at home, but maybe you'll make some choices specific to travel. Choose underwear that are comfortable above all, but also wash and dry quickly. Bras are trickier. Wear the one that's hardest to pack on the plane. Then, consider how you pack the rest.
Tortuga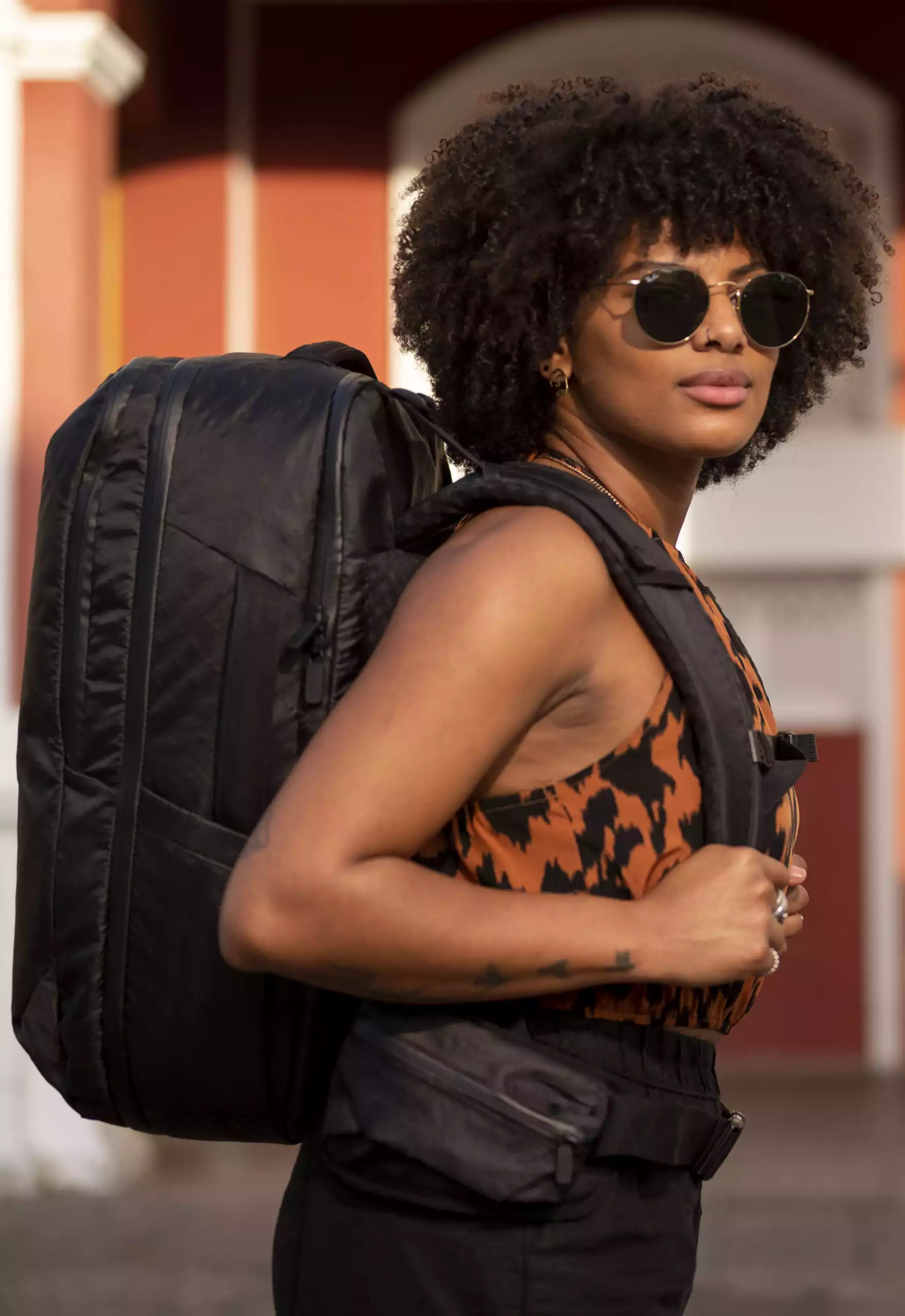 Best Women's Travel Backpacks
You need a travel backpack that's comfortable, organized, and roomy enough for all your stuff.
Pros:
Carry-on-sized

Discreetly designed

Comfortable to carry

Adjusts to your body type
Shop at Tortuga
Limit Yourself to Two Pairs of Shoes, Even if It's Hard
Even the most savvy packers sometimes get stuck on shoes. Why is it so hard not to throw in that third (or fourth!) pair? This is one department where men really do have it easier. We ladies have a greater range of shoe possibilities and needs than our male counterparts do.
To choose the right travel shoes for a trip, consider:
Make the commitment to limit yourself to just two pairs of shoes, one to wear while you travel, and one extra pair. The extra pair might be fancier, for nights out on the town, or more utilitarian, for long days spent walking and exploring. If you absolutely cannot limit yourself to two, then slip one pair of flip flops or sandals into the water bottle pocket on the side of your travel backpack and it will be our little secret.
Here are some great summer shoe options.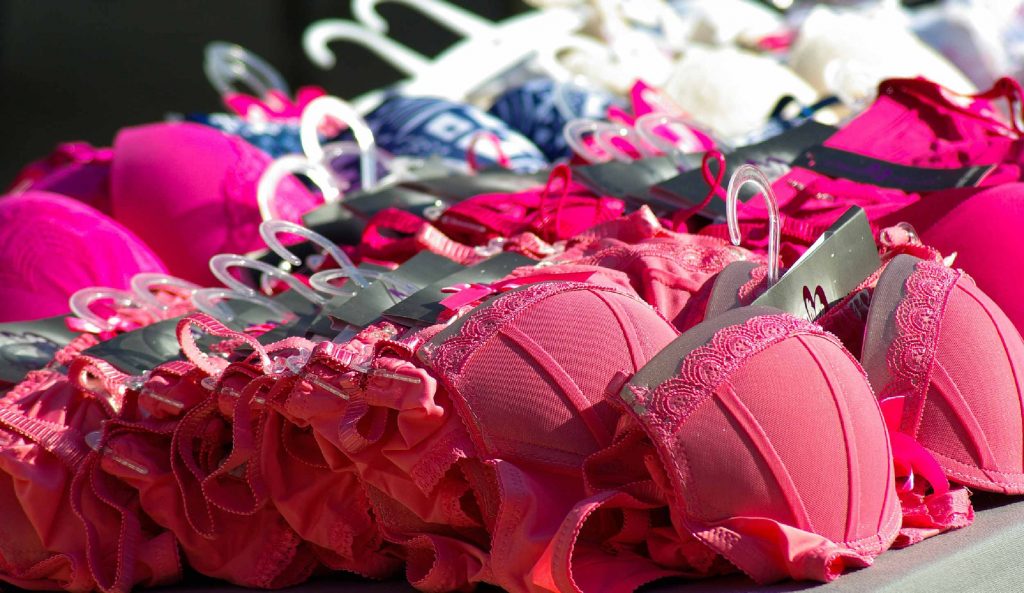 Pack Jewelry So it Won't Tangle
First of all, leave the heirlooms at home. Don't take the risk of traveling with your most precious pieces.
The following tips will help you pack jewelry better:
Necklaces can be threaded through straws to keep them from tangling
Slide bracelets over a rolled up hand towel, or pair of socks
Store pairs of earrings secured through the holes of a button
Place everything inside a soft jewelry pouch, or a designated ziplock bag
Make Your Makeup Travel-Friendly
Travel friendly makeup is tricky. Dry items are more TSA friendly. Decanting is the best way to take just enough of wet items. Contact lens cases are great for taking just a little dab.
When making choices consider:
Size (TSA limits liquids to 3.4 oz)
Ability to travel well (dry products win out over wet ones)
Powder vs. Liquid (you can take all of the dry products you want)
Consider Alternative Feminine Hygiene
Having to deal with your period while traveling is no fun, but it's also a reality for most of us. Without the comforts of home, how do you deal with the discomfort and the mess?
Fortunately, there are a number of options, inlcuding:
Reusable panties
Sea sponge
Menstrual cup
Reusable pads and tampons
Read this for a thorough breakdown on what works, and your feminine hygiene options.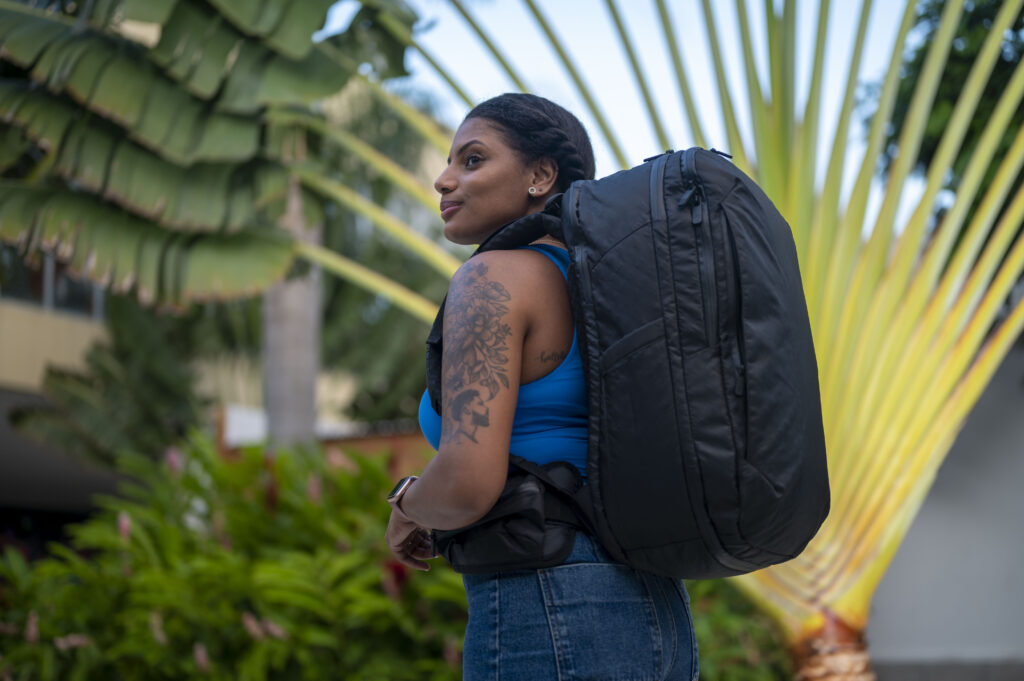 Find the Right (Sized) Bag
No matter how big or small our bags are, we always feel compelled to fill them. Choose a bag that's large enough to fit everything you need, but not so big you'll be tempted to throw in that fourth pair of shoes, just because you have space.
The Tortuga Travel Backpack (pictured above) was named "Best Carry On Travel Bag" by The Wirecutter.
An ideal travel backpack combines the ergonomics and portability of a backpack with the obsessive organization and easy packing of a suitcase. And, the harness is fully height adjustable for a perfect fit on anyone.
Meredith says, "I love how this bag helps me stay organized. Everyone is jealous of my AWESOMEEE BAG. And, the cherry on top is that the Tortuga customer service is outstanding. 10/10 would buy this bag again."
Tortuga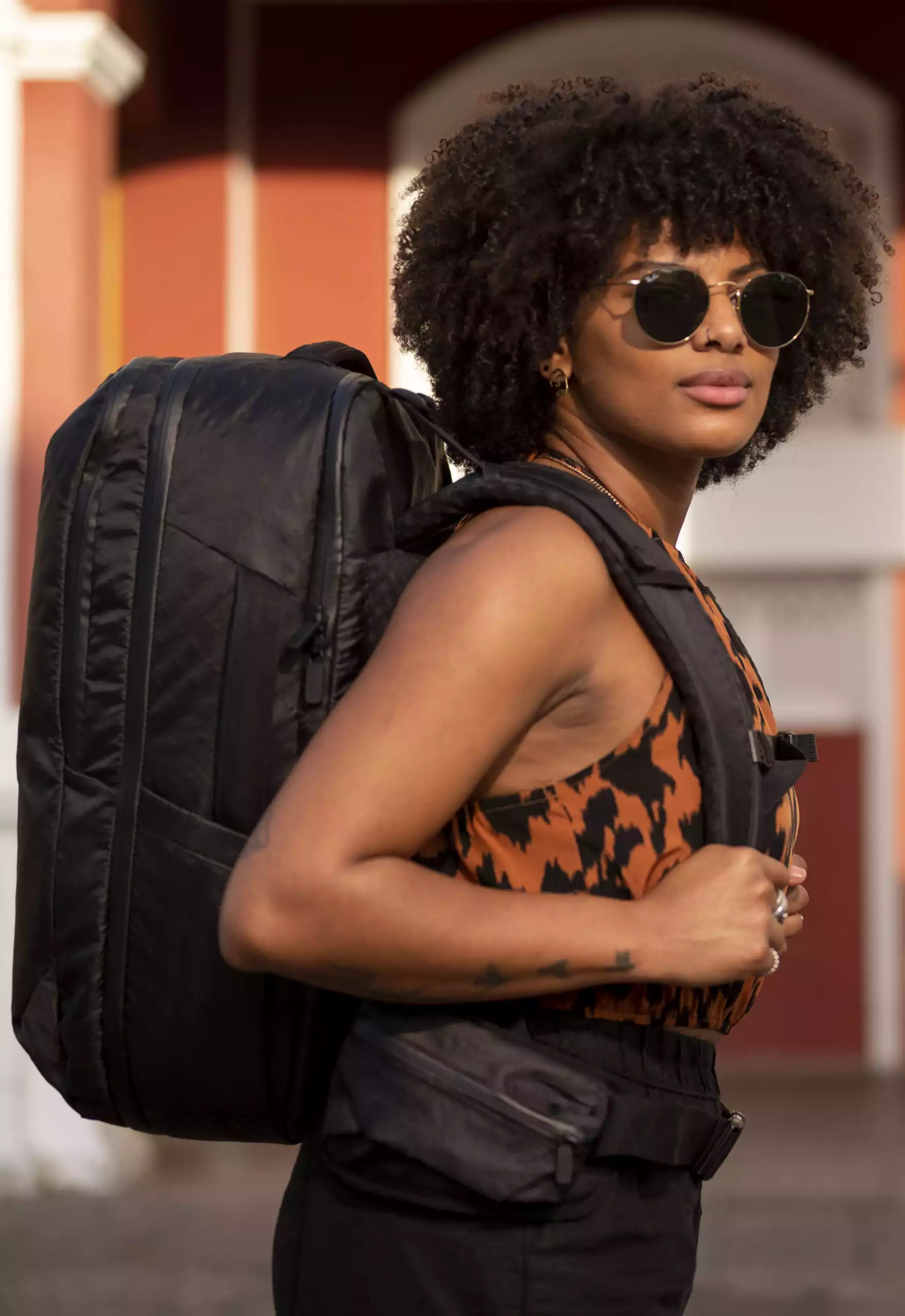 Best Women's Travel Backpacks
You need a travel backpack that's comfortable, organized, and roomy enough for all your stuff.
Pros:
Carry-on-sized

Discreetly designed

Comfortable to carry

Adjusts to your body type
Shop at Tortuga
Packing for Special Events
Not all trips are created equal, and not every plane ride is taking you to a beach destination for a holiday.
Packing for a business trip requires a special blend of clothing and accessories. Including planning for a polished look (think wrinkle free) and office to evening options.
Destination Packing Lists for Women
Let's face it. There are places in the world that are more complicated for women to travel. The Middle East and India, in particular, get a lot of press as being difficult for women to navigate culturally and in terms of requirements for dress. Can you still travel carry on? Of course.
Jenn traveled to Egypt, and even packed a burka in her Outbreaker 45. You can adapt her Egypt packing list for women to suit any Middle Eastern, or Muslim country.
When in doubt, pack a shawl to cover your shoulders, and choose shorts and skirts that cover your knees. Save your bikini for the tourist beaches.