Travel Backpacks for Women: Why Fit Matters
The Tortuga Promise
At Tortuga, our mission is to make travel easier. Our advice and recommendations are based on years of travel experience. We only recommend products that we use on our own travels.
I huffed and shifted my shoulders under my backpack's weight. Yet again.
Twin raw spots were growing on top of my shoulders from where the straps rubbed over my bones.
As an intrepid traveler, you know that the best travel backpacks must be comfortable as well as convenient. As a woman, you know that you need a bag designed with women in mind.
If a backpack is designed without considering women's proportions, you might end up with a back panel that's way too long or a chest strap that hits you at the wrong place.
For the three decades that I've been traveling, I've used men's travel backpacks. I used men's packs partially because I'm tall and partially because I had no other options. Until now.
The ideal travel backpack, for anyone, is:
Comfortable
Carry-on-sized
Front-loading
In this article, we will cover how to get the perfect fit from your bag as well as what else to look for in a backpack.
Tortuga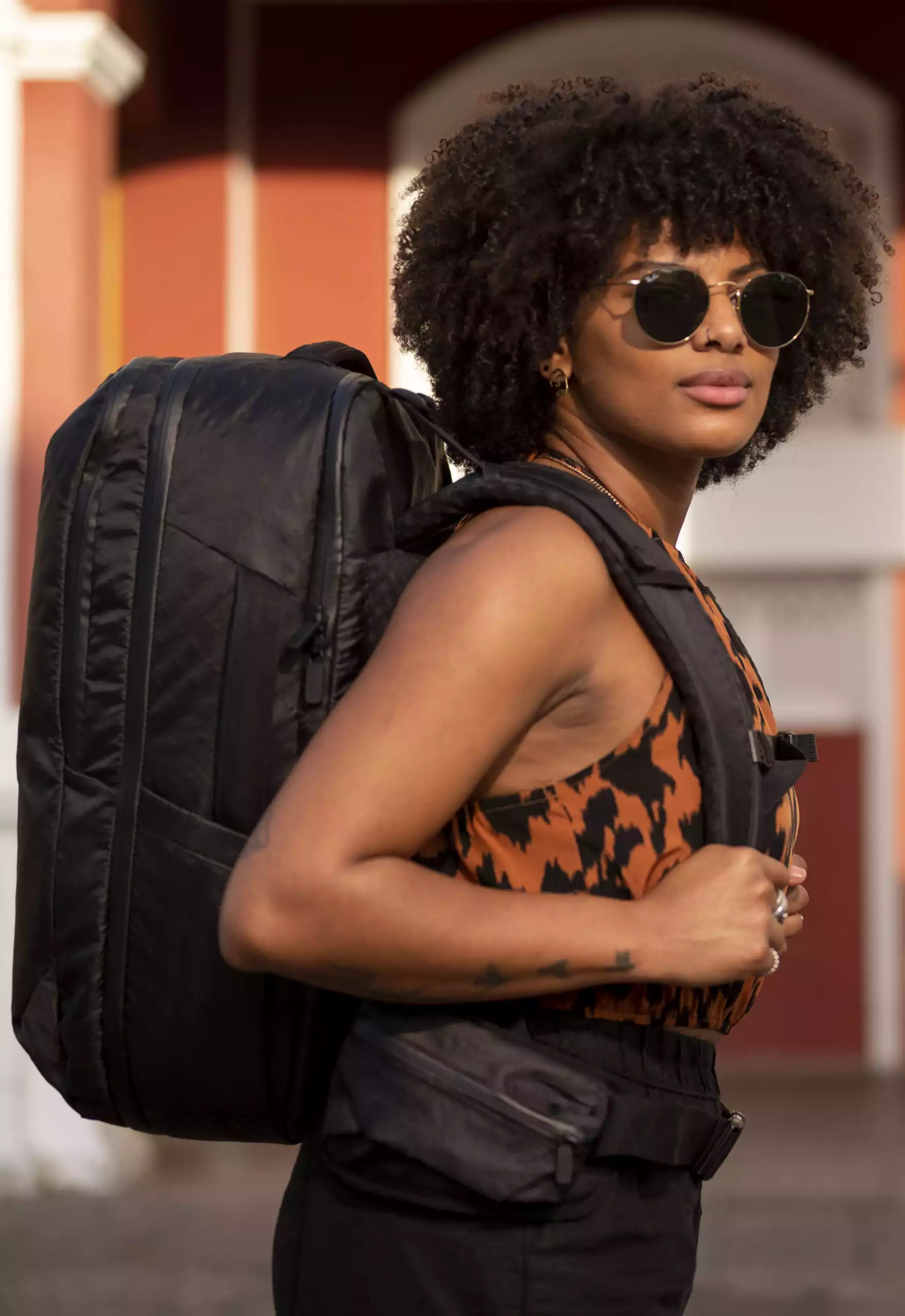 Best Women's Travel Backpacks
You need a travel backpack that's comfortable, organized, and roomy enough for all your stuff.
Pros:
Carry-on-sized

Discreetly designed

Comfortable to carry

Adjusts to your body type
Shop at Tortuga
Comfort: How to Find the Perfect Fit
Even though you won't be spending hours trekking through the mountains with your backpack, comfort is still important.
You need an ergonomic backpack that fits your smaller torso. Hiking backpacks were the standard-bearers for comfort for many years. Hikers carry tens of pounds of weight for hours or days at a time. They need high-performance gear with a suspension system (straps) that can manage the load.
Hiking bags are comfortable to carry but otherwise don't work well for travel. They open from the top making them disorganized and hard to access when you're traveling or even when you're at your accommodations.
Instead, look for a travel backpack in a women's fit or with an adjustable suspension system.
If you aren't an experienced hiker, you might think that comfort is all about how much padding is in the shoulder straps. The surprising thing is that comfort is much less about the shoulder straps and much more about the hip belt.
A padded, weight-bearing hip belt does the real work. When properly fitted, the hip belt will transfer up to 80% of your pack's weight from your shoulders to your hips allowing your stronger leg muscles to do the work of carrying your bag while relieving the strain on your shoulders and neck.
When you get the fit right, you'll feel the change immediately. It'll be a literal load off your back.
The shoulder straps are secondary but still important. You do, of course, want comfortable, padded shoulder straps. Ideally, the straps will be adjustable—up and down—to your torso length. Women tend to have shorter torsos than men. You want a bag that matches your body so that the shoulder straps sit comfortably on your shoulders and the hip belt rests at the top of your iliac crest or hip bones.
Tightening the shoulder straps will help the bag ride higher on your back instead of sagging down low like a teenager's school backpack. Carrying the load higher on your back will prevent it from pulling on your shoulders and causing you pain.
The Best Travel Backpacks for Women
With the two Tortuga travel backpacks for women, you'll find two different approaches for getting a perfect fit. The first is height adjustable, the second is contoured for a women's fit.
Tortuga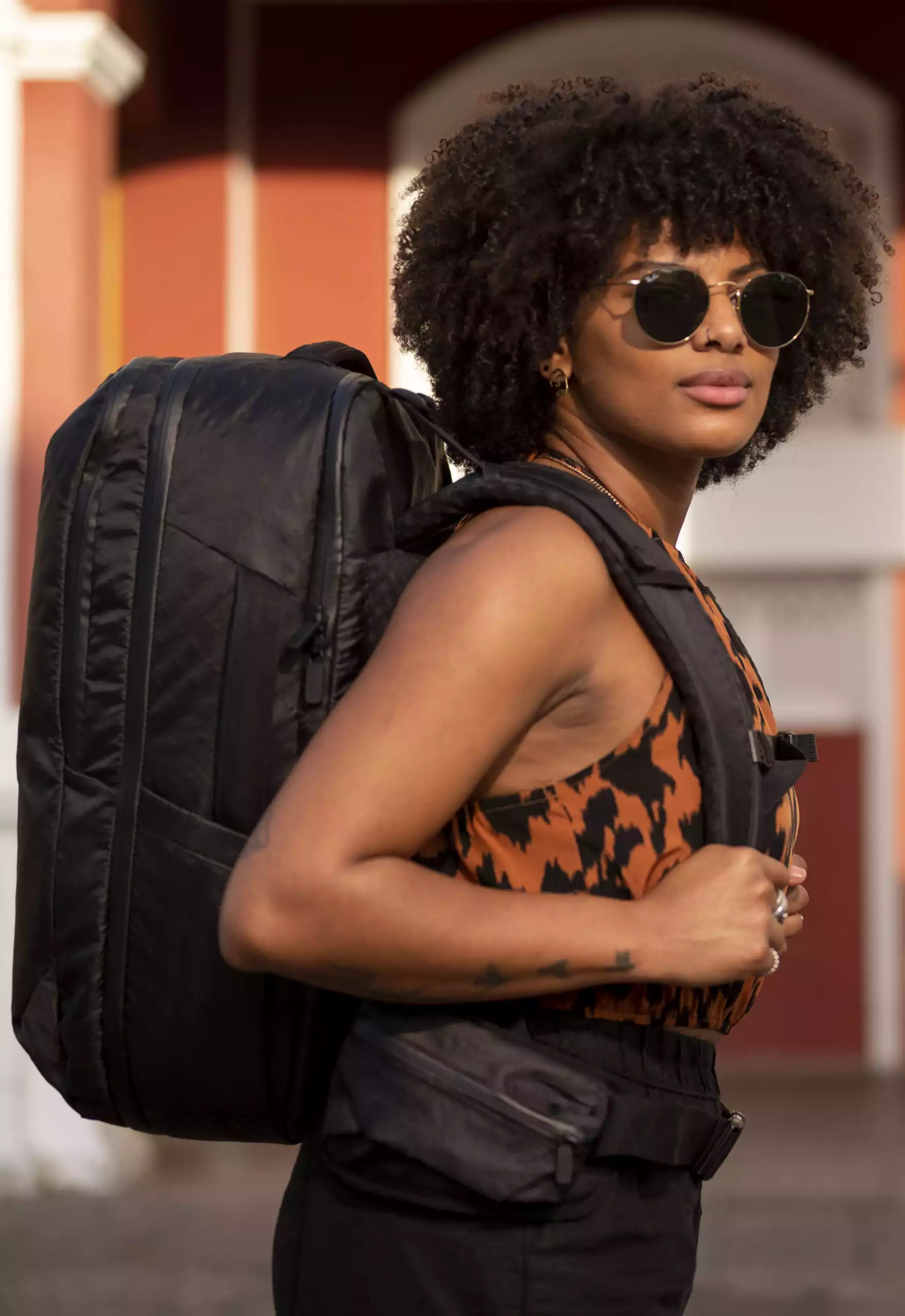 Best Women's Travel Backpacks
You need a travel backpack that's comfortable, organized, and roomy enough for all your stuff.
Pros:
Carry-on-sized

Discreetly designed

Comfortable to carry

Adjusts to your body type
Shop at Tortuga
Tortuga Travel Backpack
The Travel Backpack has a height-adjustable suspension system for a perfect fit on any torso length. See the video below for more on how to adjust the backpack.
Watch the video below to see how to adjust the Travel Backpack's suspension system.
Carry-On-Sized: Bring Everything You Need
An extra pair of shoes or a dressy outfit shouldn't require you to pay baggage fees. If you know the headache of a carry on that doesn't fit in the overhead bin, you know the packing struggle.
The best travel backpacks are carry-on-sized. A carry on allows you to bring everything you need without checking a bag. You'll even have room for souvenirs.
A carry on bag can make your trip easier and more efficient. Go straight to the security line at your departure airport then walk off your flight and out the door at your arrival airport. Don't waste your time checking, or claiming, your bags. The problem is that if your carry on doesn't fit, you'll have to check it. Never mind the headache of hauling your carry on behind you.
The Tortuga Travel Backpack are carry ons and available in two sizes: 40L which is the max international carry on size, along with a 30L size for shorter trips.
Make sure to check your airline's limits on carry on size. The allowed sizes differ by airline and region. If you have connections, make sure to check the rules of each individual airline you fly with.
If you're new to packing list, download the carry on packing list.
Front-Loading: Get What You Need Without Unpacking
When you're on the go, nothing is worse than having to stop what you're doing, unpack everything from your bag, and dig through all of your clothes to find one thing. Most backpacks, especially hiking bags, are top-loading making this a common problem for travelers who bought the wrong type of bag.
For better access and easier organization, choose a front-loading backpack. Front-loading—or panel-loading—bags open like a suitcase where the entire front of the pack swings open.
An ideal women's travel backpack will offer the comfort of a hiking bag with the organization of a suitcase.
If you haven't used something like your swimsuit in a few days, it may fall to the bottom of your bag. With a traditional top-loading bag, you'd have to take out everything else to find it. With a travel backpack, you just unzip the front cover, grab your bikini, and go.
How to Choose a Women's Travel Backpack
When choosing your travel backpack, find one that's designed for you as a woman. The best packs for travel are carry-on-sized, comfortable, and organized.
The Travel Backpack works well for women travelers.