I love my jeans. Those Lucky Brand jeans have crisscrossed the country, stomped around puddles, and run for flights with me. But sometimes, you need to up your game and get some pants that are made for serious travel. Pants crafted from technical fabric that's not ever going to rip, whisks away rain, and dries over night. I'm talking about travel pants.  
Requirements for Travel Pants
Comfort
Sitting for long hours on a plane or bus ride with your lower half feeling like it's encased in steel is torture. There's no way to find a comfortable position. Being forced to sit upright like you are the Queen of England when all you really want to do is pretzel up into a comfortable ball of sleep is torture. If only your pants would allow such relaxation. When you're traveling, you want to be comfortable however long the journey might be.
Toughness
I'm the girl whose jeans have holes two weeks after purchasing them. I wear my pants rough and dirty, harder than the dustiest cowboy on the drive. Because of that, I travel with a mini sewing kit. But really, I don't want to break out the needle just because my pants are fragile, delicate creatures. You want travel pants that beat down the road's abuse. Pants that don't sprout holes in the knees, crotch, or bum at the worst moments. Pants that don't fall to pieces on day five of your month-long trip.
Good Looking Bum
Ladies, raise your hand if, right after trying on a new pair of pants, you turn around to check out your bum in the mirror? Yeah, I thought so.  The trouble with most travel pants is that they fail bum-mirror check. Drawstrings aside, you need pants that fit your nicely curved backside, not a shapeless sack. Depending on how comfortable you are with your shape and the countries you're traveling through, you might desire more, or less, cling to that lovely derriere.
Packability
Do your travel pants take up a lot of space in your bag? Do they emerge in a sea of wrinkles? Are they heavy, weighing you down instead of freeing your legs to climb mountains? Packability extends to how quick-drying something is. Nothing is worse than getting caught in a day-long drizzle, so you slosh around in tight, wet jeans that feel like trudging through mud. When you're traveling light with one or two pairs of pants, you need them to be quick-drying. Not just for those days you're out in the elements. But for the nights of washing your pants in your hostel's sink and crossing your fingers they'll be dry by morning.
Gimme Some Pockets
How many times have you stuck your hands into your pants' pockets only to end up with half of your hand still outside the pocket? Too many times to count. I hear you. When I'm traveling, I pack the pair of pants with the biggest pockets. Pockets — and their ability to keep my MVP items on my person — make me feel secure when traveling. I don't worry about the threat of pickpockets or my handbag getting stolen. My most valuable items are right here (pat, pat) in my pockets. The best travel pants have generous pockets. Not these wimpy little wannabe pockets that barely fit a Chapstick because, oh, giggle, I woke up looking this gorgeous and who the heck needs an ID, credit card or — heaven forbid — a green stack of cash because money still, most definitely, talks. No, I want real pockets that will hold real items like my cell phone and wallet. Even better, I want my pants to have some hidden pockets to keep my passport close and an emergency wad of greenbacks closer, when staying somewhere sketchy.
Comfort
Water-resistant and moisture managing, these pants have 3% Spandex for a lovely stretch. Reviewers gush about their breathability and comfort. You can climb any mountain, ford any stream, and explore any cobblestoned street in these travel pants.  
Toughness
Two words for you: Reinforced knees. Heck yeah. One reviewer nicely summed up these pants: "If you need a versatile-yet-sassy pant that will hold up to your hikes, bikes and other adventures, these are a good 'un. In summary, welcome to the prAna Halle Pant! (My suggested slogan: "For When Yoga Pants Aren't An Option")."
Good-Looking Bum
With a button-close instead of a drawstring, these pants don't flap or sag. Two rear flap pockets help accentuate your bum and provide some welcomed tailoring. One reviewer even said, "My butt looks really great in these!" When was the last time you heard that said about travel pants?  
Packability
These pants are made out of nylon, so you won't need to worry about wrinkles. Plus, they're quick-drying and woven with durable water repellent finish, so you won't have to dart for cover in a rainstorm.  
Gimme Some Pockets
Four pockets. That's four more than 90% of the travel pants I found in my research for this article.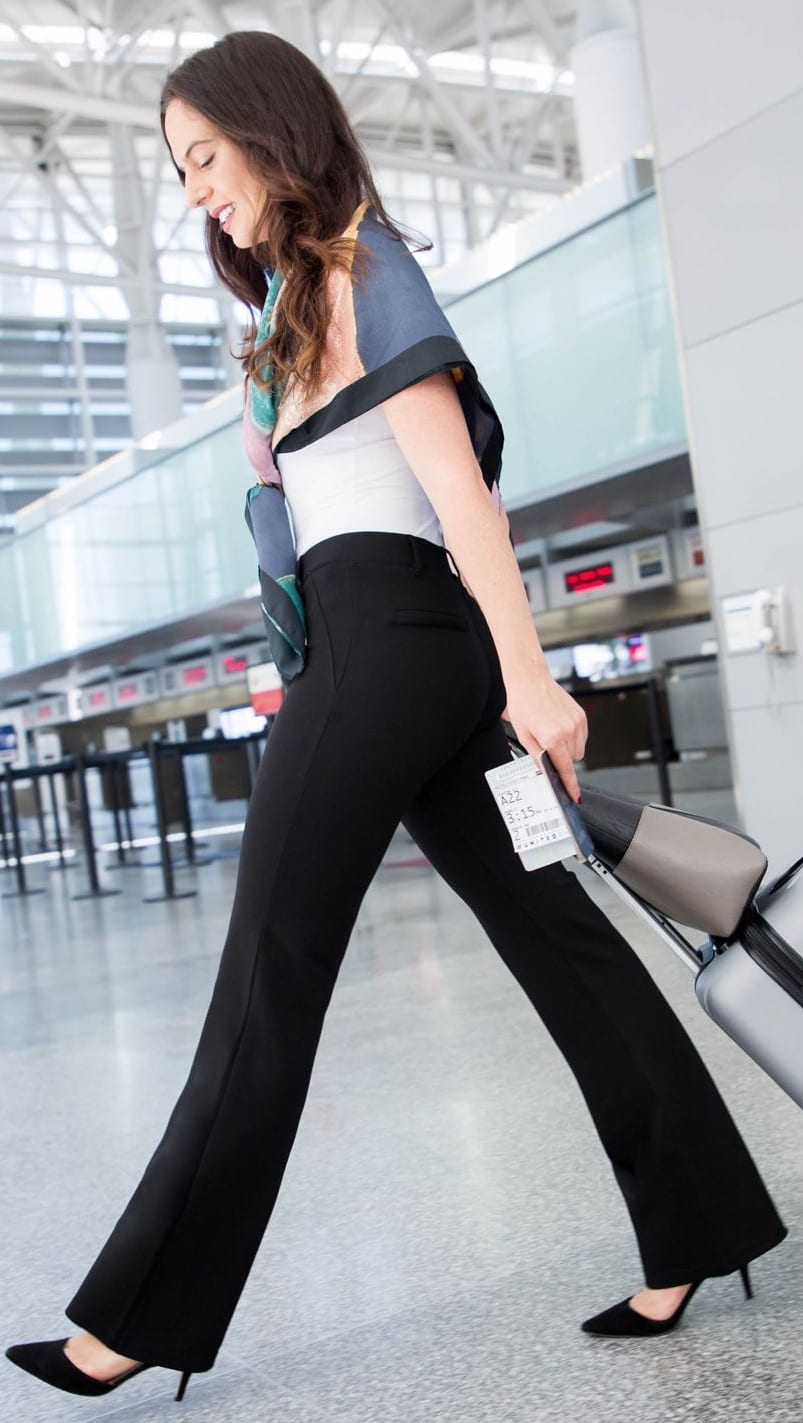 Comfort
Crafted from stretchy, yoga-pant-like fabric, these pants move with you rather than against you. With their sleek tailoring, they're perfect for business trips where you go from airport to conference room.
Toughness
These women's travel pants are made from comfy, soft fabric, so toughness isn't on the top of the list. Instead, they're made for comfort while looking good. That being said, I noticed in a handful of Amazon reviews that holes developed in these pants after a couple uses. These pants probably won't hold up to mountain climbing, but they're perfect for professional situations and board rooms.
Good-Looking Bum
"Whenever my wife wears these pants, I just want to smack that ass. If there is one pair of pants she has that makes my hair stand up, it's these pants," said one Amazon male reviewer about his wife's pair of Betabrand Yoga Pants. I rest my case.
Gimme Some Pockets
Sorry, ladies, no pockets here. They're sewn shut.  
Comfort
Alex from Travel Fashion Girl named these pants as her favorite travel pants. "These pants totally rocked the comfort factor when I wore them on a plane and on long train rides in Europe. The fabric has an awesome amount of stretch which allows breathability and gives you plenty of room to move around with ease."
Toughness
One reviewer said: "Traveling around Europe for a year, these are the best pants ever." In fact, I couldn't find one review that complained about their quality.
Good-Looking Bum
"Sexy and comfy. Hard to find both in the same pant," said one reviewer. Alex seconds that opinion:
"These women's travel pants have a slim, classic cut making them a basic you can wear anywhere. They have a high-quality, chic design so you can wear them for business and look professional, wear them in a European city without looking like a tourist, and even wear them in a village without having a sloppy appearance."
Packability
Wash in the sink and these travel pants are dry within hours.
Lightweight. Compact. Dress up or down. Fabric stays wrinkle-free. These travel pants check all the boxes on must-have's for good travel pants.
Alex says, "These have ultra-thin fabric and take up a quarter of the space. It's not sheer, though, and hides dimply skin imperfections that some light fabrics don't hide. They fit easily into a slim packing cube and hardly weigh anything at all."
Gimme Some Pockets
Two back pockets on these streamlined travel pants.  
Comfort
These pants have a comfort fit slider waistband, so no need for elastic digging into your hips. Made for police women and ladies who need to move and be comfortable at their jobs, these pants let you move. And be free. And be comfortable doing it. Making them perfect for round-the-world trips where stuff comes at you from any angle and you need to be able to tackle it.
Toughness
Double reinforced knees with built-in knee pad pockets keep holes at bay for years. These pants are made from cotton rip-stop and Teflon — two of the US military's favorite durable fabrics — so you'll be hard-pressed to rip these babies.  
Good-Looking Bum
Two rear flapped pockets give your backside some oomph and curve. Think of GI Jane in camo, and you've got the right mental image of what your bum could look like in these pants.
Gimme Some Pockets
If you're a pocket fanatic, these pants are your nirvana. You get two extra deep front pockets (aka man-sized pockets to hold all your MVP items), expandable back pockets, two cargo pockets with hook and loop closures, and side gussets designed to hold gun magazines, but these pockets are perfect for smaller items that tend to wander off.
You caught me. These aren't women's travel pants. These are travel pants made for men, but that doesn't mean the boys should get all the fun. While I was hunting for a women's version of these pants, I stumbled across one review: "They can work for leaner women too– I'm 5'7″, 135, and a tailored chino in 30x32 fit perfectly. Only one request to achieve perfection: produce in NAVY!" Boom. If you want awesome travel pants that have my fellow author Shawn drooling over them — "Comfy, durable, stylish, and packed with features," — and you're on the lean side, ladies, this could be your pair.  
Wear a flattering maxi skirt in those countries where showing your knees and legs is frowned upon. This flowing maxi skirt has you covered. Reviewers on Amazon rave about the skirt's material that, "Breathes, but it covers you up, meaning it is not sheer at all." Bonus: it's wallet-friendly price.
With this wrinkle-resistant skirt, you also get the enviable feature of two pockets. One is a zippered pocket on your hip. The second is a cargo-style pocket on the hem of the skirt. The fabric is stretchy, so it moves with your body. Thanks to the cute flair around the hem, it moves easily from day to evening with some heels and nice jewelry. Amazon's picky reviewers rated this skirt 4.5 out of 5 stars based on 500+ customer reviews. One reviewer said, "I just finished a three week trip to Cambodia with this skirt. It packed very well, did not need to be ironed, could be easily hand washed and dried very quickly. I climbed around temple ruins in them but I also wore it to meetings, out to dinner, etc. Three years later and I still love these skirts! They look like they did when I bought them. All the positives I said about them in my earlier review still apply."
TL;DR
Travel pants need to be comfortable, packable, and tough, so you can travel without worrying if holes will show up. Also, a good pair of women's travel pants has useable pockets to stash your MVP items close to your body.
Want more like this?
Get weekly gear reviews, travel hacks, and packing tips sent straight to your inbox. As an added bonus, we'll send you a carry on packing list right away.