In 2012, I spent a month in London working from the Leicester Square Starbucks in the morning then exploring the city in the afternoon.
One benefit of slow travel is that you can get into a routine and live like a local. Staying in one location makes working from the road much easier.
Instead of running from one tourist attraction to the next, you can get to know a city at your own pace.
I stay at a destination for anywhere from a week to a month. Staying in one place gives me time to fully explore a city even if I'm working for part of the day.
More workers are becoming location independent digital nomads. Working while traveling allows them to travel longer without sacrificing income.
Working from the road doesn't mean you have to settle for renting a dingy, drab office. Check out where Sean Ogle of Location180 has worked from while traveling the world.
Do you want to do the same? Then follow this guide for finding an office anywhere in the world. From coffee shops to coworking spaces, you can find an affordable option with fast WiFi almost anywhere.
Airbnb
My first choice for an office is to book an apartment with a desk. Then I know that I'll have WiFi and quiet without having to spend any extra money.
If I need to get out of the house, I can find a coffee shop (more on those below) with the right level of ambient noise.
On Airbnb, start by searching for your location and dates. Then you can filter for the necessary amenities.
For Room Type, select Entire Place to ensure quiet and privacy.
Then click the More Filters button.
Under Amenities, select Wireless Internet. Airbnb doesn't list desks under amenities, so type "desk" into the Keywords box.
Click the blue Show Listings button, then take your pick of makeshift home offices.
You can do similar searches on any apartment rental site.
If you find working from "home" to be too quiet, check out Coffivity (warning: the site autoplays sound), a web app that recreates the ambient noise of a coffee shop.
Get $25 off your first Airbnb stay when you sign up using this link.
Coffee Shops
My second choice is a coffee shop, cafe, or any other place of business with free WiFi.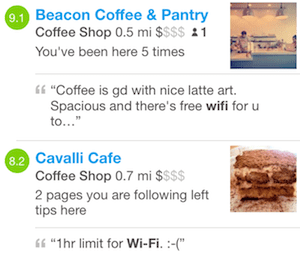 I use Foursquare (iOS, Android) to search for cafes with WiFi.
Open the Foursquare app, tap the Explore Nearby search box, and type "WiFi."
All of the businesses listed as results should have WiFi. Skim the tips left by other users to make sure that your cafe of choice has fast, reliable WiFi without time limits.
You'll find that many people care more about the quality of the WiFi than the quality of the coffee.
Starbucks is omnipresent and has free WiFi. It's fine in a pinch. I prefer to give my money to a small business where I can experience some local culture, coffee, and food. Foursquare is a great way to search because it will show you interesting spots that are popular with locals.
If you're traveling to Southeast Asia, check out James Clark's list of cafes at Nomadic Notes.
Another way to find places with WiFi is with the WiFi Finder app for iOS or Android.
Within the app, you can search for public WiFi hotspots near you and filter for free WiFi and by venue type (cafe, hotel, public space).
The app also has an offline mode. You can download the app's entire database of WiFi hotspots before you leave. Then you can use the app even without a data plan at your destination.
For more travel app recommendations, check out our list of the Best Travel Apps.
Coworking Spaces
My last two suggestions aren't free, but they do have other perks.
Coworking spaces cost money but are a reliable, work-friendly place to get stuff done. Many coworking offices provide free coffee and tea, meeting spaces, and office equipment.
The biggest perk is meeting other people doing interesting work. You might even find a future partner, employee, or contractor.
You can search for coworking spaces on the Coworking Wiki or on sites like Desks Near Me, Liquid Space, or Share Desk. I've also had good luck searching Quora for "[city] coworking."
The costs of coworking vary by country. Cheaper countries have cheaper office space. However, the space isn't always as cheap as you might think in less developed countries.
Coworking spaces are used by startups, freelancers, and digital nomads, not the average local. Coworking memberships tend to have a lower bound regardless of how affordable the country is otherwise.
Office Sublets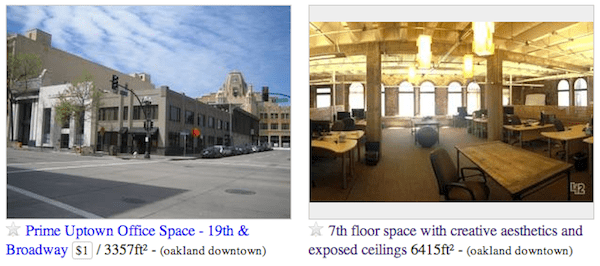 Finally, we'll cover the most straight-forward version of an office: an actual office. Don't worry, you won't have to sign a lease or commit to anything long term.
By subletting a desk from another business, you can find a flexible, short-term place to work. Like at a coworking space, you will be surrounded by other workers.
You can find available office space by searching Google or old, reliable Craigslist.
From the Craigslist homepage, search for any major city. In some cases, like Thailand, only the country is listed, not individual cities.
On the city/country page, choose "office / commercial" under the Housing section.
Now you're on the search page. Here you can enter your specific city, the maximum rent you are willing to pay, and the minimum square footage you'll need. You should also check the "pic" box to filter out listings without pictures.
Type your parameters then click the Search button. You can display the results in a text-only list, with thumbnails, with larger pictures, or on a map.
Browse through the listings and contact the ones that seem like a good fit. Make sure to look at each listing's pictures and information for pricing and amenities.
In your email, let the person know how long you plan to stay. Some businesses will only rent desks by the month, quarter, or year.
TL;DR
Apartments, coffee shops, coworking spaces, and rented desks are reliable, affordable places to get work done. Even when I'm not traveling, I tend to rotate between these options. Even at home I'm a nomad.
Want more like this?
Get weekly gear reviews, travel hacks, and packing tips sent straight to your inbox. We'll send you a carry on packing list right away.