Wrinkle free travel clothes don't have to look ridiculous or cost a bundle. In fact, some of the best travel fabrics are already wrinkle-resistant. You just have to know what to look for to create the ultimate travel approved wrinkle free wardrobe.
When you travel every weekend or live out of your travel backpack for months at a time, you need clothes that can handle rolling, folding, and stuffing without getting wrinkled. There isn't always an iron at your Airbnb or hotel (and no one wants to waste space on a travel iron!).
Stop looking like you just shuffled off a red eye. Upgrade your travel wardrobe with some truly wrinkle free travel clothes. Even a few wrinkle proof pieces of gear can change the way you travel. Read on for tips on how to find wrinkle resistant clothes, and our top picks for wrinkle free travel clothes for both men and women.
Wrinkle-Free Jackets and Outer Layers
If you actually have to go to a conference or an important meeting straight from the plane, you need to upgrade to a quality travel blazer. I'm a big fan of Bluffworks because they make travel clothing that doesn't look like travel clothing. Seriously, I wear Bluffworks gear to meetings in Manhattan all the time.
The best part about a great travel blazer is that it streamlines your packing list. For instance, the Bluffworks Gramercy Travel Blazer features 10 pockets—some with zippers. You can keep your wallet, passport, phone, headphones, and even a snack on you without bringing a cumbersome second carry on bag.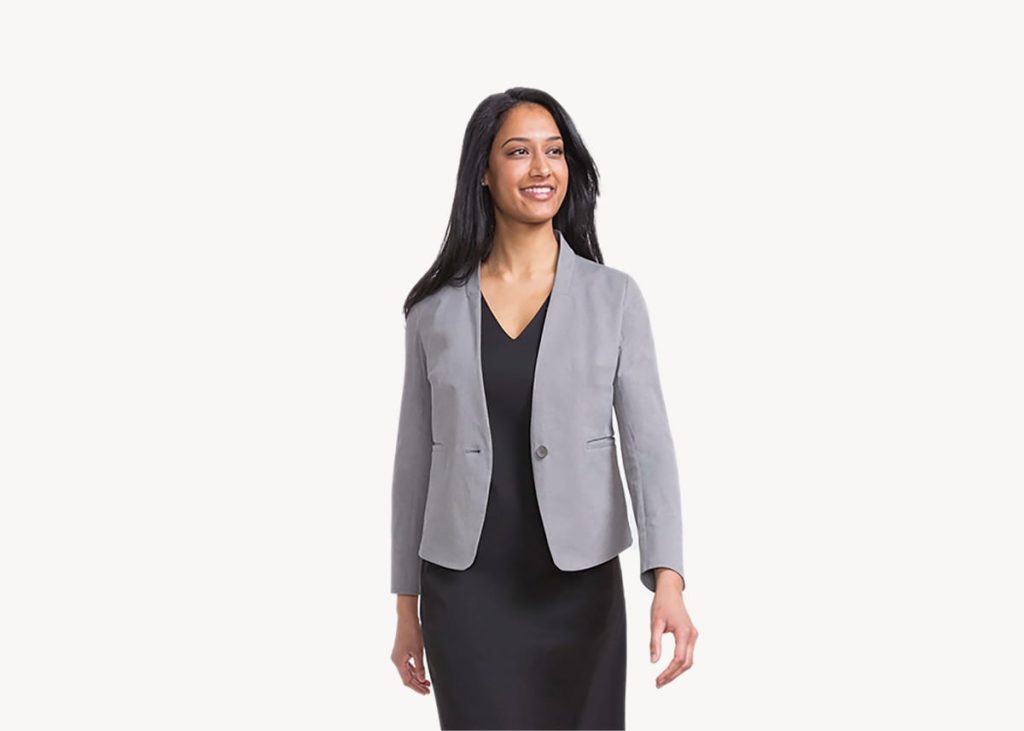 Forget about stressing over wrinkles appearing in your blazer. 'Cause wrinkles happen. Even if you wear your blazer on the plane as recommended.
Instead, opt for Ministry of Supply's Kinetic Blazer, which was designed to perform. Made with four-way stretch and a wrinkle-resistant fabric, it won't just stay sharp while you wear it, you'll feel comfortable and cozy in it as well.
Plus, it's machine washable and has several actually functional pockets.
If a travel blazer is out of your price range, or you just prefer a more casual style, a solid travel fleece is a great option. I've had the Columbia Klamath Half-Zip Fleece for a few years, and it just keeps finding its way back into my packing list.
Comfy, incredibly lightweight (seriously, it's one of the best packable outer layers I own), the polyester micro fleece doesn't wrinkle. Pass out on the plane in this bad boy and wake up looking like a million bucks.
Technically a jacket, but the blanket lining and 90's throwback look make it perfect for Fall travel and beach bonfires.
Wrinkle-Free T-Shirts and Tops for Men and Women
Get all the beauty of silk without the high-maintenance aspects of it in the Ministry of Supply Easier Than Silk Shirt. This is a wrinkle-resistant and machine washable button-down. The best part? It's sweat-proof. Yup, a dry day is possible even when you're running for a flight or speaking at a conference.
Yes, the Outlier Merino T-shirt is the most expensive t-shirt I own. It's also my favorite shirt, and the shirt I've worn the most—both on the trail and while traveling. It's just so danged perfect.
Merino wool is naturally wrinkle-resistant, but it's so much more than that. It fights odors, wicks away sweat and moisture, and retains its shape after a bunch of washes. What that means is that this shirt still fits the way it did when I got it over two years ago. It's the ultimate wrinkle free travel shirt. Period. If you can afford it, get one.
Uniqlo's Airism Tank Tops are a budget-friendly option for wrinkle free tops.
It's easily the lightest piece of clothing in my backpack, and it stands up to hiking, biking, and long plane rides without wrinkling. It's a great undershirt, works well with layers, and performs great on its own. The only downside is that they won't last as long as some of the higher-priced merino shirts on this list, but it's hard to beat the price point.
Pick up a few of these to kickstart your wardrobe of wrinkle free travel clothes.
If you want a more casual look, take a peek at Bonobos Daily Grind Wrinkle Free Dress Shirts. Bonobos sells everything online, and they have some of the most stylish shirts on the interweb. So, pop over and pick your favorite pattern.
The Woolx Women's Mia Short Sleeve V Neck is one of the most expensive shirts I own, but definitely the one I reach for whenever I want comfort and style. Fits well, long enough (a must if you have a longer torso, like me!), cool on hot days, and warm on chilly days.
I love this shirt, especially with the flattering, not-too-low v-neck cut.
Bonus: Merino wool is wrinkle-proof.
While pure silk isn't exactly the most wrinkle-resistant fabric, the Silkbody Silkspun Long Camisole blends silk, cotton, and Merino wool for a superb, sleek camisole. So, it's breathable and insulating… and wrinkle free.
It's longer than normal, so say buh-bye to stray breezes sneaking up your back. And it feels so luxurious. Despite being stuffed into a tight little ball, this camisole shook free of any wrinkles' tight grasp and was ready to rock 'n' roll.
Wrinkle-resistant button-up shirts, are a whole other conversation. They're tough to pack and many of the best wrinkle free shirts—or "non-iron" shirts—are treated with harsh toxic chemicals like formaldehyde. Yeah, you read that right. And wrinkle free shirts that aren't chemically treated are usually pretty expensive. Look for a good polyblend, and avoid non-iron shirts that don't tell you which fabrics they use. If you don't know the breakdown, it's a good bet they've been chemically treated.
I stumbled across this shirt while looking for something to wear to a swing dance event. Dressing for a swing dance event is tough because everyone looks really great, but you get sweaty in about five seconds when you're dancing in a cramped, crowded room. The Airism Polo Shirt was a lifesaver.
It breathes like a champ while I'm dancing and still looks really sharp. In fact, the collar stays upright unlike other floppy collared imposters. I really, really, like this shirt, and wear it for meetings and calls. And yes, it's a wrinkle-resistant superhero when I pack it in my backpack for dance events. Pick up a couple for under $20.
I dug into my tank top drawer and found this beauty. The Athleta Speedlight Tank is made from a polyester and rayon blend. This racerback tank has quickly become one of my favorites. Soft, light and wrinkle free 'cause I don't know how to work an iron. Oh, and did I mention it's long enough to layer? This tank is a true team player.
Wrinkle-Free Dresses for Women
Mara at Business Insider says, "Wear it on the plane (it's comfortable enough) or shake it out of your luggage and wear right away without fear of the wrinkling other fabrics are guaranteed to give you. I actually did exactly that and didn't need to iron any part before heading into the office. It's also machine-washable, so you can throw it into the washer and expect it to look exactly the same."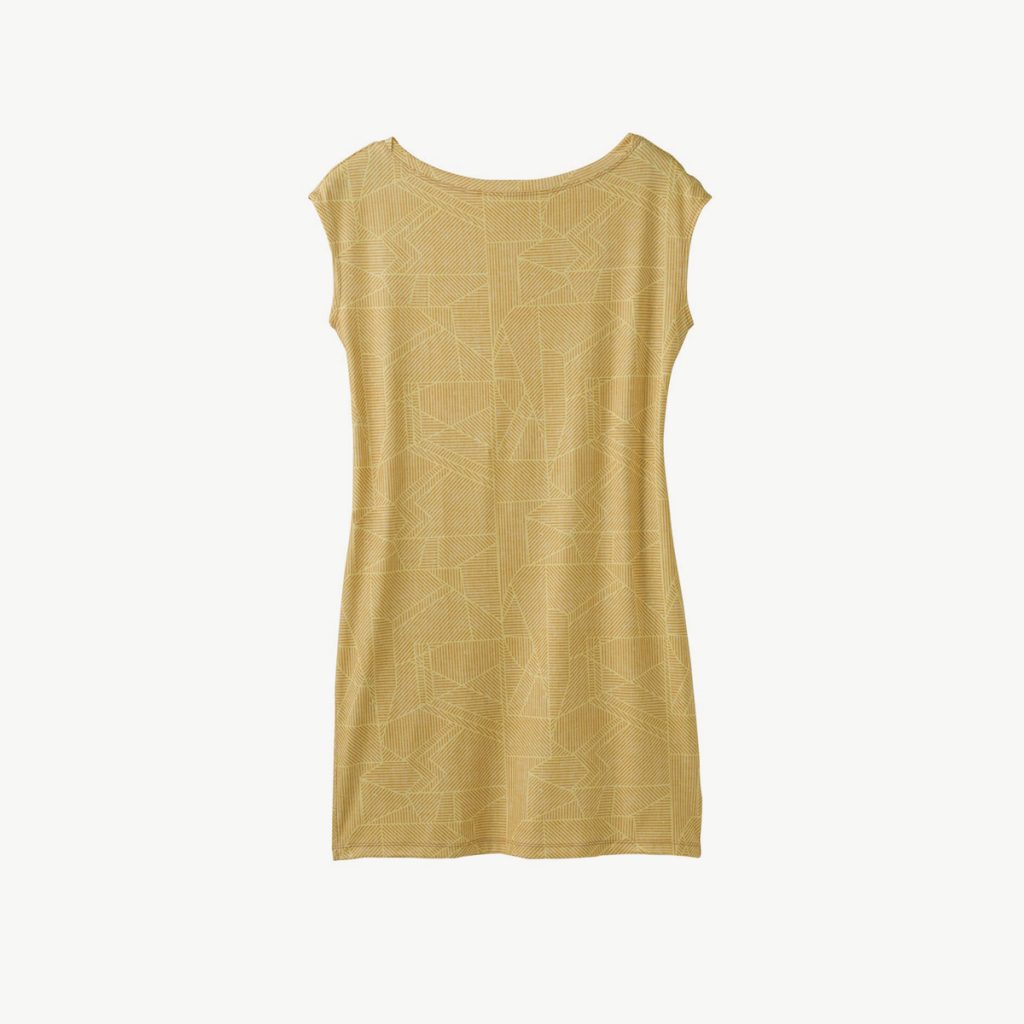 For adventure travel and warm weather vacations, prAna's line of dresses are cute, wrinkle free options.
Wrinkle-Free Travel Pants for Men and Women
These classy Aella High Waist Skinny pants remind me of Audrey Hepburn in A Roman Holiday. Flash of sexy ankle thanks to a cropped leg, sleek look through the leg, nicely accentuated bum without any sleaze.
Mara Leighton on Business Insider says: "These are my personal favorite work pants, as they look tailored, flatter most shapes, don't lose their shape even after continued use, and are unbelievably comfortable to wear. It's also a huge plus, especially for travelers, that they won't crease and can be thrown into the washing machine on cold."
Bonus: they're wrinkle free, fade-resistant, and crafted from luxuriously stretchy material.
These stylish, stretchy, slim fitting travel pants are top of the line. The Workcloth fabric takes a beating from the elements—and from your backpack—and keeps coming back for more. That's why Tortuga's Founder and CEO, Fred Perrotta claims they're his go-to travel pants:
"I have zero regrets about wearing jeans when I travel or even why I fly. When I travel, I want to feel and (hopefully) look good, which means dressing like I do at home. My Outlier Slim Dungarees are the best travel pants that I've found. They're are a modern, technical reinvention of jeans."
Fred is the epitome of a digital nomad on the go. So if he looks good in these jeans after a 10-hour flight, you can bet you will too.
I'll say it again, the Bluffworks Tailor Fit Travel Chinos are my favorite wrinkle-resistant travel pants. They have all the zippers I need to keep my stuff in place when I pass out on long haul flights, and they still look pressed and sharp when I land. It's a win-win. Snag a pair from one of our favorite brands for wrinkle free travel clothes, and you're already halfway to a great travel wardrobe.
We've been obsessed with the Bluffwork's Chino for men for years. And ladies, you can now get in on the goods too with Bluffworks' Trevi pants.
Like the men's chinos, they're thoughtfully designed with both form and function in mind. From multiple different, functional pockets, and snaps at the leg hems that transform them from pant to crop, these pants are made for travel.
And, of course, the fabric is breathable, comfortable, and resists both wrinkles and creases.
All of DUER's jeans were made to move in and come with a bit of stretch. This, of course, means they're way more comfortable than a standard pair of jeans, but the spandex also helps prevent wrinkles.
ADAY, specializes in technical clothes that perform, but also look hella stylish. This makes it not just one of our favorite brands for wrinkle free travel clothes, but for women's travel clothes in general.
All of their pants and leggings are breathable, pill-resistant, machine-washable, and basically impossible to wrinkle. If you haven't tried anything from them yet, their Turn it Up pants are a classic and a versatile pair to start with.
Wrinkle-Free Travel Hats for Men and Women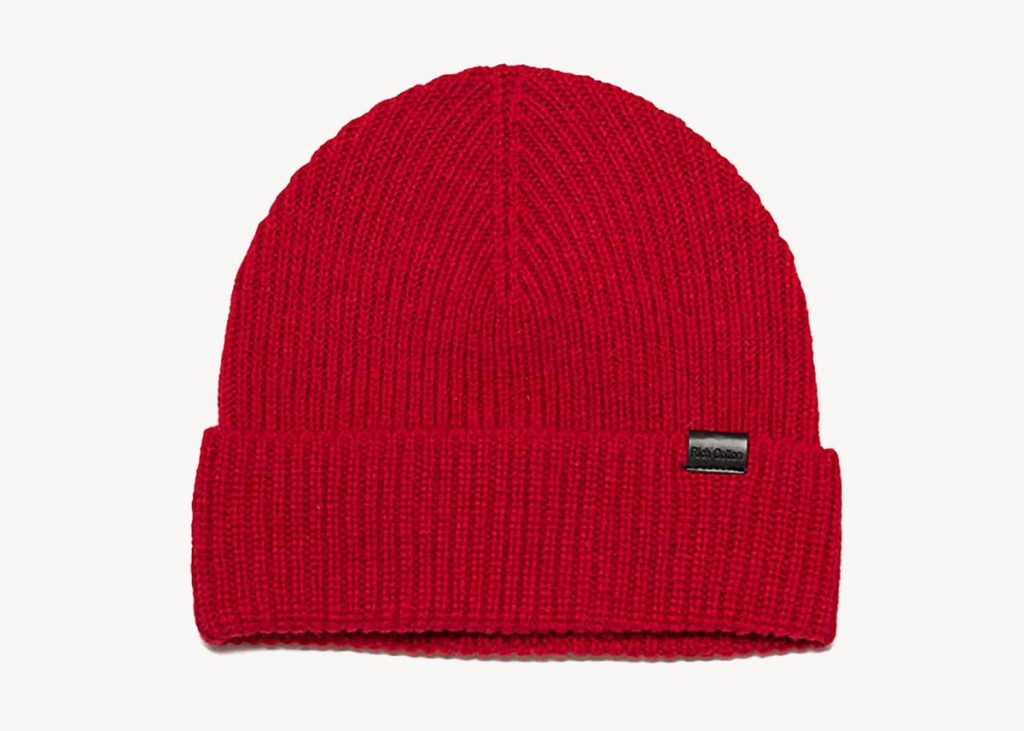 Honestly, for the amount of space they take up, a good wool cap/toque/beanie is a solid inclusion in almost any packing list. Unless you're going to SE Asia. Then maybe stick with a simple cap
This is an easy one since most hats are wrinkle-resistant. I like a nice wool cap since they double as an eye mask on long flights, they keep you warm when the AC is too high on an overnight bus, and you can just tuck it into your back pocket when things heat up.
The Carhartt Woodside Hat is affordable and stylish enough to look at home in the city or around the campfire. The waffle knit acrylic and thinsulate lining will shield you from blustery mornings on your way to a cafe for that Skype call with your boss 8 time zones away. Plus it just looks good.
I actually kind of love the BUFF Pack N Run Cap. It's tiny, lightweight, water-resistant, and fully adjustable to fit as snug or as loosely as you like.
I gave one of these to my girlfriend for summer hiking, and she ended up wearing it all throughout Europe as a great day hat. She just stuffed it in her day bag or even her back pocket and put it on when the sun came out. It was a game changer, and a great way to keep a totally wrinkle-resistant hat in your bag without taking up any space. Plus, it's great for hiking, biking, running, and summer travel. So that's rad.
Which Fabrics are Wrinkle Resistant?
Even if an item isn't marketed as wrinkle-resistant, a quick look at its fabric can help you figure out if it'll crease or not when you travel. These fabrics don't wrinkle:
Merino, 10/10: The ultimate travel fabric. Merino wool insulates, breathes, fights odors, and doesn't wrinkle.
Wool, 10/10: Other wool blends have the same wrinkle free qualities without the soft texture of Merino.
Polyester, 9/10: Polyester isn't the devil fabric it's made out to be. Most performance fabrics and travel clothing has at least some mix of this miracle fiber. Which is a good thing, because it's super wrinkle-resistant.
Lyocel aka "Tencel", 8/10: A synthetic form of rayon, Tencel is a huge improvement on the easy-to-wrinkle original. It will still wrinkle in your bag, but they come out easily by hanging your clothes up.
Nylon, 7/10: Normally, nylon is part of the blend of travel fabrics that gives elasticity. It's typically wrinkle-resistant. Look for 5% nylon in travel t-shirts and even travel pants if you want a little extra stretch without the wrinkles.
Denim, 6/10: Yes, denim wrinkles a little bit. But not really. Jeans and jeggings make great travel clothes, and they only get better when you mix in a little spandex. I usually wear travel jeans with about 4% spandex in the blend for that active stretch, but you can get more if you like to really fight wrinkles.
Wrinkle-Prone Fabrics to Avoid
For wrinkle free travel clothes, avoid 100% cotton and linen, both of which wrinkle easily. But if you can find a cotton/poly blend (around 60/40), you'll be in great shape as the polyester helps resist wrinkles. Avoid cotton/rayon blends. That's the worst.
Cashmere can also wrinkle when you pack it, but the creases release if you hang your clothes for a few hours. So, cashmere isn't great right off the plane, but can still travel fairly well.
Get a Free Carry on Packing List
Join our email list for more packing tips and gear guides.
When you sign up, we'll send you a free carry on packing list to get started.