Zero Waste Travel: How to Reduce Trash While Traveling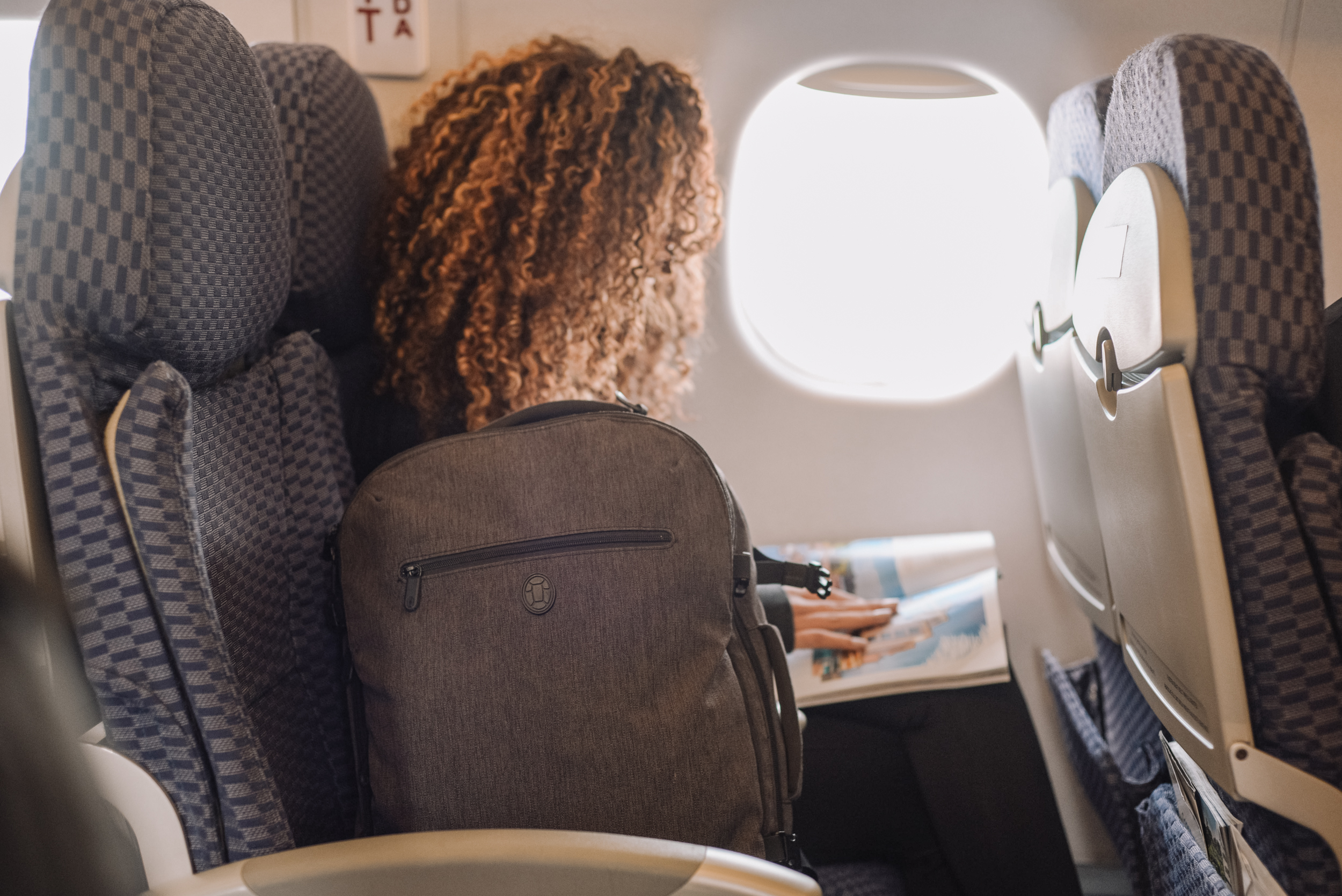 Being a conscious traveler takes work, but if it helps preserve our favorite destinations, it's worth it.
From single use toiletries to take out containers, we rely on disposable items often while traveling. But, even if we're "just one person", our trash can add up and leave a negative impact on the destinations we love. Tulum can't keep up with the waste created by a rapid explosion of tourism. Angkor Wat is considering a plastic ban.
Although the biggest impact on waste created by tourism will come from hotels, airlines, and restaurants adopting more green practices, there are still ways individual travelers can make an impact. One way: committing to low or zero waste travel habits.
Whether you're figuring out how to go zero waste in every aspect of your life, or simply want to be more green when you travel, this article will help you get started. Read on for tips to be low or zero waste while you travel, as well as some of the best items to add to your packing list to create less trash on the road.
How to Go Zero Waste When You Travel
If you're overwhelmed by the "zero" in "zero waste", start by reducing, rather than completely eliminating, waste you produce while traveling. To start, follow all or some of these zero waste travel tips:
Eat Out Instead of Getting Take Out
Skip the takeout containers and plastic cutlery by ordering your lunch or coffee "for here" instead of to go. After all, you're not rushing off back to work — you've got time.
Avoid Packaged Snacks and Make Your Own
An individually-wrapped power bar might be the most convenient flight snack, but the packaging is likely to end up in the landfill. Even if you find a place that can recycle your power bar wrappers, who wants to do that while they're traveling?
Instead, make your own airplane snacks or buy pre-made snacks from your grocery store's bulk bins (using a reusable bag, naturally) that you can easily toss in your luggage.
Pack Reusable Food Containers and Cutlery
For many of us, travel means takeout. Whether it's a cup of airport coffee before your 6 a.m. flight, or a quick on-the-go lunch while road tripping, we don't always have time to sit down and eat while traveling. Instead of skipping the take out altogether, pack a reusable container, bag, thermos, and cutlery that'll help you create less trash (which we'll get into later). Plus: many shops will give you a small discount for bringing your own container.
Bring a Reusable Water Bottle and/or Thermos
More than 60 million water bottles end up in landfills every day — and that's just in the U.S. On top of that, to-go coffee containers can't be recycled at most facilities, thanks to its heat-resistant lining. Avoid contributing to the problem by packing a reusable water bottle and/or thermos for your trip.
For destinations with potable water, bring a stainless steel water bottle like the classic Klean Kanteen ($22).
In countries where tap water isn't potable, get a water purifying bottle, like GRAYL ($60).
For both hot and cold beverages, a durable thermos, like the Zojirushi thermos ($27) works for both. Lately, I've been traveling with it as my only beverage container.
Opt for Odor-Resistant, Recycled Travel Clothes
To give your travel clothes a sustainable, waste-free slant, opt for travel clothes from brands with eco-friendly and sustainable production practices. For example, ADAY and Londre create clothes from recycled water bottles. Patagonia uses ethical practices for their down jackets. And, merino wool, the super-star of travel fabrics, is actually compostable once your Smartwool socks or Western Rise t-shirts reach their end.

Also look for odor-resistant clothes that will allow you to wear them more than once before washing.
Say No to Unnecessary Freebies
From paper maps to conference swag, try to say no to free items you know will end up in the trash (or donation bin) soon after you receive them.
Pack Reusable Period Products
Avoid tampon and pad trash with reusable period products, like a menstrual cup. And, actually, most eco-friendly feminine products are actually better for travel. They take up less room in your luggage and, since most are reusable, you'll never run out or come up empty handed while trying to find your favorite brand of tampons in middle-of-nowhere Namibia.
Use Rechargeable Batteries and Solar
While most of our favorite travel electronics already come equipped with reusable batteries, there may still be a thing or two in your bag (e.g. a headlamp) that require AA or AAA batteries. For those items, opt for a rechargeable battery like the Panasonic Eneloop Pro ($26).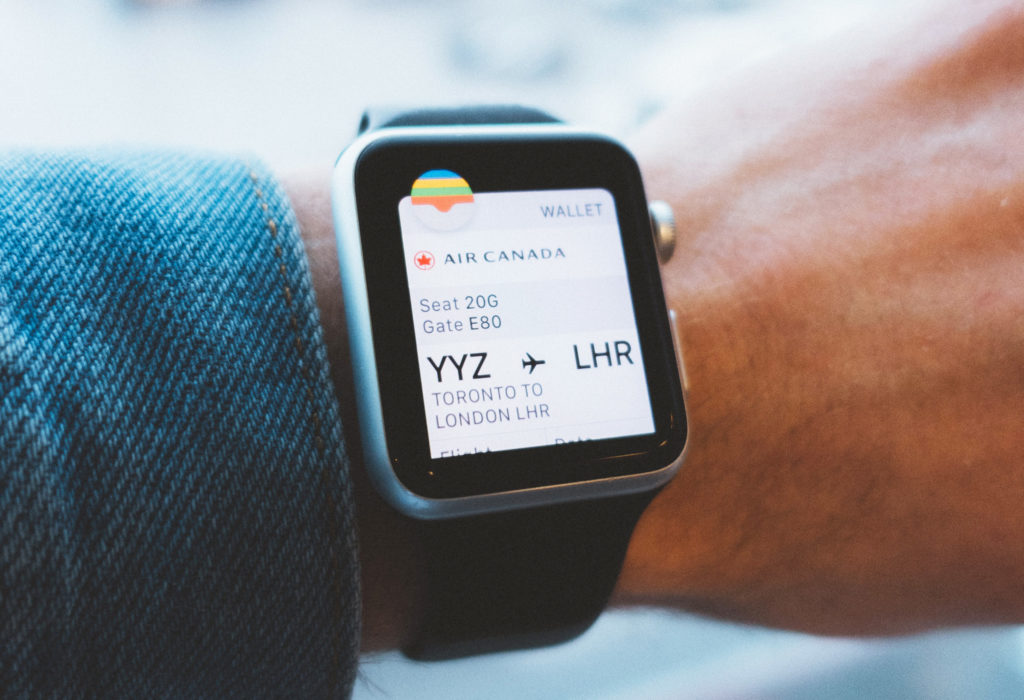 Digitize Everything from Boarding Passes to Guidebooks
How often do you reuse a guide book? Or your boarding pass? Sure, it might live a short-lived second life as your novel's bookmark, but most of these paper products ultimately end up getting tossed.
Avoid unnecessary paper waste by replacing everything from boarding passes and itineraries to guidebooks and maps with travel apps on your phone.
Getting Outside? Pack an "Adventure Bag".
If you're a traveler headed outdoors, join the Adventure Bag Crew. Started by a Jackson, an avid traveler who hated seeing trash tossed aside on trails in South and Central America, his Adventure Bag idea has now turned into a social media movement encouraging people to collect trash as they explore beautiful parts of the globe. Grab a bag and leave a place better than you found it.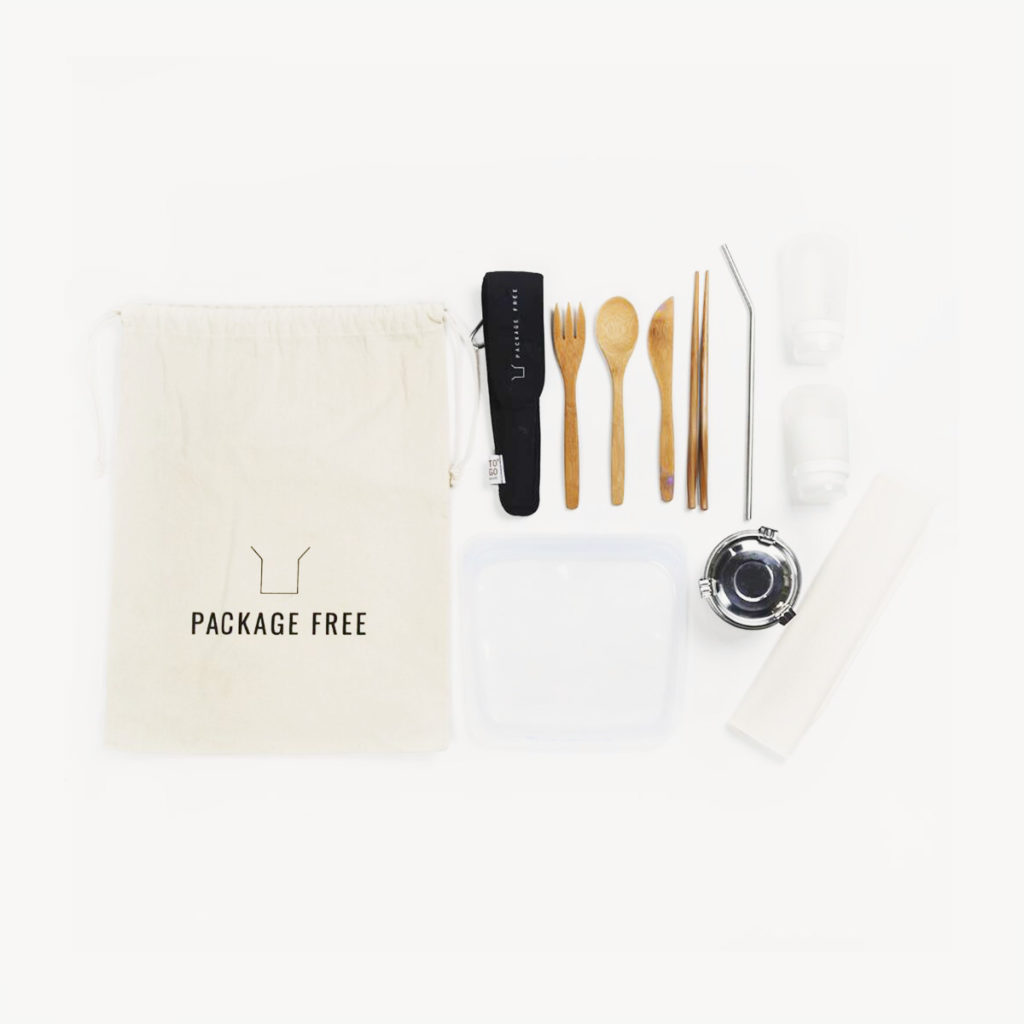 Build A Zero Waste Travel Kit
We create the most waste while traveling with single-use toiletries and eating out. Rather than waste money and plastic with single-use toiletries and takeout containers, get together a zero waste travel kit. Include the following items in your zero waste travel kit:
Reusable toiletry bottles
Compostable toothbrush
Spork or chopsticks
Reusable ziplock bag
Thermos and/or water bottle
Reusable straw
Reusable grocery bag
Organic handkerchief
If you don't already have any of these products, the Package Free shop recently released a zero-waste travel kit ($70) that includes everything you'll need. If you're just one or two items shy of completing your zero waste travel kit, scroll on for some of our favorite zero waste products for travel.
Best Zero Waste Products for Travel
Not only do single-use travel products create unnecessary waste, but they're often a waste of money as well (bulk is always cheaper). To transform your packing list into a waste-free zone, below are our favorite reusable or plastic-free products for travel.
GoToob Silicone Travel Bottles ($20 for 3)
If there's one thing you can do to reduce waste and save money on your travel toiletries, stop buying single-use toiletries — heck, the entire state of California has already banned them from hotel bathrooms. Instead, invest in reusable, travel-size toiletry bottles to stash your shampoo, conditioner, body wash, sunscreen, or other hair and body products.
The Tortuga Crew's go-to brand for reusable toiletry bottles is GoToob's silicone travel bottles ($20 for 3). They're easy to use, refill, and clean — just pop them in the dishwasher between uses. If you usually buy travel-sized toiletries, these babies will pay for themselves after 3 trips.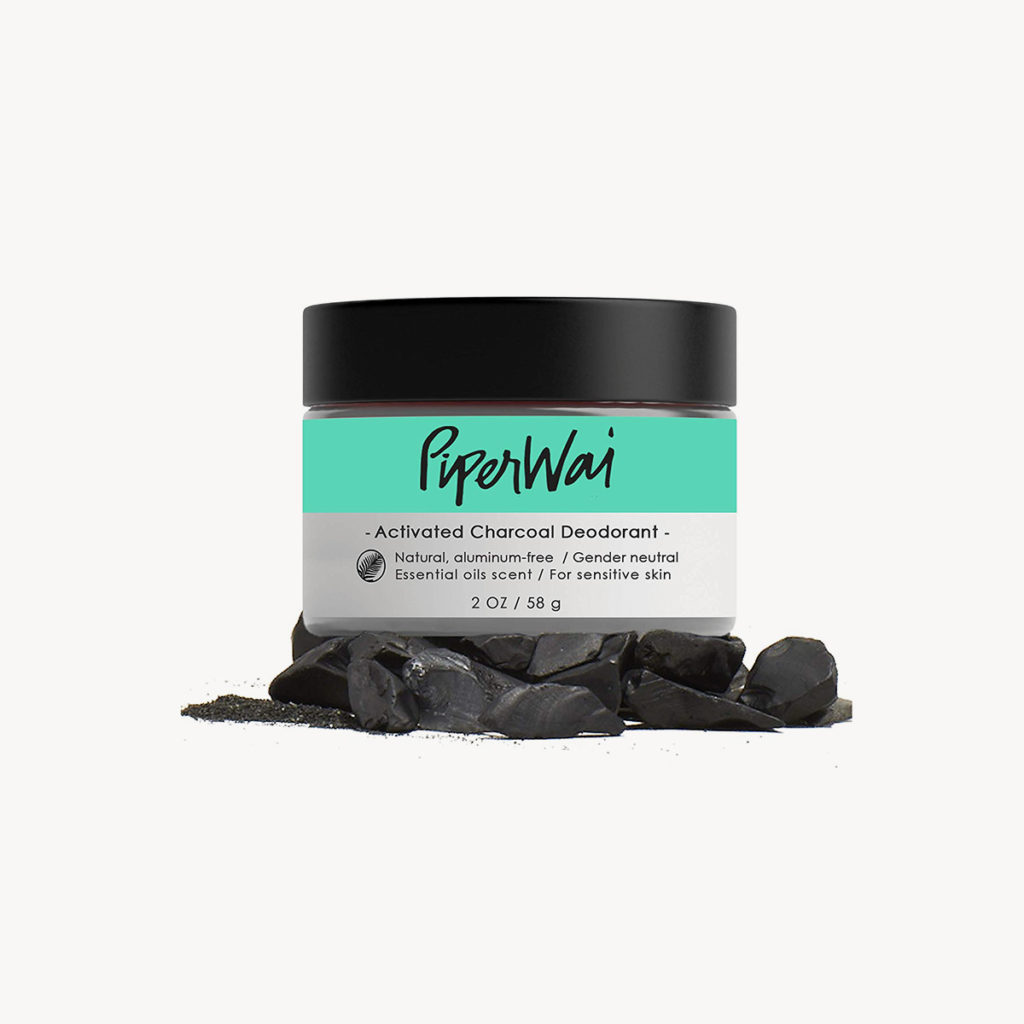 Low and Zero Waste Deodorant ($12)
In my travel kit, I use Piperwai's natural, activated charcoal deodorant, which comes in an easy to reuse glass jar (unfortunately, the lid is made of plastic). Since it's a paste, not a roll-on, I can easily scoop out what I need and put it in an even smaller, reusable container (I literally just use a 1oz salad dressing container… which I no longer use for salad dressings). 1oz is enough to last me an entire month.
Also consider the deodorants by humankind, which come in a reusable container. I haven't tried them (yet!) but have had a good experience with several of their other products.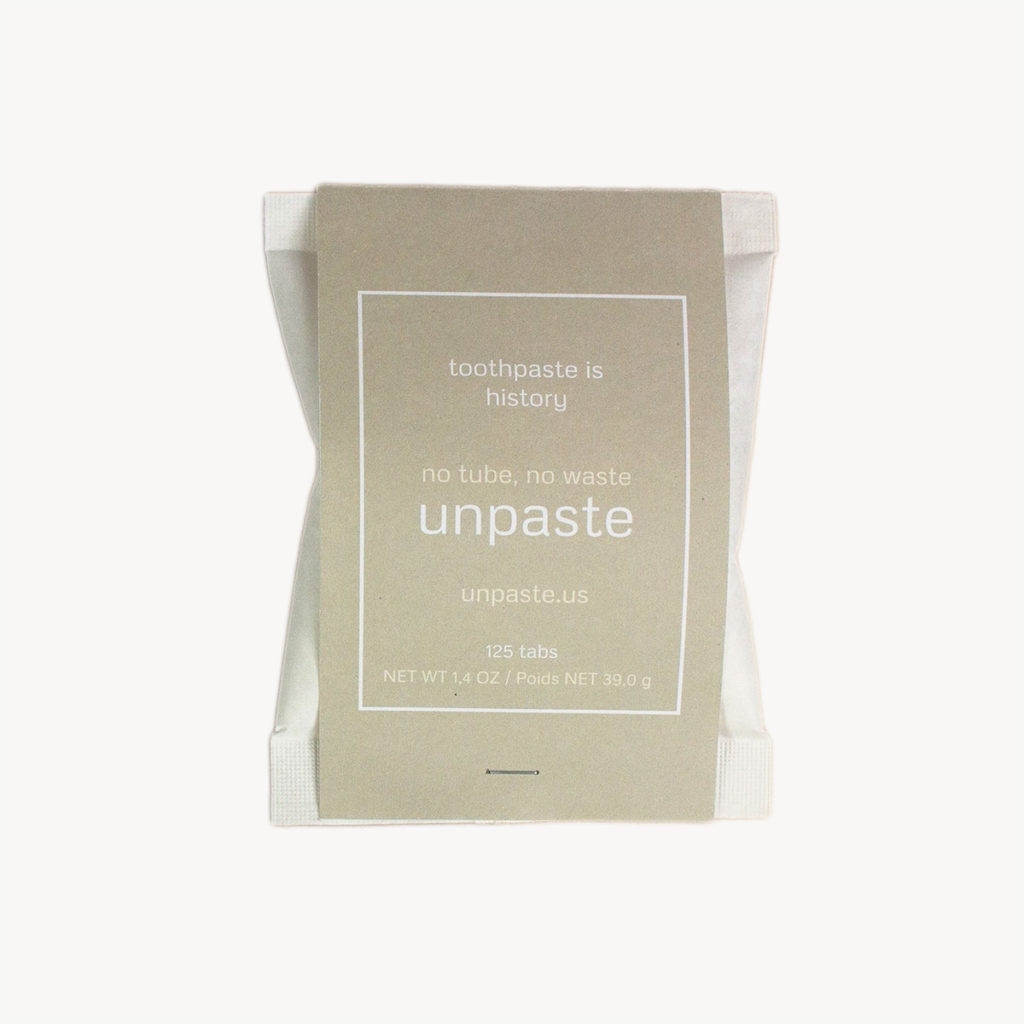 Package-Free Toothpaste ($10-$14)
Admittedly, toothpaste powders and tablets make me feel like I'm a character in the old-western novel, The Sisters Brothers. But this old take on a daily necessity is one way to brush your teeth without creating any packaging waste.
Lush's toothpaste tablet flavors ($10) comes in a recyclable plastic container, and is accessible for most folks who'd rather buy their toothpaste IRL. If even that is too much plastic, online shop Well Earth Goods ($14) delivers their toothpaste tabs in compostable packaging.
If you want to take it one step further, consider making your own toothpaste and packing it in a small steel container (just make sure it's under 3.4 ounces).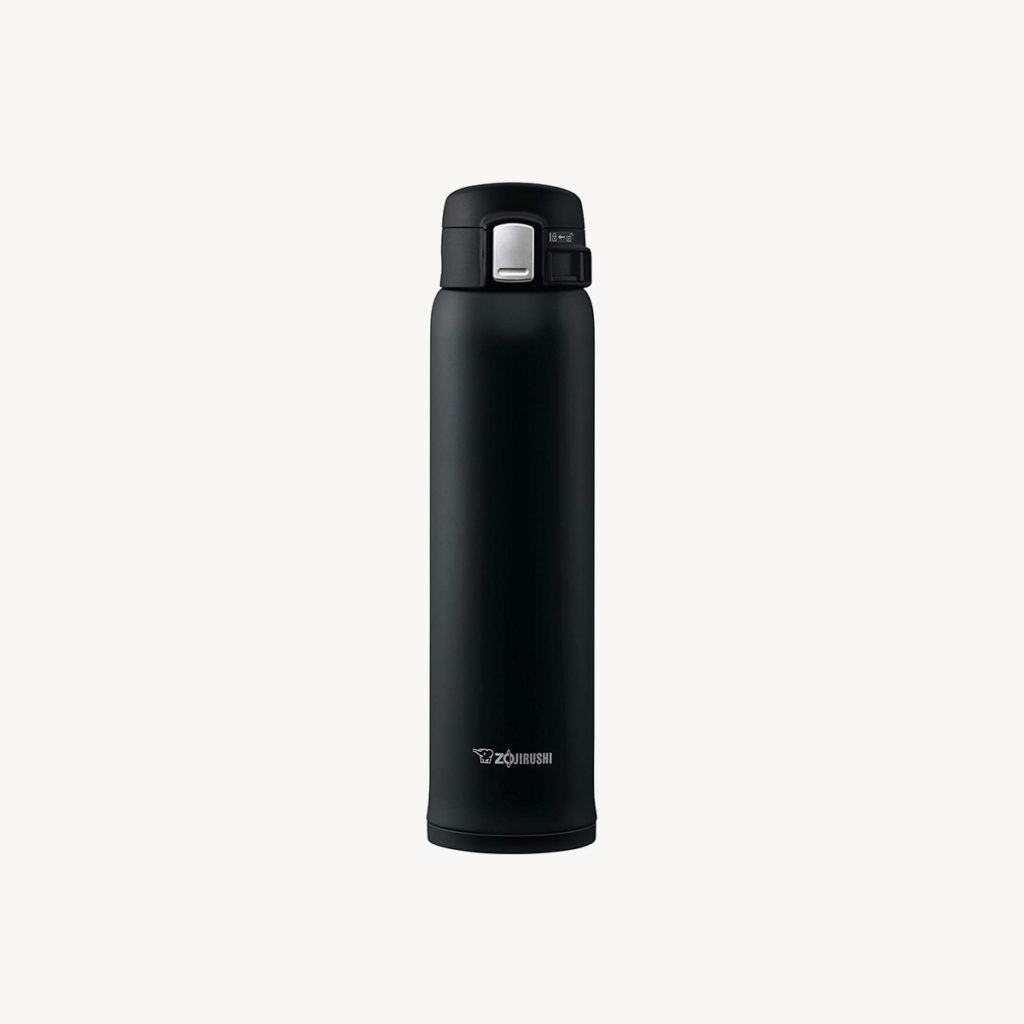 Zojirushi Thermos ($20-$30)
If there's a way for coffee to spill on me while I'm walking, it will spill on me. The Zojirushi thermos, which has a "lock" setting to prevent accidental spills, is the only coffee thermos I've ever used that has trustily kept all liquids *inside* the thermos.
Plus, its vacuum insulation keeps warm drinks warm and cold drinks cold for hours. Seriously, I could spend an entire cross-country flight sipping on hot tea and it wouldn't go cold.
Arashi Compostable Bamboo Toothbrush ($12 for 4)
Swap your plastic toothbrush for a compostable bamboo toothbrush, like this stylish set of four by Arashi Goods ($12 for 4).
A toothbrush isn't something you want to hang on to forever, but, at the very least, a compostable one will help reduce plastic waste.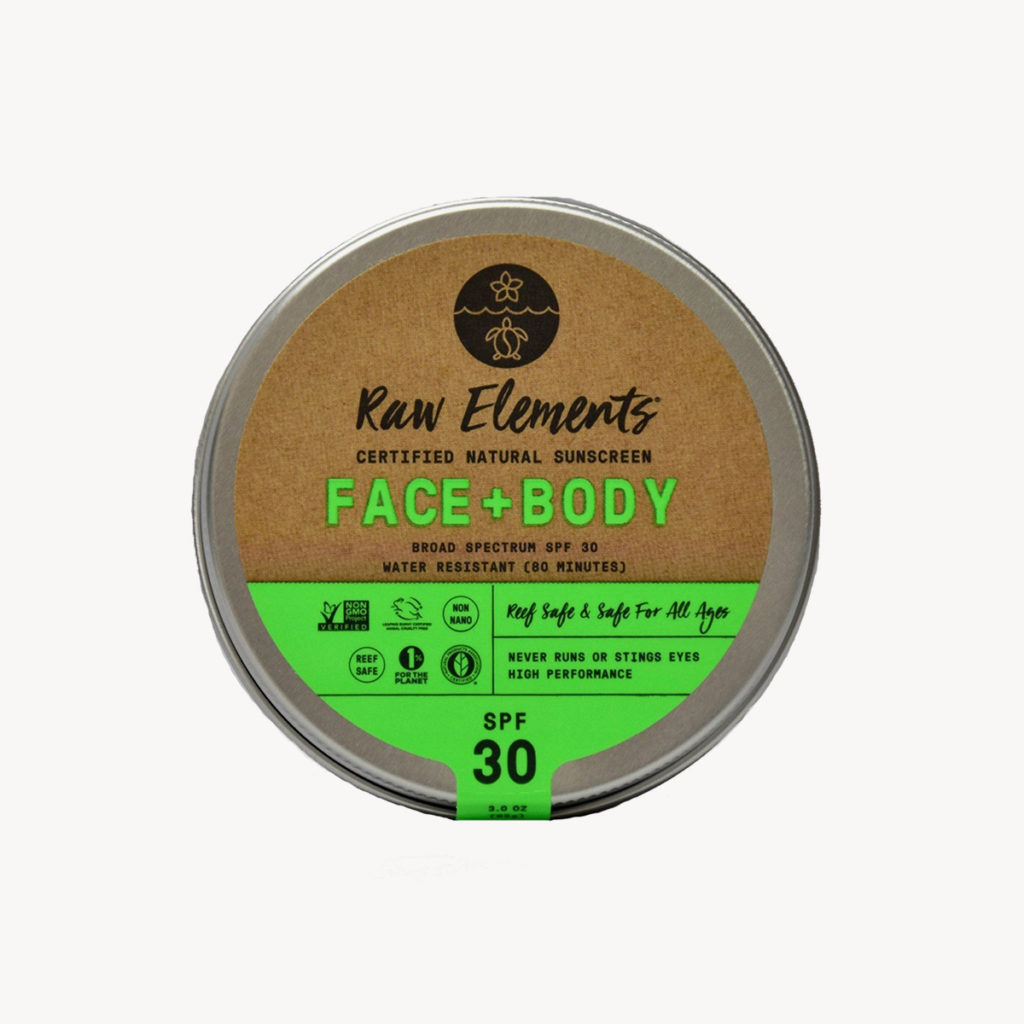 Raw Elements Zero Waste Sunscreen
Swap your plastic tubes for a tin or jar of sunscreen, like Raw Elements natural, SPF 30 ($19) sunscreen, which comes in a reusable 3oz tin.
As a bonus, it's also made from ocean-friendly materials — so you won't have to worry about wearing it in sensitive marine ecosystems.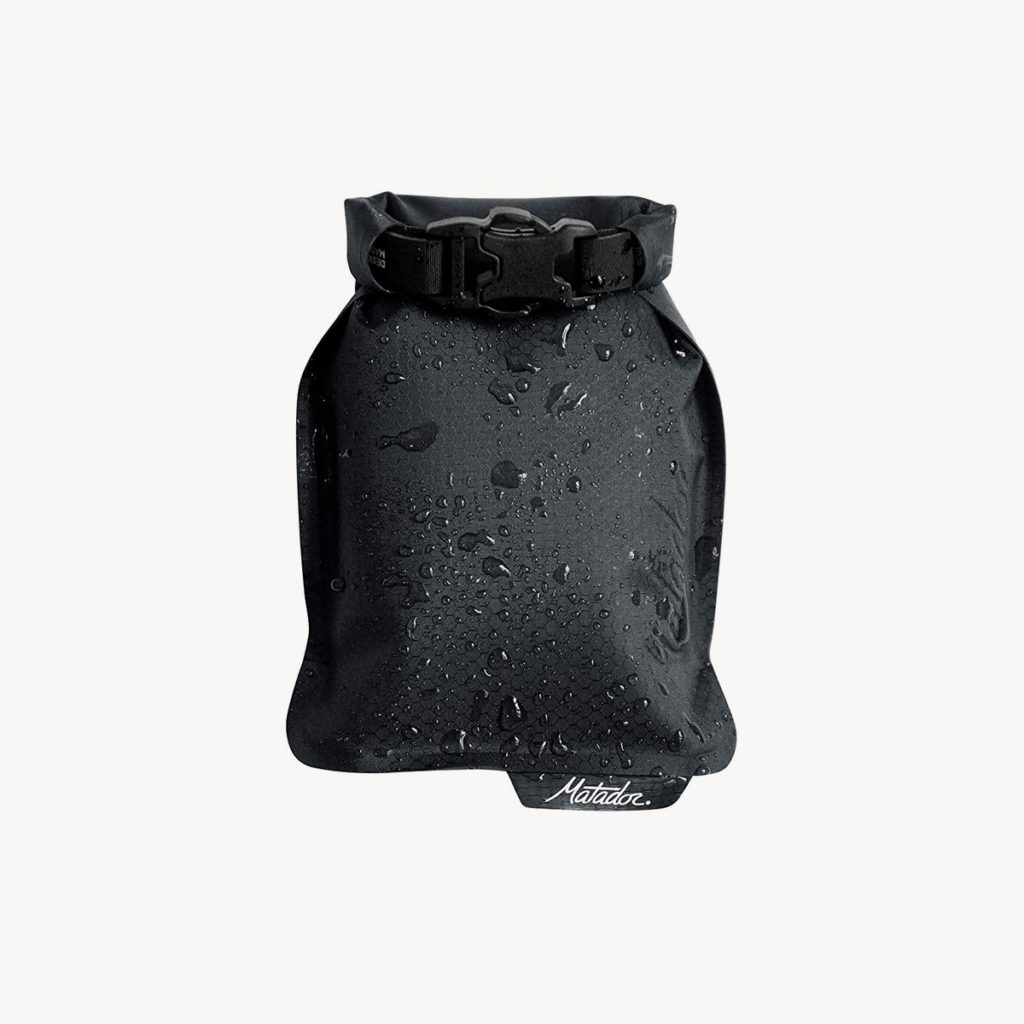 Bar Soap and Matador Soap Case ($24)
Skip body wash packaging, and the hassle of packing a loofa, and use a bar for your travel soap. You can pick up a bar of package-free soap from your local Whole Foods for about $3 or less.
To pack it, grab a soap case, like the Matador Flatpack Soap Bar case ($24), which keeps soap safe and dry while taking up less room in your pack than a hard case.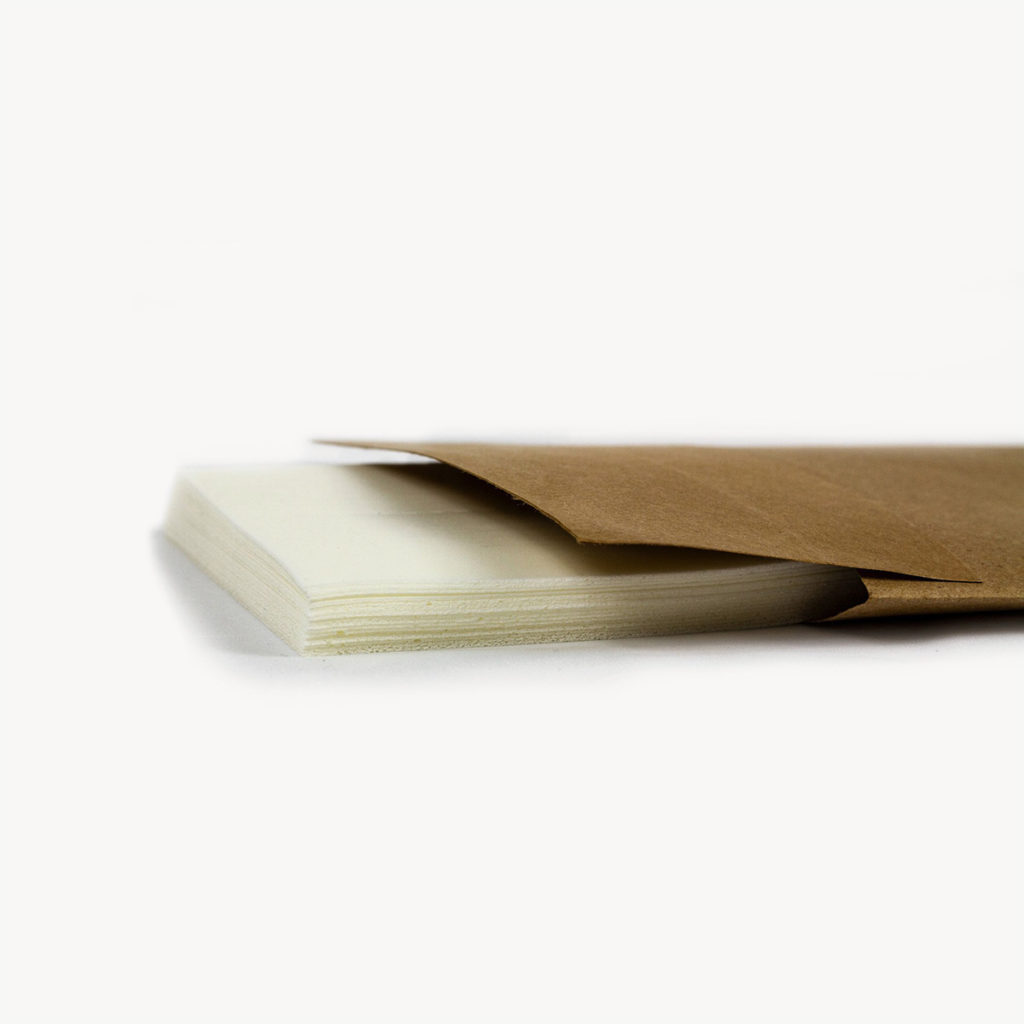 Travel Laundry Detergent ($16)
If you plan on doing laundry while you're traveling, pack one of Well Earth Good's laundry sheets, which come in a plastic-free, compostable package.
You can use it for both machine and hand-washing clothes.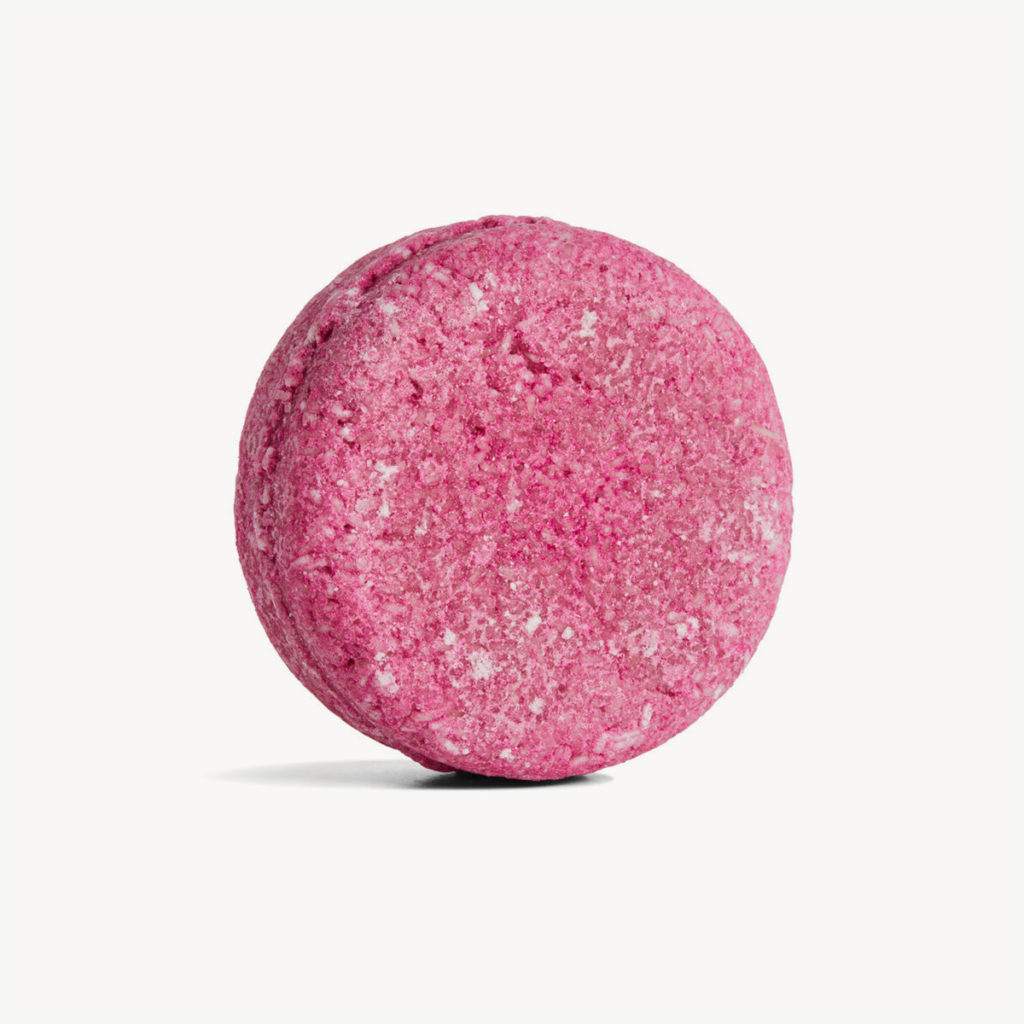 Lush or humankind Shampoo Bar ($11-15)
Skirt liquid restrictions and wasteful plastic consumption by replacing your liquid shampoo with a bar. Personally, I love the bars by humankind, while another good friend always packs one by Lush.
Since everyone's hair is a little different, I'd also recommend looking at MindBodyGreen's list of their favorite shampoo bars.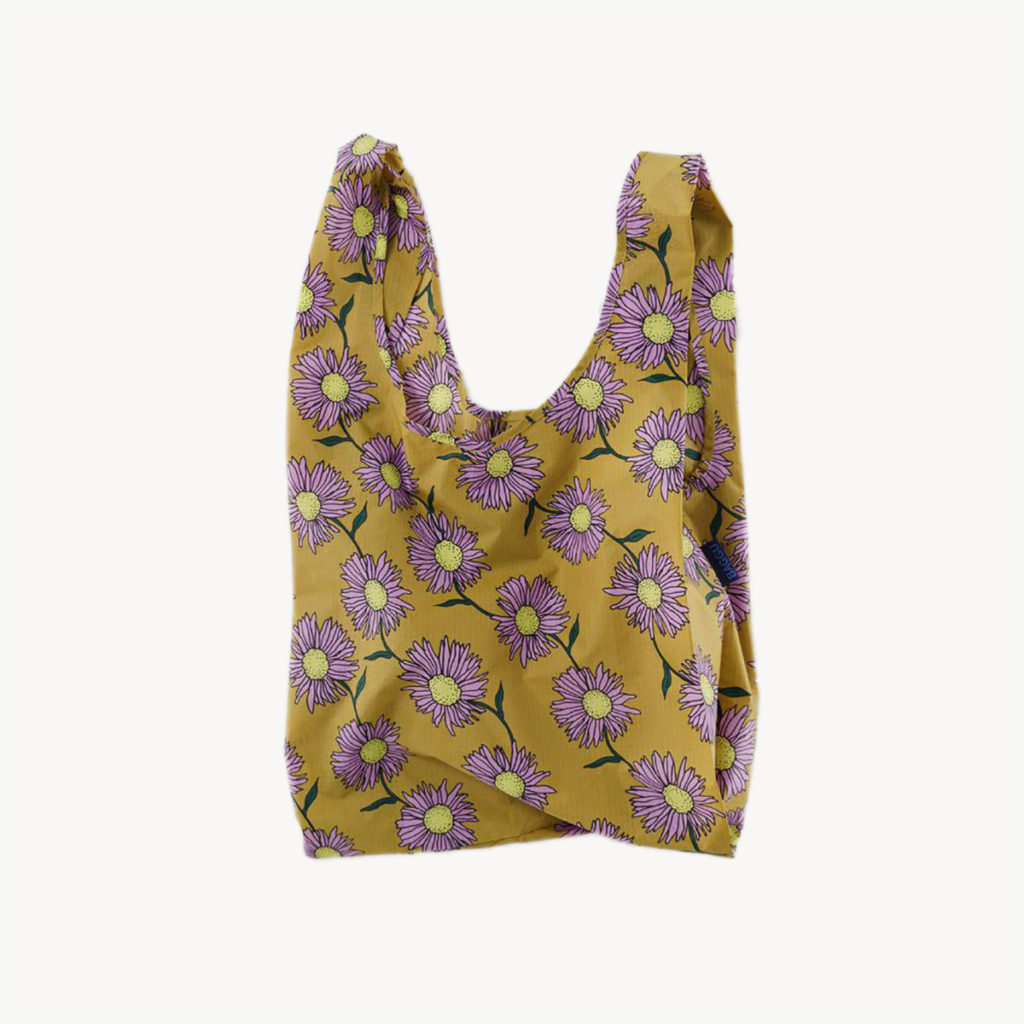 Whether at home or on the road, I rarely leave home without one of Baggu's colorful and fun reusable bags, which come in handy for shopping trips of any kind.
Choose from dozens of colorful prints and three different sizes.

TL;DR
If you want to participate in zero waste travel or create a zero-waste travel kit of your own:

Buy reusable toiletry containers for your liquids and creams
Opt for a compostable, bamboo toothbrush
Use package free toothpaste
Pack a spork or chopsticks and tupperware for takeout
Always have a thermos or water bottle to avoid single-use drink containers
Bring a compact, reusable grocery bag and say no to plastic bags when shopping
Say no to unnecessary freebies
Take it a step further and participate in the adventure bag movement
Being a conscious traveler takes work, but if it helps preserve our favorite destinations, it's worth it.