The Best Travel Hoodies for Men and Women
The Tortuga Promise
At Tortuga, our mission is to make travel easier. Our advice and recommendations are based on years of travel experience. We only recommend products that we use on our own travels.
You don't need a feature-packed Kickstarter travel hoodie stuffed with gizmos you won't use. Great travel sweatshirts are all about quality fabrics, a comfy fit, and long lasting performance on the road.
A great travel hoodie can be your ace in the hole on the road, but only if it does two things well. A travel sweatshirt has to keep you warm on icy planes and long bus rides, and it has to be easy to pack in your carry on travel backpack. That's it. Adding a zippered pocket is nice, but anything else is just needless bells and whistles.
Tortuga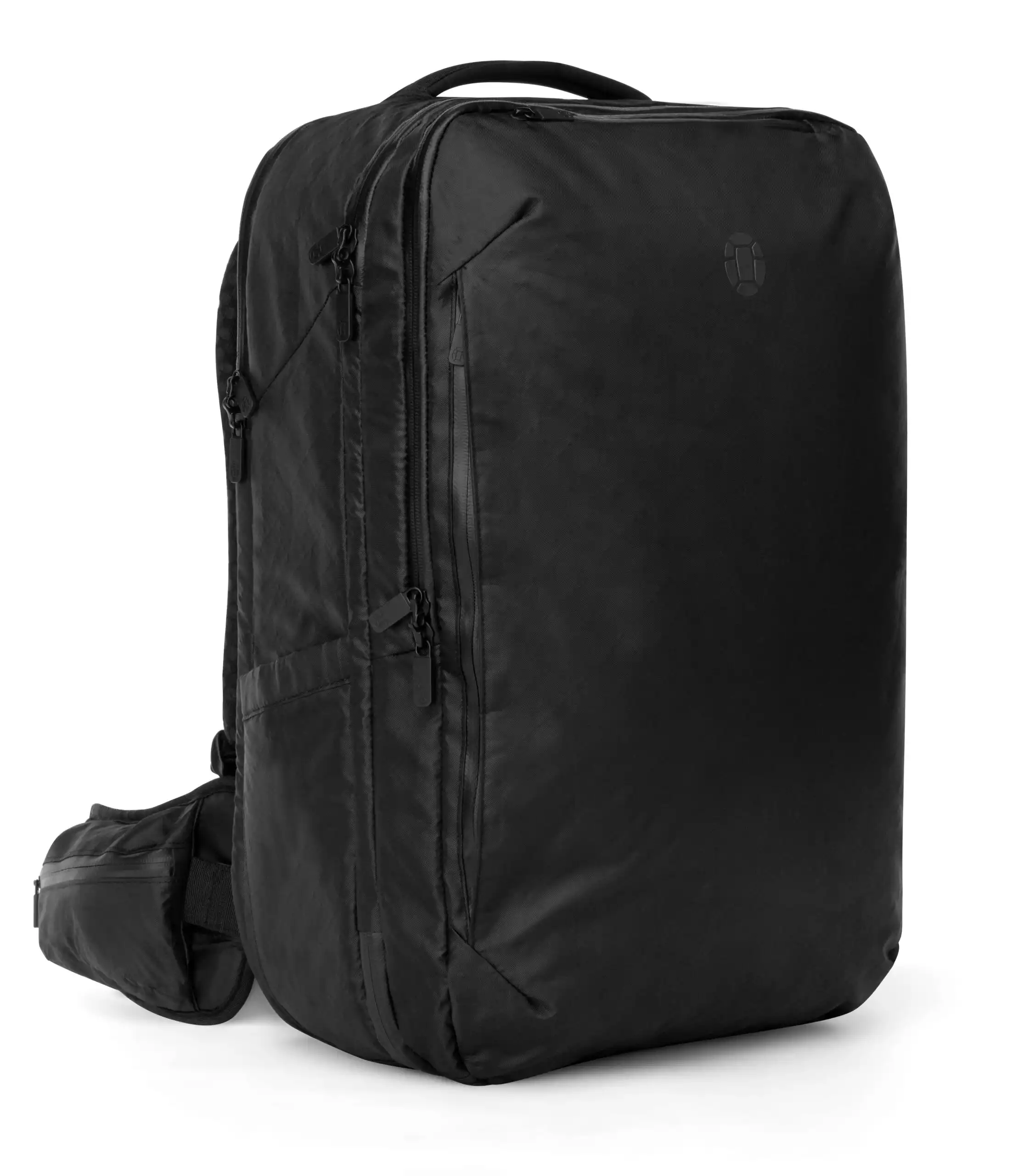 Getting caught up in the hype of the newest feature-packed travel hoodies on Kickstarter and IndieGoGo is easy, but nothing will ever replace quality performance fabrics, like merino wool, and sturdy construction that can handle years of hard wear and tear on the road.
You don't need 15 pockets, an inflatable neck pillow, and a flimsy fold out eye mask. You really, really don't. The best travel hoodie is one that you actually like wearing when you're on the go. To help, below are our picks for the best travel hoodies for men and women, as well as tips for choosing one.
The Best Travel Hoodies for Men
Here are four of the best travel hoodies for men including nods for interesting travel features, points for style, a good budget option, and my pick for best overall performance.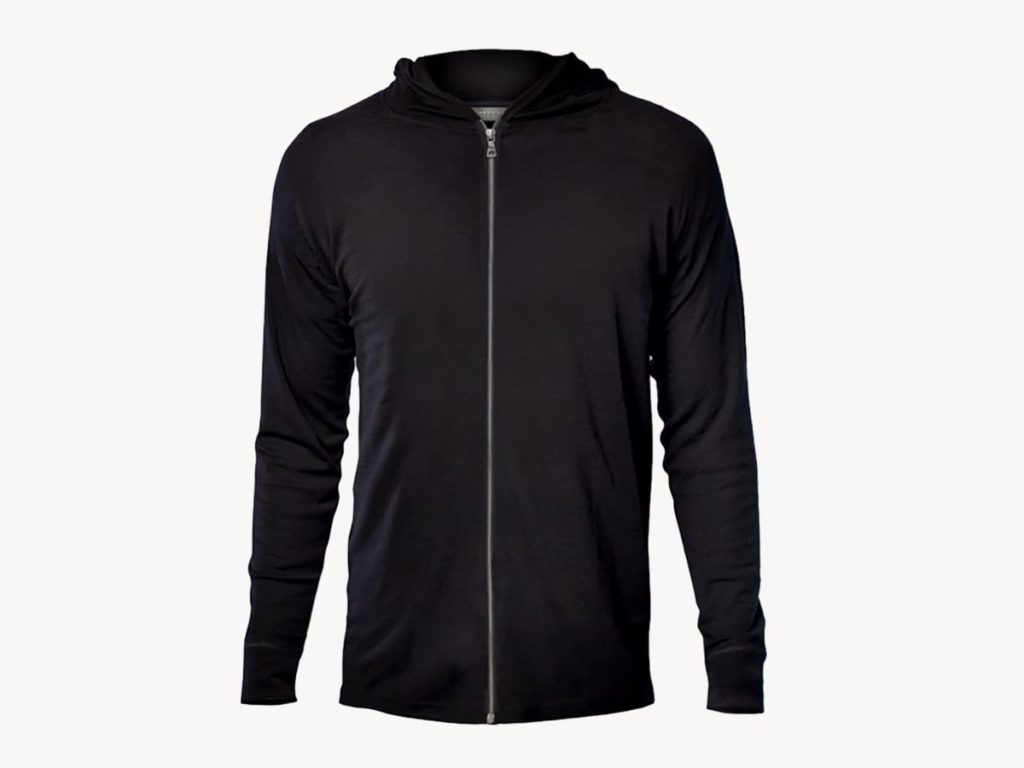 The Unbound Compact Travel Hoodie got me excited about fall travel again, and not just because it looks awesome. This insanely compact hoodie is made from superfine merino wool so it'll keep you warm in actual cold weather without taking up any extra space in your backpacks. All the features you want, without any of the gimmicks you don't need.
Odor-resistant, it packs down to the size of a t-shirt and can last for weeks without needing a wash. In fact, Unbound claims, "it can be worn all year long without needing to be washed." You might not want to go that far, but it's nice to know you could.
A great travel hoodie isn't about 45 pockets and a million minor features. It's about a layer that packs down small, keeps you warm, and can last for weeks on the road. Superfine merino is even wrinkle-resistant, so you won't look like crap when you land.
That's key for long-haul travelers like myself that go on extended trips across multiple climates. I want something that I can pack easily but also looks great and performs well in actual, real life. Unbound is one of the few crowdfunded travel hoodies I support (a lot of them are total nonsense). It's available starting October 2018, so snag yours before your next winter trip. You'll be stoked you did.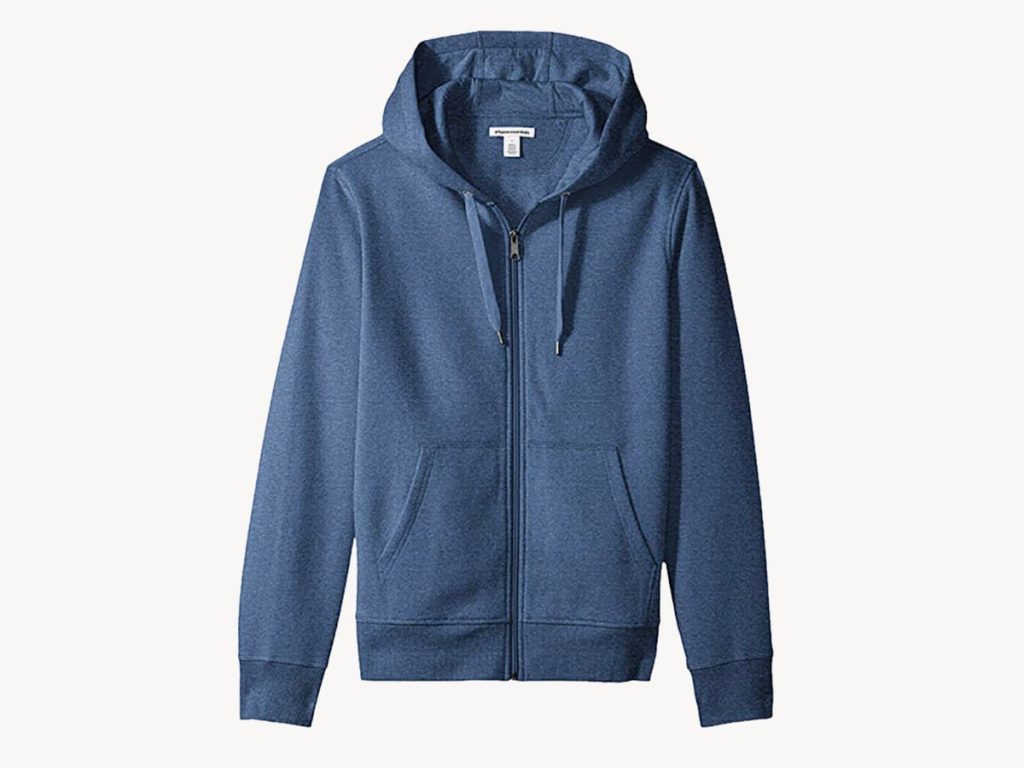 If you're looking for something ultra budget, the thin cotton poly blend from Amazon ticks a few boxes. It's lightweight, comfy, and looks great. You'll actually want to wear this hoodie on your trip.
Yes, it's 52% cotton, but it's tough to find a sweatshirt under $20 that can fit comfortably in your carry on backpack. Plus, if you're looking for travel gear you can donate when you're done with your trip, this is the perfect sweatshirt.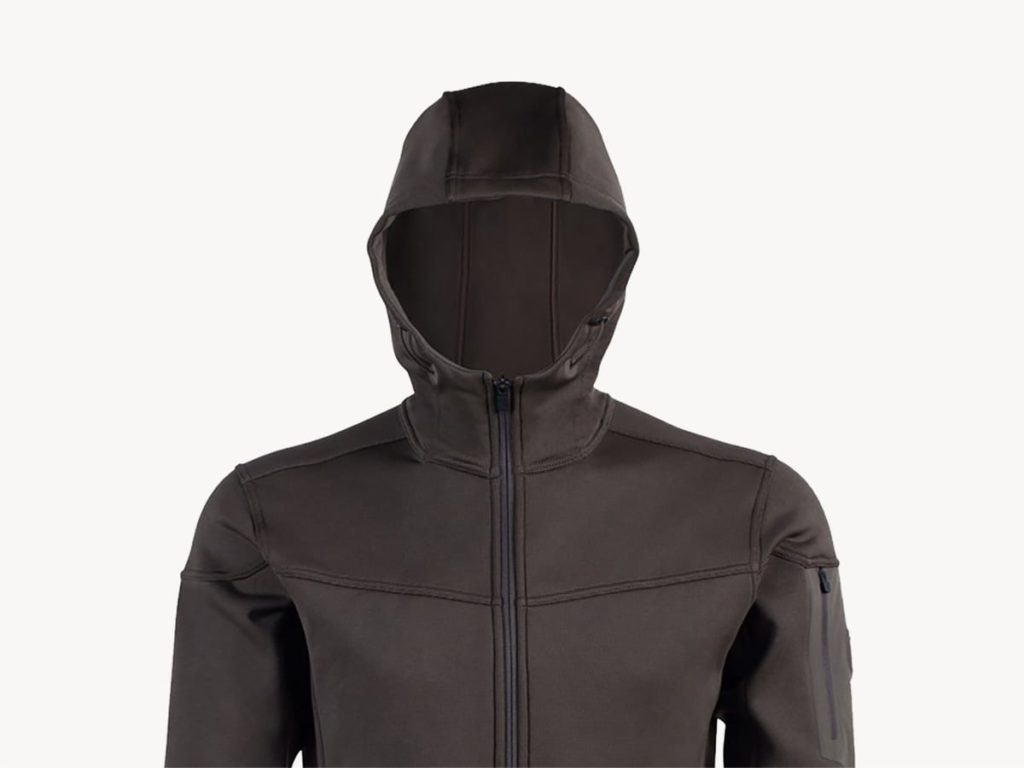 If you're torn between getting a hoodie and a light shell or outer layer, the Bluesmiths Kula Windpro might be for you.
Designed by surfers (so I'm in), this hoodie is built for use in the wet and the wind. It's 90% polyester with enough elastane to flex and move with you no matter what you like to do. The breathable Polartec material and DWR waterproofing shelters you from wind and the occasional downpour. It's actually really functional, but the best part is that the Bluesmiths Kula hoodie is a workhorse that doesn't look like a workhorse.
The sophisticated tailored fit and minimal, yet functional, features like: snag resistant material, breathable fabric, zippered sleeve stash pockets, hidden adjustable hoodie draw cords, and a headphone cord manager make this the perfect travel hoodie for surfers, runners, hikers, and active nomads that also spend time in the city. It's basically an undercover travel beast.
And while the Kula Windpro is technically a men's hoodie, they claim that "size XXS, XS and S are cut to work for women."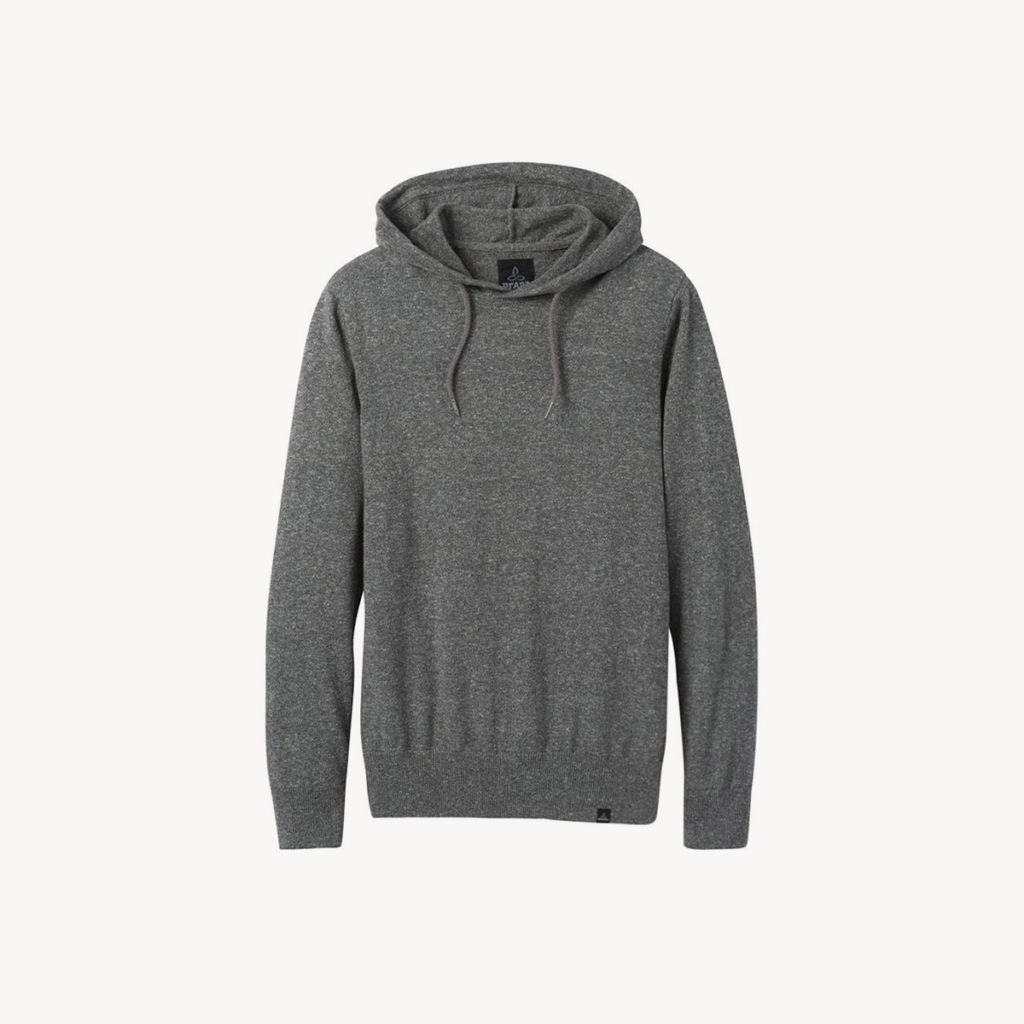 This hoodie wins the award for most stylish travel hoodie, by a mile. Stripped of all the dopey zipper toggles and pockets, this hooded sweatshirt is perfect for adding a little sophistication and chic to your travel wardrobe.
The higher collar line, organic cotton, and overall tailored fit of the this sweater transforms it into something you could wear out on the town. Comfy, chic, and very travel friendly. Big fan.
Overall, prAna has a great selection of men's hoodies and sweaters, all of which are ethically sourced and wonderful for travel.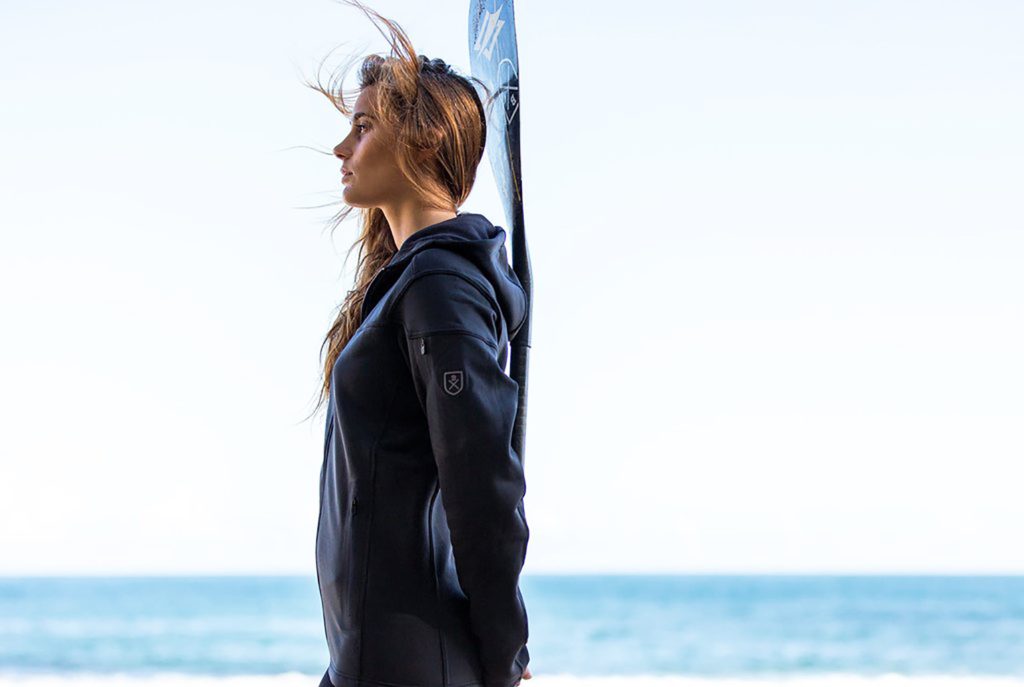 The Best Travel Hoodies for Women
Our picks for the best travel hoodies for women are warm, fashionable, and (naturally) have pockets.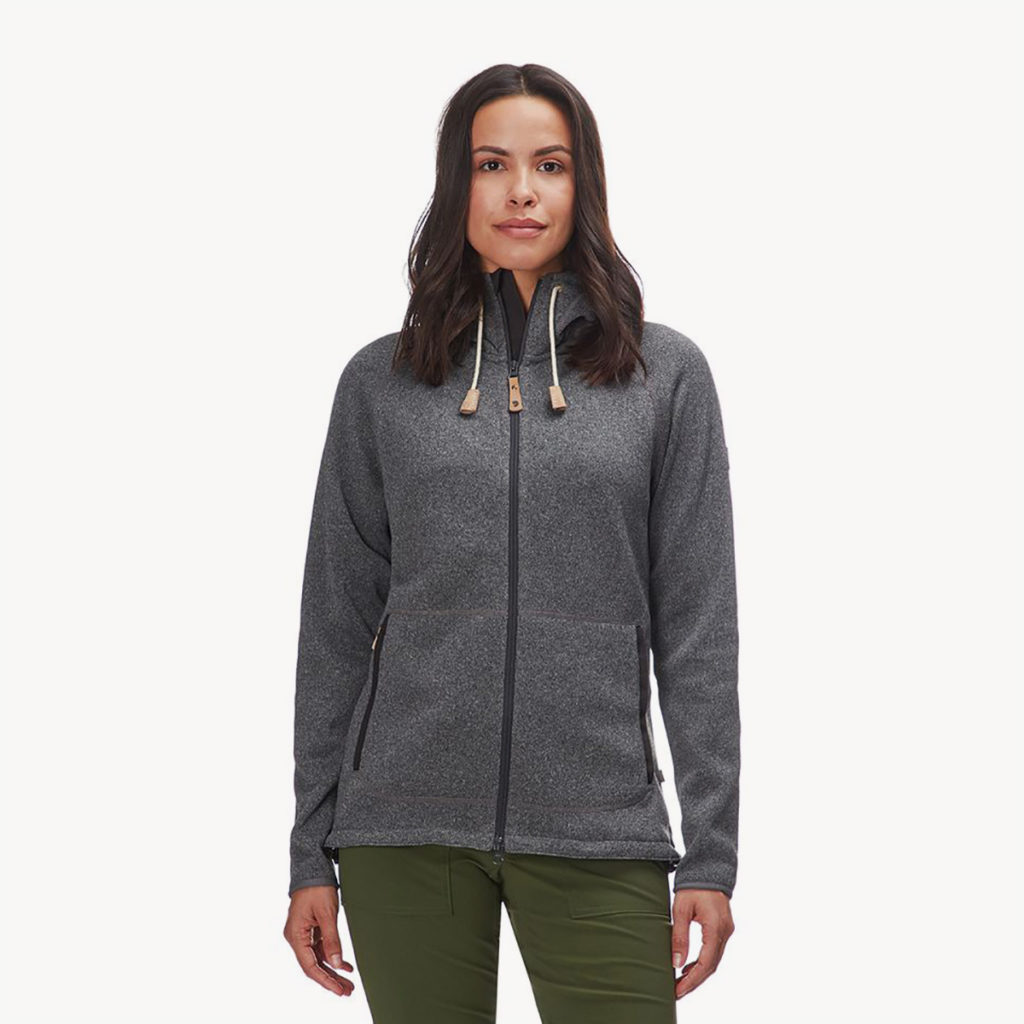 This stylish travel hoodie is warm enough to wear as an outer layer, yet lightweight enough to pack in a carry on backpack for longer trips.
The fleece fabric provides tons of stretch and the tailored fit means you won't look like a backpacker. It features zippered pockets, a chest stash pocket, and a cozy hood.
Basically, it's a solid travel hoodie that performs like a pro and doesn't look too techy.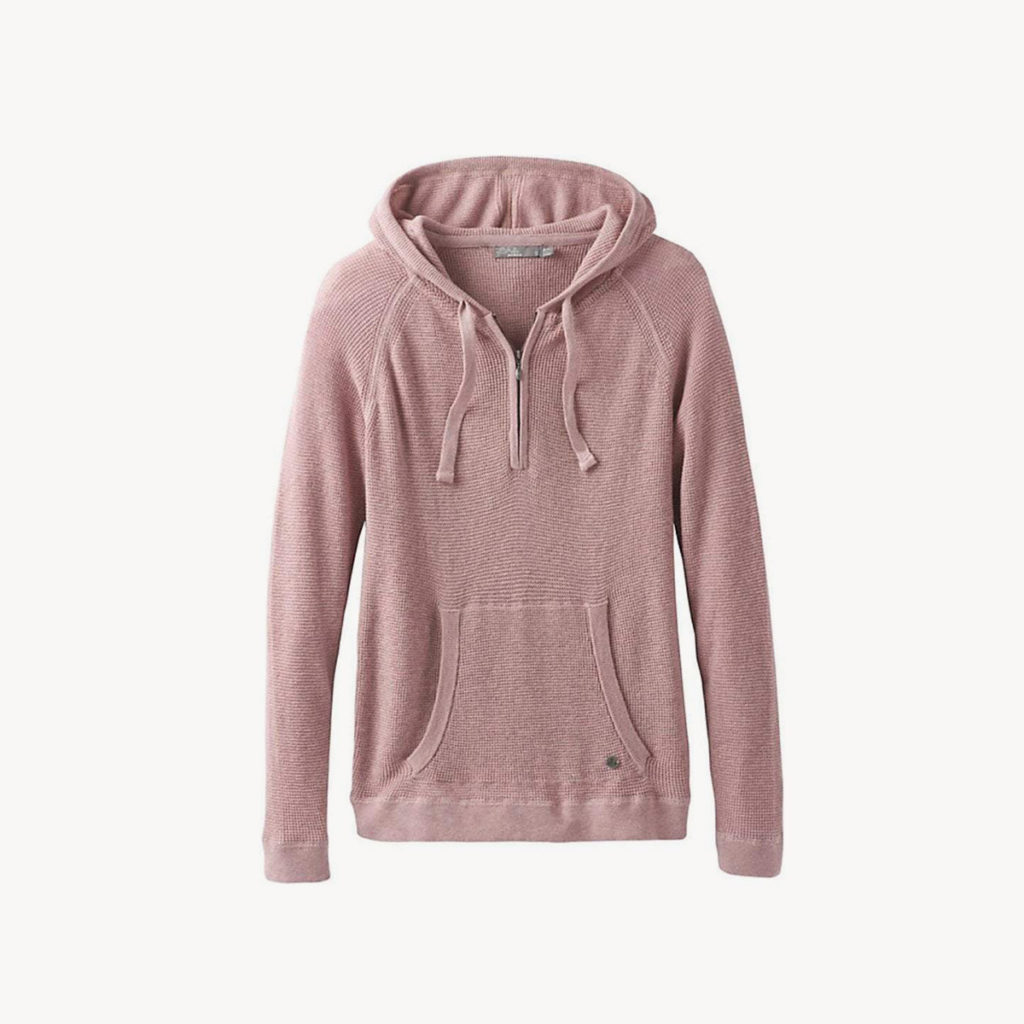 prAna Milani Hoodie ($89): The Best Lightweight Travel Hoodie
prAna's Milani travel hoodie doesn't have all the features you'd expect in a performance travel hoodie. Yes, it's just got a kangaroo pocket (no zippers), but it makes a great base layer.
If you want to add a utility hitter to your winter travel packing list that's warm, stylish, and easy to pack, the Milani Hoodie is a great option. Perfect for urban travelers.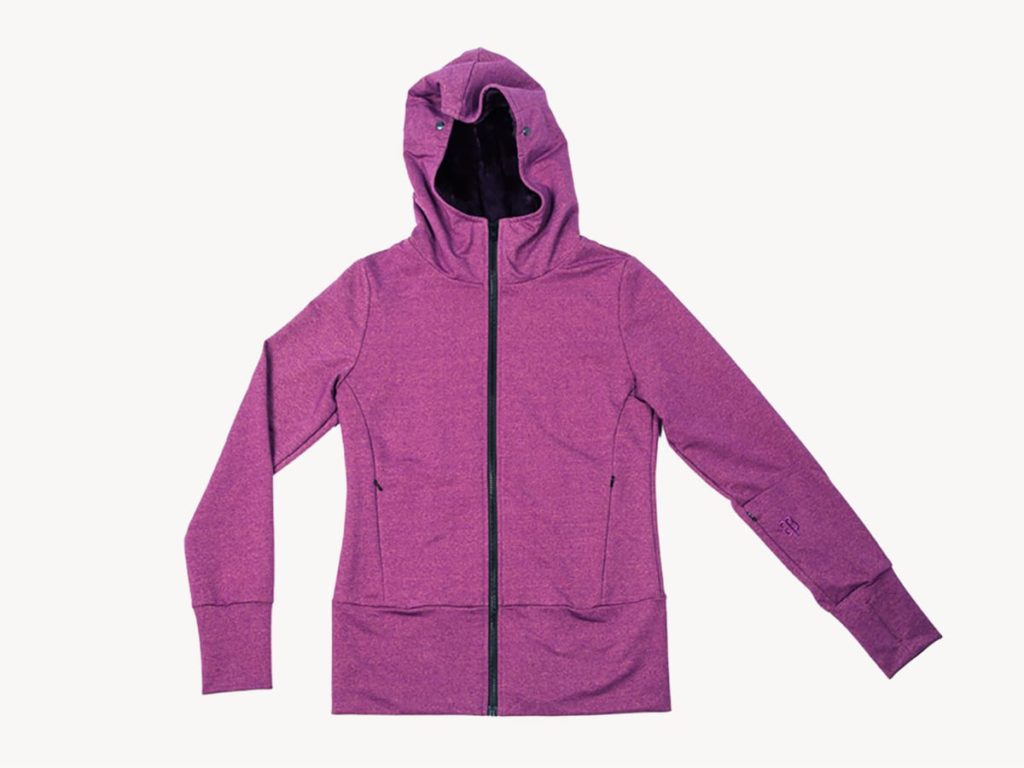 If you're a fan of features, the Betabrand Knockout travel hoodie is packed with a few that I actually recommend. The stash sleeve pockets are thoughtful and well designed, and the clip on the hoodie drawstrings does make a passable, if a tad impractical, eye mask in a pinch. Personally I think a quality eye mask is a game changer that doesn't take up much space, but if you really want to pack light, this hoodie can keep the light out of your eyes on your next long haul flight.
The jersey knit is comfortable, stretchy, and woven with a little spandex for that extra give. The cuff thumb holes are solid, and the cut is stylish. I'm not sure how I feel about the fur lined hood which claims to act like a travel pillow (it doesn't), while blocking out sound. If you're always worried about the cold when you fly, it's a worthwhile inclusion to your capsule wardrobe.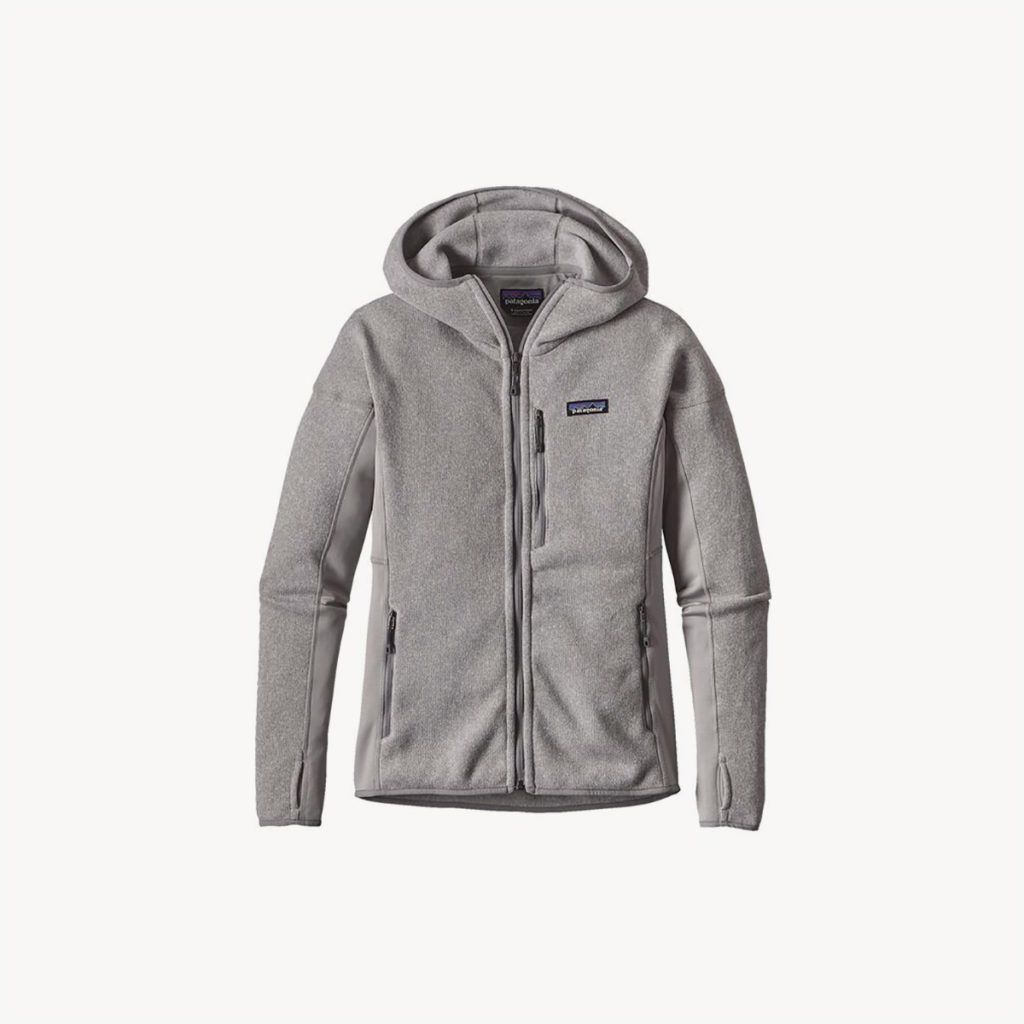 Yes, Patagonia's Fleece has taken over San Francisco, but trendiness aside, it's still a great, ultra-functional travel hoodie. While made for the outdoors, it doesn't look overly athletic, and maintains a simple style that works for urban travels as well. It also has multiple pockets, both side pockets and inside pockets, to help you stash your stuff.
Designed for active travelers, this hoodie is lightweight, easy to pack, and perfect for spring and fall travel or great for layering in colder climes.
Tortuga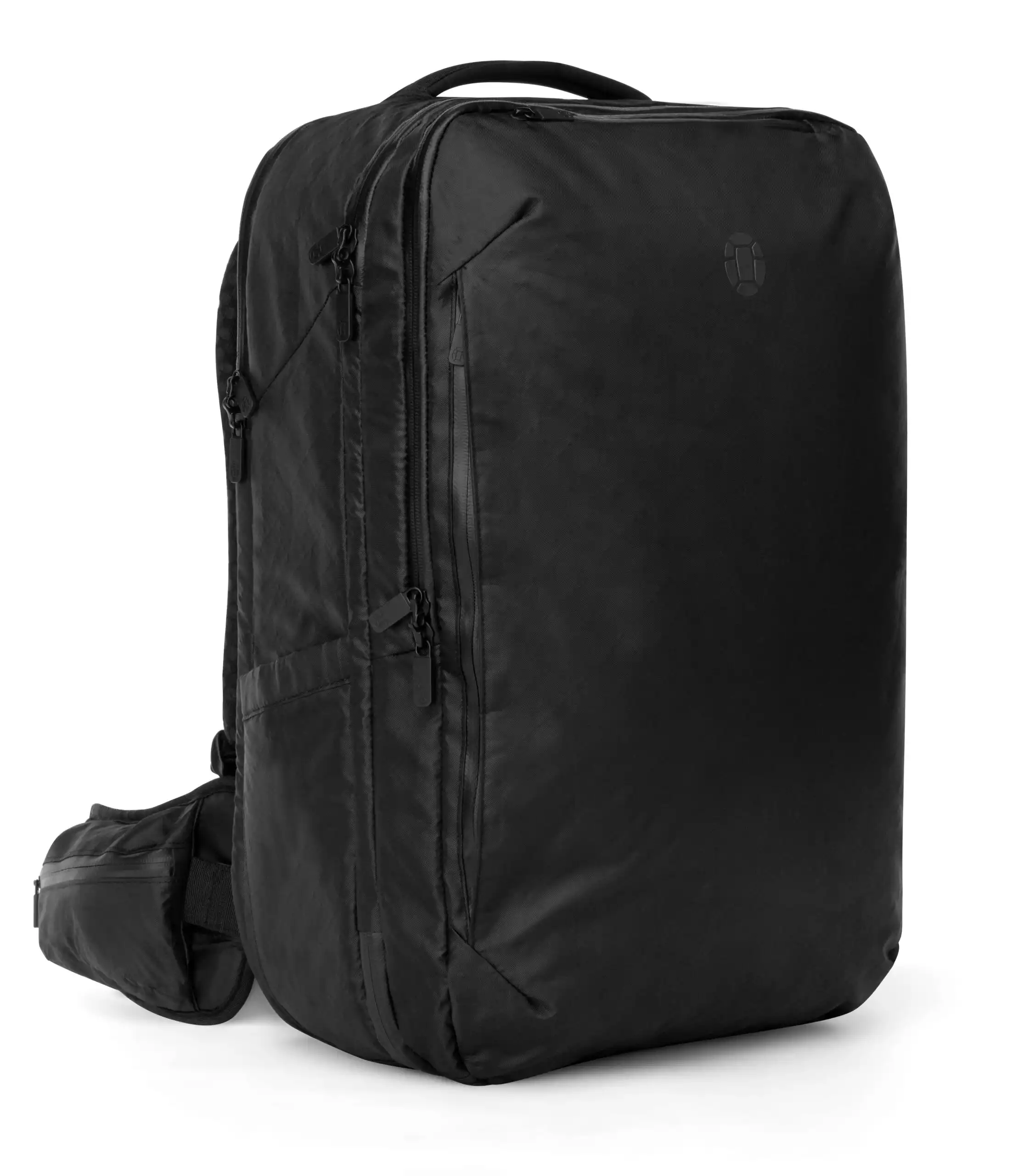 What are The Best Fabrics for Travel Hoodies?
The best fabrics for travel hoodies are merino wool and polyester. Below we'll break down why these two fabrics are the best to choose from.
Superfine Merino Wool is Better Than Cotton
A hoodie can be one of your most important pieces of travel gear, but only if it's the right fabric. Cotton sweatshirts, while significantly cheaper, just don't travel as well as a performance material like superfine merino wool.
If you're anything like me, you'll spend a lot of time in your travel hoodie. Long flights, frigid overnight bus rides, cloudy days, and chilly coffeehouses with the AC cranked are just a few reasons to keep your hoodie on. Merino wool is soft to the touch, and keeps you warm in almost any situation. More importantly, it's odor-resistant and can go a few days (*cough* weeks *cough*) without having to wash it. That's easily the most important thing for a travel hoodie—comfort and durable performance.
If you have to wash your hoodie every few days you're going to quickly get sick of it. Or, you're just gonna be "that person" at the hostel. Do yourself (and everyone else) a big favor and invest in merino. It's awesome.
Superfine merino wool is also the answer to added bulk. It folds down to practically nothing, meaning you don't have to pack a ton of layers for trips in the fall or winter. And, if you end up not needing a sweatshirt you won't be bummed you brought it along.
Polyester: Wind-Resistance is Key
If merino wool is out of your price range (it can be pretty expensive), look for polyester fabrics that promote wind-resistance, or fleece lining. North Face sweatshirts use a lightweight fleece-like fabric called "Windwall" and Carhartt boasts a "Windfighter" polyester blend (although it's a bit bulky for travel).
Basically, any fabric that has the word "Wind" in the name followed by an "®" symbol is a good sign.
When it comes to merino vs polyester, merino is the best fabric for lightweight, comfy, travel hoodies, but you don't have to break the bank for a decent performance hoodie.
What Features Should You Look for in a Travel Hoodie?
Merino wool, a zippered pocket, and a comfy low slung adjustable hood will make your sweatshirt work for practically any situation. However, if you want a little more from your travel sweatshirt here are a few premium travel hoodie features.
Sleeve Stash or Inside Pockets
Having a safe, secure place to keep your boarding pass or ticket handy when you're running through the airport is super nice. Pants pockets are great, but that's where you keep everything. The best part about sweatshirt stash pockets—especially pockets in the forearm or upper arm of the sleeve—is that they're small. These pockets don't let you cram a ton of stuff in there, so you never accidentally lose what's inside.
I've had tickets fall out of my pocket when I grabbed my wallet out of my pants. Not so with a simple, zippered sleeve pocket in your sweatshirt. A tiny feature, but really useful. The Betabrand Knockout Travel Hoodie is a great example of a small, simple, functional sleeve stash pocket for your ticket.
Passport Pocket
Same goes for a dedicated passport-sized pocket (usually located on the chest). It's nice to have a zippered pocket for your passport that just plain works. Two thumbs up for subtle, simple, zippered passport pockets.
Zippered Side Pockets
It's funny how the best "features" in a travel hoodie are all simple functional places to put important stuff. Weird how that works.
The ability to put my hands in my pockets when I'm wearing a hoodie is important to me, but that could just be the emo kid in me trying to get out. Zippered pockets are a great way to maximize your carry on allowance by stuffing your hoodie pockets with snacks and even a book for the flight. Seam sealed zippers are clutch for rainy destinations, but it's not a deal breaker if they aren't totally watertight.
Thumb Hole Cuffs
I love thumb holes in the cuffs of sweatshirts. I do. Come at me, bro. Thumb hole cuffs are amazing because they instantly turn a sweatshirt into a pair of gloves, and you don't even have to add anything. Make sure you get a sweatshirt with reinforced stitching on the thumb holes. You laugh now, but they're a nice feature, especially if you like to ride bikes as much as I do.
Adjustable Hood
They call 'em "hoodies" for a reason. Make sure you test the adjustability and comfort of the hood when you try on your next hoodie. This actually does matter. You should be able to comfortably tighten the hood enough to create a makeshift eye mask in a pinch. You don't need a fold out eye mask or a wacky hoodie clip to get some shut eye on the flight. Just pull the hood down and cinch it tight.
TL;DR
You don't need a feature-packed Kickstarter travel hoodie stuffed with gizmos you won't use. Great travel sweatshirts are all about quality fabrics, a comfy fit, and long lasting performance on the road.
The best travel hoodies for men are:
The best travel hoodies for women are:
Related Articles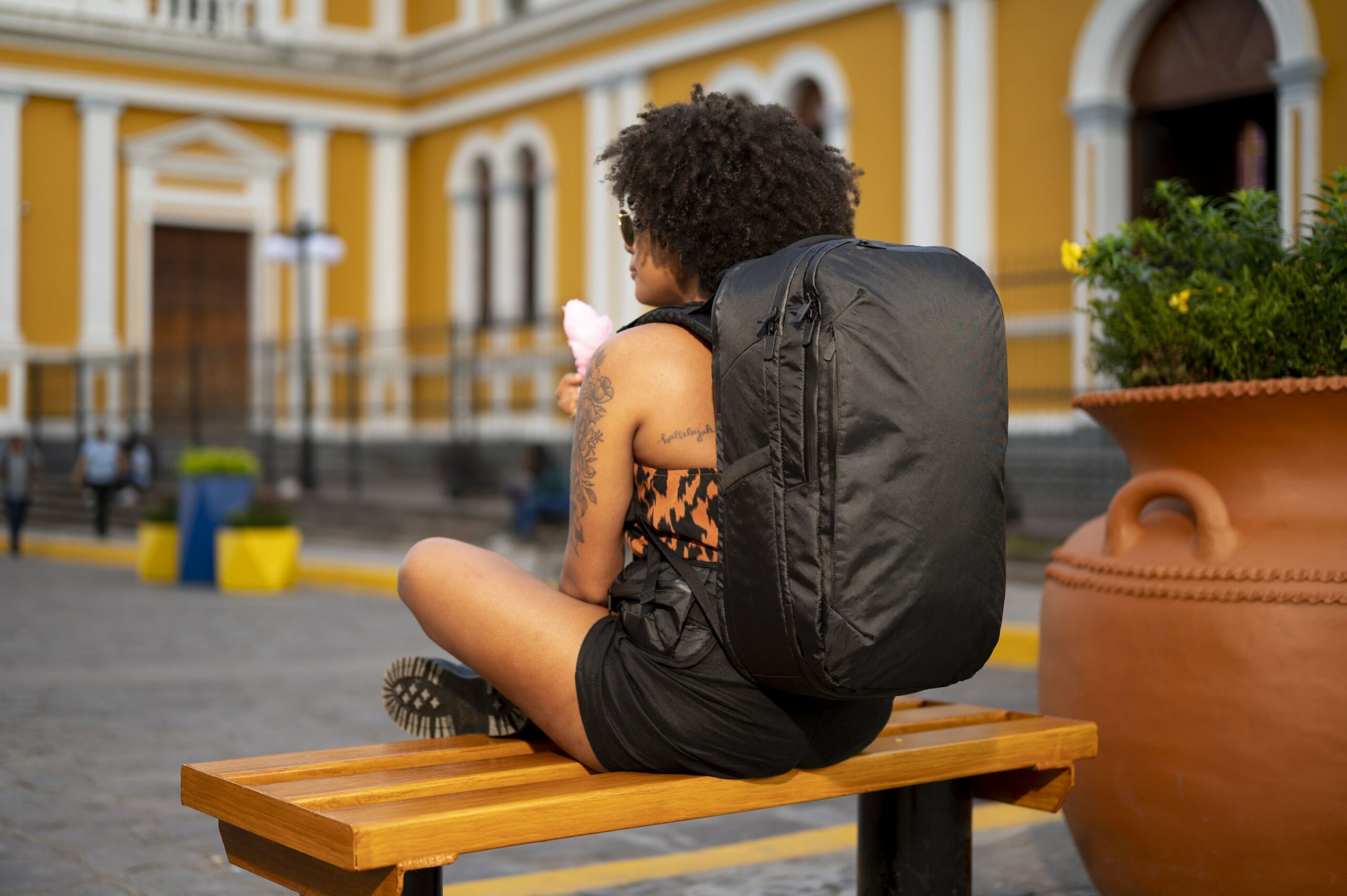 40L: Max International Carry On
Shop Now