Best Yoga Mats for Travel
The Tortuga Promise
At Tortuga, our mission is to make travel easier. Our advice and recommendations are based on years of travel experience. We only recommend products that we use on our own travels.
Have yoga mat will travel. If you're looking to travel and continue your yoga practice while on the road, look no further. There are mats out there at every price point, and these will even fit in your carry on sized travel backpack.
Shifting perspective, learning to pause, and focusing on how to move from downward dog to half moon are all things associated with yoga. Whether you've spent months at an ashram in India, recently took your first class at a local studio, or have traveled to retreat after retreat around the globe, yoga changes people from the inside out and challenges its followers to seek, listen and feel. After countless yoga classes taken on hotel or travel towels in various parts of the globe, I now travel with a yoga towel and often, a yoga mat; the difference is a game changer.
Whether you're jet setting around the globe or camping at your local national park – traveling with a yoga mat makes keeping up with that daily practice simple. Break out your mat on the beaches of Australia's gold cost, the plateaus in South Dakota's badlands or the top of Cape Town's Table Mountain. Wherever you find that space that causes you to want to set your intention, pause and take some time to explore internally as well as externally – you'll be able to do it with that travel yoga mat by your side. More and more companies are coming up with lightweight travel friendly yoga mats to keep your asanas going strong along your journeys.
What to Look for in a Travel Yoga Mat
Head to any travel store, wander the aisles at Target, or let your fingers do the walking as you search the endless digital pages of Amazon and you'll find them. There is no shortage of yoga mats on the market. What should you look for to help find the best travel yoga mats for you, your practice, and the locations to which you journey?
Packability
Towels can roll or fold, making them very packable. Although most thin mats roll up, many are now coming with a foldable option that might work better for many travelers.
Sweat Wicking Performance
Those who tend towards hot yoga, or those of us who drip throughout even the most restorative classes, want to opt for a mat with high grip and moisture resistance as well as the anti-microbial properties. Leave the stink at home.
Environmental Impact
Be on the lookout for companies committed to limited to zero-waste production, biodegradable natural tree rubber, non-toxic chemicals used in production or the finished product, sustainability, and mats that do not contain PVC/EVA/heavy metals or any synthetic materials, and are non-toxic as well as latex-free. Be picky. This mat will support your health, self care, and wellbeing. Don't compromise your ethics.
Feel free to delve deeper and even contact the companies if you have further questions about environmental impact.
Portability and Durability
If you want your yoga mat to be an all in one option, check for ones that come with clips and handle for carrying and drying. Many travel yoga mats can now be thrown in the washer and/or dryer to clean. That's a bonus.
Stickiness and Comfort
If you have the option before you buy, check the stickiness and comfort of the mat for you. If you're someone whose knees often need extra padding while using your regular, thicker, mats, then travel yoga mats might be too thin for your practice needs.
Company Benefits
If the extras are important to you, look deeper into policies and procedures of each company. For example, for every yoga mat sold, the Jade Yoga Mat company plants a tree.
Travel Yoga Mats: Maintaining Daily Practice
The city hustle coupled with a need to explore threaten to overtake your desire to maintain a healthy lifestyle wherever you go. Traveling with a travel yoga mat tucked into the side pouch of your travel backpack makes it easier to stick with your daily practice wherever you are. While there are heaps of yoga mats on the market, some are better than others for travel.
If you're looking for the best mats that easily fit into the side pockets of your trusted Tortuga Outbreaker look no further. Look for mats that are 68 x 24 inches and maximum thickness of 1.5 mm if you want them to fit nicely into the water bottle pocket on the side of your bag. The ones that are 24 inches wide will stick up approximately 5 inches over the top of the bag and anything wider will extend further.
Top Travel Yoga Mats
This sticky travel yoga mat folds up almost like a towel. Roll it or fold it – no space will be lost.
Weight: 2lbs, 1.5mm
Cost: $44
The extra-thin and foldable mat packs easily in your travel backpack so it can go with you everywhere and anywhere.
Weight: 1.5 lbs, 1.5mm
Cost: $39.95
A light weight travel yoga mat that's a great budget alternative. Competitive specs, half the price.
Weight: < 2 lbs, 1.5mm
Cost: $21.95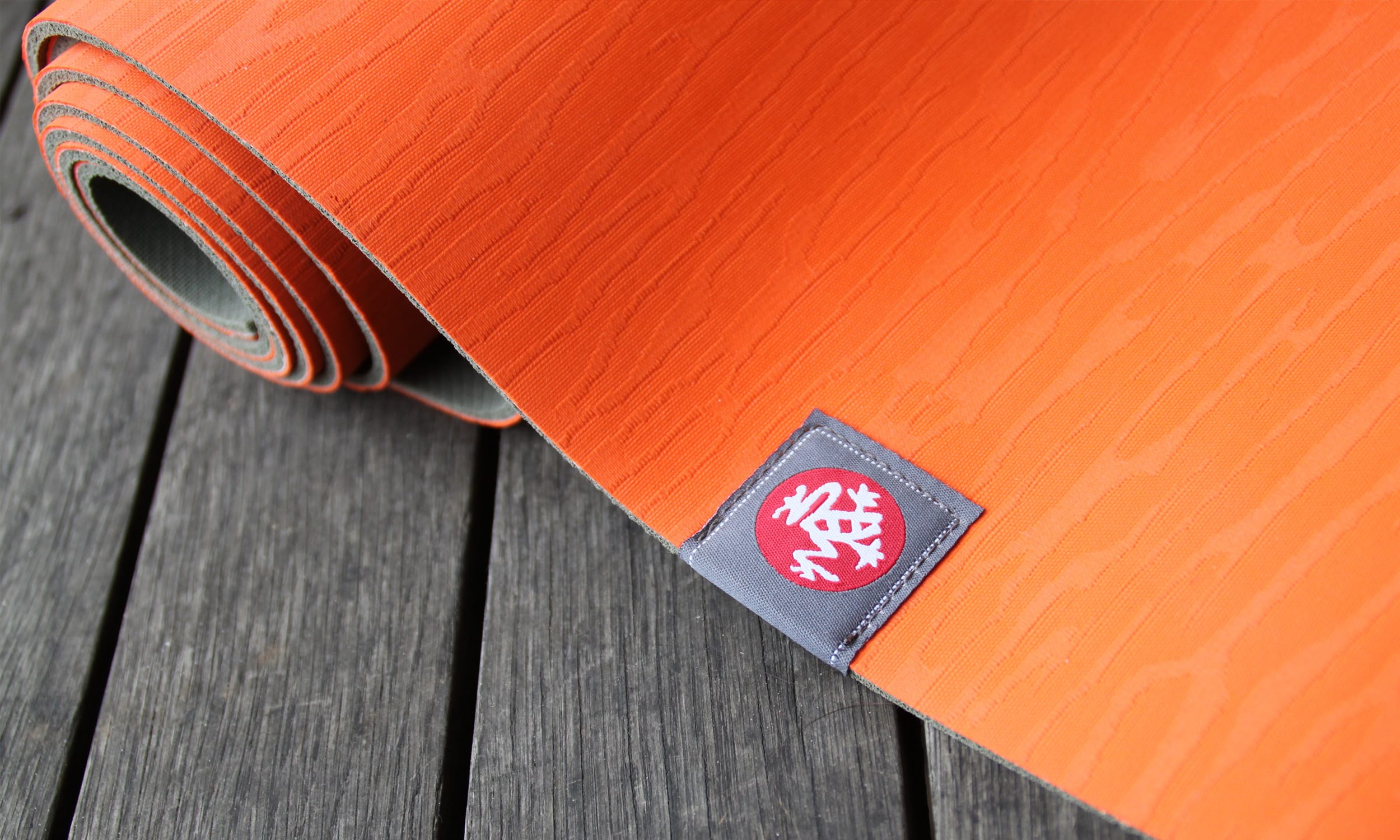 Ultralight Travel Yoga Mats
These travel yoga mats all weigh in at two pounds or less, making them ideal for carry on only travel.
Mid-Weight Travel Yoga Mats
While these aren't the lightest travel yoga mats on the market, there are some benefits to going with a mat that's got a little more "cush" to it.
YOGO Ultralight 2.0 2.6 lbs/1.5 mm (folds to large H2O bottle size); has origami type folding capability – keeps top/bottom of mat away from each other $62
Khatland YoFoMat 2.7 lbs/4mm folds to book size $69
Yoga Towels
Yoga towels do more than keep your mat clean and your toes dry. Folding to the size of a travel towel, these options are great if you don't have space to take your travel yoga mat. Or maybe you'd like to be able to easily wash away grass stains from park classes. These are also great to add a layer to a borrowed mat to manage germs. Sticky, soft, trendy, sweat absorbent and helpful in limiting slippage – these towels are a great option if you're not ready for that extra travel mat.
Cleaning Your Travel Yoga Mat
Rocking up to the studio, you discover it's a heated class, you take your regular vinyasa on a humid day at the beach, or, you just want to keep your yoga mat tidy, stink free and clean – what do you do? There are heaps of sprays on the market that will work and most studios offer some sort of something that you can use after borrowing one of their mats. However, if you're a traveler, you might want something that works on the go, without packing one more large product. What are the options?
Pack a small empty spray bottle and mix your favorite essential oil, tea tree oil, alcohol/water/vinegar for a spray that will get rid of fungus and smell great.
Scrub your mat when you get to the hotel with natural castile soap (like Dr. Bronner's) on a sponge in the bathtub.
Check the guidelines of your own mat and know that many can actually go in the washing machine and lay it out to air dry.
Purchase a spray of your choice that might have a scent you desire, small bottles are sometimes available at yoga studios you might try out while traveling.
Benefits of Yoga While Traveling
Yoga imparts healthy benefits that transcend the actual mat. The lessons learned on and off the mat help develop positive perspective, at home and while traveling. With that travel yoga mat, you can journey to your dream destination and take your yoga with you. Some of the benefits of yoga while traveling include:
Stress relief
Lessens chronic pain
Improves respiration
Lowers blood pressure
Increases focus
Encourages self-care
Enhances inner strength
Builds awareness
Releases tension
Boosts the immune system
Maintains the nervous system
Makes you happier
Builds better bone health
Provides relaxation techniques
Increases flexibility, strength and balance
Teaches mindfulness practices