The Best Compression Socks for Air Travel
The Tortuga Promise
At Tortuga, our mission is to make travel easier. Our advice and recommendations are based on years of travel experience. We only recommend products that we use on our own travels.
A huge benefit of wearing compression socks when you fly is preventing achy legs or blood clots from forming. Plus, you get the added benefits of preventing varicose veins, DVT, and a host of other awful things when your blood doesn't flow properly. But which compression socks should you choose?
Approaching hour 24 of straight travel, you're not sure which feels more tired: your tired eyes or your achy legs.
Well, take out your contacts and put your glasses on to solve your tired eyes. As for your achy legs? Pack a pair of compression socks on your next trip.
Compression socks have many benefits for airline travel, but if you're new to using them this guide will take you through what level of compression socks to use for flights and a list of the best compression socks for men and women on the market.
What are Compression Socks?
Compression socks are tight, stretchy socks (or tights!) that gently squeeze your leg. Think of them as a hug for your blood vessels. Because the pressure from these stockings relaxes your arteries, it lets your blood flow freely and keeps your legs from getting tired and achy. It's especially helpful for athletes, people at risk for circulation problems, restless legs, and—yes—people who spend long hours on airplanes.
Is it Good to Wear Compression Socks While Flying?
Yes, especially on long haul flights. According to WebMD, it's a good idea to use compression socks while flying. During long flights, your blood tends to pool in your feet and it's hard for it to fight gravity and get back to your heart. You're also relatively sedentary with your knees and hips bent for many hours, which can negatively affect blood flow. This, along with changes in cabin pressure can lead to Deep Vein Thrombosis (DVT), or a blood clot in the lower leg and could prevent you from flying in the future.
All of this sounds scary, but you can help prevent it with compression socks. If you want to keep your jetsetting ways and stay healthy while you travel, buy a pair of compression socks. Your heart will thank you.
What Level of Compression Socks do I Need for Flying?
There are different levels of compression sock, but the best level of compression socks for flying is a moderate, 15-20mmHg. It's also a good idea to choose a sock that rise just below the knee, according to The Mayo Clinic.
Degree pressure or tightness in compression socks are measured in millimeters of Mercury (mmHg) they'll put on your legs. Here's a cheat sheet to different levels of compression socks:
Mild (under 15 mmHg) is for healthy people (think: pregnant women with tired legs from standing all day).
Moderate (15-20 mmHg) prevents DVT (deep vein thrombosis) in airline passengers… like you!
High (over 20 mmHg) is medical-grade for varicose veins, edema, and preventing blood clots post-surgery.
What Are the Best Compression Socks for Travel?
As mentioned above, you'll want compression socks that are at least knee-high with a level of 15mmHg or higher. The best compression socks for travel include: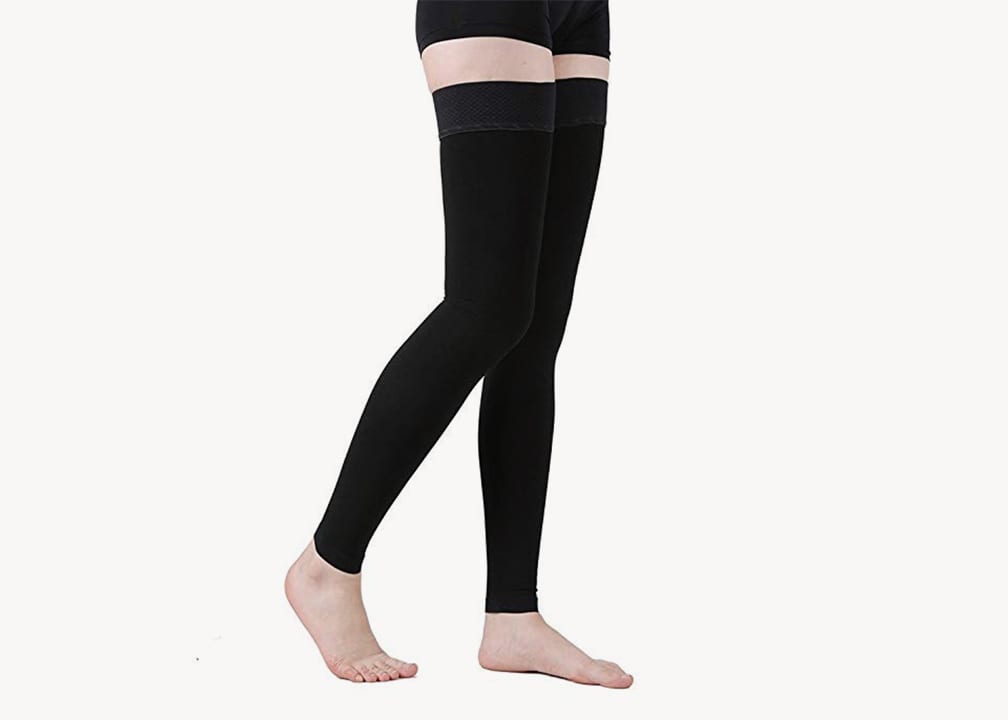 Compression sock level: 20-30mmHg
Type: compression socks for women
At 20-30mmHg, these thigh-high compression socks are a little stronger than what most travelers will need while flying but good for those at risk for circulation problems.
Overall, they're easy to put on and comfortable while traveling. A row of silicone beads keep the stockings in place, leaving you free to move around in flight. If you're not pregnant, ignore the maternity labeling — because when a product works, it works.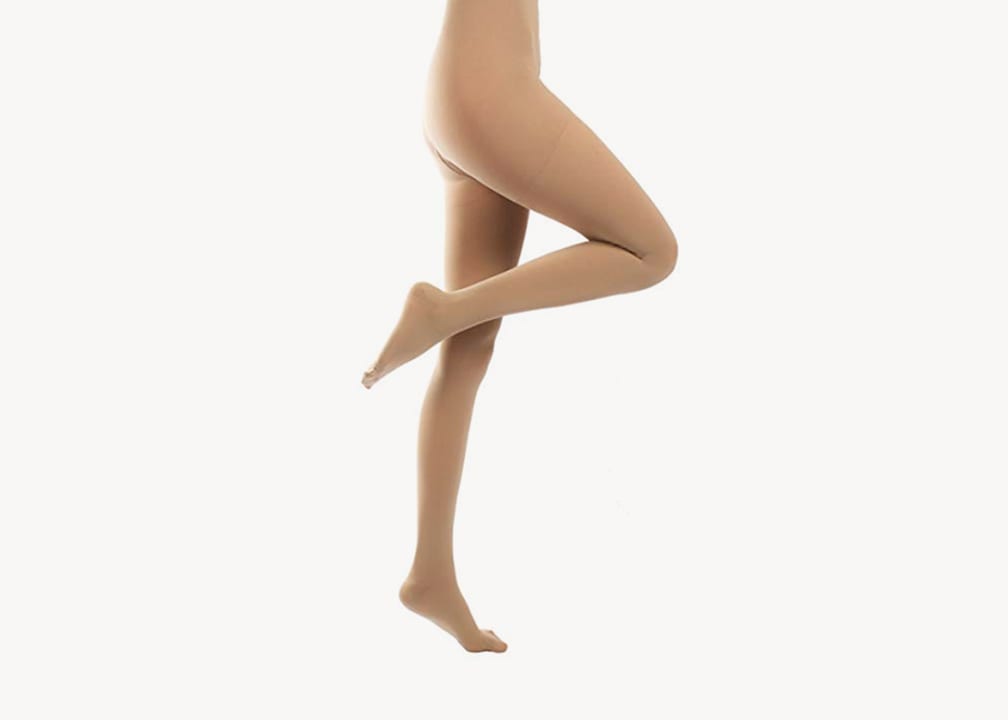 Compression sock level: 23-32 mmHg
Type: compression tights for women
These top-notch compression panty-hose-style tights are medical-grade and, again, stronger than what most airline passengers will need. However, they're specially designed for support of DVT, varicose veins, and venous thromboembolic events, lower limb saphenous veins (thrombophlebitis) and thromboembolism of the pulmonary artery.
High-quality, comfortable, and supportive, these compression tights are perfect if you're a mature traveler — ahem, referring to your age not humor level — and need extra support to prevent tired legs on long days.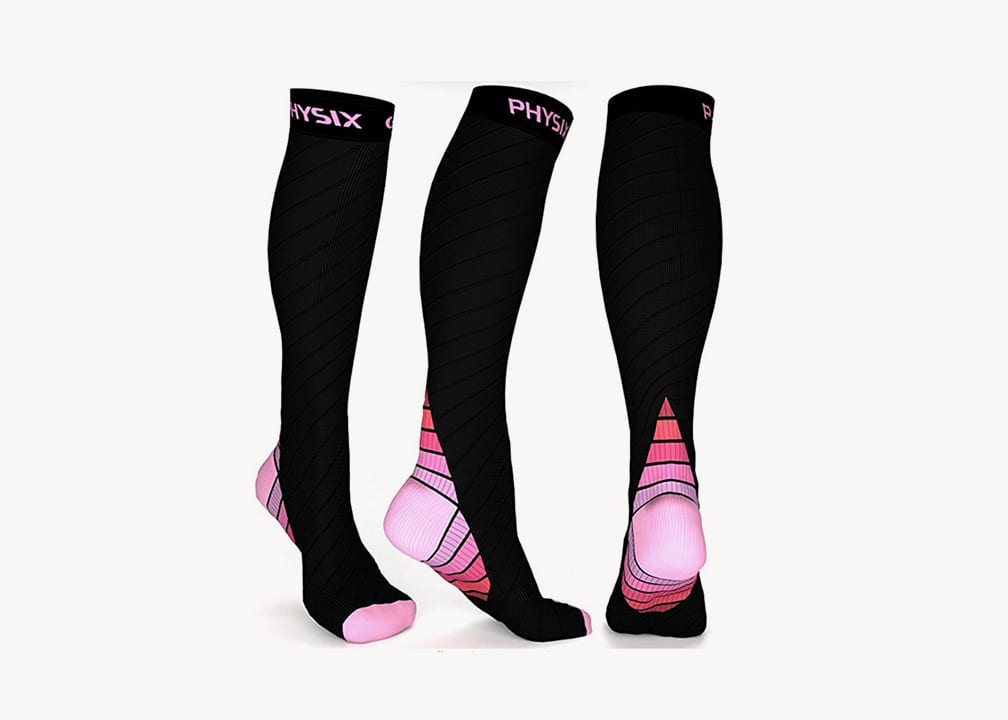 Compression sock level: 20-30 mmHg
Type: compression socks for men or women
Comfortable, fun, and effective, the Physix Gear Compression socks are a great and affordable option for both men and women.
These knee-high compression socks look like high-quality athletic sock. Which is exactly what they're going for: to help your inner athlete go faster, stronger, longer… to catch that last-minute flight. Perfect for men and women.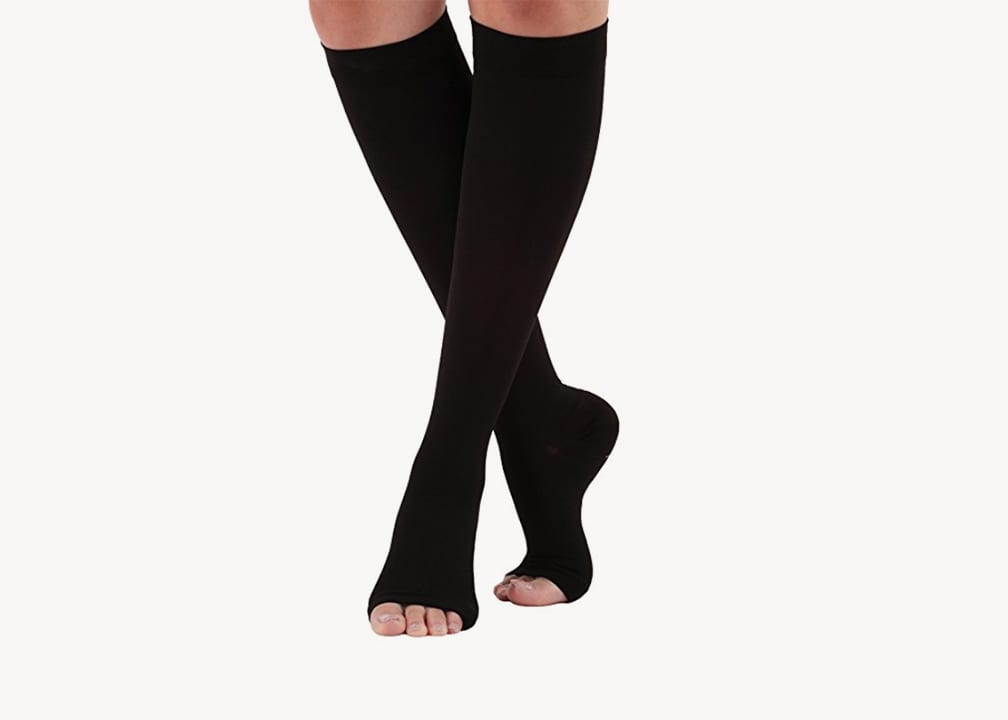 Compression sock level: 20-30 mmHg
Type: compression socks for men or women
With 20-30mmHg compression, these surgical-weight compression stockings give you the exact graduated compression your doctor recommended to combat poor circulation, edema, chronic venous insufficiency, and varicose veins.
They also come in a variety of style options: knee-high length, reinforced heel, open toe, or in a shorter lengths for petite frames. The toe-less option is great for travelers who run hot.
Compression sock level: 15-20 mmHg
Type: compression tights for women and men
At 15-20 mmHg, Rejuva's footless black leggings are perfect for travel, especially if you don't to wear socks or a pair of tights under your pants. Travelers can easily wear these leggings on their own as part of their in-flight outfit.
These leggings are designed to relieve swelling, aching, heaviness, and fatigue. They may not prevent a delayed flight, but it promises a comfortable, pinch-free belly thanks to a 4" wide tummy band.
Further, Rejuva has a wide variety of 15-20mmHg compression socks and leggings for men and women to choose from.
Related Articles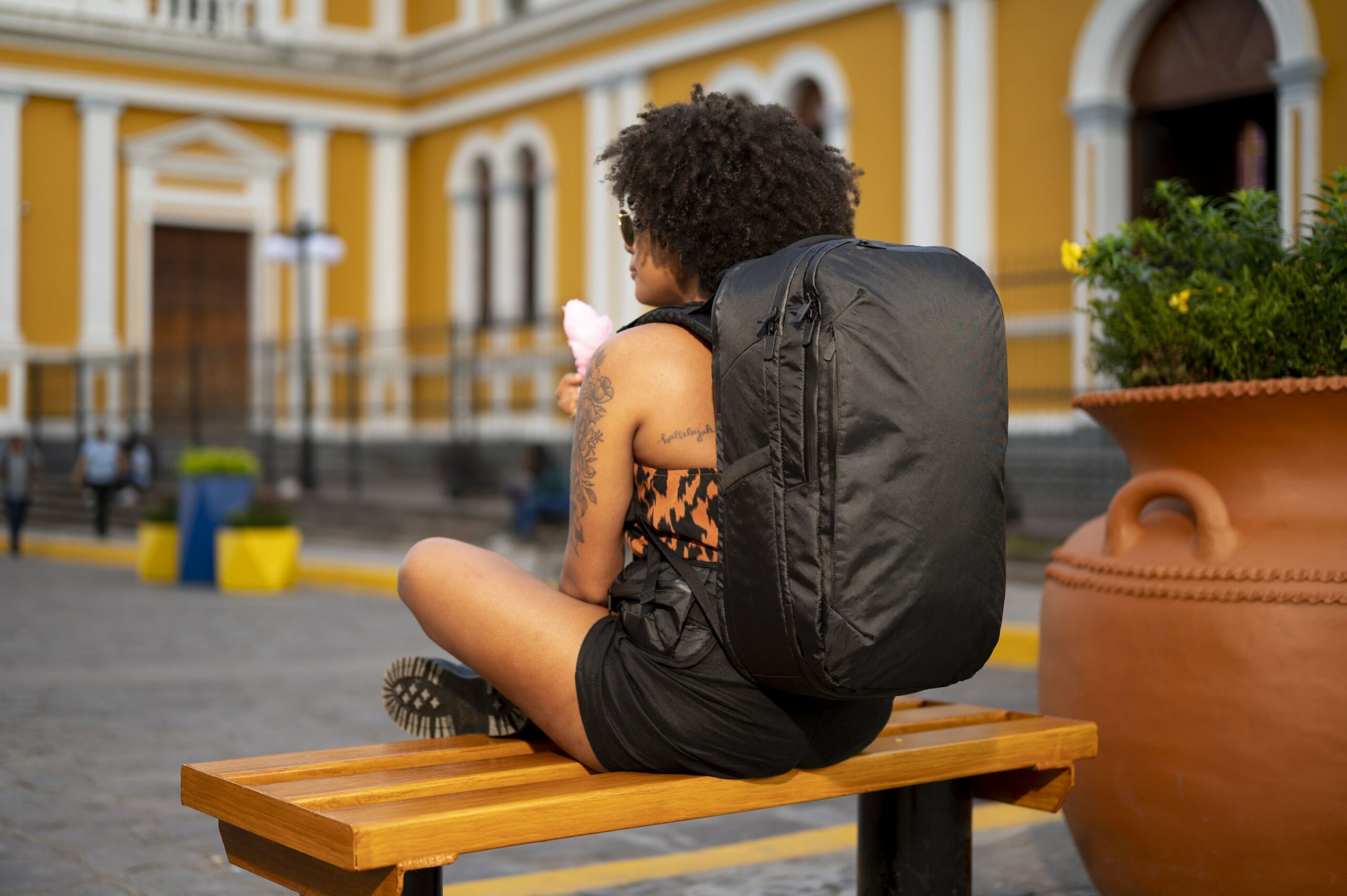 40L: Max International Carry On
Shop Now