The Best Men's Travel Pants: Based on 7 Years of Testing
The Tortuga Promise
At Tortuga, our mission is to make travel easier. Our advice and recommendations are based on years of travel experience. We only recommend products that we use on our own travels.
When you build your travel wardrobe, start at the bottom. Start with your pants. You'll wear them a lot, so you'll get great value for the price. Plus, you can wear them multiple days in a row without washing or ironing. The upgrade from the cotton pants in your closet to a pair of travel pants is a bigger leap than most clothing purchases.
In this article, we'll break down what to look for in a great pair of travel pants, what to avoid, and the tradeoffs you'll face when choosing fabrics. Finally, we'll share our favorite pants for travel across a range of categories.
Tortuga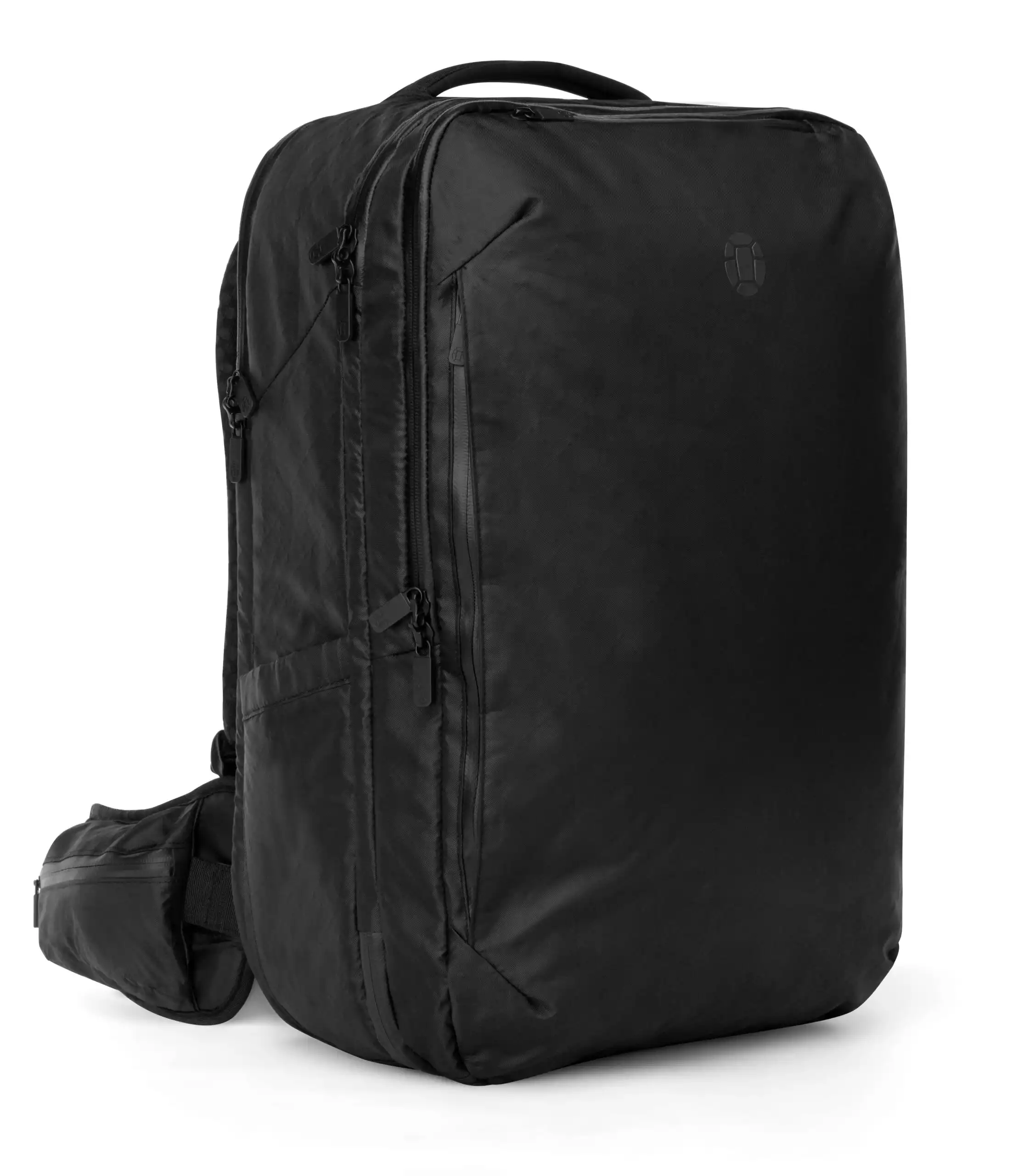 Why You Should Trust Us
We are a team of travelers who care deeply about gear.
Jeremy Cohen and Fred Perrotta (me) co-founded the travel backpack company Tortuga in 2010 and have been making, selling, testing, and reviewing gear ever since. We make travel bags. But we also research and test all of the clothing and gear that you might pack in those bags.
Here on the Tortuga blog, we write about packing, clothes, and gear. We have to be well informed so that we can provide good advice to our customers on what to pack. And, we love gear.
In 2015, I bought my first pair of "travel pants"—more on that pair below—and have been putting new brands to the test ever since while comparing notes with other travelers and our customers. Guys love to talk about clothes when those clothes are also gear.
Backpacks are my job. But my career and travel hobby have trained me to care about the gear that I pack and wear.
Nick Hilden and Shawn Forno also contributed to this post. Both Nick and Shawn are freelance travel writers with extensive travel experience who contribute regularly to the Tortuga blog.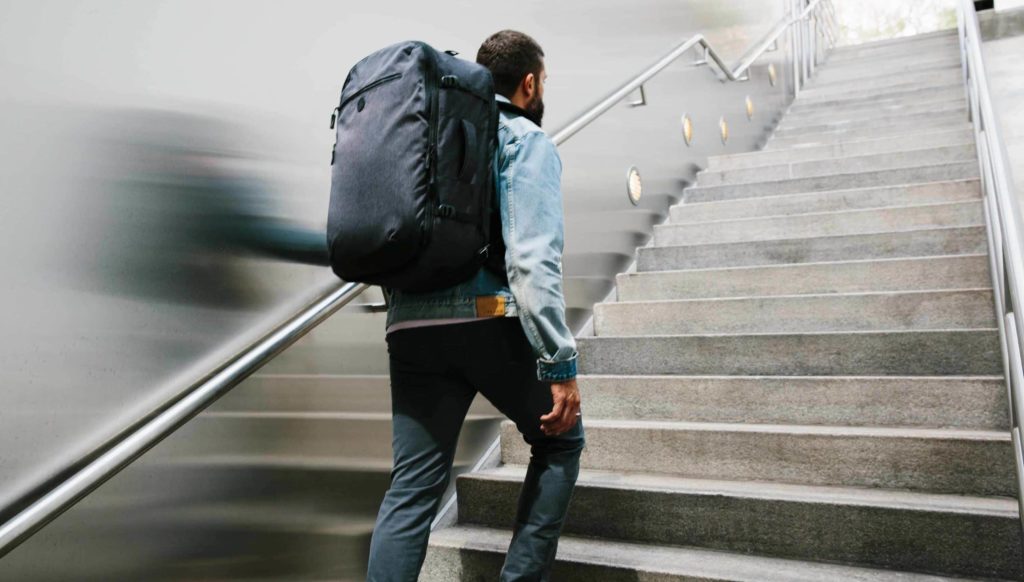 What To Look For
The point of buying pants specifically designed for travel is that they should be a huge upgrade on what you already own. Otherwise, you shouldn't be spending money on new pants.
Don't fall into the trap of buying specialty travel clothes that you'll never wear at home. Here's what to look for in a pair of travel pants.
Comfortable
Your clothes should feel good and look good on you.
All the nifty features aren't worth much if you're uncomfortable in your clothes or self-conscious about how they fit.
Buy pants that you can also wear at home to get the most value for your money. Before you consider performance, make sure that you like how the pants look. You should wear them often at home. If they're a specialty item, you'll never get your money's worth. So opt for a classic look.
Your pants should feel soft enough against your skin to be worn all day and on long flights. Choose pants that also have a bit of stretch to allow for unrestricted movement. We'll cover stretch in more depth in the fabric section later in this article.
Fit is personal, so buy a few pairs and try them on one after the other. To check the fit before ordering, compare the measurements online against the measurements of your best-fitting pair of pants. Slim, tapered, and regular fits mean different things to different brands. Order a few pairs to compare the fit on you.
Check each company's return policy before ordering so that you aren't surprised by return shipping, handling, or restocking fees. And remember that you can get your pants altered if needed. Travel pants, especially from smaller brands, often only come in one length, ie. they're sized only by the waist, not the combination of waist and length. You'll have to get them hemmed unless your legs perfectly match that brand's default length.
Travel pants aren't cheap. They're an investment. An extra $20 to get the perfect length or a slight taper is worthwhile if you'll look better and be happier with your purchase.
Easy to Care For
Your pants must be easy to care for even when you're traveling.
Choose durable over delicate. The best travel pants must repel dirt, liquids, and stains. They can't rip or tear. And they need to be made well enough to never blow out a seam.
You should be able to wear your travel pants multiple times before having to wash them. If you're exercising or sweating all day, please wash your pants. Otherwise, you should get a few days of casual, non-sweaty use before needing to wash them.
Washing and drying your pants should be easy. Hand washing is an option as is a laundromat or a wash and fold service. If you're washing them by hand, make sure they will dry quickly. This is the downfall of cotton and especially jeans. Denim is rugged and can go multiple wears without needing to be washed. But when they do, you'll be waiting for more than a day for them to air dry.
Lastly, your pants should be wrinkle-resistant. You want to look as good as possible with the least amount of effort. Just because your hotel room came with an iron doesn't mean you should have to use it. Choose a fabric that's wrinkle-resistant and doesn't look like you picked it off the floor.
Value
You're looking for a good value, not something cheap. Like any piece of gear, the good stuff costs money. But the good stuff should also last longer and perform better during its lifespan.
I've owned my travel pants for years and wear them multiple times per week, even at home, with no problems except for a tiny snag or two that you can barely see. If you wouldn't wear your travel pants when you aren't traveling, don't buy them.
You don't need travel pants. You need a great pair of pants that travel well.
The total price matters for your budget. But to get good value, consider the cost per wear. Sure, you might be making an investment, but what's the value of a pair of pants that you love, can travel with, and can wear 100-200 days/year for multiple years? Do the math.
In our picks, we'll be covering the best stuff, not the cheapest stuff. But we do still care about value. We paid for our travel pants ourselves. They weren't gifted to us. We are both gear sellers and buyers. We sit on both sides of the sale and always have to be mindful of the end price.
Tortuga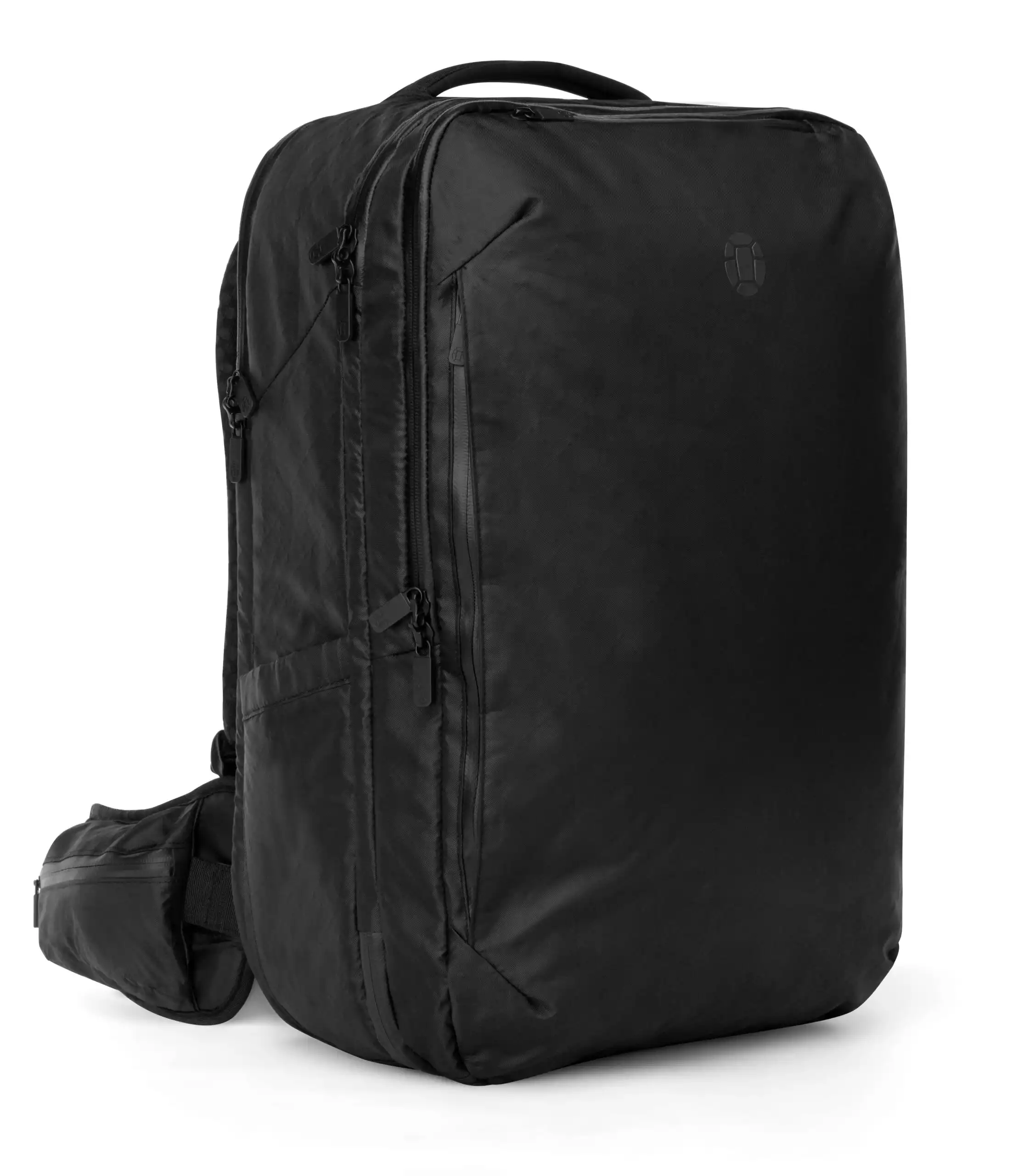 What to Avoid
This guide will skip over pajamas, cotton sweatpants, and flowy, hippie pants. Our picks are comfortable but also double as everyday wear. We don't recommend in-flight-only pants that you wouldn't wear again on your trip.
Our picks also aim for the sweet spot of features. Many pants marketed for travel have a long, unnecessary list of features to seem more novel and to telegraph that they're travel pants. You don't need all that. A single, zippered pocket is fine. A list of hidden, zippered pockets is overkill and makes for an ugly pair of pants.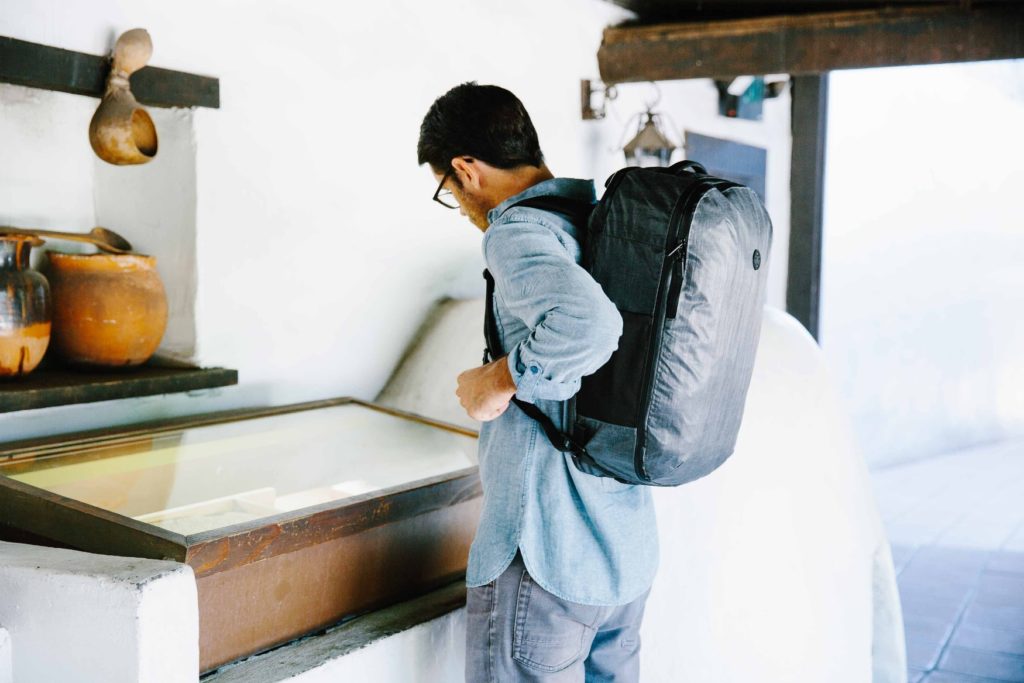 Materials
Travel Jeans
Let's start with the most common pant material: cotton (denim) jeans. I like both jeans and more technical travel pants. I still love breaking in raw denim and wear jeans every week. We even published a guide to the best travel jeans. A broken-in pair of jeans can be great on short trips. I have no problems wearing jeans on a short flight or packing them for a weekend trip. But I tend to leave mine at home on longer trips.
On a longer trip, you'll have to either wear your jeans on a long flight or pack them in your bag where they'll use up way too much space. Neither solution is great. Even if your jeans are comfortable in most situations, you'll be rethinking your decision on the tenth hour of your international flight.
Denim jeans are made from cotton. You can wear them multiple times without needing to wash them, and they look good a little rumpled. But jeans don't dry quickly, aren't soft to the touch, and don't repel water and stains.
If you love jeans, check out our five-pocket, jean-style picks to replicate that look with lightweight, more comfortable pants that travel better than denim.
Nylon vs Polyester
Travel pants are usually made of nylon or polyester, two synthetic fabrics known for high performance. Both are durable and dry relatively quickly. We wrote about the similarities and differences of nylon and polyester in an article about backpack fabrics.
Both nylon and polyester are easy to care for, wrinkle-resistant, and stain-resistant.
Nylon is softer, stretchier, and has a higher strength-to-weight ratio than polyester (though it's not always "stronger").
Polyester is more abrasion resistant, pills less, and holds color better than nylon.
They also differ in their level of water resistance.
Water Resistance
Nylon is hydrophilic meaning that it absorbs water and can stretch out. Polyester is the opposite: it's hydrophobic and repels water.
Brands often add a durable, water-repellent (DWR) coating to polyester and nylon pants for increased water resistance. If you've ever seen a video of spilled coffee running right off a pair of pants, that's because of a DWR coating in the finish, not the pant fabric.
DWR coatings can wear off over time, but heat (a quick spin in the dryer or ironing) can reactivate them.
The biggest concern with these coatings is perfluorochemicals (PFCs). PFCs are believed to be toxic to the environment and do not break down easily. Most of the outdoor and apparel industry has already moved away from C8 (i.e. having eight carbon chains) DWR to the shorter-chain C6 DWR which is less toxic and breaks down faster.
Industry leaders like Patagonia plan to move to C0 DWRs, which are PFC-free. Those C0 DWRs do not perform quite as well as C6 DWRs. In situations like climbing Mount Everest, performance is a matter of life and death. For your travel pants, less so.
We recommend pants with a C0 DWR because the benefits outweigh the slight tradeoffs in performance. You should choose which option you want to prioritize.
Stretch
Travel pants should offer a bit of stretch to allow for a greater range of motion.
Knit fabrics can offer some mechanical stretch meaning that the stretch is knit into the design of the fabric. A fabric with mechanical stretch will be more limited in how much it stretches. But will have better "recovery" meaning that it won't "bag out" as you may have seen with some pants, like stretchy jeans. If your pants do bag out, wash and dry them as most will bounce back to their original size and shape after drying.
Some fabrics achieve stretch by blending elastane (aka spandex or Lycra) in with a primary fabric like polyester or cotton. Elastane stretches great at first but can sag and lose its shape over time as it wears out. For this reason, we prefer fabrics with either mechanical stretch or a small amount of elastane. Avoid fabrics with higher percentages (over 5%) of elastane as they won't hold their shape as well over time.
Check your pants' care instructions before buying so that you know how to take care of them and if you can handle them on the road.
Best Men's Travel Pants
Let's get to the picks. First up are the alternatives to jeans. These are five-pocket pants that look like jeans but perform like travel pants. If you mostly wear jeans at home, start with this style of travel pants.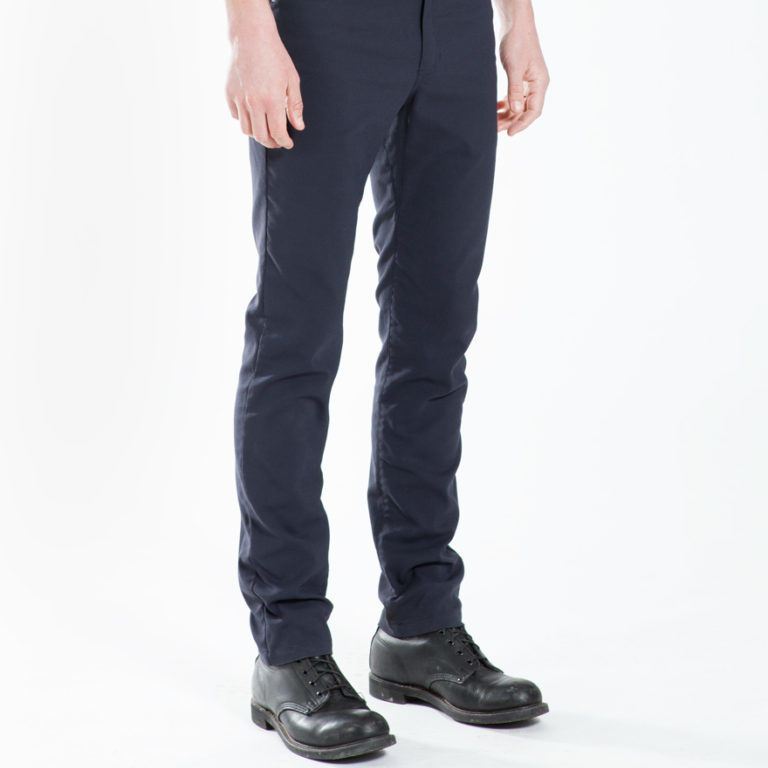 Outlier Slim Dungarees
High-performance pants that look like jeans but are lighter, more comfortable, and easier to care for.
Fred's Pick: The Outlier Slim Dungarees are the ultimate travel pant. I bought my first pair in January 2015 and have been wearing my current pair since 2017. I still wear them on every trip and multiple days per week at home.
The Slim Dungarees (SDs) look a bit like jeans but are comfortable to wear, easy to pack, and out-perform any other pants you might buy. You'll look great, even in a fashionable city, and won't have all the extra bells and whistles of some travel pants. If you prefer to keep it simple, you'll love Outlier's Slim Dungarees.
Why We Like Them
Look like jeans: The Slim Dungarees have the same five-pocket cut as jeans and come in similar colors including black, grey, and indigo. Up close, they look more like canvas work pants because of the texture of the Workcloth fabric.
Packable: With a clean look and comfortable feel, the SDs are made for travel. I usually wear mine on flights. But if you're packing them, SDs are much lighter than jeans and will take up a fraction of the space in your bag.
Comfortable with (some) stretch: Unlike jeans, SDs are soft right out of the box. The double weave fabric has tougher nylon on the outside and a softer nylon/polyester blend against your skin. They have a light two-way stretch plus a gusseted crotch for easier movement. The nylon fabric has an F0 DWR treatment for water and stain resistance.
What Else You Should Know
Slim: The Slim Dungarees are—as the name says—slim, though not skinny. Still, they may run too narrow for some travelers. I find some pants to be too tight on my thighs, but not these. So check the measurements before buying.
Price: At $198, SDs aren't the cheapest pants, though they are in line with high-end denim. I've been wearing my current pair of SDs for five years without any issues and expect to have them for years to come. The price point isn't cheap. But the value is tremendous, and the cost per wear is competitive with any brand.
Temperature: The SDs work best in mild weather. They are fine in cool weather and breathe well enough in the heat, but I wouldn't recommend them for extreme temperatures.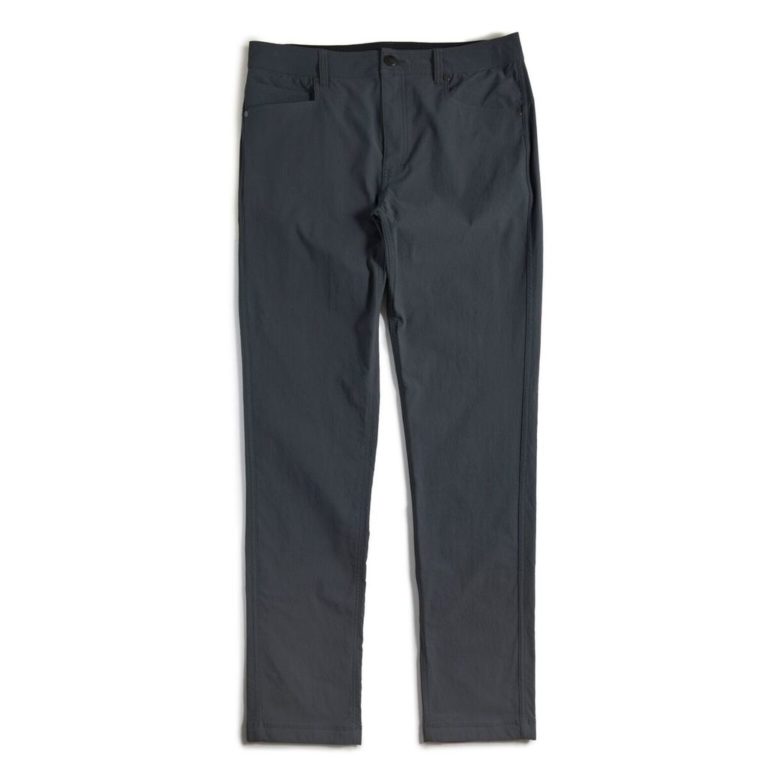 Western Rise Evolution Pant 1.0
A second high-performance denim alternative with a roomier fit, more pockets, and a lower price.
Jeremy's Pick: I prefer the Western Rise Evolution Pant to the Slim Dungarees because the former has more room in the thighs. If your thighs are muscular or just big, the Slim Dungarees can fit like yoga pants.
The fabric also feels slightly more cotton-like than the SDs both on the outside and inside and never irritates my skin. These pants pack well, roll up small and light, don't stink, and the dark colors never stain.
At $128, the Evolution Pant costs one-third less than the Slim Dungarees. If they fit your thighs better, you can trust they'll perform about as well. That makes them a relative steal.
Why We Like Them
Look like jeans: The Evolution Pant is similar in most ways to the Slim Dungaree. The design imitates classic five-pocket jeans, but the fabric is softer and more flexible. Western Rise offers them in six basic colors so that you can wear them more like jeans or khakis. No one will know you're wearing "performance" or "travel" pants.
More room in the thighs: The Evolution Pant is more forgiving and more comfortable than the SDs from the crotch to the knee. For a size 32 waist, the Evolution Pant is 1″ larger in the thigh than the Slim Dungarees. Compare both brands' size guides before buying.
Durable: The Evolution Pant lasts for years. With its six-inch gusset and tough material, you don't need to worry about crotch blowout. The stain-resistant coating does its job well, too. I wore my first pair for nearly three years before I needed a new pair.
What Else You Should Know
Pockets: The Evolution Pant offers two un-minimalist features that I never use (at least not as advertised):

A hidden, zippered pocket behind one of the normal back pockets. I've never found a use for it, although it doesn't get in the way or bother me.
A "phone pocket" in place of a change pocket inside the right hip pocket. The phone pocket is bigger and deeper than a normal change pocket. I appreciate it for holding my AirPods Pro case but don't keep my phone in it.

Version 2.0: Western Rise recently ran a Kickstarter campaign to pre-sell their new, still-unreleased Evolution Pant 2.0. The differences in the new model seem modest, except the material appears to be much stretchier. I haven't tried them yet—and they may be superior to the original—but I still endorse the 1.0, which you can get discounted for the time being. You can see the difference between the two versions in this infographic.
Best Travel Joggers
Joggers are excellent travel pants for long flights. Like sweatpants, they're soft, comfortable, and stretchy. The right pair of joggers will out-perform your cotton sweatpants but look fashionable enough to wear outside of the plane.
We don't recommend bringing pants that you'll only wear in-flight. Any pants that you wear or pack should be worn often on your trip. Choose a stylish pair of joggers so that you can wear them even on the non-travel days of your trip.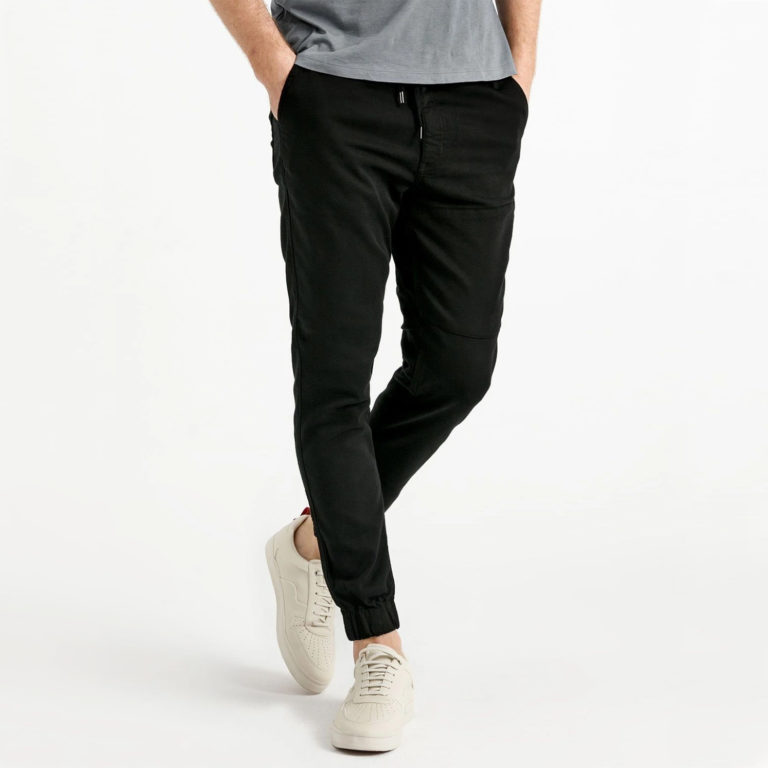 DUER No Sweat Jogger
Upgraded sweatpants that are soft, stretchy, and can be worn (almost) anywhere.
Nick's Pick: With their slim-fit, low-cut waist, and gusseted crotch, the DUER No Sweat Joggers look and feel great. They're my "do everything and do it in comfort" pants.
Their all-day comfort and stylish aesthetic make them the perfect jogger to wear while exploring a new destination.
Why We Like Them
Versatile: The No Sweat Joggers offer a surprising level of versatility for a pair of what are essentially fancy sweatpants. I wear them to the gym, on casual nights out, and for lounging around my Airbnb. They're great in each setting.
Soft and stretchy: I'm a big fan of their cotton/tech-fabric blend that is soft yet durable. Wrinkling is a non-issue. They have a pleasant stretch while retaining their lasting-power thanks to reinforced seams and general solid craftsmanship.
Lots of colors: Something DUER does well, in general, is color options, and the No Sweat Joggers are no exception. They're available in an evolving series of seasonal colors, and all of them look great.
Hidden pocket: They also have a secure, zippered pocket which you won't find in most joggers. I've found this to be useful in a variety of situations, but particularly for cycling as their low-cut waist would typically pose the threat of dropping your phone or wallet when pedaling. Not with these pants.
What Else You Should Know
Price: At $129, these certainly aren't cheap joggers. Their durability, however, does mean that it's a worthwhile investment in pants that will travel with you for a long time.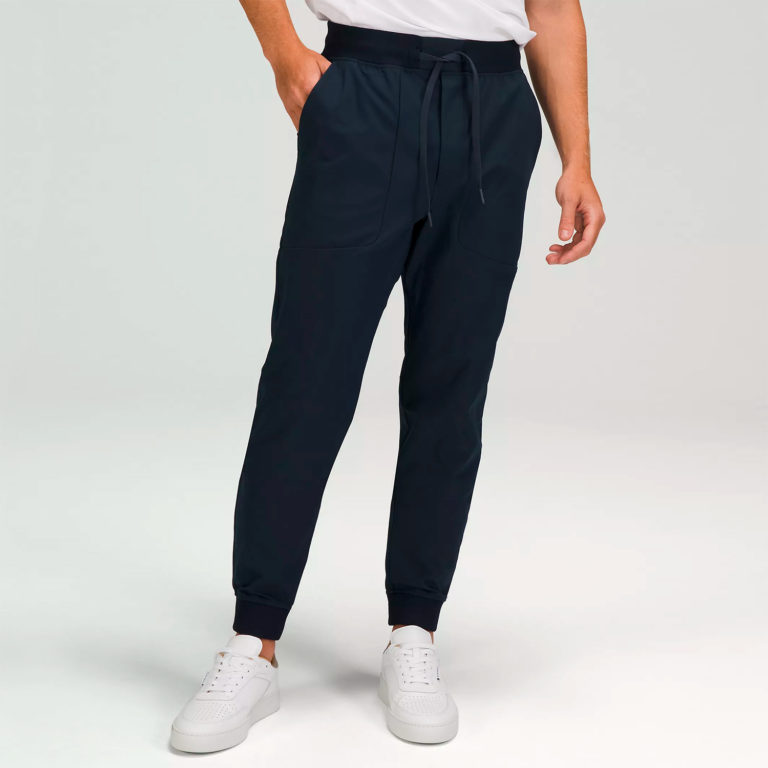 Lululemon ABC Jogger Warpstreme
The perfect pants for the plane.
Jeremy's Pick: Lululemon's ABC Joggers are perfect for wearing on planes, especially during overnight flights. They're comfortable, durable, and work how you'd hope. They're looser and more comfortable than any of the travel pants above but still fit well.
Why We Like Them
Comfortable: The Lululemon ABC Joggers are more comfortable than old-fashioned sweatpants and can be worn in many situations without looking too informal. Lululemon's Warpstreme fabric has four-way stretch and most of the characteristics you'd expect from technical gear.
Versatile: During the pandemic, my wife got me these pants to suit our new lifestyle of endless time in front of screens and long walks. They worked perfectly, and that's why the product took off so much as to become ubiquitous. They also work well for travel. Especially when you're going to spend some time working from your hotel or Airbnb and lounging. These joggers won't look out of place at the airport, in a hotel lobby, or going out for lunch. You can even wear them comfortably for moderate workouts or weightlifting.
Deep pockets: Their deep pockets hold a day's worth of stuff.
What Else You Should Know
DWR costs extra: You'll have to pay $20 more for DWR water-resistant fabric. Hopefully, that becomes standard in the future.
Dressed down: Trade these in for more traditional pants before going to museums, fancy restaurants, or a night out on the town.
Best Travel Chinos
While joggers are for dressing down, chinos are for dressing up. Chinos are classics for a reason. They offer a clean, dressy look as an alternative to jeans. Our best travel chinos are for dressing up a bit, business travel, or just a different look from jeans or joggers.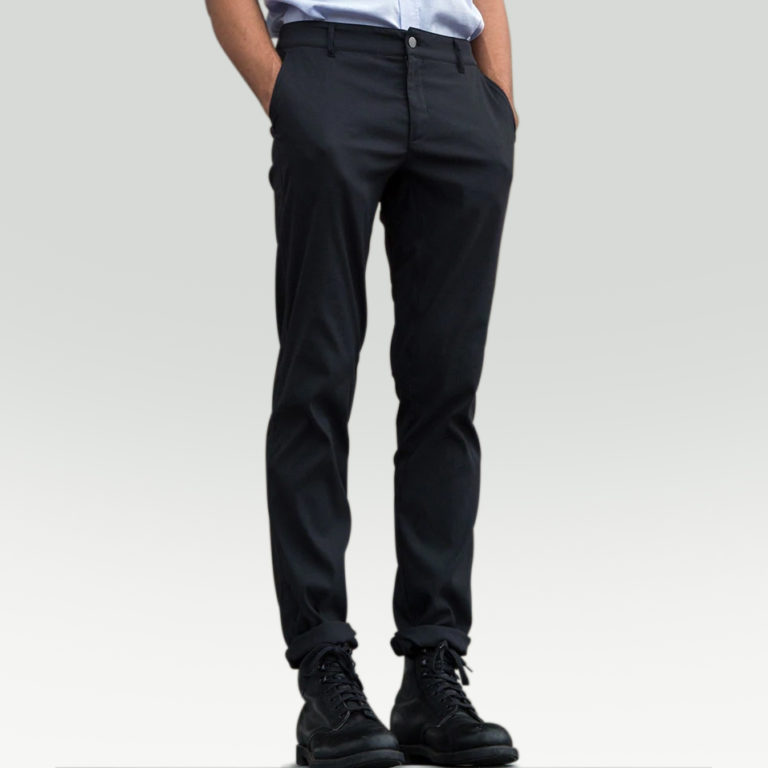 Outlier Futureslimworks
A high-performance chino that looks work-appropriate and handles hot weather well.
Fred's Pick: Yes, I'm making a second pick from Outlier. I'm an admitted fanboy and buy almost all of my pants from one company. With all of the travel clothes on the market, I still love Outlier because their fabrics look good and perform well with no extra pockets or unnecessary fluff. They do everything you need and nothing that you don't.
I bought my first pair of Futureslimworks (previously known as the Futureworks) in 2016 and currently own two pairs, bought in 2017 and 2019, which show zero signs of wear.
Why We Like Them
High-performance: The Futureslimworks have similar properties to the Slim Dungarees but in a totally different fabric. Both have two-way stretch, a gusseted crotch, stain and water resistance, and excellent durability.
Wrinkle-resistance: The Futureslimworks' F.Cloth fabric has a smoother texture that works well for chinos and performs better in hotter temperatures than the Slim Dungarees' Workcloth. The best feature of the fabric is that even when it looks wrinkly coming out of your bag, the wrinkles fall out as soon as you put it on. I've never seen another fabric go from a rumpled mess to looking great instantly with no work.
Dressier than jeans: The Futureslimworks also work well in business settings and at dressier events since you can't tell that they're "technical pants" as they don't have any unnecessary pockets or features. I've worn them to conferences (even as a speaker) and to a casual wedding. These chinos have a soft drape, not a sharp crease, so they're better suited to business casual than formalwear.
What Else You Should Know
Slim: The Futureslimworks are slim. Like the SDs, the fit is in the name. If you need more room in the thighs, the Futuredarts use the same F.Cloth fabric but have a wider top block and a more tapered lower leg.
Price: At $160, the Futureslimworks are not the cheapest chino on the market, but the price is a great value for pants that can be worn multiple times per week for years.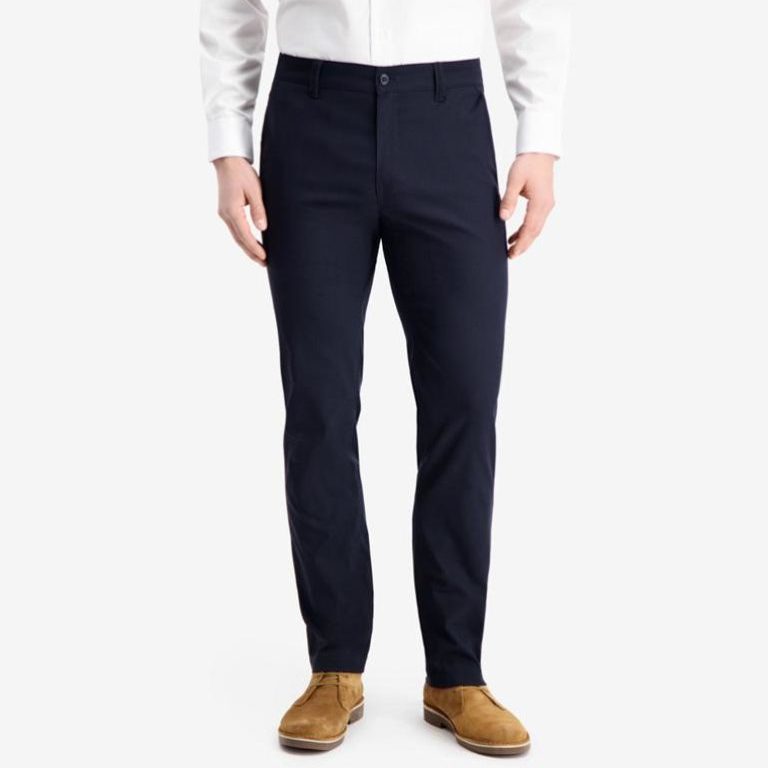 Bluffworks Ascender Chino
A high-performance pant that looks like a classic chino but has 10 pockets and plenty of stretch.
Shawn's Pick: The first time I reviewed travel pants, I fell in love with the Bluffworks Tailored Chinos (sadly discontinued), but the Ascender Chinos are the improved successor to what was already my favorite travel pants.
If you want to travel in style without sacrificing comfort, the Bluffworks Ascender Chinos are fantastic. They're comfy, durable, stylish, and wearable in all climates. I've worn them in Dublin and Bali with no complaints.
Why We Like Them
Pockets: You wouldn't know by looking at them, but these pants have 10 pockets (including the hidden interior zipper pockets) in the front and rear.
Stretch: Great stretch without feeling like a pair of jeggings. I rock climb in these pants. Yes, really, I rock climb in chinos.
Wrinkle-Free Packing: Roll them up, stuff them in, and go (although I usually wear these on my flights and long travel days).
What Else You Should Know
Belt needed: The waistline stretches with multiple wears. Like all elastic waistband pants, these stretch over time. You really need to wear a belt.
Possibly too "nice" looking for some: I like chinos but sometimes want pants that look more casual or at least don't require a belt.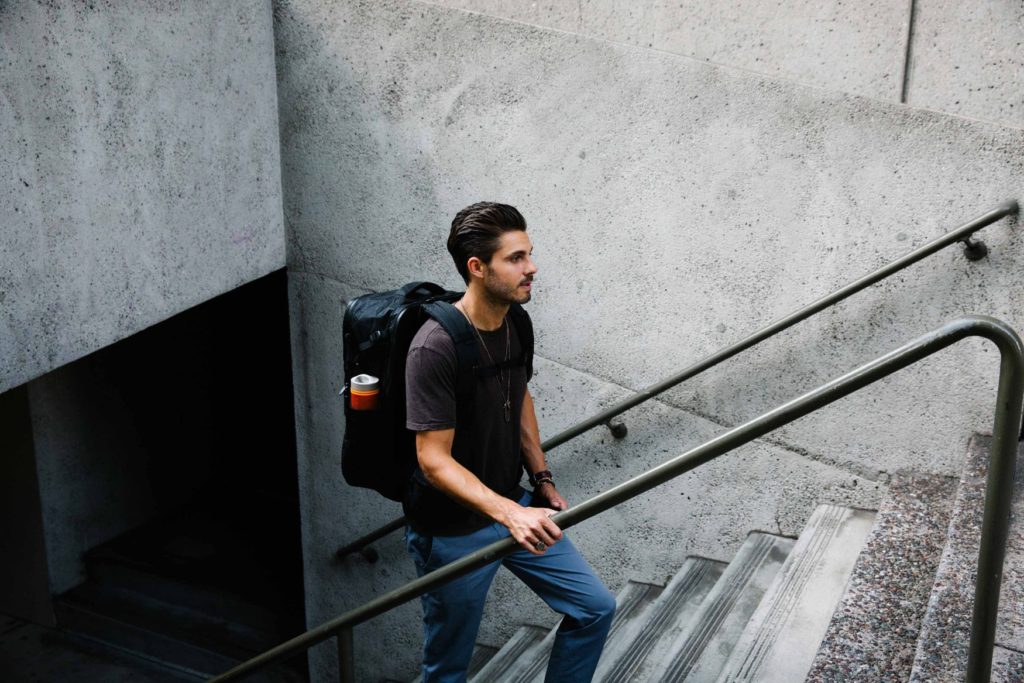 The Best Travel Pants by Category
Best Travel Pants for Long Flights
For long flights, choose pants that are comfortable against your skin and have a bit of stretch. On long flights, we recommend joggers like the DUER No Sweat Jogger and Lululemon ABC Joggers.
Stylish Travel Pants
For casual but stylish, we recommend the five-pocket style Outlier Slim Dungarees or Western Rise Evolution Pant.
If you need to be a bit more dressed up, choose a pair of travel chinos like the Outlier Futureslimworks or Bluffworks Ascender Pants.
Lightweight Travel Pants
All of our travel pant picks are lightweight, roll up easily, and pack better than your jeans.
Most Comfortable Travel Pants
To maximize comfort, you need a soft pair of pants that will stretch a bit as you move. The most comfortable travel pants are also the best for long flights: joggers like the DUER No Sweat Jogger and Lululemon ABC Joggers.
Travel Pants with Zipper Pockets
For a bit more security than "normal" pants, the Western Rise Evolution Pant and Bluffworks Ascender Chinos include zippered pockets on two different styles of pants, five-pocket jeans and chinos respectively.
Both brands feature zippered pockets on most of their pants.
Stretch Travel Pants
Travel joggers from DUER and Lululemon will offer the most stretch as they're built more like sweatpants or gym shorts.
Travel Dress Pants
The most "formal" dress pants are made of wool with a sharp crease down the front. Most travelers won't need a pair of pants that formal on their trips. A sharp, tailored pair of chinos like the Futureslimworks or Ascenders will look great in most situations. Just make sure they fit well and aren't too baggy at the top or too long at the bottom.
Wrinkle-Free Travel Pants
All of the pants recommended in this guide are strongly wrinkle-resistant. You won't have any issues with the pants above looking too creased or rumpled for a nice night out.
Nylon Travel Pants
The pants above cover a range of blended fabrics including nylon, polyester, and even cotton. The nylon travel pants are the Outlier Slim Dungarees (82% nylon), Western Rise Evolution Pant (96% nylon), and the Outlier Futureslimworks (97% nylon).
Conclusion
Your travel wardrobe starts with a pair of tough, yet stylish pants that you can wear day after day. The best travel pants are comfortable enough to be worn on a long flight, easy to care for, and light enough to roll up and pack in your backpack.
The real test of pants is if you can wear them constantly on the road but still reach for them when you're back at home.