What is the Best Size for a Travel Backpack?
The Tortuga Promise
At Tortuga, our mission is to make travel easier. Our advice and recommendations are based on years of travel experience. We only recommend products that we use on our own travels.
This article is your quick guide to understanding travel backpack sizes.
Most backpacks are between 20 and 85 liters. That range is huge. So what size is best for traveling?
Small bags, starting around 20L, are best used as daypacks. They work well when you're only carrying a few items that you need to keep handy, like a light jacket, a camera, or snack. Twenty-five liter bags can also be used for short weekend trips if you're a light packer.
Extra large bags, 65L and up, are for long hiking trips. These bags work well in the outdoors when you will be carrying multiple days' worth of clothing, food, and camping gear.
But bags larger than 65L are way too big for travel, even on extended trips. If you'll be traveling for more than a week or two, you'll need to do laundry anyway. You can't—or at least shouldn't—try to carry a month's worth of dirty clothes.
Between these two extremes is the sweet spot of backpack sizes. A 30-40L backpack is perfect for travel. Keep reading to learn why and how this size can save you money.
Tortuga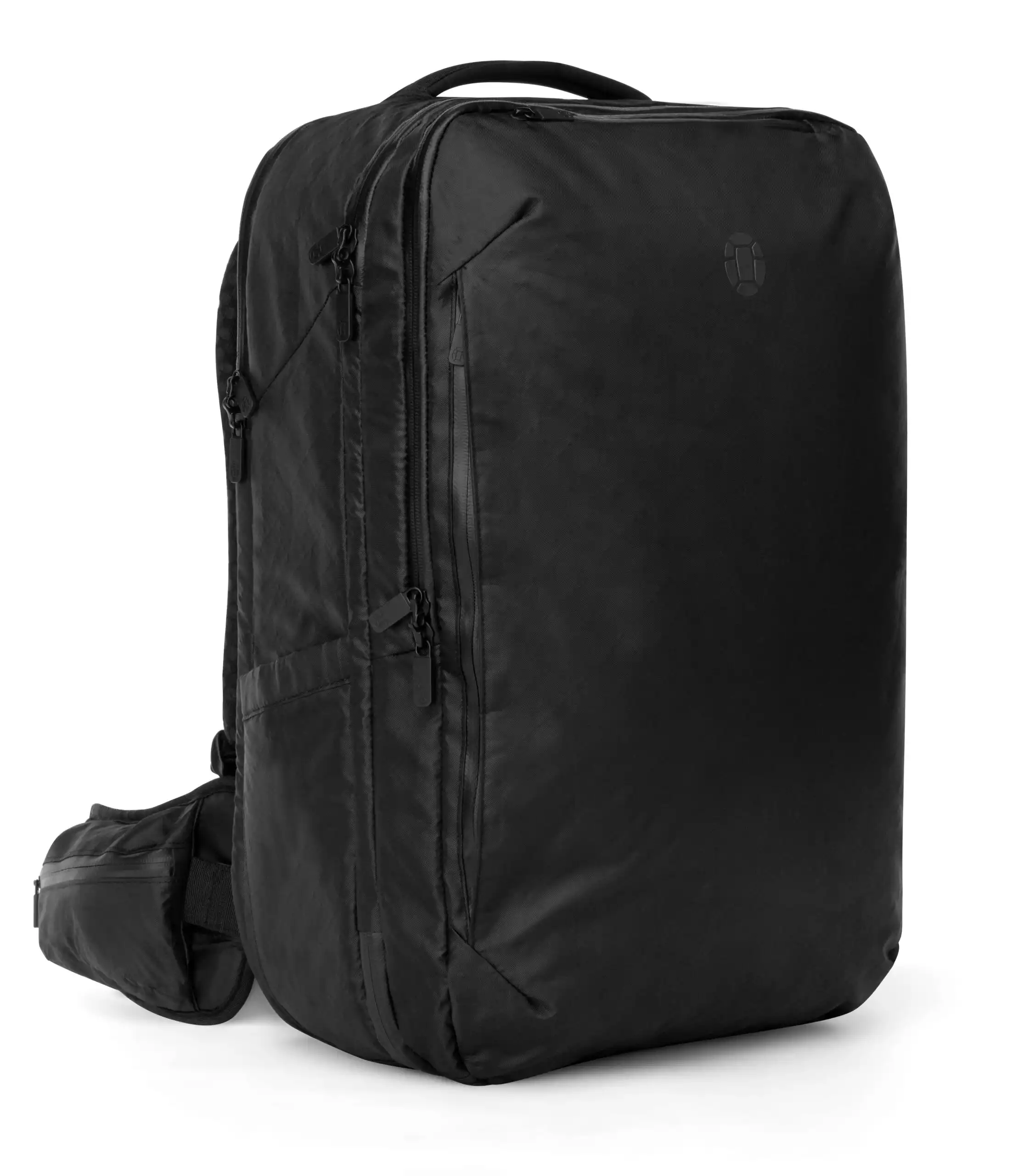 The Best Size is Carry On Size
If you have to check your bag, you'll pay checked bag fees, wait around at baggage claim, and risk lost or damaged luggage. Instead, travel carry on only.
The ideal travel backpack is carry-on-sized for:
Easy transport: Smaller is lighter.
Avoiding baggage fees: Save $50 per roundtrip flight.
Downsizing your luggage: Packing light can be hard, so self-imposed constraints can be a good thing.
Preventing airlines from mishandling or losing your bag: Keep it on the plane and in your hands, not theirs.
Airlines' carry on limits are either defined in volume (liters) or dimensions (inches). Some airlines also publish weight limits.
Volume: A 45L backpack is the maximum-sized carry on allowed on most US airlines. For international or budget airlines, choose a bag under 40L. If you want to pack ultralight, anything 35L or under can be carried on virtually any airline.
Dimensions: The common 45L volume is usually measured as 22 x 14 x 9 inches. You might also see a limit of 45 linear inches. Linear inches are the sum of the dimensions: length + width + height. The international max is 55 x 35 x 20 cm.
Weight: Most airlines allow bags up to 22 lbs (10 kg). Budget airlines are stricter and may charge you for the extra weight or force you to check your bag and pay the baggage fees.
Airlines will vary by volume, dimensions, or weight. The above is a good rule of thumb, but always check your airline's rules before flying to avoid any last-minute surprises.
Bags larger than 45L cannot be carried on. If you see a 50L backpack marketed as a carry on, double-check the dimensions. It's probably too big to technically qualify as a carry on. Most airlines won't measure your bag or look too closely at it if it's close to the limits. But we recommend obeying the rules so that you never have to worry about whether you'll sneak by the gate agent or not.
Packing carry-on-only might seem daunting at first, but packing for a long trip in a carry on backpack is totally doable with a little preparation. If you're new to carry on packing, start with the Step Down to Carry On series.
Tortuga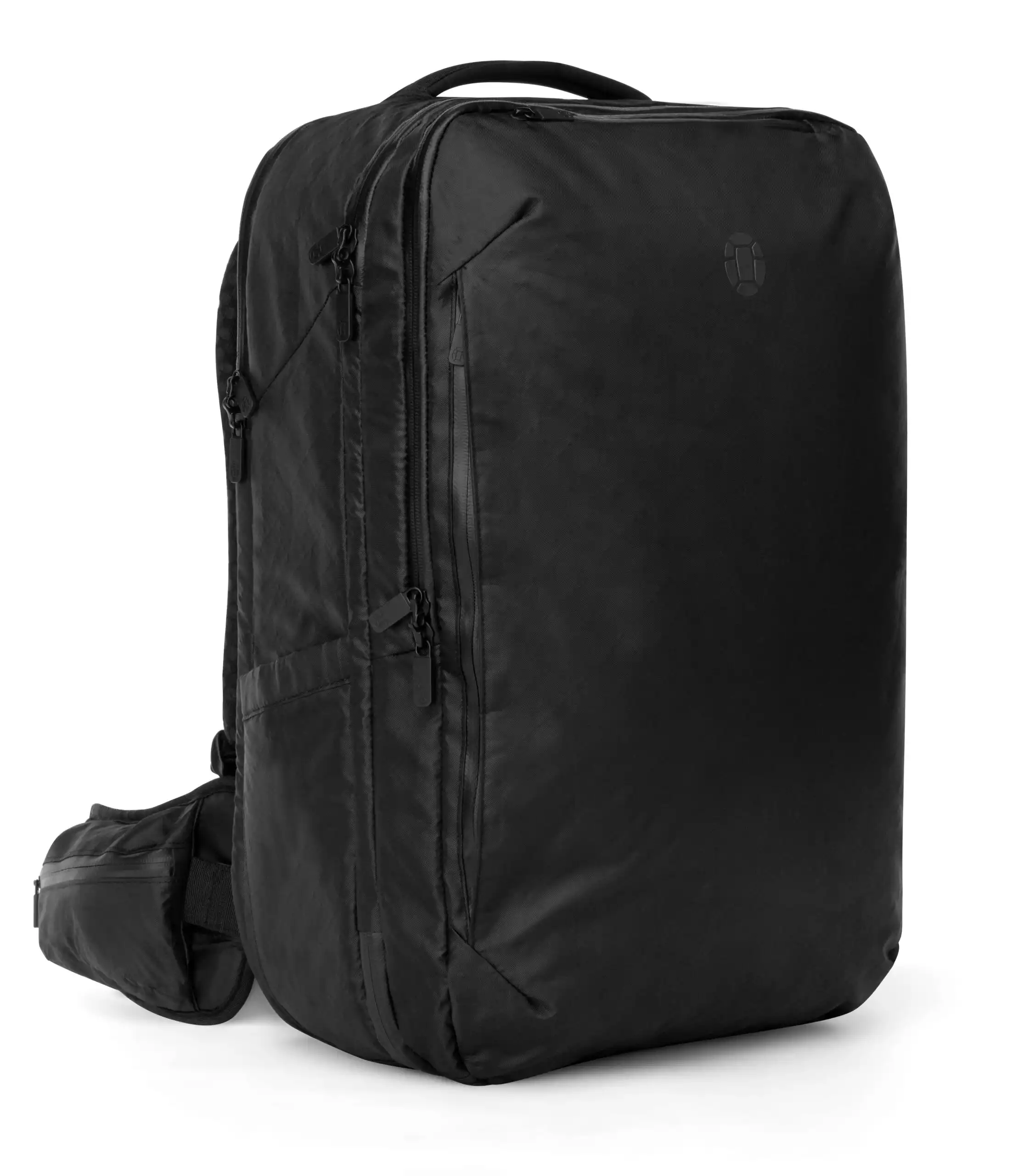 The Right Size Travel Backpack
While researching bags for a backpacking trip in 2009, we were surprised to discover that most backpacks were too big to be carried onto a plane. Large backpacks were mostly made by outdoor companies without regard for carry on rules. No one was designing bags for city travelers like us.
The perfect travel backpack didn't exist; so we made it.
Every backpack that we make is a carry on. Even when fully packed, the max dimensions for our 45L bags are 22 x 14 x 9 inches—exactly the size that most US airlines allow.
The Tortuga's Travel Backpack combines the ergonomics and portability of a backpack with the obsessive organization and easy packing of a suitcase. With the Outbreaker, you'll have a place for everything. For a perfect fit, the Outbreaker is height-adjustable so you can have a perfect fit even if a carry on backpack looks big or heavy to you.
The Travel Backpack is our most ergonomic, most organized, and most adjustable backpack. The 40L will max out carry on dimensions on most airlines so you never have to check a bag. For stricter airlines, like RyanAir, 30L will be a better choice.