Getting Started with Travel Hacking: How to Earn Your First Free Flight
The Tortuga Promise
At Tortuga, our mission is to make travel easier. Our advice and recommendations are based on years of travel experience. We only recommend products that we use on our own travels.
This September, I'll be flying myself and my partner to Rome for free. Back in February, I did the same for Costa Rica. And last year, I paid next to nothing for nonstop flights to Jamaica.
What's my secret? Travel hacking.
Travel hacking is a fantastic low-cost way to see the world. It's also much easier than you think to get started.
After saving thousands on flights, cars, and hotels, I've become a travel hacking evangelist. All it takes is a little bit of planning to essentially get free money.
This guide is a basic, no-nonsense introduction to travel hacking for those who want to save without spending hours pouring over awards charts. Read on to get one step closer to the free trip of your dreams.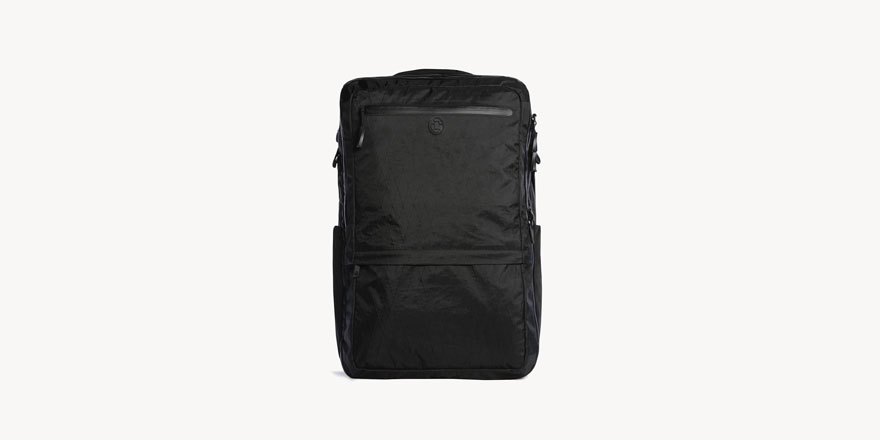 The Best Bag for Travel Hackers
Travel hackers like to save money, and one of the best ways to do that is by skipping the bag check.
Tortuga's Outbreaker Backpack was designed with savvy travelers in mind. Its rectangular shape maximizes packing space, so you can travel carry-on-only and get out of the airport fast.
It opens like a suitcase for easy access to all your stuff, yet wears like a backpack so you can bounce between destinations with ease. It's the perfect bag for everything from hostel-hopping to island getaways.
What is Travel Hacking?
Travel hacking is a strategy to earn credit card points, hotel points, or airline miles and then redeem them for travel purchases.
Here's the 30-second overview of the easiest way to travel hack:
Rewards credit cards often offer new customers points/mileage bonuses equivalent to hundreds (and sometimes thousands) of dollars worth of travel.
Most cards require you to spend a certain amount within the first few months (usually around $2,000 to $5,000 over three to six months) to earn that bonus.
To travel hack, sign up for a new rewards credit card, meet the minimum spending requirement, then use your bonus to book a trip. Close or downgrade the card before the annual fee hits, then start over with a new card. This is also called credit card churning.
It's simple once you understand the basics. But before we get into how to start travel hacking, let's debunk some common myths.
Is travel hacking legal?
Yes, travel hacking is legal. Cashing in on credit card bonuses is legal. Canceling credit cards you no longer use is legal.
"Hacking" is really a misnomer; banks know what they're offering, which is why they place specific rules around how you can earn these huge bonuses. For example, many will only let you earn one bonus per card per lifetime.
Use common sense: don't apply for 10 cards at once, don't cancel a card the second your bonus hits, and pay your bills on time.
Does travel hacking hurt your credit score?
Not when done responsibly. Opening new cards only lowers your score by about five to ten points, which you can regain quickly by using your new card and paying off your balance in full each month.
We have more tips on maintaining strong credit below.
Do you need to spend a lot of money to travel hack?
A $3,000 spending requirement may seem intimidating, but don't change your money habits to meet it. Apply for a new card when you know you have a bunch of expenses coming up (say, during a home renovation project or wedding season) and put everything on that card.
Pick up the tab at dinner and have everyone pay you back. Finish your holiday shopping early. Buy gift cards to retailers you regularly shop, like Amazon or Nordstrom.
Don't pay rent or your mortgage by credit card, as there's almost always a convenience fee involved. The same goes for many medical bills. The point of travel hacking is to earn money for free.
What about credit card fees?
The best rewards credit cards have yearly fees, but they'll pay for themselves through mileage bonuses. Some cards waive fees in the first year. You can also apply only for no fee cards, though the bonuses will be smaller.
Does travel hacking take a lot of time?
Although you need to be organized and stay on top of your spending and point accrual, travel hacking shouldn't take you more than a few minutes every month.
How to Travel Hack: Earning Points and Miles
The first part of travel hacking is earning points and miles. To accrue bonus points quickly:
Sign up for a rewards credit card. Think about your travel goals. If you want to save on airline tickets, focus on earning airline miles or points that you can transfer to airlines. For hotels, focus on hotel points. Stick to cards that offer at least 40,000 bonus points or miles and read the fine print regarding eligibility. We've broken down the best starter cards below.
Hit the rewards card's spend requirement. Again, put everything on your card or manufacture spends by buying gift cards to places you frequently shop. Avoid purchases that charge a fee for credit card use.
Keep track of your points, fees, and deadlines. Create a spreadsheet, set calendar reminders, or sign up for one of the tracking programs at the bottom of this guide to ensure you never miss bonus deadlines or get charged an annual fee for a card you no longer use.
Pay off your balance in full each month. Do not start travel hacking if you can't do this. Payment history is the number one factor in your credit score, and these cards often charge extremely high-interest rates. Travel hacking should be a way to travel for free, not build debt.
(Optional) Cancel or downgrade your credit card after a year. If the card is no longer worth it after you've gotten the bonus, cancel it before the annual fee kicks in (many cards will also refund you if you cancel within 30 days of being charged).

If you don't currently have any credit cards, don't cancel the first card you open. Doing so will ding your score by shortening your average age of credit.
Some banks will let you downgrade to a no-fee version of a card (with fewer perks), which lets you keep the credit history you've built. Holding onto cards also keeps your overall available credit higher and your credit utilization low, which are two more factors in maintaining a strong credit score. You won't be eligible for any special signup bonus for the downgraded card, however.
The Best Credit Cards for Travel Hacking
For those new to travel hacking, start with a generalist card that offers flexible point redemption.
The Chase Sapphire Preferred and Capital One Venture card are the most-recommended starter cards. Here's a brief rundown of how they compare:
Bonus: 80,000 points after you spend $4,000 in the first three months
Annual Fee: $95
How to earn: 5X points on travel booked through Chase; 3X points on dining and delivery; 2X points on other travel purchases
Redeeming Points: book flights, hotels, and cars directly in Chase's travel portal or transfer to one of 14 airline and hotel partners
Chase Ultimate Rewards points are worth 1.25 cents when redeemed in Chase's travel portal, making that 80,000 bonus equivalent to $1,000. The Points Guy values Chase Rewards points at 2 cents overall, which is basically as good as it gets.
Chase also has a robust list of transfer partners, including Hyatt, Marriott, United, and JetBlue. Toss in top-notch car rental and travel insurance and you've got the best card for new travel hackers.
Bonus: 60,000 points after you spend $3,000 in the first three months
Annual Fee: $95
How to earn: 5X points on hotels and rental cars booked through Capital One; 2X points on all other purchases
Extras: $100 towards Global Entry or TSA Precheck application fee
Redeeming Points: book flights, hotels, and cars directly in Capital One's travel portal; pay yourself back for travel purchases booked elsewhere, or transfer to one of 18 travel and hotel partners
The Capital One Venture was my first travel credit card and is a great choice for those who want to keep things simple. While the Venture card has a lower minimum spend and bonus than the Chase Sapphire Preferred, there's no need to keep track of specific spending categories; you'll earn two points per every single dollar.
You can also pay yourself back for travel purchases in the form of a statement credit. This makes the Venture card extremely easy to use. The downside? Capital One has far fewer domestic transfer partners than Chase.
You really can't go wrong with either card, so pick whichever one best suits your needs.
What about airline credit cards?
You can rack up some serious mileage with an airline's branded credit card, but you're also stuck using your miles on flights with that airline or one of their partners. This limits your travel options and requires more research if you decide to transfer your points to another airline.
Most people book flights based on price and convenience, not the name on the plane. That's why I don't recommend that new travel hackers go this route unless they're already loyal to an airline and want elite status.
What about luxury credit cards?
Start your travel hacking journey with low-fee cards (under $100) or cards that waive their fees for the first year. That way, you can get the hang of things without big upfront costs.
After you've gotten some hacking under your belt, calculate if luxury cards–with their equally luxurious fees—are right for you.
How to Spend Your Points and Miles
Cards may offer cash redemptions or ways to online shop using points, but you'll get the most bang for your buck when redeeming for travel expenses (airfare, hotels, Ubers, train tickets, etc.).
For example, Capital One points are worth 1 cent apiece when redeemed for travel. If you have 60,000 points, that's $600 in travel. Those exact same points are worth just 0.5 cents apiece when redeemed for cash in the form of a check or general statement credit. Now those 60,000 points only net you $300.
Cards sometimes have special promotions running where point redemptions will be worth more in specific categories. In general, though, plan to use your points for trip-related expenses. It's called travel hacking for a reason.
How to Use Credit Card Points for Travel
Squeezing every last cent out of rewards points requires some in-the-weeds strategizing. Because this guide is designed for those who want to spend less time with spreadsheets and more time actually traveling, keep it simple and do one of the following:
Book a trip through the card company's online travel portal (or directly on an airline/hotel website for branded cards).
Transfer your points to one of the card's airline or hotel partners and then book your trip with them. Transfer ratios vary (sometimes they're 1:1, sometimes they're not). Here's an extensive list of credit cards and their transfer partners to peruse before making any decisions.
Capital One also lets you reimburse yourself for travel purchases made elsewhere as a statement credit.
How to Maintain a Strong Credit Score
Most rewards cards require credit scores above 650; the best will require scores in the 700-850 range.
People often worry that travel hacking will have a negative impact on their credit score. This is for two main reasons:
Hard pulls. You'll get what's called a "hard pull" on your credit each time you apply for a new line of credit. Hard pulls can stay on your report for up to two years and drop your score up to five points.
Credit history. Opening a bunch of new cards will lower the average age of your credit, which can also knock your score down a few pegs.
Keep your credit safe with the following steps:
Space out applications. Leave at least three months between cards and don't apply for one if you're in the process of doing anything else that requires a hard pull on your credit (i.e., when you're about to apply for an apartment or need to get a background check for a new job).
Never close your oldest credit card(s). These keep your average credit history up. Again, you can occasionally downgrade cards to no-fee versions to keep the credit history without the extra costs.
Make payments on time and don't spend more than you can afford. The most important factor in your credit score is your payment history. Pay your bills on time, every time. Paying off your balance in full also keeps your credit utilization ratio low, which is another factor in good credit scores.
Keep Track of Your Points and Miles
A simple spreadsheet is a popular way to keep track of your awards points and miles, but these apps and software will also help.
Award Wallet is free and easy to use. It's been around for more than a decade and supports more than 600 loyalty programs.
The Points Guy's (TPG) app helps you track credit card sign-up bonuses and minimum spending requirements so you don't miss out on a 50,000-mile bonus because you miscalculated the end of your minimum spending requirement window.
Conclusion
You don't have to spend dozens of hours managing points and miles to start travel hacking.
Figure out your travel goals, sign up for credit card bonuses, and then make the most of those travel rewards. Before you know it, you'll be packing your bag and heading off on your next free flight.