What's the Best Backpack Suitcase Combo?
The Tortuga Promise
At Tortuga, our mission is to make travel easier. Our advice and recommendations are based on years of travel experience. We only recommend products that we use on our own travels.
Suitcases are great for air travel and for keeping your stuff organized.
The problem with suitcases is that they aren't made for city travel. Wheeled suitcases are fine on the polished floors of an airport or an office building, but suitcases have cheap plastic wheels that can break easily on uneven sidewalks. The cobblestone streets of Europe and dirt roads of less developed countries render them all but useless. Plus, many train stations, hostels, and hotels in Europe don't have elevators or escalators. Good luck hauling a heavy suitcase up and down flights and flights of stairs.
Backpacks are convenient for urban travel. Flexible enough for any terrain, you can easily grab your bag and go.
The problem with most backpacks is that they're either too small to bring everything you need, or too large to meet carry on requirements. Normal backpacks are tough to pack and unpack, making most options ill-suited for travel.
Tortuga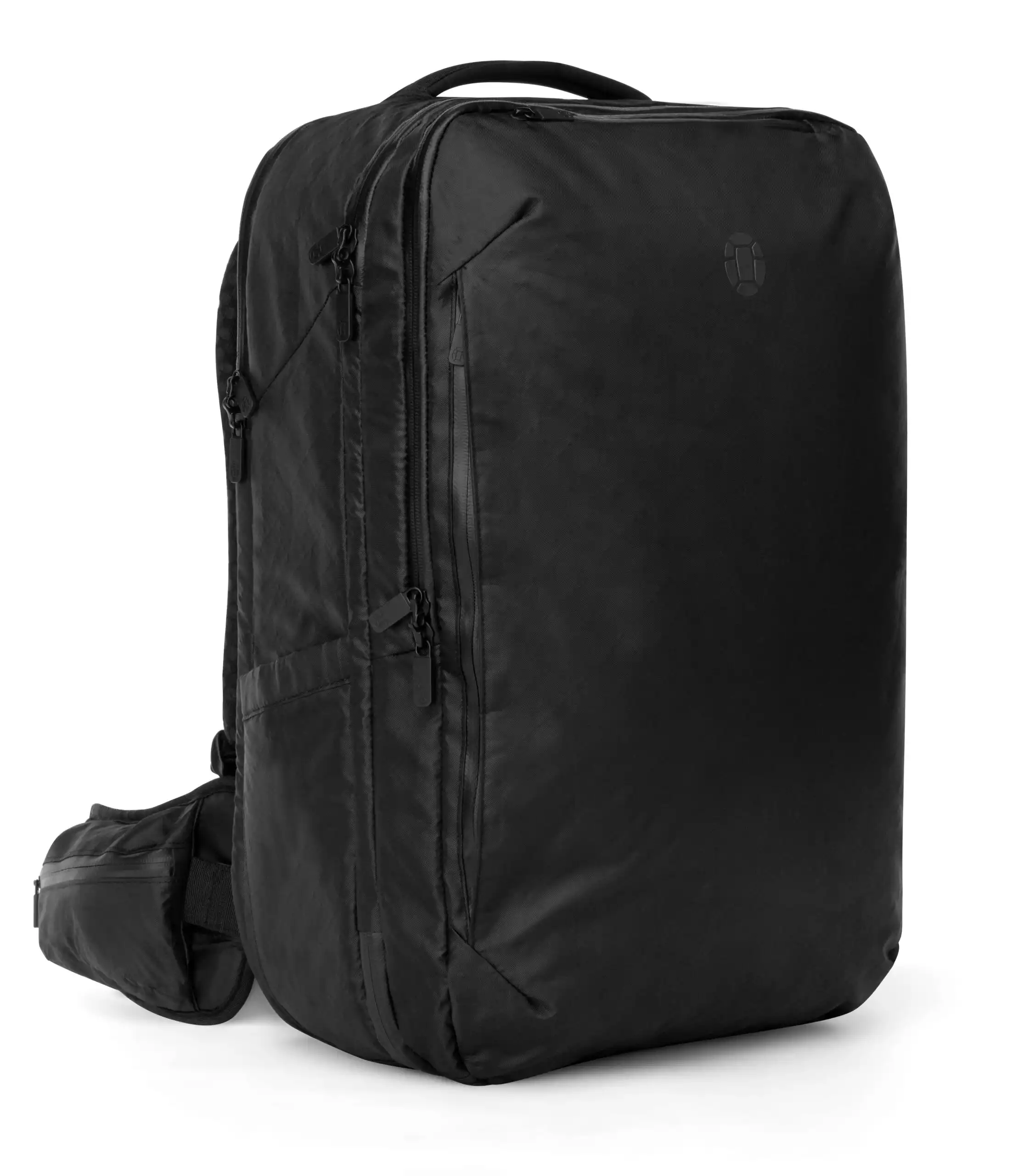 Regardless of size, most backpacks must be packed from the top leaving your stuff a disorganized mess. You'll be dumping your dirty laundry on the airport floor looking for that one thing hidden at the bottom and getting dressed in your hostel or hotel room won't be much more fun either.
Suitcases and backpacks each have their own strengths and weaknesses. The ideal piece of luggage would combine the best parts of each into a suitcase/backpack hybrid.
Unfortunately, many travel backpacks blend the worst features of suitcases and backpacks into a hybrid piece of luggage that doesn't work for anyone. A suitcase with backpack straps is not the solution. In fact, it's the exact opposite of the solution.
Let's dig into the problems with suitcase backpacks and why a travel backpack is a better solution for your next trip.
Backpacks with Wheels
The most obvious suitcase/backpack combination is a rolling backpack with wheels and shoulder straps. You've probably seen other travelers carrying them or spotted them in stores.
The problem is that backpacks with wheels combine the worst elements of backpacks and of suitcases. You might be able to roll them through an airport, but that convenience is far outweighed by the disadvantages of wheeled backpacks.
Weight
Adding plastic handles and wheels to a backpack significantly increases its weight. The increased weight makes the bag more difficult to carry and more likely to exceed airlines' carry on baggage weight allowances.
A sampling of rolling backpacks on eBags showed an average weight of nearly 7 pounds (3 kg). The bags ranged from 4.5-8.5 pounds (2-4 kg).
Airlines' rules for carry on bag weight vary dramatically. Most North American and European airlines allow carry on luggage up to 22 pounds (10 kg). Some are as low as 11 pounds (5 kg). You could carry a mostly empty backpack with a change of clothes and a water bottle and still be charged for an overweight carry on.
On average, a wheeled suitcase would take up 20-40% of the allowed weight. Good luck packing clothes or a laptop without going over the weight allowance.
Wheels
Rolling backpacks are heavy. You'll want to put them down and take advantage of their wheels as often as possible.
Using the rolling backpack as a wheeled suitcase leaves you at the mercy of easily broken plastic wheels and eliminates the benefit of carrying a backpack.
Once your wheeled backpack hits the streets, the wheels are likely to break. When they do, you'll be left carrying the bag exclusively as a backpack. But, because it has wheels, you'll be carrying a few extra pounds of now-useless plastic.
Ergonomics
Wheeled backpacks are uncomfortable. They have terrible ergonomics. Roller bags—even those with backpack straps—are made to be suitcases first and backpacks second. The shape and size are made to account for the handle and wheels, not a comfortable fit on a human body. Despite its straps, carrying a suitcase backpack will be uncomfortable.
Packing Space
Every added feature takes away valuable packing space. In a carry on, you're limited to 22 x 14 x 9″ on the most generous airlines and even less on budget airlines. With a suitcase you'll lose at least an inch in depth for the handle and an inch in height for the wheels.
A suitcase with straps is the Frankenstein's monster of luggage. So, what's the solution?
Tortuga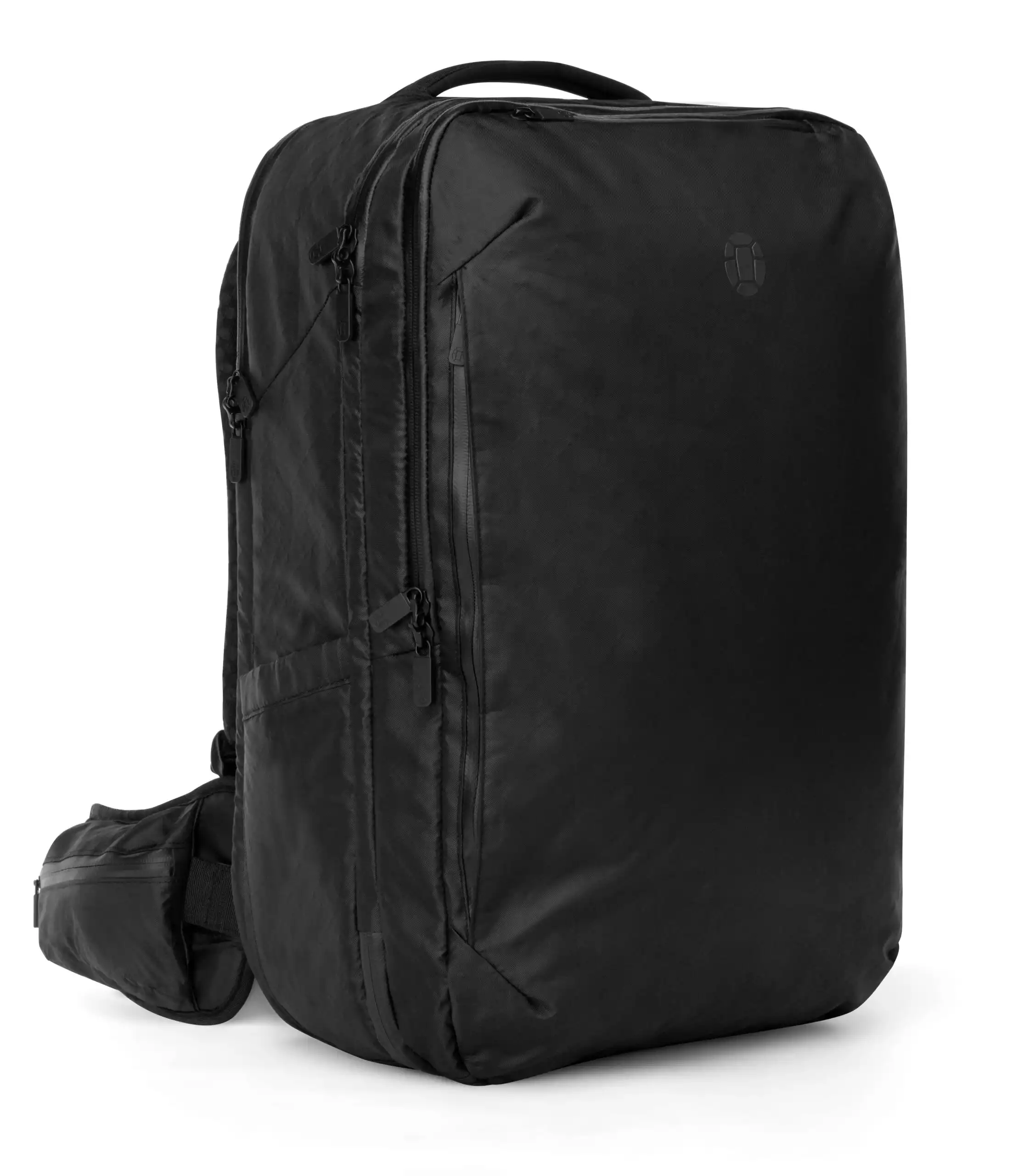 What to Look for in a Backpack Suitcase
Backpacks and suitcases each have benefits and drawbacks, but the right combination of features will make traveling a breeze. Here are the features to look for in a backpack-suitcase combo.
Carry On Sized
Many suitcases are designed to be carry on luggage. Too many backpack companies ignore this concept and make giant bags, sometimes taller than the torso of the person wearing them.
Experienced travelers know never to check luggage. By using carry on luggage, you avoid hefty baggage fees, ensure that the airlines can't lose or damage your bags, and minimize your time at the airport.
A good travel backpack will keep carry on restrictions in mind. You won't have to worry about getting stopped by a gate agent and being forced to check your bag because it's too big for the overhead bin.
Opens Like a Suitcase
The best travel backpacks open like a suitcase. Unlike hiking bags or school bags—which open from the top—your ideal travel backpack will zip open on 3 sides like a suitcase so you can easily see and pack everything you're bringing with you. When you need something from your backpack, you can grab it quickly without shifting everything else around. Packing cubes can help you keep your main compartment organized.
Organized
You'll want your data-keyword-id="101″>travel backpack to have a spacious main compartment to organize clothing and other large items. Aside from that, dedicated pockets outside of the main compartment for small things like your toiletries, passport, pens, and your laptop can help you stay organized.
Comfortable
Backpacks are easy to carry and convenient to pick up and go. If designed with adequate padding and a hip belt to distribute weight off of your shoulders and onto your hips, backpacks can be comfortable even when fully packed. Your best bet is to measure your torso and find a travel backpack that fits your body.
Easy access to these items means you can quickly remove them in the airport security line. Keep your map, guidebook, and water bottle within easy reach while walking from public transportation to your hotel.
The Ultimate Backpack Suitcase Combo
We, the co-founders of Tortuga, learned these lessons the hard way after making terrible luggage choices on a trip to Eastern Europe in 2009. We did extensive research before the trip but couldn't find the perfect piece of luggage.
I bought a top-loading backpack but couldn't keep it organized. My clothes were embarrassingly wrinkled, and I made a mess of the hostel every time I got dressed. Plus, it was too big and had to be checked. Jeremy's shoulder strap ripped on our first day due to cheap materials.
We couldn't find the perfect travel backpack, so we made it.
The Tortuga Travel Backpack is the result of those frustrations. The Travel Backpack is a carry-on-sized backpack that's organized, comfortable, and easy to carry. The carry on bags come in 30L and 40L sizes.