Patagonia vs Tortuga Travel Backpack
The Tortuga Promise
At Tortuga, our mission is to make travel easier. Our advice and recommendations are based on years of travel experience. We only recommend products that we use on our own travels.
Trying to be Two Things is a Bad Idea
The Patagonia Headway MLC tries to be both a backpack and duffel bag. Shoulder straps zip away into a inner compartment when it's in duffel bag mode.

When we designed the Outbreaker, we had to choose between being really good at one thing, or being mediocre at a few things. We chose the former: at Tortuga, we always try to do one thing at a time and do it really well.
By being a duffel bag and a backpack, the Headway MLC is forced to make sacrifices.
Poor Ergonomics
Because it's also a duffel bag, the Headway MLC doesn't include a hip belt. You're forced to carry 45L of heavy weight on your poor shoulders.

That weight makes a simple walk from airplane, to catching a train, to your hotel a painful exercise in constantly adjusting shoulder straps.

The Outbreaker includes a heavily padded, weight-bearing hip belt. By using the hip belt, shoulder straps, and chest strap, you keep the backpack stabilized and feeling light. Tighten the hip belt correctly and feel your pack's weight lifting off your shoulders. Hip belts may not look cool, but they work like magic.
After a short walk from plane to taxi—or a longer wander to your hotel, wonderfully lost—your neck and shoulders will thank you for using the hip belt. No more painful knots in your upper back and shoulders to disrupt a night's rest.
Even more ergonomic are the Outbreaker's wide, well-padded shoulder straps that distribute your pack's weight across a larger surface area. The Headway MLC's shoulder straps are skinny straps with thin padding that focus your pack's weight into your sensitive shoulders.
No Water Resistance
The Headway MLC is made from ballistic nylon with a polyurethane coating treated with a DWR (durable water repellent) finish. That finish is sprayed onto the fabric. Over time and exposure to the elements, the water-resistant finish flakes away, creating little holes that water loves to slink into and penetrate your pack.

A travel backpack should be your trusted companion for years to come. You shouldn't have to buy a new bag just because the spray-on waterproofing wore off.


The Outbreaker is made from VX21 sailcloth because it's waterproof and offers the best strength to weight ratio on the market. Instead of one layer with a water-resistant coating, VX21 is made of four layers of protection. An ultrathin layer of PET serves as a fool-proof waterproof barrier. The Outbreaker is (almost) completely weather-resistant.

Unlike the Headway MLC, Tortuga's Outbreaker is made for the real world where downpours happen and you need a backpack that truly protects your gear from the wet elements.
(Not Very) Tough Fabric
Sailcloth is more durable than ballistic nylon thanks to the unique X-Ply layer. That's the official name for the diamond pattern in the Outbreaker's fabric. This layer is stronger than ballistic nylon at stopping holes from growing.


Backpacks are under an incredible amount of daily stress. You don't want it to rip or tear when you're on the other side of the world.

The Headway MLC is made from weak ballistic nylon. Under high tension, this fabric will fray or rip at the seams. In the Outbreaker, the PET film layer in its sailcloth prevents your bag from ever fraying or ripping.

Your most adventurous travels are no match for the Outbreaker's tough fabric. A boat's sails withstand heavy wind and repel rain relentlessly beating them. That's exactly why we chose sailcloth for our travel backpack because we know backpacks take a lot of abuse, too.

We made the Outbreaker so tough you'll be hard-pressed to find a reason to buy another backpack.
Zero Reachable Pockets
Have you ever stood in the TSA line and needed a pocket to safely stash your phone or passport?

We have too many times, and that's why we designed the Outbreaker's hip belt with twin zippered pockets for those valuable items.


The Headway MLC doesn't have an easily reachable spot for your phone or passport. You're faced with two options: putting your valuable phone and passport in the grey plastic bin or storing them in a hard-to-get-to pocket inside your bag.

Keep your irreplaceable passport within finger's reach by storing it in a pocket on the Outbreaker's hip belt.

Discover more about the Outbreaker and how a travel backpack can magically lift a weight from your shoulders, keep your passport in easy reach, and make travel a joy once more.
Related Articles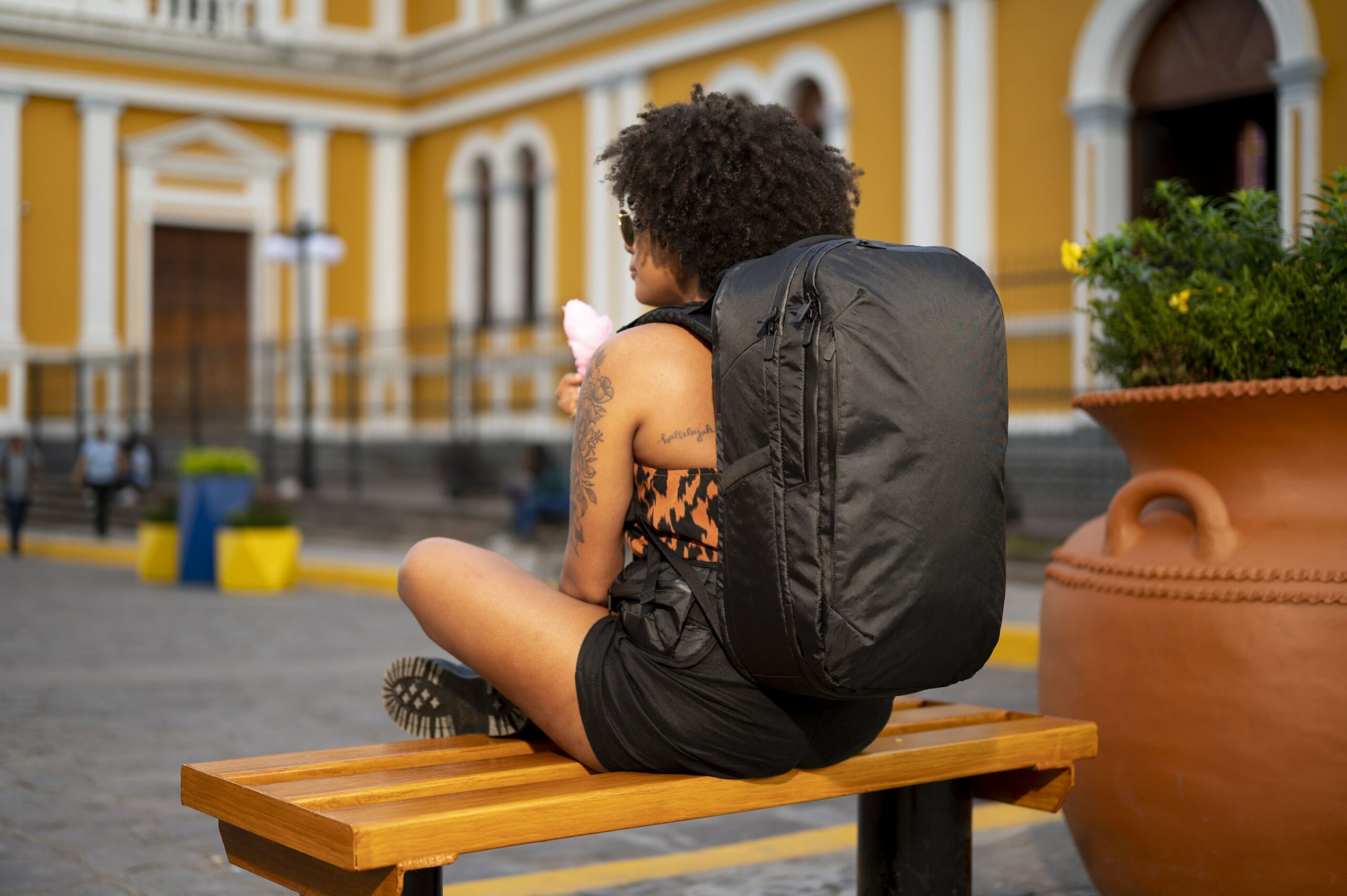 40L: Max International Carry On
Shop Now