Carry On Backpacks Sizes: How to Choose the Best One
The Tortuga Promise
At Tortuga, our mission is to make travel easier. Our advice and recommendations are based on years of travel experience. We only recommend products that we use on our own travels.
Most frequent travelers have had their luggage soiled, broken, or lost because they chose to check it, rather than carry it onto their flight. Putting your luggage into the airlines' hands is risky.
Using carry on luggage is a better, safer choice.
To ensure that you're never forced to check your bag, use a carry on backpack rather than a suitcase. If your flight is full, overhead bin space will fill up quickly, and passengers will be asked to gate check their bags.
Passengers with wheeled luggage are told to check their bags, while passengers carrying backpacks or duffle bags are often exempt.
Tortuga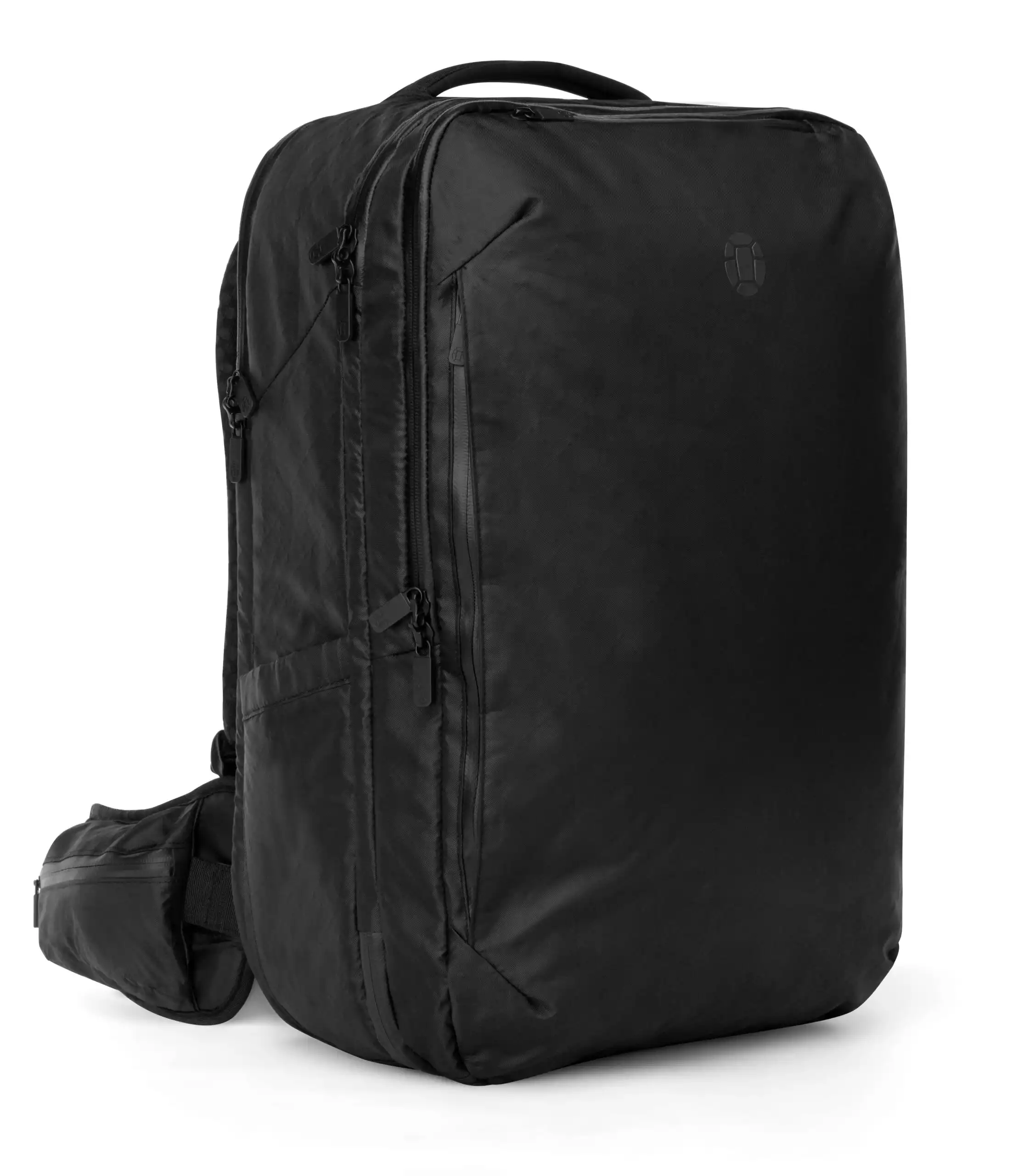 What Size Carry On Backpack Should I Buy?
The most important factor when choosing a carry on travel backpack is its size. Each airline sets its own guidelines for the maximum allowable size for carry on luggage. Most airlines allow bags up to 45 linear inches (length + width + depth) or 22″ long, 14″ wide, and 9″ deep.
To prevent problems at the airport, your bag should be no larger than these dimensions. Just because it's advertised as "carry on sized" doesn't mean it will actually qualify, so make sure to read the dimensions on product pages before you buy.
And before flying, check your airline's website for their carry on luggage size and weight guidelines. Budget airlines often have stricter requirements, and in any case, carry on size can vary by airline.
All 40L Tortuga travel backpacks fit within the dimensions quoted above (22 x 14 x 9″), so you can stay carry on compliant. Carry on backpacks in the ~35L range will be better for airlines with stricter requirements.
Different packing styles — and trip lengths — call for different luggage.
Who Should Choose a Large Carry On Backpack
A large carry on backpack is any bag that maximizes airlines' quoted carry on dimensions, usually 22 x 14 x 9". Depending on a backpack's shape, that typically translates to 40-45L in volume. Travelers best suited to a large carry on backpack are long-term travelers, max packers, and souvenir buyers.
Long-Term Travelers
If you're packing for long-term travel (think months or years), a large carry on travel backpack is probably for you. You'll have enough room to bring everything you need for all seasons on the road without checking a bag. Here's our guide to packing for long-term travel if you need a little help.
Max Packers
If you're new to carry on only travel, or like to bring a little more rather than just the bare essentials, a large carry on backpack is the right bag for your packing style. This will let you live the one-bag travel lifestyle without compromising what you need.
Souvenir Buyers
If you typically pack light but like to buy things on the road, a large carry on backpack is for you. You'll have plenty of room in your bag for art and souvenirs to bring home with you.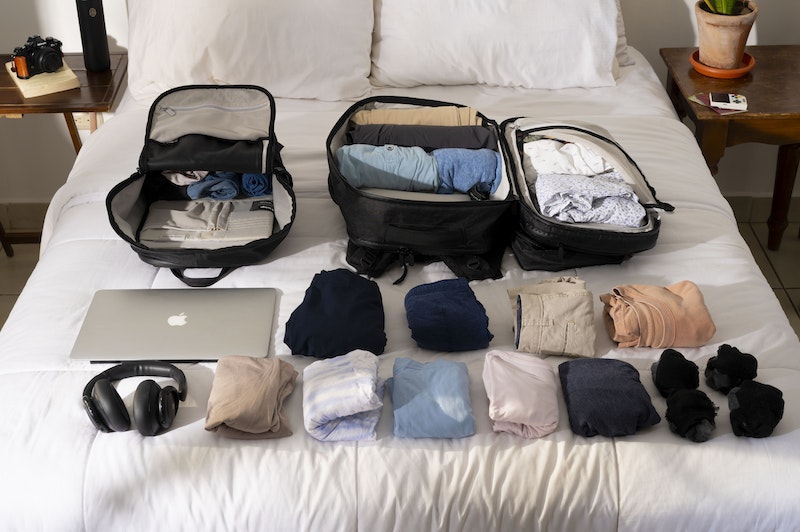 Who Should Choose a Medium-Sized Carry On Backpack
A medium-sized carry on backpack is any bag that is smaller than the maximum carry on bag dimensions but is larger than a personal item. Typically that means a 25-35L backpack. If you're a budget airline flyer or minimalist packer, a medium-sized carry on backpack is probably the best size for you.
Budget Airline Flyers
If you frequently fly on budget airlines (like RyanAir), consider a medium-sized carry on backpack. We've flown on budget airlines with larger carry on travel backpacks without issue, but it's technically breaking their rules. If you mostly fly on budget airlines, take shorter trips, and want peace of mind at the gate, choose a smaller travel bag.
Minimalist Packers
If you're a minimalist packer, a medium-sized carry on backpack is probably for you, no matter the duration of your trip. Here are our best tips for minimalist packers (plus a packing list to make it easy).
Weight
The maximum weight for carry-on-sized luggage differs by airline and by region.
In the United States, airlines are typically stricter about size than weight. If you're primarily traveling on major airlines and/or traveling domestically, a backpack's weight is less important than its ergonomics.
Some airlines allow carry on bags weighing up to 50 pounds. Even if you're allowed to carry 50 pounds, you shouldn't do it. Even the most ergonomic backpack will feel heavy at 50 pounds… because 50 pounds is a lot to carry.
Some budget, European, South American, and Asian airlines only allow carry on bags up to 15 pounds. If you travel frequently on airlines with stricter weight regulations, you'll have to master the art of packing light.
Learning to pack correctly will make a far bigger difference than choosing a backpack that weighs less but feels heavier because it lacks proper ergonomics. You'll be much happier with a bag that's comfortable to carry, and packing well takes care of the rest. Look for a travel pack that uses an ergonomic design similar to a hiking backpack.
Make sure to check with your airline before flying. When packing, use a luggage scale to weigh your bag if you're concerned about weight so that you are within the carry on luggage weight guidelines set by your airline.
Fit
Humans come in all shapes and sizes. If you're particularly tall or particularly small, make sure your carry on backpack will adjust to fit your body. The right fit makes a huge difference in comfort. Women should look for a travel pack that's made for them (think shorter torso and adjustable backpack straps).
The Travel Backpack by Tortuga has a height-adjustable suspension to fit almost any torso. It's the first travel backpack to use this technology.
Adjust the shoulder straps up and down to fit your torso. Make sure the chest strap and hip belt are snug. The hip belt should rest on your iliac crests (the high bony part of your hips)—not on your hip joints. This will transfer weight away from your shoulders. If the hip belt is too high or too low, adjust the shoulder straps accordingly.
The secret to a comfortable carry is the right fit. Don't sacrifice ergonomics.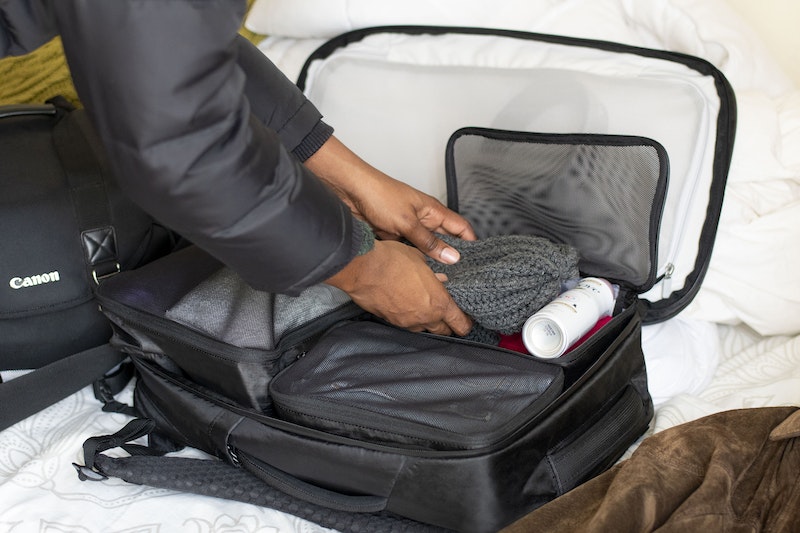 Organization
The main compartment should allow you to organize your stuff quickly and easily. Ideally, you'll have a spacious main compartment to easily organize your stuff. This is what separates the best carry on backpacks from regular backpacks.
You don't want too many divided compartments as that reduces the flexibility you have to pack with. Instead, opt for packing cubes to keep organized.
A carry on backpack should open like a book and pack like a suitcase. Backpacks that open from the top, rather than the front, require you to dump everything out to find that one thing lodged at the bottom. A suitcase-style opening will make it easy to see and access everything you packed without splaying everything you have.
Breeze Through Security
The biggest potential hassle with carry on backpacks is taking them through security. You should have a bag designed to help you move through the security line quickly and efficiently.
Your travel backpack should have a dedicated laptop compartment that you can access easily from the outside. It's no fun trying to get to the laptop compartment behind all your clothes and spilling your dirty laundry in the security line.
For an even speedier journey through security, choose a checkpoint-friendly backpack with a lie-flat compartment. The TSA allows travelers to leave their laptops inside of their backpacks if the bag has a separate, lie-flat compartment. Unzip the laptop compartment of your travel backpack to save time in the line.
Most people carry a one-quart plastic toiletry bag which must be removed from your bag and placed in a small bin for inspection. To simplify this process, choose a bag with an easy-access pocket to stash your 3-1-1-compliant bag. Don't be that person holding up the line at TSA as you dig through a jumbled bag, searching for your toiletries.
Good carry on luggage will also have pockets to hold your boarding pass, ID, and anything else emptied out of your pockets while going through airport security. These pockets should be easy to reach when you're wearing your bag, zip closed so that nothing spills out, and be solid so that no one can see what's inside.
The Tortuga Travel Backpack has hip belt pockets so that they're within reach when you need to empty your pants pockets in the security line. Just place your wallet, cell phone, and any other personal belongings in the zippered hip belt pockets before placing your bag on the conveyor belt.
When your bag comes out the other end, put it back on and your personal belongings will be back at your fingertips.
Tortuga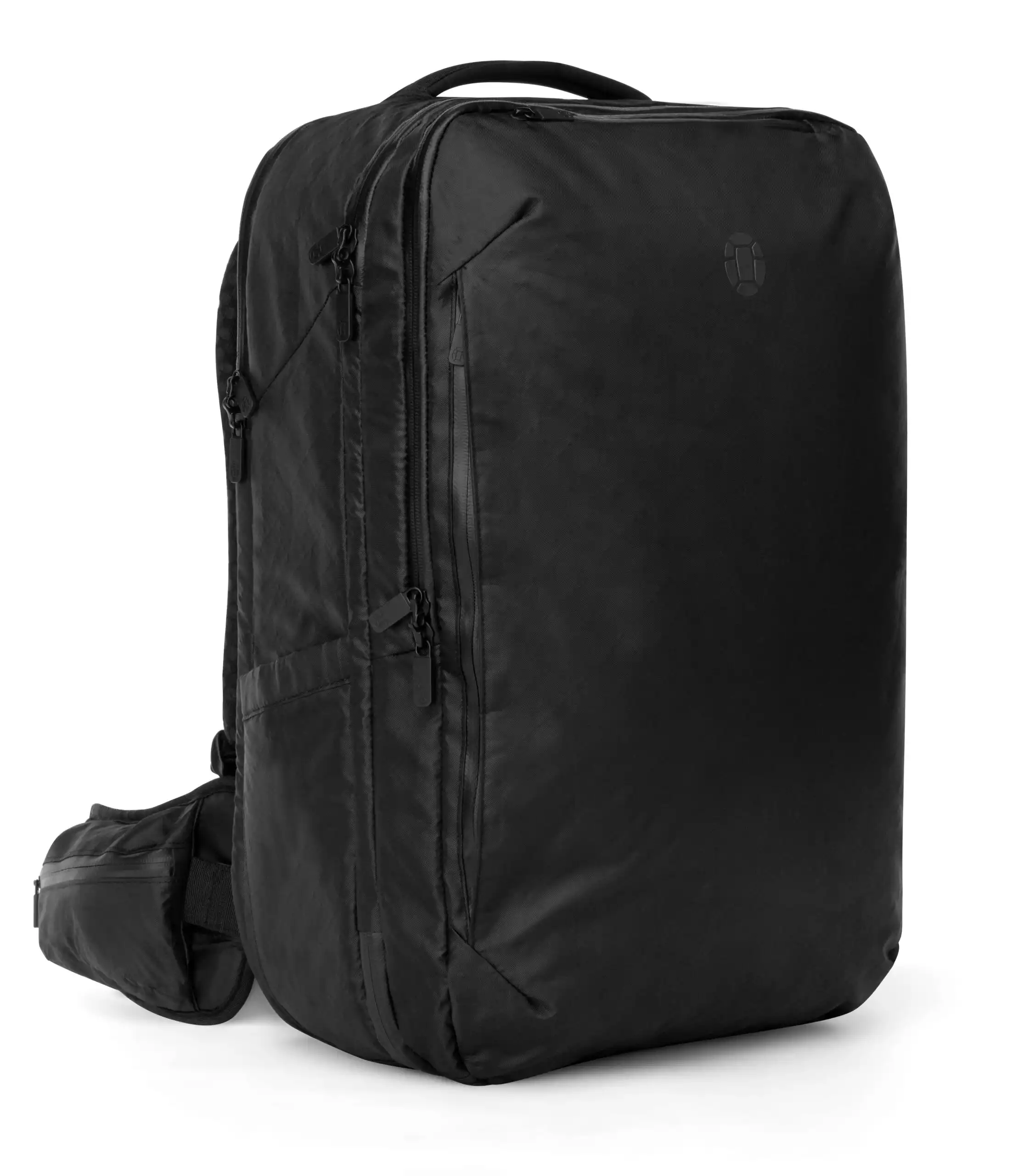 Which Carry On Backpack Should I Buy?
The right carry on backpack for you depends on your packing style.
The Tortuga Travel Backpack combines the ergonomics and portability of a backpack with the obsessive organization and easy packing of a suitcase.
With the Travel Backpack, you have a place and a compartment for everything. It's height-adjustable so you can get the perfect fit and it's made with waterproof sailcloth so you know your stuff will be safe in a downpour. It even has a TSA-friendly lay-flat laptop compartment.
The Travel Backpack is our most ergonomic, most organized, and most adjustable backpack. The 40L will max out carry on dimensions on most airlines so you never have to check a bag. For stricter airlines, like RyanAir, 30L will be a better choice.
Related Articles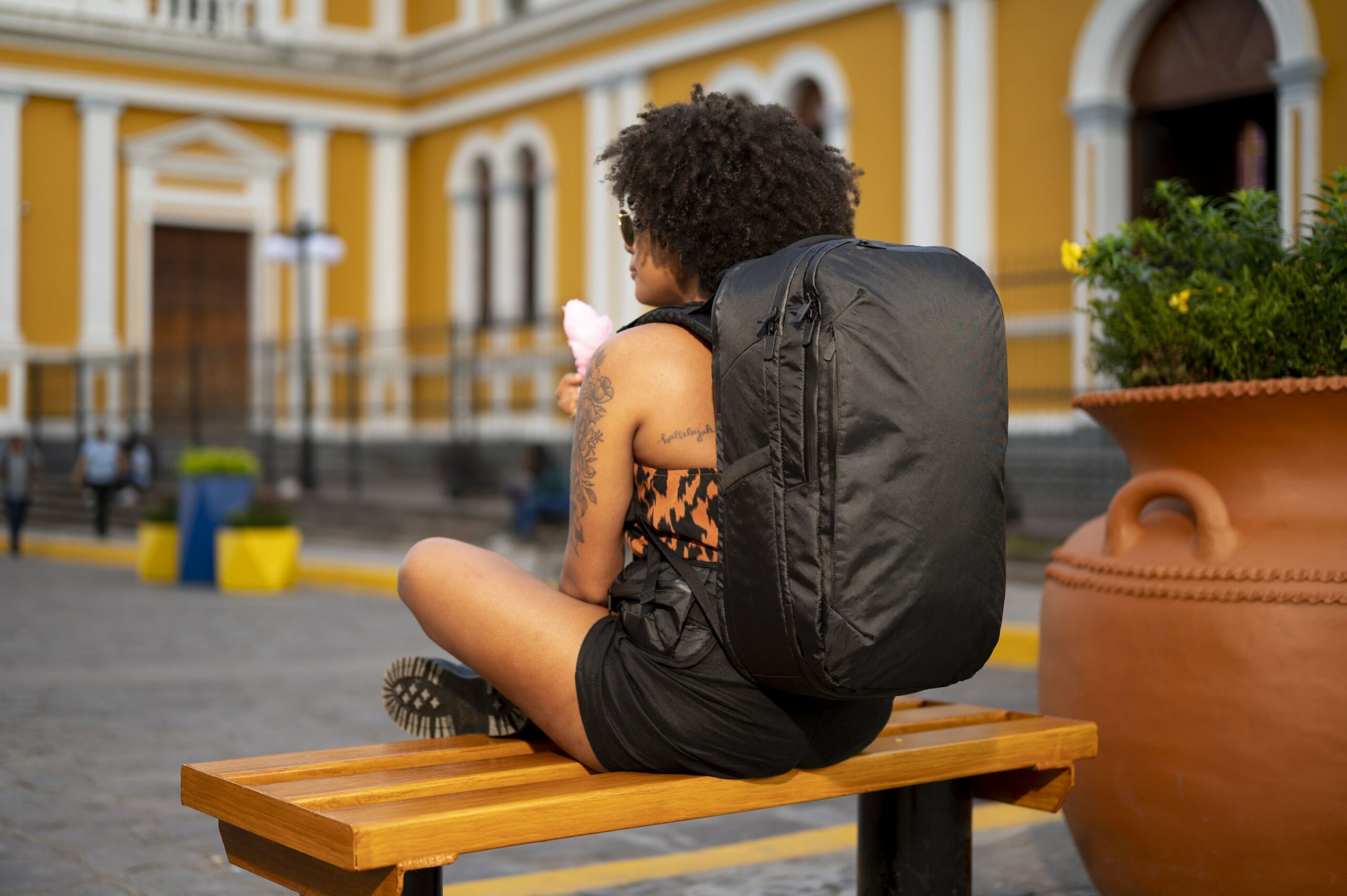 40L: Max International Carry On
Shop Now