How to Pack a Backpack for Travel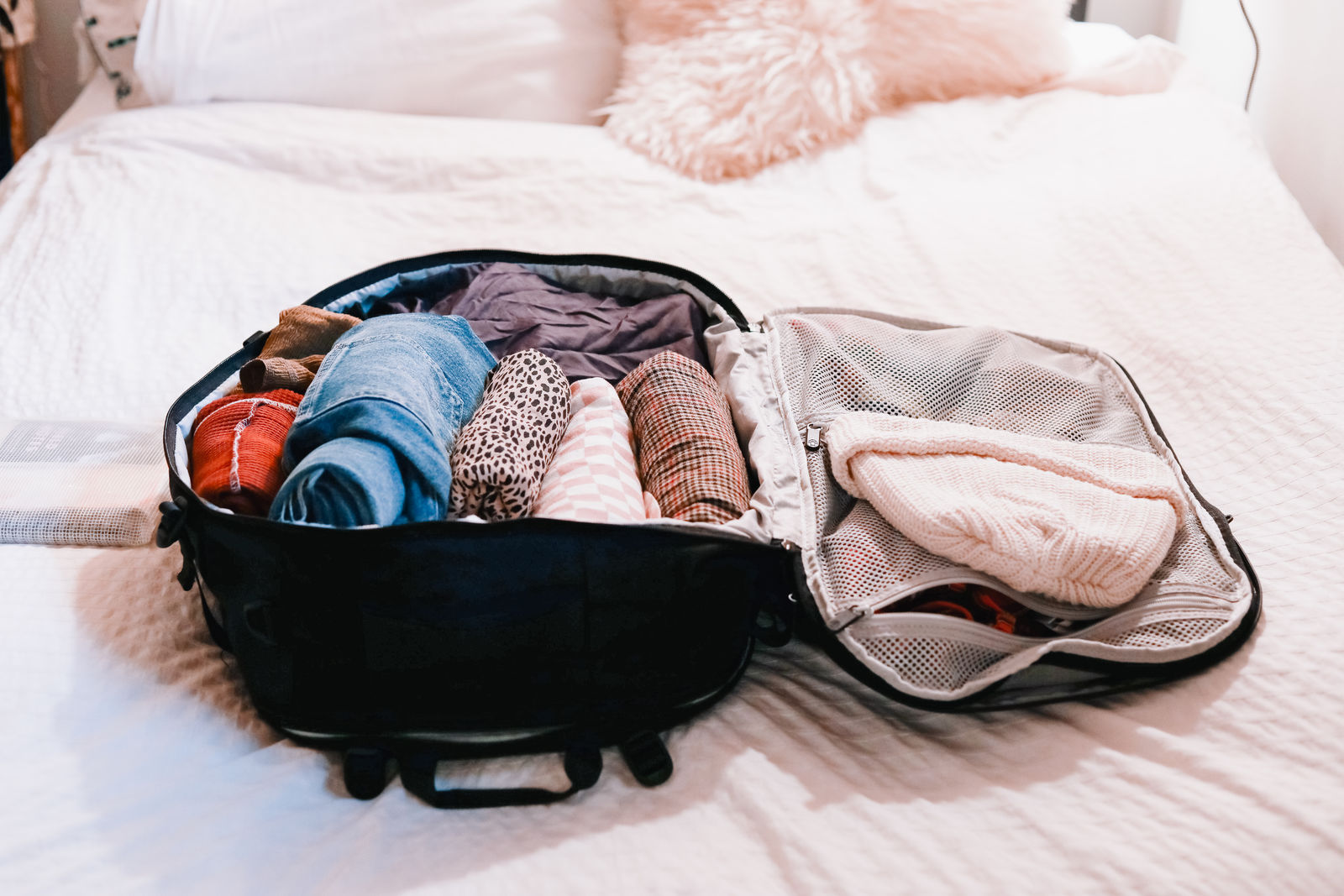 The goal is to keep the weight centered and close to your body. So that your backpack doesn't pull, painfully, back on your shoulders.
Tell me if this sounds familiar: you've always packed in a suitcase — a rolling one, thank you — and you just decided to switch to a travel backpack.
And you've got good reasons:
Save money on expensive checked baggage fees
Mobility when you're wearing your bag vs towing it behind you
Blend in and look like a tourist when you're on the road
But, you've never really packed in a backpack since, well, high school. And back then, it was easy: books.
You know it's possible to pack in a backpack for travel — because you see so many travel backpacks on the road — but how?
Keep reading, I've got you covered.
How to Pack a Backpack for Travel
Before we get started, a few ground rules for packing your travel backpack for travel. Like most foundational rules, they'll lay the ground work and make your packing and travel smoother, your life easier, and your mind calmer.
Let's get started, shall we?
Travel Backpack Organization
Look for a backpack that has pockets, please. They'll make your life so much easier.
Inside the main compartment, you might want some straps to keep items secure. Pockets and dividers to keep your clothing organized — even if you travel with packing cubes. The Outbreaker Backpack has handy side pockets as well as mesh zippered pockets to keep you obsessively organized.
In your travel backpack, you also need:
Separate laptop compartment
Organizational panel in the backpack's front pocket
Small front pocket on the backpack's face
Hip belt pockets
Water bottle pouch on travel backpack's side
In a word: pockets.
You need pockets. To keep your stuff organized and your sanity intact.
Where to Put Things in a Travel Backpack
If you bought a travel backpack designed for organizational strategy — aka pockets, people! — you're ahead of the game.
Laptop goes into the laptop compartment. Clothes go into the main compartment.
Items needed during the flight (i.e. tablet, book, Kindle) go into the front zippered pocket. I stuff this pocket with snacks to ward off the hangries. Water bottle goes into the side pocket.
Items needed to pass successfully through TSA (i.e. ID, plane tickets, passport, and phone) go into your hip belt's pouches.
Super-duper important items (like your travel itinerary, parking stub for my car, and house keys) go into the front pockets or a small zippered inner pocket.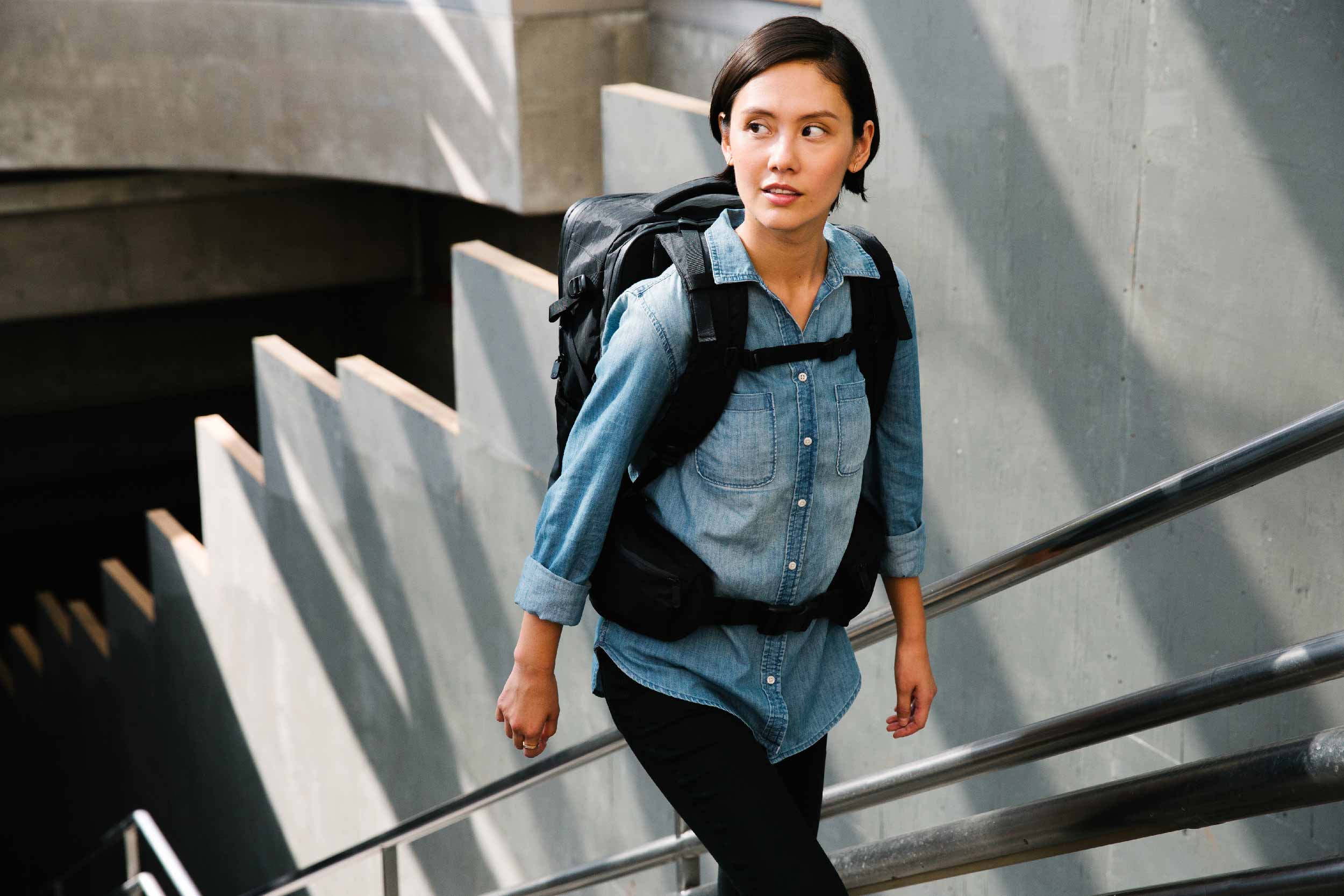 Weight Distribution in Your Travel Backpack
Put the heaviest items nearest to your spine when you're wearing the backpack. So, when you're packing your travel backpack, those heavy items go in first and toward the middle of the backpack.
Your laptop needs to lie flat against your backpack's back and, hence, your back. This is the safest spot for it (and the most comfortable place for you to carry it).
Medium-weight items go towards the top of your backpack. Light-weight items go at the bottom of your backpack.
The goal is to keep the weight centered and close to your body. So that your backpack doesn't pull, painfully, back on your shoulders.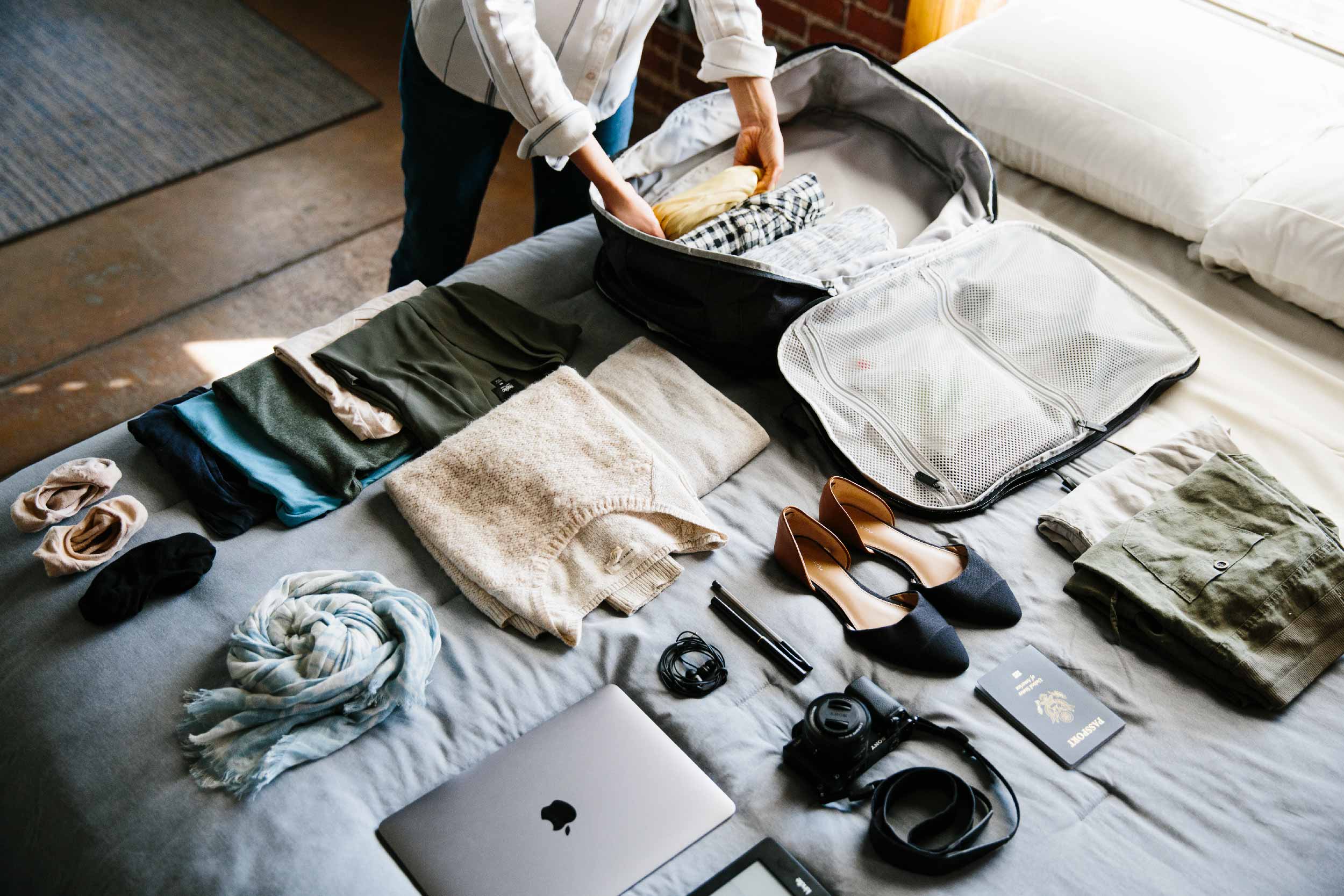 How to Pack Clothes in a Backpack
When packing clothes in your travel backpack, you have two options:
Free Style:
Go the slightly chaotic, old-school route of freely packing them into your travel backpack. So, when you open your backpack, your clothes are right there, just like in your dresser drawer.
Packing Cubes:
Organize your clothes by type (t-shirts vs shorts) or climate (cold vs warm destinations) and pack them into packing cubes. When you open your backpack, you see packing cubes instead of clothes.
Free Style
I'll be honest. This is how I used to pack backpacks. I thought: "Packing cubes — what's the point of putting bags inside of bags?"
If you go the free style route in packing your clothes, pack the heavier items towards the backpack's back. Meaning: towards your back.
Roll most of your clothing, except the bulky items (wear the bulkiest on the plane). This way, they take up less room.
Remember, you want the weight to sit as close to your body as possible. Plus, pants — the clothing that's usually heavier — are easier to pack with a wide, flat area. Layer your smaller items (i.e. t-shirts, shorts, tank tops) on top of the pants.
Finally, use the pockets lining the backpack for your socks and underwear.
Packing Cubes
Once I bought my first packing cube, I felt like what Miami felt the first time cocaine hit its white sandy beaches: addicted.
Use packing cubes to keep your clothes organized. Or, to stuff more clothes into a small space and look like a minimalist packer, but, really, your backpack weighs as much as a baby elephant.
(Ahem, I wouldn't know annnnny-thing about that. Really.)
I use packing cubes to organize the space inside my backpack. Usually, I bring two packing cubes.
In one medium-sized packing cube pack:
In the second larger packing cube pack:
T-shirts
Shorts
Tank top
2nd pair of jeans
If you're traveling for longer than 2 weeks and traveling across many climates, use packing cubes to split up your wardrobe based on climate.
One packing cube has your summer clothes (swimsuit, tank tops, breezy tops, shorts). The second packing cube has your winter clothes (cardigan sweater, Merino wool long sleeve shirts).
Designate a third packing cube as an "Essentials Packing Cube" for your underwear and socks.
And yes, roll your clothes, even when you're using a packing cube. Trust me.
Where to Pack Clothes in a Travel Backpack
Fit the packing cubes into your backpack like a jigsaw puzzle.
If you've chosen a travel backpack with cubes designed to fit perfectly within it, then this is easy. If not, aim for the largest (aka heaviest) packing cube to go in the middle of your backpack. Arrange the smaller ones like moons around the big, heavy planet (ahem, packing cube).
What Goes in the Hip Belt's Zippered Pockets
Ah, this one is easy!
What are the items that hang out in your pants pockets? Or, are always hopping in and out of your purse?
My guess: your smartphone, Burt's Bees lip balm, credit cards, and ID.
Add plane tickets, if you're going with old-school paper tickets, and voila, those are the items to put into your hip belt's zippered pockets.
Meaning: your most precious items that are always being handled.
Your TSA Liquids Bag Goes Here
Two spots for this clear baggie stuffed with your 3 ounce liquids:
Right at the top of your backpack where the main compartment zippers meet: this is my *favorite* spot because a) easy to grab and b) funny little space is usually empty after packing my travel backpack
Inside the front zippered pouch: this pocket usually houses the organizational panel. This pouch is easily accessed and usually has some space for your baggie.