How to Pack a Backpack for Travel
The Tortuga Promise
At Tortuga, our mission is to make travel easier. Our advice and recommendations are based on years of travel experience. We only recommend products that we use on our own travels.
How you pack can be as important as what you pack.
If you're traveling carry-on-only with just a backpack (as we recommend), you'll want to pack so that you're making the best use of your limited space, keeping everything organized, and making your bag comfortable to carry. You can do all three with just a bit of planning.
Whether you've just ditched your suitcase or are a seasoned backpacker, this article will help you understand what to pack where to make the best use of your travel backpack.
Choose the Right Travel Backpack
Before we discuss how to pack it, you'll need to have the right kind of backpack. Not a hiking backpack as you see most travelers carrying but a travel backpack.
What's the difference?
A travel backpack is carry-on-sized and opens from the front, like a suitcase for easier organization. For international trips, you'll want a true travel backpack. Carrying a hiking bag is using the wrong tool for the job. They're too big to carry onto a plane and top-loading, which makes them a disorganized mess.
A travel backpack is designed to be used as luggage and carried comfortably around the world.
In addition to being carry-on-sized, you'll want a bag that's built for organization. Your backpack should open from the front, for easy access to all of your stuff at once. This is where a hiking bag falls short.
You'll also want separate compartments and pockets for organization. We'll cover what to pack in each compartment and pocket later in this article. For now, just make sure you have one or two main compartments for your clothes, a separate laptop compartment, and additional pockets for quick access.
Tortuga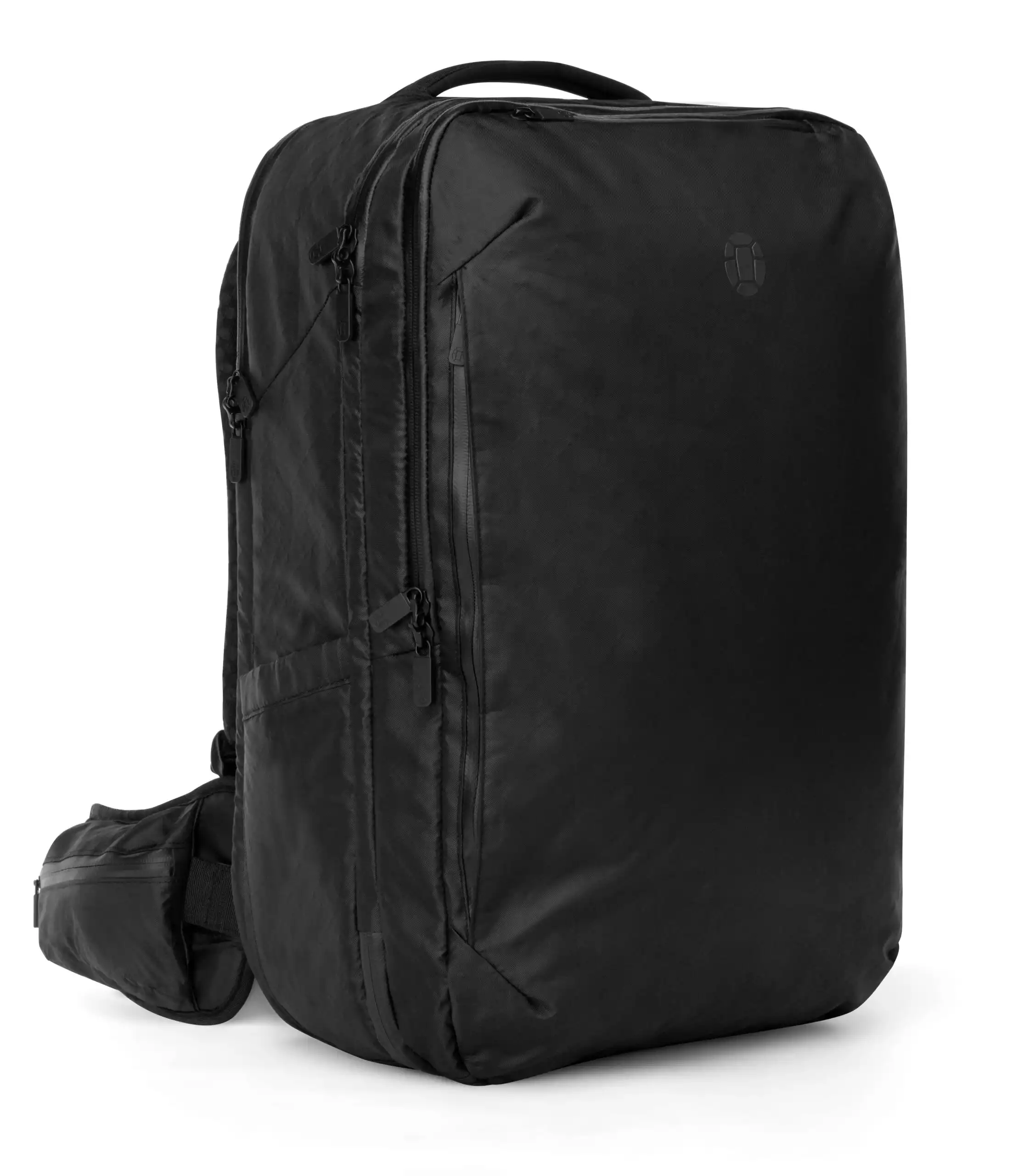 The Travel Backpack has all of the above. It's carry-on-sized, opens from the front, and contains enough compartments and pockets to maximize your organization. Plus, the front pockets give you extra space for all the little stuff that you want within reach as you travel.
Next, let's move on to what to pack everything in your travel backpack.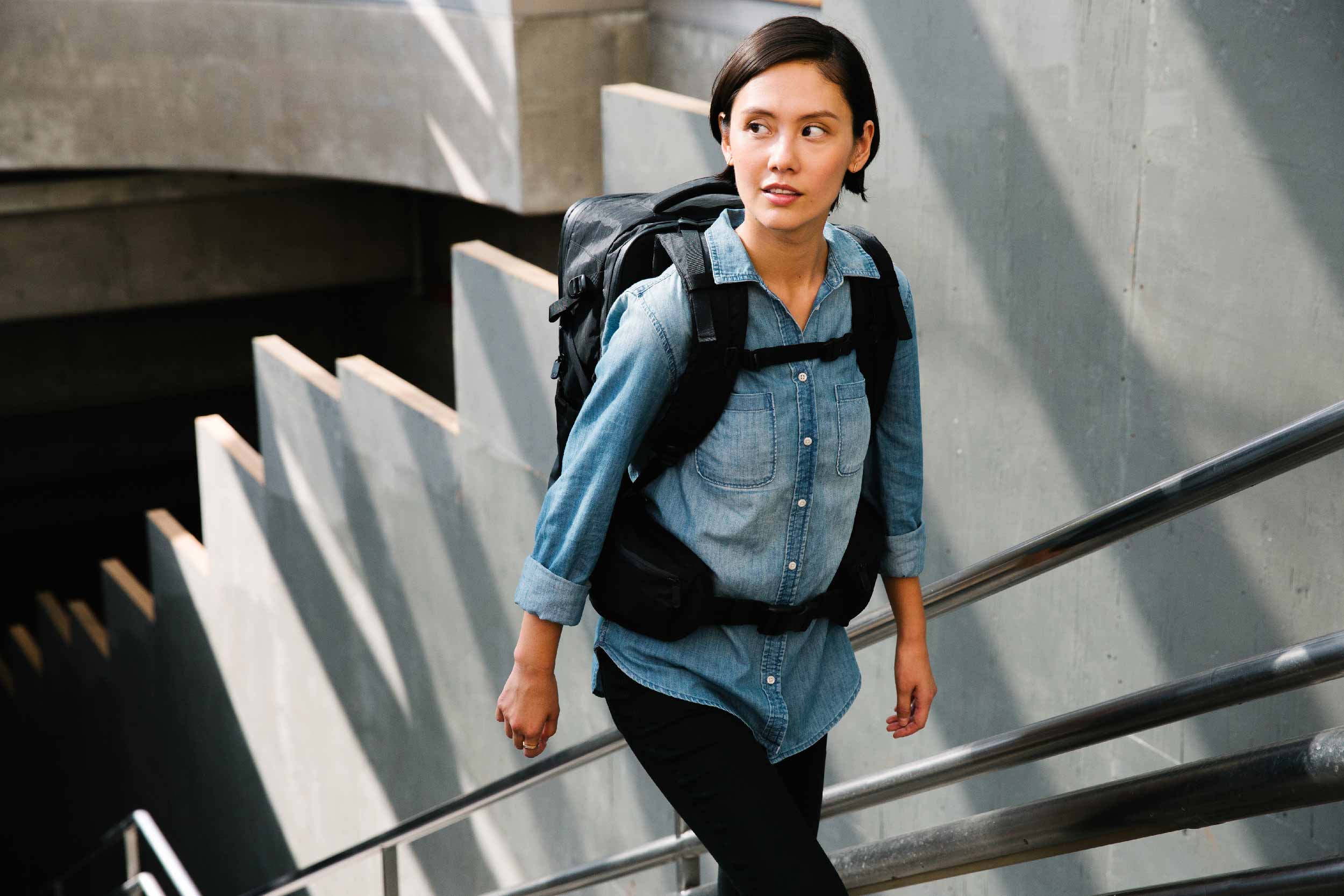 How to Pack a Backpack for Air Travel
What Goes Where
Now that you have the right bag, we can cover what to pack where. We'll cover the basics here then move on to the specifics.
If you aren't sure what to pack, start with the basic Carry on Packing List then check the specific packing list for your destination.
Clothes: Your clothes will go in the main compartment of your bag. If you're carrying a separate personal item, you can stash an extra layer in there for the flight.
Toiletries: Your one quart toiletry bag can go either in the main compartment or in the front pocket of your bag. The latter is better for taking it out at airport security. If you have TSA PreCheck, you can leave your toiletries packed in the main compartment.
Computer: Your laptop (and tablet if you're carrying one) go in the laptop compartment which should be next to your back.
Water Bottle: Your water bottle goes in one of the stretchy side, water bottle pockets of your backpack.
Everything Else: Everything else you need in-flight, like a Kindle or snacks, should go in the front pocket of your bag or in your personal item. Small items like tickets or paperwork can go in the hip belt pockets of your bag so that they're always handy as you move through the airport.
Weight Distribution
Managing the weight of your backpack is the most commonly overlooked part of packing. Where you pack specific items matters for distributing the weight of your pack well and making it comfortable to carry.
Which makes more sense: packing your computer next to your body or as far away as possible? Next to your body, of course. The same principle applies to the rest of your stuff.
Put as much of your bag's weight as close to your body as possible. This keeps the center of gravity next to your body, not 9″ away from you. Packing this way serves two purposes. First, your load is easier to manage since it's closer to your body. You'll be more aware of your bag's size and weight and will bump into fewer people and things. Second, your bag will be more comfortable to carry. If the weight was farther from your body, your backpack would feel heavier and pull more on your shoulders.
Heaviest Stuff: Put your heaviest stuff as close to your body as possible and in the vertical middle of your pack. Heavy things should not be at the top or bottom when you're wearing your backpack. Your heaviest stuff might be a pair of shoes or your laptop. The latter should have a dedicated compartment or sleeve next to your body.
Medium-Weight Stuff: Medium-weight items go at the vertical top of your pack.
Lightest Stuff: Lightweight stuff, usually clothes, go at the vertical bottom of your backpack.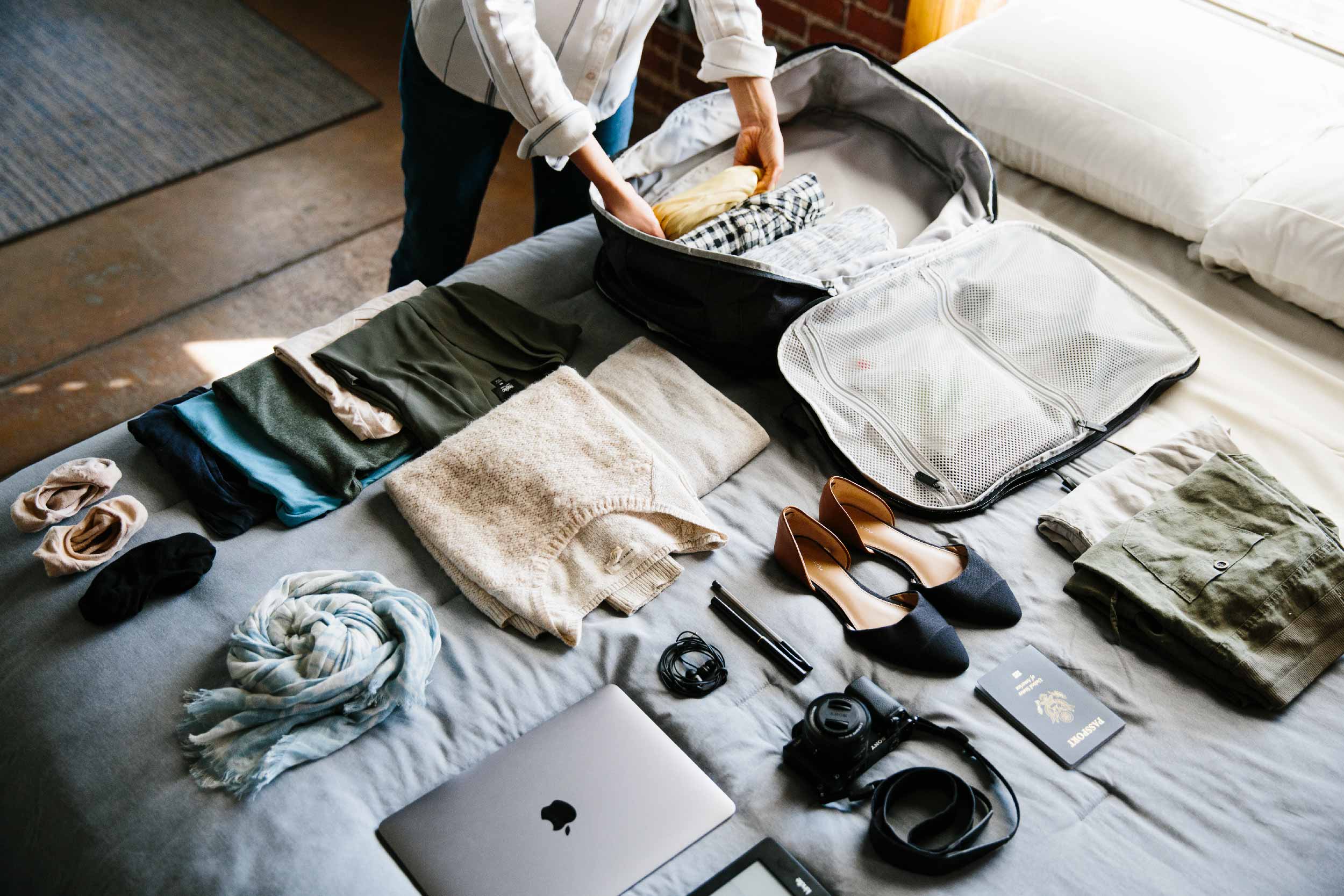 How to Pack Clothes
With the guidance from the last section in mind, let's focus on packing clothes.
You should wear your bulkiest shoes and clothes on the plane. If, after that, you're still packing something heavy, like thick jeans or a second pair of shoes, place those in the vertical middle of your bag as close to your body as possible.
Mid-weight clothes can go above (vertically) the heavy stuff. Lightweight clothes, like t-shirts or underwear, can go at the bottom of your backpack. Just make sure to pack them tightly so that they don't collapse under the heavier stuff above them.
Your toiletry bag should be packed for easy access at airport security, even if it means a sub-optimal place in your bag for weight distribution.
Rolling vs. Folding
We've covered where to pack but what about how to pack?
Rolling clothes is better than folding because it allows for more efficient packing and fewer wrinkles. But we actually recommend a hybrid rolling plus folding approach to packing.
If you want to level up your organization with more modular packing, consider adding a set of packing cubes.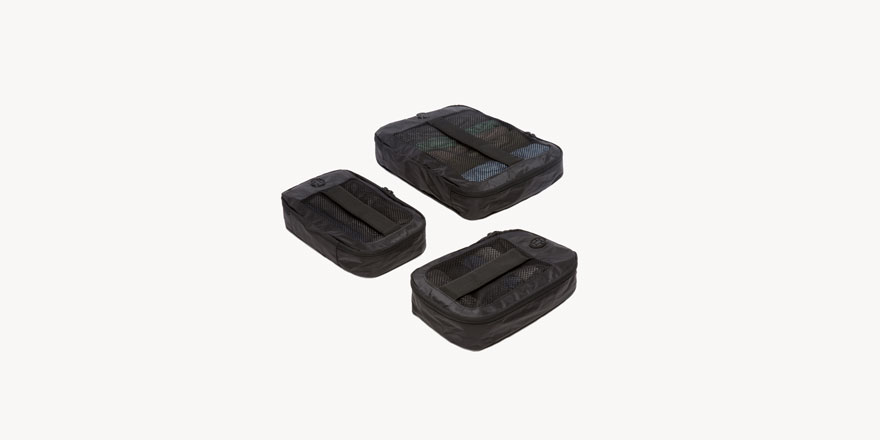 Packing Cubes
The Packing Cubes are a set of three (one large and two small) cubes that fit perfectly in the Travel Backpack.
If you're traveling for longer than two weeks and traveling across multiple climates, use packing cubes to split up your wardrobe based on weather.
One packing cube holds your summer clothes (swimsuit, tank tops, breezy tops, shorts). The second packing cube holds your winter clothes (sweater, long sleeve shirts).
Designate a third packing cube as an "Essentials Packing Cube" for your underwear and socks.
Tortuga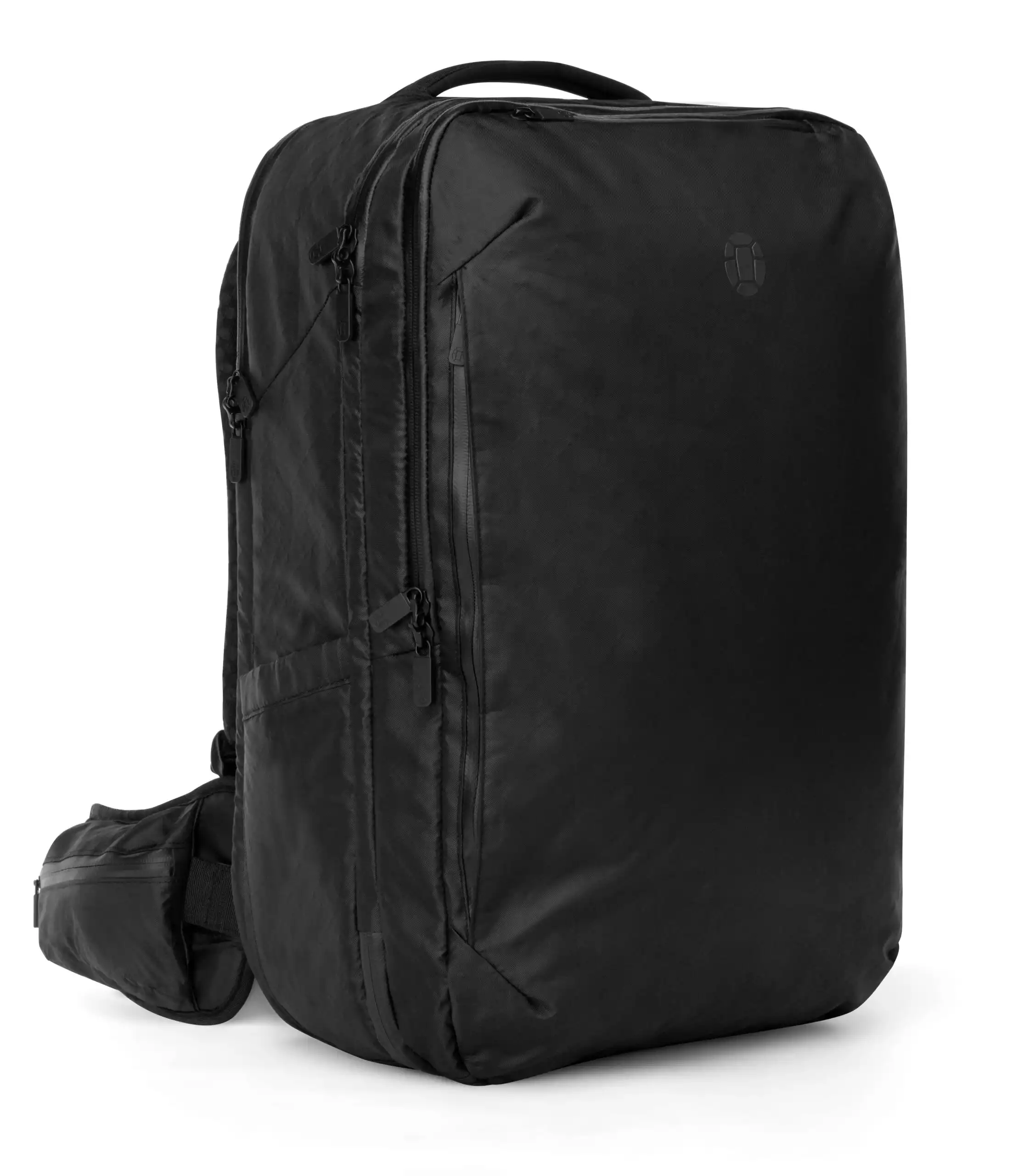 How to Pack for International Travel
Choose a real travel backpack to make your packing as easy as possible. The best bags are made so that you pack well by default. Pack your computer and anything else heavy as close to your body as possible. Roll most of your clothes and use a set of packing cubes to keep everything organized and easy to reach.