The Ultimate Carry On Packing List
The Tortuga Promise
At Tortuga, our mission is to make travel easier. Our advice and recommendations are based on years of travel experience. We only recommend products that we use on our own travels.
As I stood next to the luggage carousel waiting for my bag, I realized the absurdity of the situation.
I was in Frankfurt, the first stop of a two-week backpacking trip through Europe. Traveling light. Traveling fast. Staying flexible. We hadn't booked any train tickets or hostels past our first stop in Germany's financial capital.
Why was I waiting (with fingers crossed) for my backpack?
I shouldn't be at the mercy of the airline. I should control my own destiny. This was my "aha" moment.
Tortuga
Checking luggage made no sense.
Now, years later, baggage fees have become a given, and checking luggage makes even less sense.
If you're reading this article, you've had that same "aha" moment.
Whether you've always packed light or are a recent convert to the carry on club, you're in the right place.
In this article, you will find a complete carry on packing list with the clothes, toiletries, electronics, and paperwork you'll need to travel for a week or more in just a carry on. Each section includes links to some of our favorite products to get you started.
If you just want the packing list, add your email to the form below, and we'll send it to you.
No matter what type of trip you're taking, you can find a specialized packing list for that trip. The purpose of this article is to provide you with an all-purpose, carry on packing list for any trip you plan to take.
If you've never traveled carry-on-only before, start with Step Down to Carry On. In that article, you'll learn how to move from checking your luggage to carrying it on.
What to Pack in a Carry On
A carry on is your main piece of luggage which you'll store in the overhead bin during your flight. You'll pack your clothes in your carry on.
If you're carrying a second piece of luggage, it's considered your personal item and must fit under the seat in front of you. Since your personal item will be at your feet during your flight, you can pack your electronics, toiletries, medications, paperwork, and snacks there. If you don't plan to pack a personal item, all of that must fit in your carry on.
Before we get into the details, familiarize yourself with the airlines' carry on rules and our principles for packing light.
Packing is like grammar. You have to know the rules before you can break them.
Below, we've broken the below packing list into categories: luggage, clothing, toiletries, electronics, paperwork, and other gear. After these sections, you'll find some help on how to pack difficult things, and a downloadable, printable packing list to help you pack for your next trip—and every trip after it.
Carry On Luggage
Carry On Backpack
The easiest way to pack carry-on-only is to buy a carry-on-sized bag. Having the "constraint" of your bag will limit how much you pack and ensure that you don't go over your airline's size limits.
When choosing your luggage, consider the length of your trip, your travel style, and whether or not you'll be bringing a personal item.
Tortuga
Tortuga Travel Backpack
The Travel Backpack comes in two carry-on-friendly sizes: 30L for shorter trips and 40L for the maximum international carry on size for most airlines including budget airlines.
Your clothes will be organized and easily accessible through the front-panel opening, unlike with most backpacks. You'll also be able to move around quickly and easily by carrying a comfortable backpack instead of dragging around a suitcase that wasn't designed for city travel.
If you're traveling without a personal item, the Travel Backpack is ready with padded, laptop and tablet sleeves for your electronics and plenty of organization for everything else on your list.
Personal Items
If you're traveling with a carry on and a personal item, consider a backpack.
The size rules for personal items vary by airline. Some airlines don't even publish guidelines. Make sure that you're carrying your personal item—no wheeled bags—and that it fits under the seat in front of you.
Don't carry an extra bag just because you can. Your personal item should make your trip easier, not harder.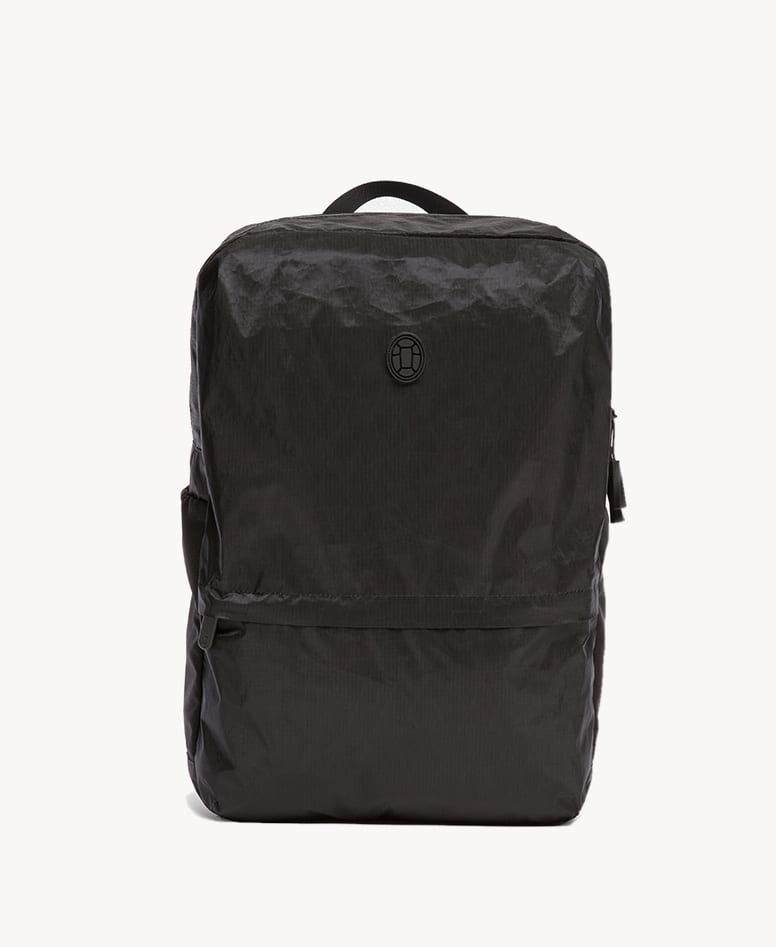 Tortuga Daypack
Pack the Tortuga Daypack flat in your carry on for one bag travel.
When you arrive at your destination, bring your daypack on any day of adventure: from sightseeing to working remotely at a cafe.
The compact size and light weight make it a perfect secondary bag. You also won't have to worry about the weather thanks to the water-resistant materials and hardware.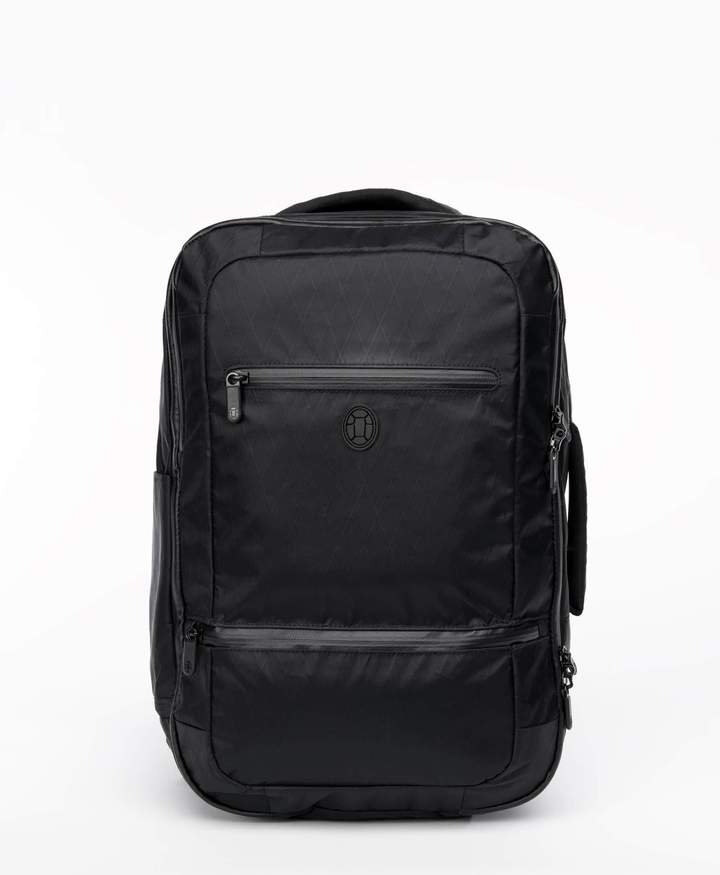 Tortuga Laptop Backpack
The Tortuga Laptop Backpack is a larger secondary bag with more structure and protection for your electronics.
Slide the backpack under the seat of most airplanes and carry all your electronics, chargers, a change of clothes, and your in-flight essentials.
It's the perfect companion to a duffle bag or rolling suitcase.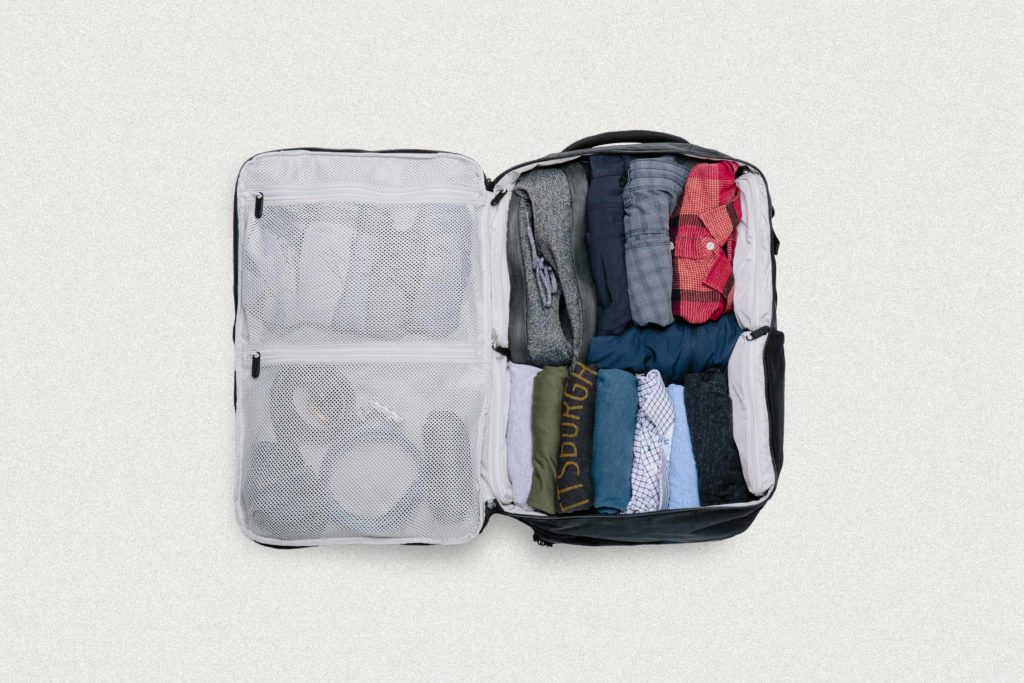 Clothes
Doug Dyment is the author of OneBag, one of our favorite resources for packing light. He eloquently stated the purpose of a packing checklist,
"The primary purpose of the list is not to specify what you will take with you on any particular journey, but to serve as a model for your travels, a constraint on your packing exuberance, a personal blueprint that you can refine over time (not change every time)."
With this purpose in mind, we'll start with clothing. This list is a suggestion—a framework—rather than a list that every single person should conform to.
Your wardrobe will vary by your style, trip length, and the weather at your destination.
The secret to packing easily in only a carry on bag is to develop a capsule wardrobe of mix-and-match pieces that combine into a variety of outfits. Choose the core pieces of your wardrobe in neutral, coordinating colors for flexibility. Then add accent pieces and accessories to reflect more of your personal style.
The packing list below includes our suggestions but is adaptable to your style. Are you a jeans and t-shirt person? Skew your list toward those items and cut other stuff. Prefer dresses and leggings to shirts and pants? Bend the list to match what you want to pack.
This packing list is designed to give you a starting point and to show you just how much you can fit in a carry on bag. Please substitute items to maximize your comfort and happiness.
The goal is to make packing easier. Once you're packed, you shouldn't have to think about your clothes.
Outerwear
If you're on a winter trip, travel gear is easy. Wear, don't pack, a warm coat. Down, down alternatives, and fleece work well to keep you warm while remaining small and easy to pack if needed.
Compare some of the best travel jackets and choose one that's packable and lightweight. Uniqlo's Ultra Light Down Jackets (men, women) are good options.
Merino wool layers plus a down jacket will provide enough warmth for almost any weather.
For rainy weather, get a packable rain jacket. It will keep you dry when in use and pack away into your bag when the weather dries up.
Make sure that you can either wear your coat while in transit (heavy winter coats) or pack it away inside of a pouch. You can't afford to waste your limited packing space on a coat.
Tops
4 short-sleeve shirts
2 long-sleeve shirts
Feel free to shift these numbers around depending on the weather. Packing six shirts and wearing one will give you a week's worth of different tops without repeating (or washing) any of them. Not that anyone would notice.
Compare travel t-shirts if you're looking for an upgrade. Otherwise, pack what you already own.
Merino wool and wool blends will give you the best performance but are expensive. High-quality wool is won't stink or wrinkle and can easily be hand washed on your trip.
For a cheaper option, look at tri-blend shirts that blend cotton with synthetics like polyester. You'll get performance similar to wool but at a fraction of the price.
Avoid 100% cotton clothing when traveling. Cotton wrinkles easily and takes forever to dry if you have to wash it.
Plan to pack in layers rather than wearing anything too bulky. For cold weather, think t-shirt plus long-sleeve shirt plus lightweight sweater. Not giant, heavy sweater.
Bottoms
2 pants, shorts, or skirts
1 pair of gym shorts, if you plan to work out
1 swimsuit, if you plan to swim
Choose between long or short options depending on the weather on your trip.
Including the bottoms that you're wearing, you will have three total options. Those will get you through the week without repeating any one item too much.
Pants can be bulky, so pack conservatively. If you plan to bring jeans, wear them when in transit. Otherwise, they'll take up too much space in your bag.
A lightweight pair of gym shorts are good for working out, lounging, sleeping, or swimming (for guys). Include a swimsuit if you plan to be in the water.
Underwear
With the right fabrics, you can be as stingy as you want with underwear, but we'll take a more practical approach.
Combined with what you're wearing, this will get you through an entire week without doing laundry.
If you're willing to hand wash your undergarments, you can pack as few pairs as you want.
We recommend modal or synthetic fabrics for underwear because they're lightweight, easy to pack, and dry quickly after washing.
For socks, consider wool for its anti-odor properties. Personally, I only ever pack two to four pairs of socks depending on the length of my trip. I always re-wear and wash them during longer trips.
Shoes
The easiest way to create more space in your bag is to not pack any shoes. If you can limit yourself to one pair of shoes—the ones of your feet—you'll have much more packing space and a noticeably lighter bag.
However, that's not always practical. If you're bringing a second pair of shoes, wear the heavier pair on the plane and pack the lighter pair.
Your boots or sneakers might not be as convenient for air travel, but they'll use up too much space in your bag. Wear them even if they don't make sense with your flight outfit or destination weather.
Sandals, flip flops, ballet flats, boat shoes, and espadrilles all pack reasonably well. Think small, flat, and light. Avoid anything with thick soles or heavy padding.
Accessories
1 scarf, sarong, or wool buff (neck gaiter)
1 pair of sunglasses
Glasses or contacts, if needed
Pack the necessities you need plus multi-functional items, like a scarf or a buff, that you can use in multiple ways. The latter is handy when you need to cover your hair or your nose and mouth or create a makeshift eye mask.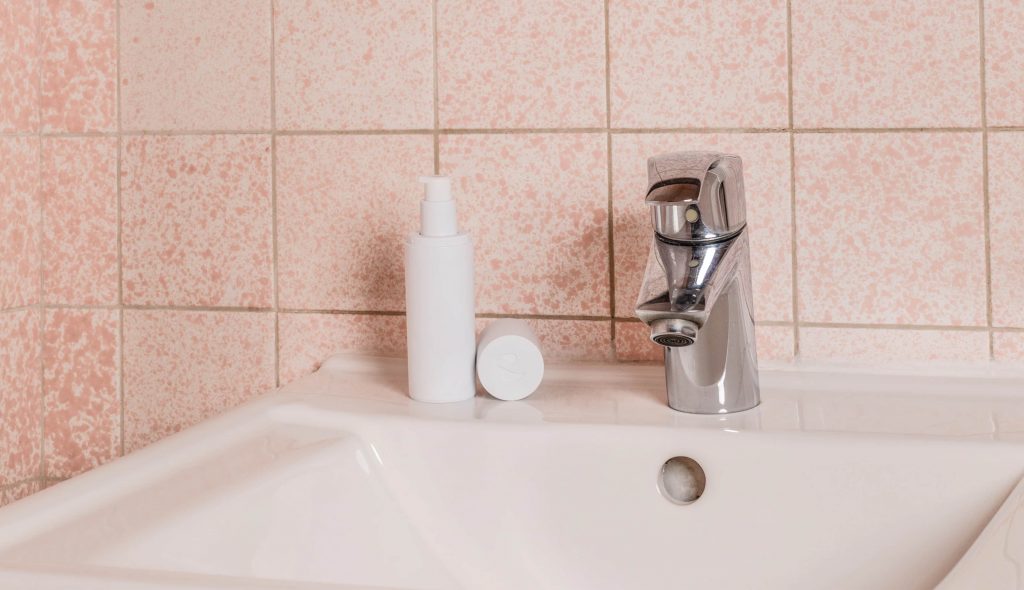 Toiletries
The 3-1-1 Liquids Rule
Toiletries have their own set of rules—decided by the TSA and international equivalents—rather than the airlines.
The 3-1-1 liquids rule states:
Each passenger may carry liquids, gels and aerosols in travel-size containers that are 3.4 ounces or 100 milliliters. Each passenger is limited to one quart-size bag of liquids, gels and aerosols.
Your liquids and gels must be in 3.4 ounce (or less) bottles. Those bottles must fit into a one-quart plastic bag. Each passenger may only carry one such bag.
Since you're traveling carry-on-only, you'll need to follow these rules. Like with the size of your bag, constraints are helpful.
Pare your toiletries down to just the essentials so that you can fit everything in your quart-size bag. Only pack the stuff you use ever day, not every single thing in your bathroom.
Another option is to swap out wet items for dry varieties. Switching to bar shampoo and conditioner and mineral makeup can free up a ton of space in your quart-sized Ziploc bag.
Buying at Your Destination
If space is at a premium, don't even pack toiletries. Basic toiletries can be bought at your destination, often for less than you would pay at home.
If you buy your toiletries instead of packing them, you don't have to worry about the 3.4 oz bottle rule. You can buy any size you want. Sample sizes of soap, shampoo, and face wash won't last through longer trips anyway. If you don't pack any liquids, you won't have to take your toiletry bag out at security either.
Minimalist Toiletry List
For a less extreme but still minimal approach, pack the bare necessities: a toothbrush, toothpaste, deodorant, and soap or face wash. This list is just to feel human while flying. Buy the rest of your supplies when you land.
For anything that you must pack, you can find travel-sized products at Target or Walmart as well as directly from the company for smaller brands.
Toiletry Bottles
If you can't find your favorite brand, want to save money, or want to be more eco-friendly, buy normal-sized toiletries and pour what you need into GoToobs. I use a three-ounce GoToob when I need to pack body wash for short trips.
To save space, use Dr. Bronner's Magic Soap. The liquid version is concentrated and can replace your soap, shampoo, shaving cream, and even detergent.
One liquid to rule them all.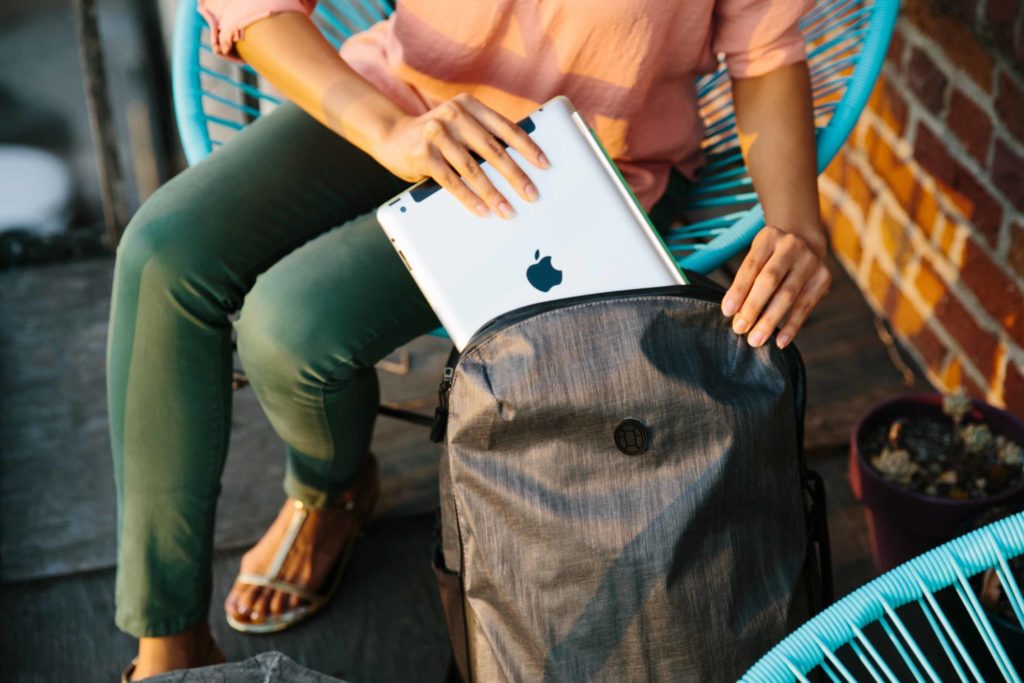 Electronics
Let's talk about electronics and packing for a minute.
First question: Do you really need them? If you're working as you travel, the obvious answer is, "Yes." If so, think carefully about exactly what you need to take.
Second question: Can you downsize? Do you really need your laptop or can you get by with a tablet or just your phone?
Pare down your packing checklist and carry as few electronics as possible. They're bound to be the heaviest things in your bag.
Unlocked Smartphone with Local SIM
Carrying an unlocked smartphone will enable you to swap in cheap, local SIM cards in most countries. Buy the SIM card at your destination for low-cost voice, SMS, and data plans. The local approach is cheaper than using US carriers' roaming plans and easier than being dependent on WiFi.
Of course, if you have T-Mobile's Simple Global plan, you'll have unlimited—albeit slow—data and texting in 210+ countries when you land.
Smartphone Charger
My #1 most forgotten item. Even the pros make mistakes.
Headphones
For listening to music or podcasts on long flights and for calling home. I use the Apple AirPods but any earbuds or wired headphones will do. Over-the-ear noise-canceling headphones are also a great option especially when on the plane.
Travel Adapter
Pick an adapter with dongles to fit plugs in any region of the world.
Really, that's all you need. Many travelers make do with even less. If you're a digital nomad or plan to work from the road, then you'll also need your computer setup.
Laptop
Apple's Macbook Pro and Macbook Air are popular choices, but a cheap Chromebook can work well too depending on your needs. Smaller and lighter is always better for travel.
Laptop Charger
My least favorite item to pack because it's bulky and awkwardly shaped.
Here are a few more options depending on your tech needs and preferences.
Tablet
For reading, watching movies on the plane, and simpler tasks that don't require a laptop. If you're already carrying a phone and laptop, the tablet is a luxury and requires another charger and cord.
Kindle
A Kindle or other e-reader is ideal for readers with dead time on flights or train rides. I love to read. While I strongly prefer physical books, I switch to my Kindle on trips because it allows me to bring multiple books without the weight.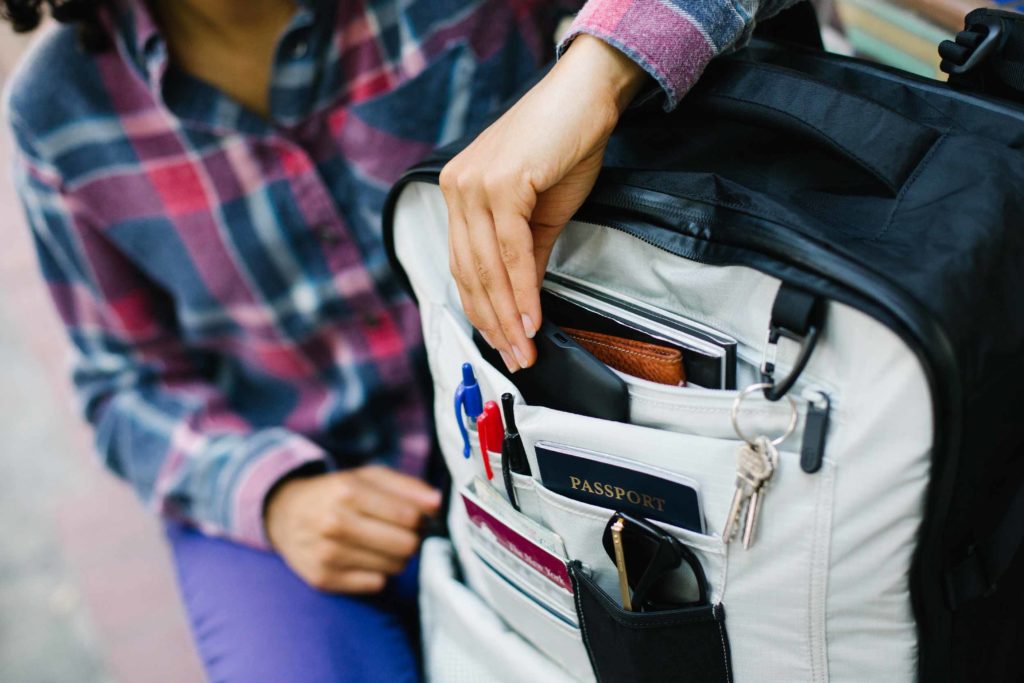 Paperwork
Passport and Visa
Don't leave home without it. Passport and visa requirements vary by country. To be safe, make sure that your passport is valid for six months beyond the end of your trip.
The US State Department recommends renewing your passport nine months before it expires. You can apply for or renew your passport through the State Department's website.
I put my passport on top of my backpack so that I can't forget it. More than once, I've been halfway out the door before remembering it.
Check with your destination country as to whether or not you will need a visa prior to arrival. Many countries offer "visa on arrival" which doesn't require you to do anything in advance of your trip. Other countries will require you to get approval and a visa before you leave. In that case, you'll receive a visa stamp or other paperwork in your passport. Bring everything you're given just in case you have any issues entering your destination country.
Local ID
A form of identification from your home country, for example, a driver's license, can serve as extra proof of your identity if needed.
Boarding Pass
After your passport, your boarding pass is your most important document.
Mobile boarding passes are convenient, but make sure that you'll have internet access via your phone if you plan to use one. Or, take a screenshot of it.
Copy of Your Itinerary
Some countries won't let you in without a guarantee of when you'll leave. Pack a copy of your complete itinerary—including evidence of when you'll leave the country—to appease border security. They want to know that you have plans to leave and won't overstay your visa.
For your own convenience, print out the details of your transportation from the airport to your accommodations (if you've booked anything), the address of where you're staying (for customs forms and taxi drivers), and confirmation of your visa on arrival (if applicable).
I like to save all of this information in TripIt for my own reference and convenience. However, paper copies are better for border crossings and for when you don't have internet access or a local SIM card.
Copies of Your Important Documents
Make copies of your passport, ID, credit cards, and debit cards.
If your passport is stolen, you'll have an easier time getting another one if you have a copy of the information page from your original. If your wallet is stolen, you can reference the copies of your cards to find the phone numbers to call to cancel your cards. You should also send a paper or virtual copy of these documents to a trusted friend or family member in case of emergency.
Extra Passport Pictures
Pack a few extras as some countries, like Vietnam, require passport photos on entry. You can get extra photos taken at drug stores, photography studios, or consulate offices. You shouldn't have to pay more than $1-2/photo.
Petty Cash
Having a few US dollars stashed in your bag can come in handy upon reentry or if you have to "tip" anyone in your travels. I've run into a handful of problems that went away thanks to having some hard currency.
Debit Card Without Bank Fees
Carry a debit card that won't charge you a fee every time you need cash abroad. Either use a bank in the Global ATM Alliance or get an account—like the Schwab Bank High Yield Investor Checking Account—that will refund your ATM fees.
Credit Card Without Foreign Transaction Fees
Make sure that your credit card isn't charging you an extra 3% "foreign transaction fee" and is earning you points or miles on your spending. Check out the Points Guy's list of the best credit cards for travel. Personally, I use the Chase Sapphire Reserve as my main card and the American Express Platinum as my backup.
Whether you're using a credit or debit card, always pay in the local currency. Some stores and restaurants will ask. Or you may see the option on the credit card reader. You'll get better currency conversion rates through your card than through the store or their card processor.
Tortuga
Other Travel Gear
This is the catchall portion of the travel checklist before we get into how to pack things. Gear includes the miscellaneous things you might invest in to make travel easier or more comfortable.
Luggage Lock
A small, TSA-approved padlock is a great theft-deterrent, especially if you will be traveling on trains and buses or staying in hostels. Make sure your suitcase or backpack has lockable zippers.
Packing Cubes
If you need more organization than your luggage offers, use packing cubes. A set of three or more cubes will help you separate your clothes and keep them organized.
The Tortuga Packing Cubes are specifically designed to fit the Travel Backpack perfectly, maximizing both space and organization.
Travel Towel
A lightweight, packable travel towel is handy even if your accommodations provide towels. These thin, microfiber towels dry quickly and pack into a small pouch in your luggage. The tradeoff is that they aren't as plush and warm as a big cotton bath towel.
I've used the REI Multi Towel Lite ($16-36) and the PackTowl Original ($10-24) in the past, but any similar product will do the job.
Water Bottle
Carrying your own water bottle can help you stay hydrated without going through too many disposable plastic bottles. I recommend one so that you can bring a full bottle of water on your flight and don't have to rely on the meager cup you'll get from the flight attendant.
Check out our water bottle guide for our favorite lightweight, insulated, and filtering bottles.
Earplugs and Eye Mask
If you'll be taking long flights or overnight trains or staying in any shared accommodations, earplugs and an eye mask will help you get a decent night of sleep.
Pen
For filling out customs forms.
Notebook
For documenting your trip, taking notes, journaling, or getting addresses written in the local language.
Ultimately, your gear depends on your travel style, where you'll be staying, and what you'll be doing. Feel free to customize this list to your needs.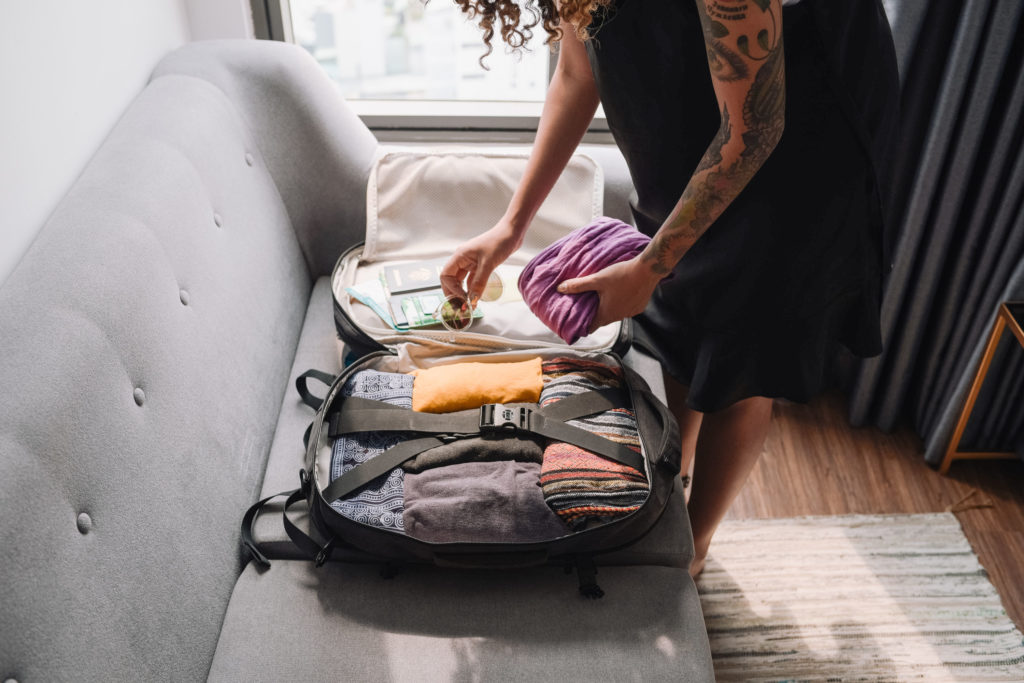 Carry On Packing List
Clothing
1 coat of jacket*
4 short-sleeve tops
2 long-sleeve tops
2 bottoms (pants, shorts, or skirts)
1 pair of gym shorts*
1 swimsuit*
6 pairs of underwear
6 pairs of socks
2 bras*
1 pair of shoes*
1 scarf, sarong, or wool buff (neck gaiter)
1 pair of sunglasses
1 pair of glasses or contacts*
Toiletries
Toothbrush
Toothpaste
Deodorant
Soap or face wash
3.4 oz refillable bottles*
1 clear, quart-sized, zip-top bag
Electronics
Smartphone with international plan or unlocked for a local SIM
Smartphone charger
Headphones
Travel adapter*
Laptop or tablet with charger*
Kindle or other e-reader*
Paperwork
Passport
Visa*
ID
Boarding pass
Copy of itinerary
Copies of important documents
Extra passport pictures
Petty cash
Travel-friendly debit and credit cards
Other Gear
Luggage lock
Packing cubes
Travel towel
Water bottles
Earplugs and eye mask*
Pen
Notebook
*If needed.
Here's the complete list of what you should pack in your carry on in a handy graphic. Click the image to see the full-sized version.

How to Pack Clothes in a Carry On
Now that you've got everything out of your closet and ready to be packed, how do you actually get it all in your bag? Should you roll your clothes or fold them? What goes where?
The answer is, it depends. Believe it or not, there is a right way to pack, and learning to pack well will lower the stress level of your travels.
Learn how to pack clothes to reduce wrinkles. And think through what goes in your carry on and what goes in your personal item.
Packing light is about more than just saving money. Packing light minimizes your physical and mental burden.
Trade stuff for convenience, flexibility, and fun.
Travel is about what you did and saw and ate and who you were with, not which clothes you brought.
Don't worry about your gear or your packing. We'll take care of it for you. We spend inordinate amounts of time thinking about, discussing, and researching this stuff. We've already done the heavy lifting for you.
To simplify your future travels, bookmark this page. You can always come back to this basic carry on packing list when you aren't sure what to bring.
Once you get some "reps" of traveling carry-on-only, you won't need the list anymore. You'll figure out what you really wear and use on the road. Your travel kit will become as effortless as your everyday carry.