Bahamas Packing List: What to Wear in Nassau and Beyond
The Tortuga Promise
At Tortuga, our mission is to make travel easier. Our advice and recommendations are based on years of travel experience. We only recommend products that we use on our own travels.
The Bahamas are one of the most popular beach destinations in the world for a reason. Chances are when you imagine your ideal beach landscape, you're picturing a scene that could be straight out of this stunning island chain. Paradise or not, you want to go prepared. That means having a proper Bahamas packing list.
I know from personal experience having shown up to my first Bahamas trip unprepared. The clothes I packed were all wrong, and I made the rookie mistake of neglecting to bring along sunscreen. No one wants to pay sky-high tourist prices on arrival.
The Bahamas packing list below includes all of your tropical paradise essentials. You'll also find some additional tips to help plan your vacation.
Tortuga
The Best Backpack for the Bahamas
The planes that fly between the islands can be tiny and have stricter size and weight allowances for luggage than your flight to the Bahamas will. While your first checked bag is free on Bahamas Air's domestic flights, you don't have to check a bag.
Bahamas Air allows you to bring one personal item and one carry on item on board, so long as your carry on is less than 22 x 14 x 9 inches and weighs less than 20 lb (9 kg).
The Tortuga Travel Backpack fits perfectly within these size restrictions, allowing you to make the most out of every square inch afforded you. No other carry on allows you to pack so much and organize it so efficiently.
The Travel Backpack's waterproof sailcloth exterior can be a lifesaver when tropical downpours occur.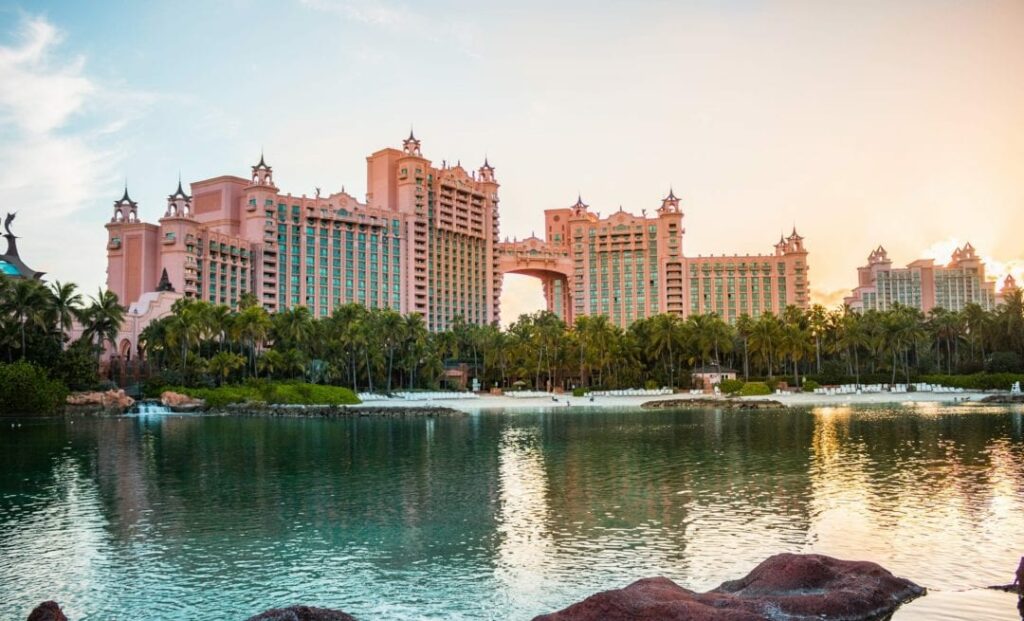 Bahamas Packing List
When putting together your packing list for the Bahamas, consider the weather, outdoor activities, and any dress codes for nights out. Many of the hotels, restaurants, and casinos require jackets for men at night and more upscale clothing for women, especially those in Nassau, Paradise Island, and Freeport.
3-5 pairs of socks
4-7 pairs of underwear
2 bras (1 sports bra)
3-5 assorted tops (tanks & tees with 1 long sleeve for layering)
1 nicer outfit for going out
1 pair of walking shoes
1 pair of sandals or flip-flops
1-2 fitness or athletic clothing options
1 cardigan or light sweatshirt for chilly evenings
1 blazer for nights on the town
1-2 swimsuits and cover up
Paddleboarding, snorkeling, and swimming with animals might well be on your itinerary. In the Bahamas, you can swim with stingrays, dolphins, turtles, and even pigs. A swim shirt or rash guard might be in order.
What to Wear in The Bahamas
Attire is pretty straightforward in The Bahamas. It's hot all year round, so be prepared for the tropical heat and humidity. That means showing skin and wearing thin, cool fabrics whenever possible. Leave the sleeves at home, and shorts, skirts, or swimsuits will usually be all you need during the day.
That being said, dinner restaurants tend to be more upscale, so if you plan on enjoying any fancy meals, pack accordingly. As mentioned above, some of the nicer establishments may have dress codes.
When it comes to colors and patterns, feel free to get as creative as you want. In the tropics, bright colors and fun patterns are the norm.
Toiletries to Pack for The Bahamas
All the toiletries you need are available locally so you can always pick up whatever you forget. You can even rely on hotel freebies, but bring along any specific brands you prefer.
Shampoo and conditioner (consider shampoo bars instead)
Toothpaste and toothbrush
Shaving supplies
Contact lenses
Feminine hygiene products of choice
Makeup
Hair products
Face stick sunscreen or zinc (for long days on the water)
Insect repellent
Tissues/handkerchiefs (small packs for emergencies)
Baby wipes (small packages for hand washing or airport freshen-ups)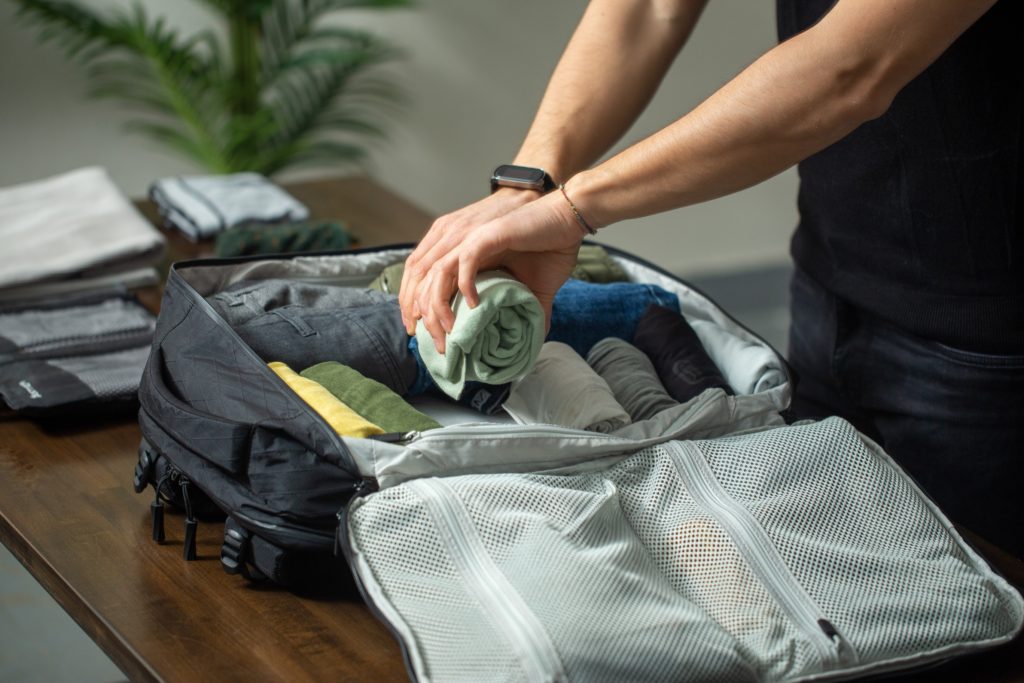 Accessories to Pack for the Bahamas
A few random items you definitely don't want to forget:
A hat to protect your face from the sun and to keep you dry on rainy days
Sunglasses
Rain jacket or travel-sized umbrella (especially if visiting during rainy season)
Travel journal and writing implements
Books or magazines
Electronics and Tech to Pack for the Bahamas
Whether you're attending an international work retreat, or just keeping up with the news and your social media from your beach chair, pack the following electronics for your trip to the Bahamas:
E-reader
Smartphone
Headphones
Camera, memory cards, connecting cables
Laptop computer or tablet (but think twice; do you really need it?)
Chargers
Electrical outlets in the Bahamas are compatible with most American devices at 120 volts. American travelers will not need an adaptor. If your gear comes from somewhere else in the world, consider an adapter and converter to give your gear the juice it needs.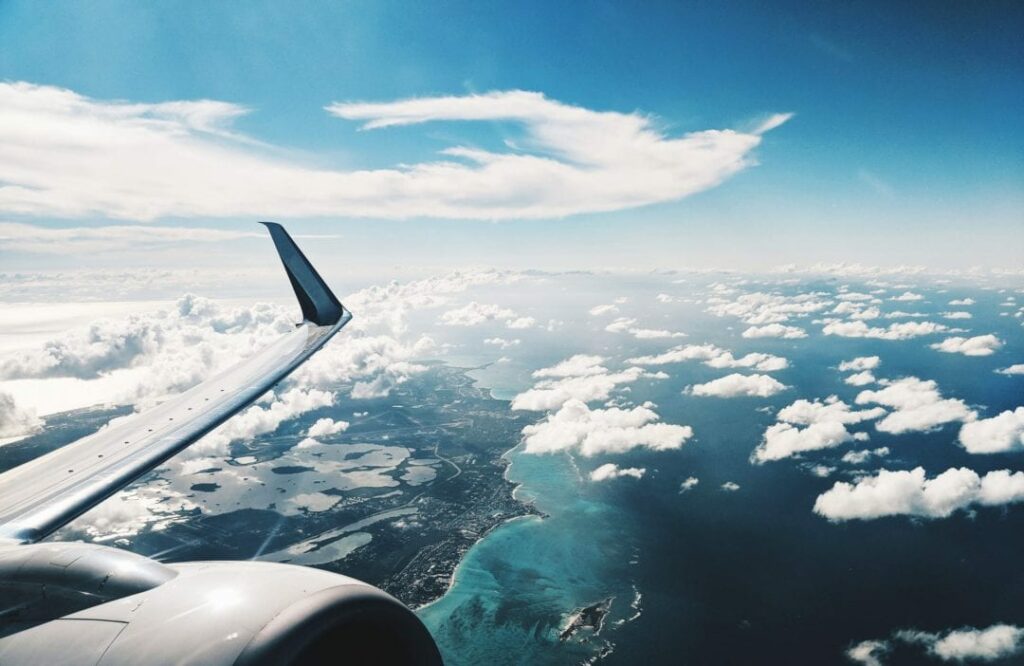 When's the Best Time to Go to the Bahamas?
The islands are always open, always welcoming, and always waiting for you. The real question is, when do you want to go? The holidays tend to be the busiest and most crowded time of year. Some travelers risk the hurricane season and visit in summer when they enjoy blue skies, lower prices, and no need for advanced dinner reservations. Whether you're running from the winter doldrums or adding a stop in the Caribbean to your already warm summer, there's never a bad time to visit The Bahamas. Except when you cross paths with a hurricane. They're rare, but they happen.
Mid-December through mid-April is the most popular time to visit the Bahamas and has the best weather. However, early December, early January, and late February are the best times to go if you want a more budget-friendly trip.
Hurricane season: Early June through the end of November. Prices are lower, but they come with a risk.
Rainy season: May through November.
Peak season: Mid-December to mid-April. Many hotels book far in advance for this time period, especially around Christmas. Make reservations 3-6 months in advance.
Better on the budget: Before Christmas or early January, or late February (before/after Junkanoo Winter Festival and prior to the arrival of spring breakers).
Off-season: Mid-April through mid-December when the crowds are lighter (beware of Hurricane season and buy travel insurance).
Places to Visit in The Bahamas
Packing Tips for The Bahamas
Here are a few random tidbits to keep in mind while preparing for your trip:
Whether you're on a cruise, honeymoon, or laid-back vacation keep your packing list light.
Pack all of your chargers and cables in a separate small bag or packing cube for easy access.
Use travel-sized containers for jewelry, toiletries, and personal items.
Add dryer sheets in between your clothes to keep things smelling fresh.
Consider rolling your clothes to save space.
Use every bit of accessible space (socks in sneakers, hair ties in makeup bag).
Use a carry-on-sized bag, like the Travel Backpack as your Bahamas luggage.
Pack light, especially if you're flying on inter-island planes.
Bring beach and pool attire, no matter what time of year it is.
If your journey is between June and November, bring a rain jacket and book travel insurance.