Which Chicago Airport Should You Fly Into?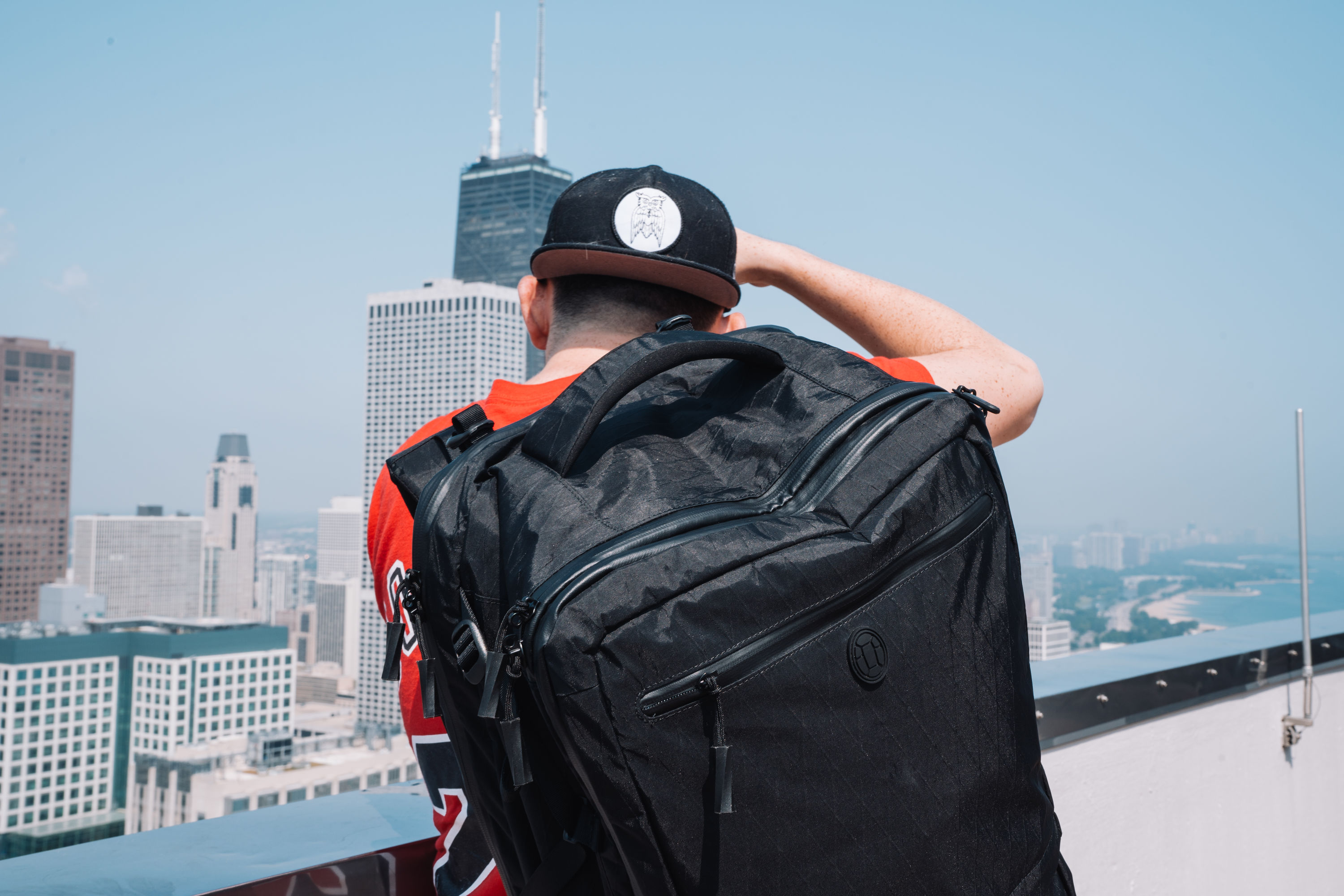 Most people fly into ORD but MDW is a great option too, particularly if you're headed downtown. Did you know there are others? No matter where you fly in, a travel backpack makes your plane to city travel simple and seamless.
Quick question: ORD or MDW?
This is the question that I'm always confronted with when I book flights into Chicago. Which I'm about to do for a birthday weekend getaway.
In other words: O'Hare or Midway?
Which is better? Or conversely, which is the lesser of two evils?
And that question, my friend, begs this next question: Is there a better option available that I just don't know about?
Keep reading. Finally, an answer to which Chicago airport you should fly into.

Chicago O'Hare International (ORD)
Located 15 miles from Chicago's city center, this international airport is huge. And it's the 6th busiest airport in the world with 83.3 million passengers a year.
That being said, this airport has a two factors working against it:
Bad weather (i.e., icy or foggy weather) causing delays
A continuous state of expansion, renovation, and construction (i.e., stuff ain't where it's supposed to be).
These two things, along with the huge number of passengers passing through, contribute to O'Hare's reputation for the delays and cancelations that make it a difficult airport to make a connection through.
Jenn, who used to live in Chicago, recommends always allowing extra time if you book a flight that connects at O'Hare, and taking a wander by the huge brachiosaurus skeleton (replica) in Terminal One.
If you find yourself stranded at O'Hare thanks to a weather delay, use their unlimited free Wi-Fi available in all terminals. Select Boingo Hotspot" or _Free_ORD _Wi-Fi as the network.
Charging Devices at O'Hare
Need more juice for your devices? Power stations are scattered throughout the terminals.
Here's the complete list of where they're located:
T1 at gates B4, B11, B14, B15, B19, C7, C15, C21 & C28
T2 at gate E8 & F2
T3 at gates G9, G19, H12, K9, K12 & L10
T5 at gates M13
Transportation
If you're on foot, or don't want to Uber into Chicago, O'Hare is a great arrival choice, thanks to its public transport option. Trains get you into Chicago's city center via a 50-minute train ride on the Blue Line.
Tip: The Mexican restaurant Tortas Frontera was named by Conde Nast Traveler and Bon Appetit as the best airport restaurant in America. The pictures on the menu are guaranteed to make your mouth water. Located in Terminal 1, Gate B10; Terminal 3, Gate K4; Terminal 5, Gate M12.
Chicago Midway International (MDW)
Smaller than O'Hare, Midway is served by a handful of airlines, including: Delta, North Country Sky, Porter, Volaris, and Southwest. Chances are good if you're flying to Chicago via Southwest, you'll end up at this airport.
However, if you're looking to get on the ground — and not circle endlessly above the airport — Midway has the reputation of keeping planes moving, even in winter, even when O'Hare shuts down.
Rest assured, if your flight does happen to get delayed, Midway provides free Wi-Fi via Boingo Hotspot or _Free_MDW_Wi-Fi.
Transportation
The Orange Line on the train gets you from Midway to the Chicago Loop in roughly 30 minutes. And it's an visually interesting ride that takes you through South Chicago's neighborhoods and the cityscape of Chicago.
Chicago Rockford International Aiport (RFD)
Allegiant and Direct Air fly out of this airport located about 2 hours (or 84 miles) northwest of Chicago off the I-90 West / US 20 West exit.
Yes, it's a bit of a hike.
But if you're planning on renting a car for your trip in Chicago — and you're flying Allegiant or Direct Air — this airport might be your knight in shining armor to avoid the masses at O'Hare.
Transportation
Do plan on renting a car to get to and from RFD.
South Bend International Airport (SBN)
Yes, this airport is located in South Bend, Indiana. Yes, this airport is roughly 1 hour and 40 mins (or 93 miles) from Chicago Loop on I-90 W. Yes, this airport might be your saving grace when hunting for Chicago flights, particularly if you're headed to the south side of Chicagoland.
To access SBN, book flights on Allegiant Air — the only commercial passenger airline serving this airport.
Transportation
Because at this small airport, you can get to downtown Chicago in 2 hours via South Shore Line Railroad.
General Mitchell International Airport (MKE)
This airport is giving O'Hare and Midway a run for their money thanks to its five runways and popular airlines flying here.
Many of the big airlines — like Air Canada, American, Delta, United — fly into this airport. And many of the popular budget airlines — like Frontier, Alaska, Allegiant, OneJet, Southwest — fly here, too.
Ready for the bad news? It's about 2 hours or 86 miles north of Chicago Loop.
In Milwaukee, Wisconsin (a totally different state than Chicago is in).
Good news: you follow I-94 south alongside the Great Lake Michigan's coastline down into Chicago. So, your scenery is bound to be pretty. This airport can be a good choice if you're headed to the north side of Chicagoland.
One of our readers, Shane, adds that, "From MKE you can take Amtrak from the airport train station to Union Station in 1hr 20 min." Thanks Shane!
Transportation
One option is to rent a car. But, if you have extra time in your trip and don't want to rent a car, opt for a leisurely 3-hour bus + train ride into Chicago.
TL;DR
O'Hare – ORD
If you're flying on a major airline and don't mind dealing with construction, huge crowds, or unpredictable weather delays, this airport is for you. This airport serves as a major layover point for international flights and one of the biggest domestic hubs for east-west connections.
Midway – MDW
This airport is closer to Chicago and smaller than O'Hare. However, only a handful of airlines serve this airport, like Southwest and Delta. If you've got business downtown and are looking for a quicker "in and out" this airport could be for you.
Rockford International – RFD
If you're flying Allegiant or Direct Air AND planning on renting a car, this airport is a solid option for you and might save some money.
South Bend International – SBN
Flying Allegiant Air? This airport is for you. Seriously. Only Allegiant flies here. Take a 2-hour train ride via South Shore Line railroad into Chicago.
General Mitchell International – MKE
Flying a major airline and up for a little adventure? This Milwaukee airport serves many of the major airlines. Get to Chicago via a 3-hour bus + train ride.