I never thought I would ever live in Austria, let alone a city like Vienna. Don't get me wrong, you'd have to sit me down for a Mélange (a Viennese cappuccino) and get me to think about any qualms I have about Austria. I just thought the country and its capital were too beautiful, suave, and, well, fashionable for the likes of me.
Luckily, I finally got the hang of fitting in and stopped getting stares for my sense of fashion, or lack thereof. So, for anyone visiting this city and attempting to blend in, here are a few tips:
Tip #1: Recognize that Vienna is Special
Recognize that Vienna is living in separate world from the rest of the country. Vienna is the biggest urban area in the country, by far, and was just recently ranked the best place to live in the world. What's more, it's a European culture capital that attracts gorgeous people and gorgeous fashion – maybe not in that order but you get the idea.
In other words, dress well, or perish.
Tip #2: Dress More Conservatively
Whether in Vienna or in the rest of the country, when in doubt, dress more conservatively. Austria is traditionally Catholic (though becoming less so), was the former home of the Habsburg royal family. The people have a sprinkle of that charming Northern European stoicism (read: cold) to them. On top of that, the population, overall, is aging, which means that conservative values reign. I'm not saying you should dress for you grandma, but rather for a nice date.

Travel Fashion Girl agrees:
"As a rule, Austrians, like many of their European neighbors, dress in a sophisticated, fairly conservative way, and overly revealing clothing is generally frowned on."
Tip #3: Choose the Right Luggage
Avoid the neon hiking bag and avoid the suitcase. Neither of these are practical — a hiking bag opens from the top so you have to dig through it to find anything, and a suitcase is cumbersome and the wheels are not suited for cobblestone streets or the staircases you're inevitably going to climb. But beyond practicality, you're going to stick out like a sore thumb. Both of these options scream "tourist". Choose a travel backpack like the Setout Backpack instead.
The Setout Backpack opens like a suitcase but carries like a backpack. Its subdued color palette and minimalist logo will look more like a regular backpack and will help you fit in by not drawing attention to yourself.
Tip #4: You Do You
At the end of the day, if you don't care for that medusa-esque Austrian stare and comfort is your main goal, then you go Glen Coco. Individuality and uniqueness are also admired traits in Vienna, as shown by the Instagram account "Grannies of Vienna". Far be it from a blogger to get in the way of your catwalk down the aisle of the Volksoper in LuluLemon leggings and a college t-shirt.
However, if you want to give the Viennese and wider Austrian look a try, let me break down seasonal fashion and help you blend in.
What to Wear in Vienna: In General
Shoes
Shoes can make or break a trip. I will stand by that statement 100% because blisters suck and walking is the best way to experience new places. Meanwhile, Austria's roads happen to be paved, cobbled, and unpaved, so leather shoes with thick soles and heels should do the trick to keep your feet comfortable. Sneakers and Birkenstocks are definitely a fashion faux pas. 
Find the perfect shoes for every trip.
A Daypack & Umbrella
Travel Fashion Girl recommends: 
"A discreet but roomy backpack is ideal for a day of sightseeing, allowing you to safely stash away whatever provisions you need. If you can, always bring along a small foldable umbrella, and never take it for granted that a seemily sunny day will stay that way."
Theatre and Ball Attire
Vienna is world renowned for its arts scene and in terms of fashion, the scene can be hard to read to determine what constitutes too formal, or too informal. I'll say this – making an effort counts, even if it makes you look overdressed. In Viennese society in particular, this will gain you respect.
Dressing down, whether you are at the Wiener Staatsoper (the Viennese State Opera) or Volkstheater (the People's Theatre) or going to a one of Vienna's famous balls, is certainly putting yourself at risk of feeling out of place. I'll reiterate that the old Viennese guard do not hold back when they throw shade.
When in doubt dress up.
What to Wear in Vienna in Summer
Austrian summers are warm and Vienna's summers can be scorching. It is, perhaps, the only season where Austrians dress down (but still keep it classy).
Men, try a light button down shirt or a collared t-shirt with a pair of well-fitting pants.
Ladies, sundresses and blouses with skirts are common during this time. Try to avoid showing too much cleavage as the city can be quite stuffy when it comes to showing skin.
Everyone should avoid wearing shorter shorts and cutoffs – you'll likely feel a little out of  place unless it's a really hot day.
Given that Austria has an alpine climate, it's smart to carry a light cardigan or pullover sweater (sans college or sports logos) just in case a wind blows through.
What to Wear in Vienna in Autumn
Austrian autumns, at least at the start of them, tend to be gorgeous and the perfect weather to show off your personality through layers and accessories. Whether you're in Vienna or Salzburg, you'll do well wearing a scarf and a light jacket with light gloves and a hat (Austria's hat game is very strong).
In Vienna, again, it's smarter to dress up, rather than to dress down, as the tourist crowds leave and the local Viennese will notice visitors more easily.
Men, wearing a collared shirt, well-fitting earth toned pants, with a pullover wool sweater will help you blend in seamlessly.
Ladies, wearing a pair of dark jeans or pants, or even a dress, would pass as local. Blouses and skirts, depending on the weather, would also be appropriate.
Avoid sweatpants, leggings, and any clothing with big brand names front and center on them will just make you stand out.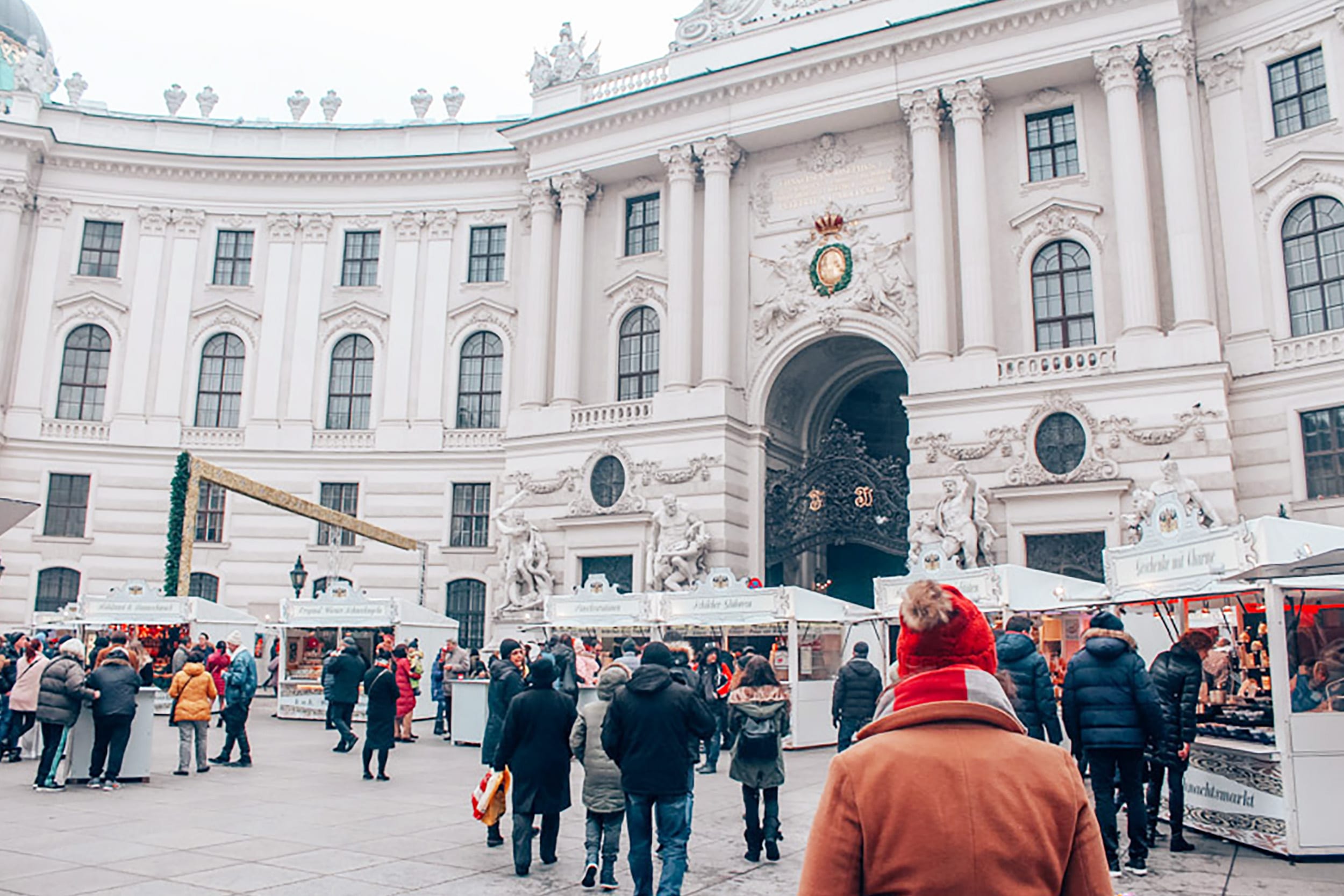 What to Wear in Vienna in Winter
Austrian winters are incredibly cold. But don't be fooled, people are still looking at what you're wearing. Winter outside is all about the accessories – hats, gloves, and scarves will be on show.
When you're peeling off your protection to the outside elements and sitting down for a warm slice of Apfelstrudel, again, it's good to dress up.
Inside dress isn't radically different from what you might wear in Autumn. Sweaters and turtlenecks are quite common in the many warmly lit cafes and bars of Austria.
Sensible shoes, whether snow or leather boots, during this time will get respect simply because everyone is trying to make it through the season of cold rain and snow.
Spring
At the beginning, springtime is still cold and rainy throughout most of Austria – it can even snow. Umbrellas, trench coats, and hats will certainly be needed, practically and fashionably, even towards the end of the season.
Not having any clothing for rain will certainly make you stand out in this country that is typically braced for the worst of the seasons. However, this is the time when the country starts to breathe life back into itself and people begin to shed their darker winter clothes in favor of pastels and brighter colors.
At the same time, don't overdo it. Spring isn't a time to show how little you can wear and still be comfortable.
TL:DR
A carry on travel backpack with a subdued color palette and minimal logos is more practical and will help you blend in.
Comfortable, practical shoes are always in fashion. Try to avoid the sneakers and sandals look if you don't want Austrians looking down at you (figuratively and literally) when passing.
When attending a cultural event, like a show or orchestral performance, it's better to dress up than dress down. 
Summer is the time to be informal, especially with tourist crowds in abundance. However, wearing shorts or showing too much skin can attract some glares as this is very un-Austrian.
Autumn is a great season to use accessories to show off your personality and the country's transition into its semi-formal culture as summer tourist crowds disappear. This is where brand logos and sweatpants will stick out.
Winter still requires you to be on the ball, both in terms of what you wear outside and inside. It is the time to get cozy while still looking your best.
Spring is a time of fashion renewal after a winter of covering everything up with a jacket. That being said, be prepared for rain or risk looking like you just arrived in the country.
Want more like this?
Get weekly gear reviews, travel hacks, and packing tips sent straight to your inbox. As an added bonus, we'll send you a carry on packing list right away.