Packing 101: Carry Ons vs. Personal Items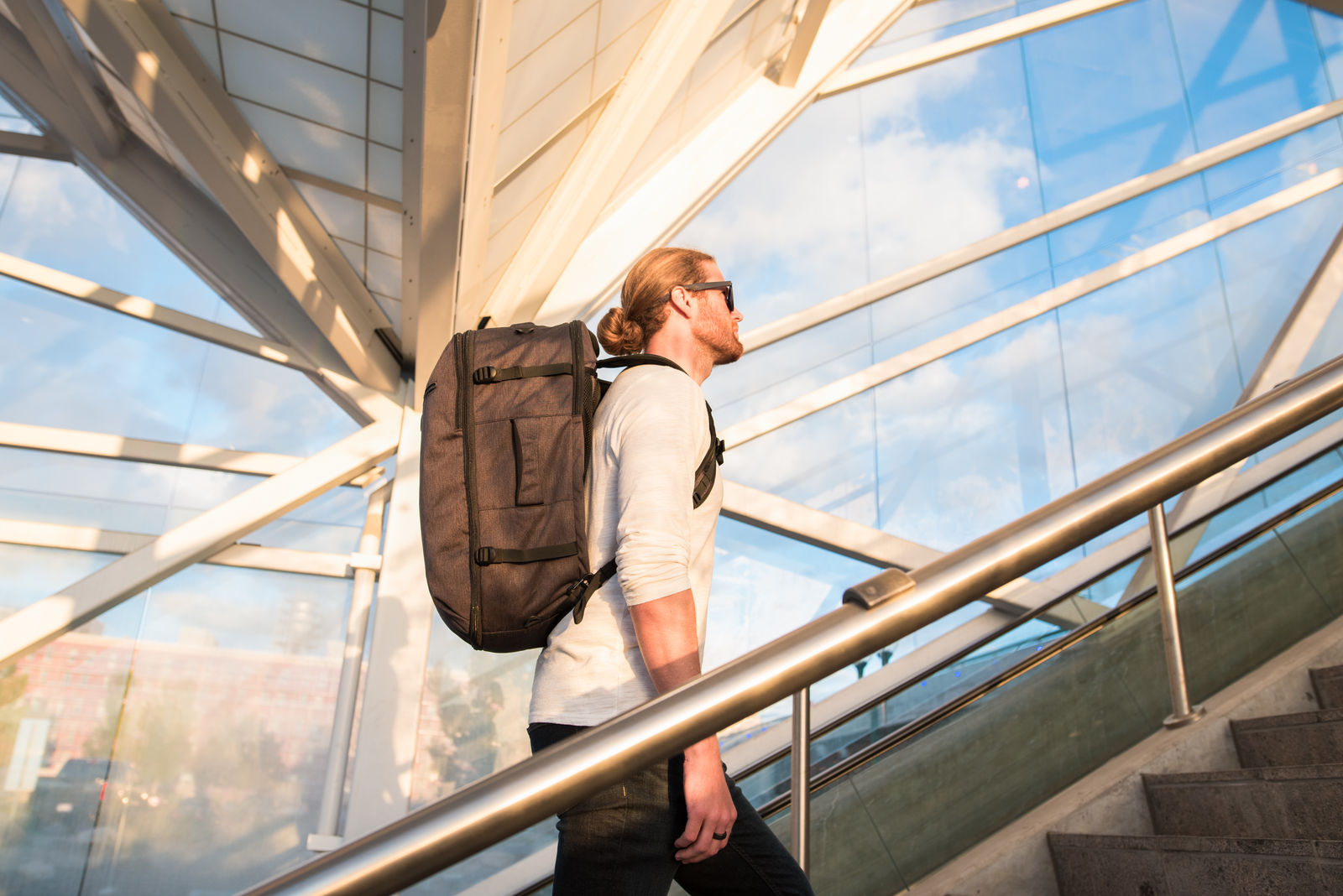 For new travelers or those who have never packed anything besides the typical check-in bag, the rules surrounding carry on vs. personal item bags can be somewhat mystifying. You don't want to mix it up, because finding out that you're attempting to carry on the wrong-sized bag can be a major hassle at the gate.
We're here to help you understand the difference between checked bags, carry ons, and personal items. Sometimes the distinction isn't clear, and getting it right can have a major impact on whether or not your travels are smooth or bumpy.
Tortuga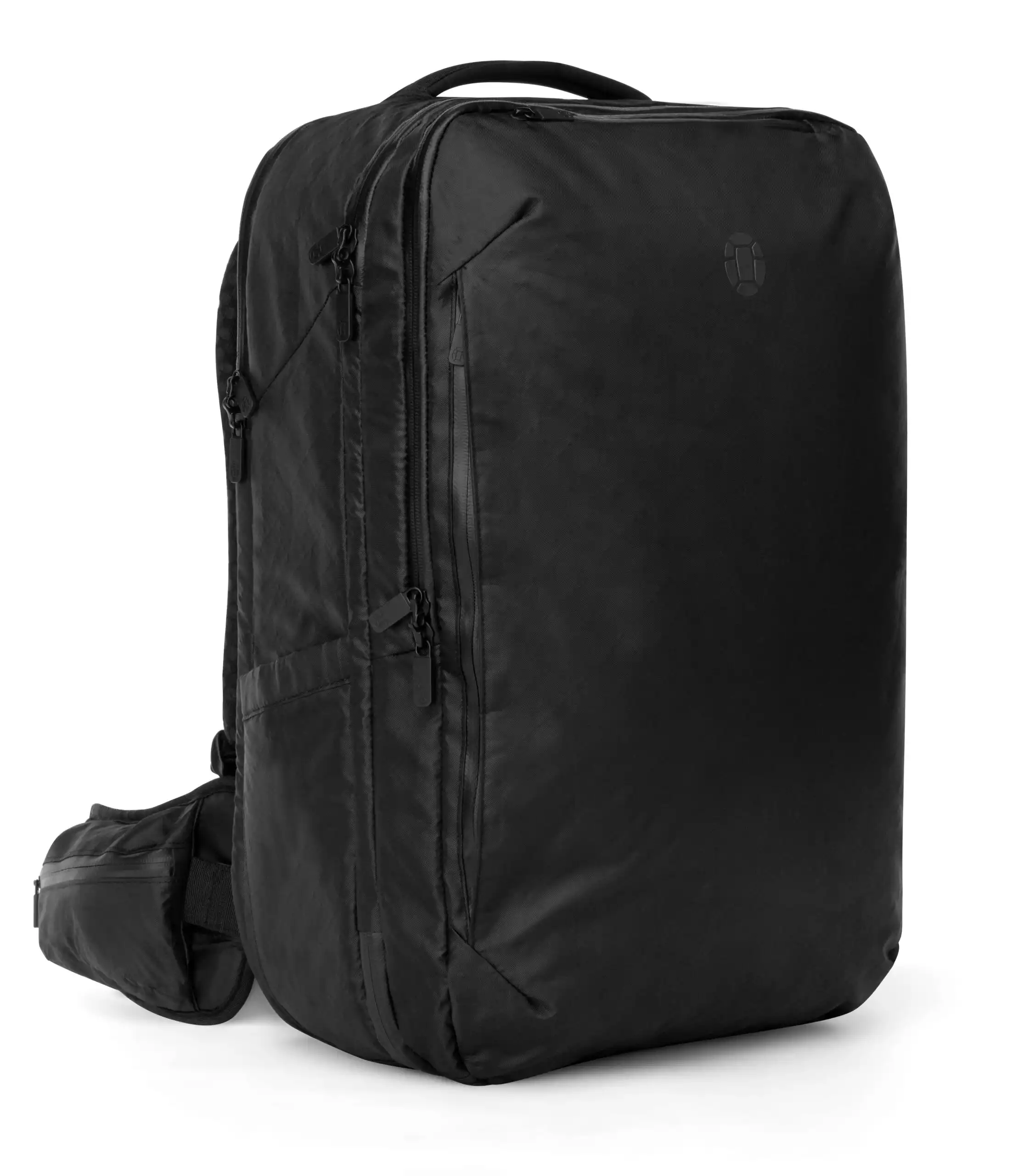 Checked Bags vs. Carry On Bags
Check-in bags must be checked with the airline before boarding. Then you must retrieve them at baggage claim after you've landed.
Generally, the size and weight limits are fairly flexible, but if you're traveling with a particularly large bag or item, contact the airline to verify that it will be allowed.
Checked luggage can be anything from a backpack or suitcase to a massive trunk, box, piece of sports equipment, or any other large package, bag, or item. Basically, checked luggage is anything that's too large for the cabin. Pack everything that you won't need immediately during your flight in your checked luggage.
Due to the extra time and effort required to check in a bag, many experienced travelers prefer to avoid it altogether by bringing only a carry on and a personal item.
What Is a Carry On?
Your carry on luggage:
Must fit in the overhead bin.
Holds items that are fragile, expensive, or might be needed in transit.
Can be packed to avoid checking luggage.
Carry on luggage is also called cabin luggage or hand luggage. The latter is more common in Europe.
The main difference between a checked and a carry on bag is the size.
Carry on bag limits are set to ensure that cabin bags will fit into the overhead bins while theoretically providing room for each passenger to bring one on board. This is a matter of safety, organization, and convenience. Most airlines within a region have uniform carry on size requirements. Some airlines, but not all, set carry on weight limits too.
What you'll pack in a carry on bag differs from your checked bag. A carry on bag is usually the best place for items that are expensive or fragile, like a computer or anything you might need en route. If you're trying to avoid checking luggage to go 100% carry on, follow a carry on packing list that will ensure that you can fit everything you need.
Is a Backpack a Carry On?
Yes, the right size backpack can be a carry on. As described above, the backpack must fit in the overhead bin and adhere to the airline's carry on size limits.
We recommend carrying a travel backpack as your carry on so that your luggage is organized as in a suitcase but still hands-free and comfortable to carry like with a backpack.
Carry On Bag Size
Domestic (US) carriers follow these carry on limits:
International flights and many European carriers have smaller width restrictions. Always check your airline's website or our carry on size guide before your flight.
If you're going to comfortably pack everything you need into a carry on, you'll need a bag that's sized to do the job.
Tortuga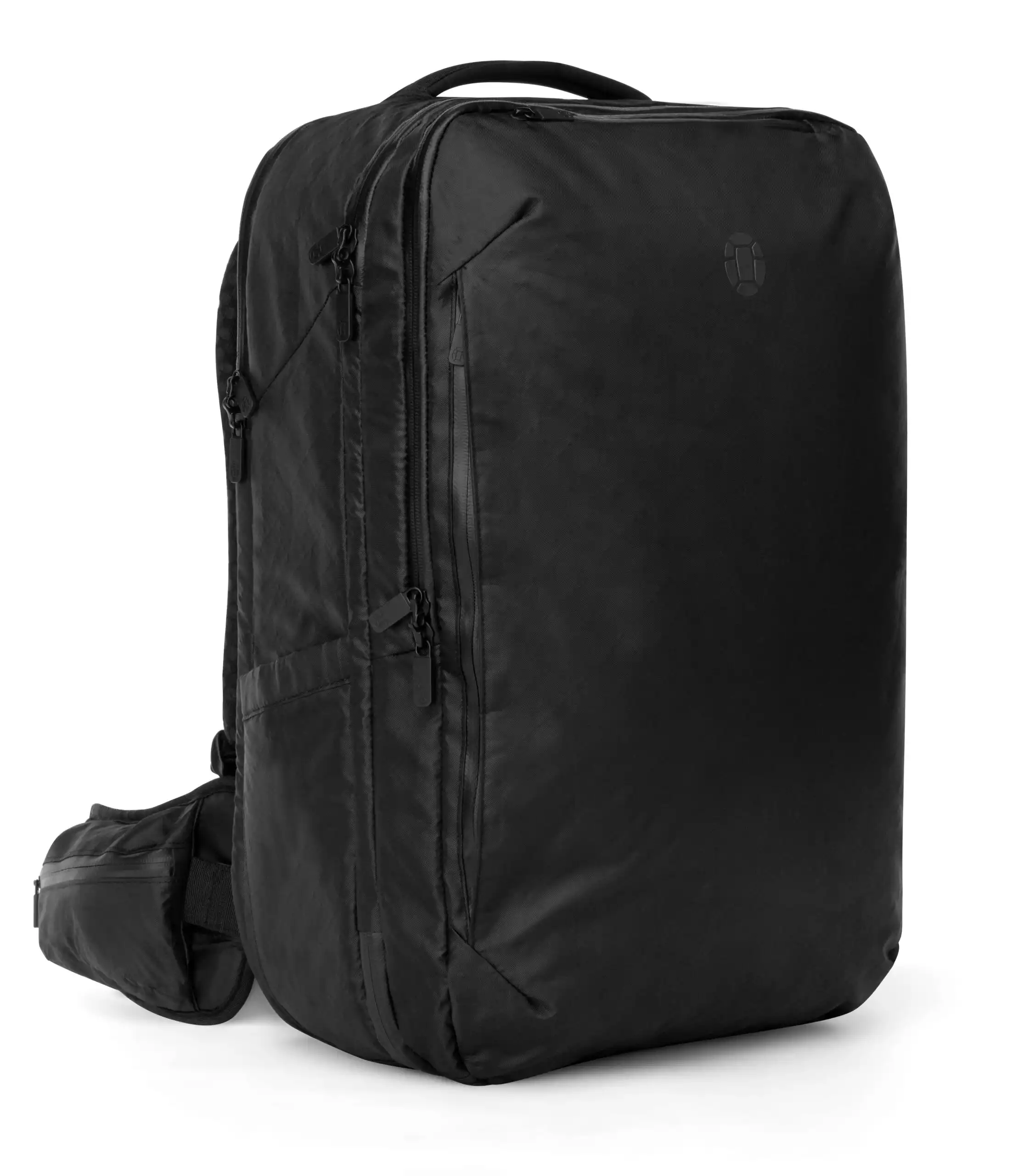 Carry On Travel Backpack
While carry on luggage is available in a wide variety of sizes, the Tortuga Travel Backpack has been specifically designed to maximize your packing capacity within the above limitations. You can squeeze every last square inch out of your limit and keep everything well organized while you're at it.
The Travel Backpack comes in two size options to suit any carry on limit: The Travel Backpack 40L is designed to fit larger domestic guidelines, while the trimmed down Travel Backpack 30L will fit international airlines with smaller limits.
I personally have carried the Travel Backpack 40L onto dozens of flights spanning airlines all over the globe and only once have I been forced to check it on a particularly packed flight on a small plane. Should you risk it and push the limits? Not exactly. My point is that the Travel Backpack is a versatile carry on backpack that will allow you to get the most out of every square inch or centimeter allowed to you.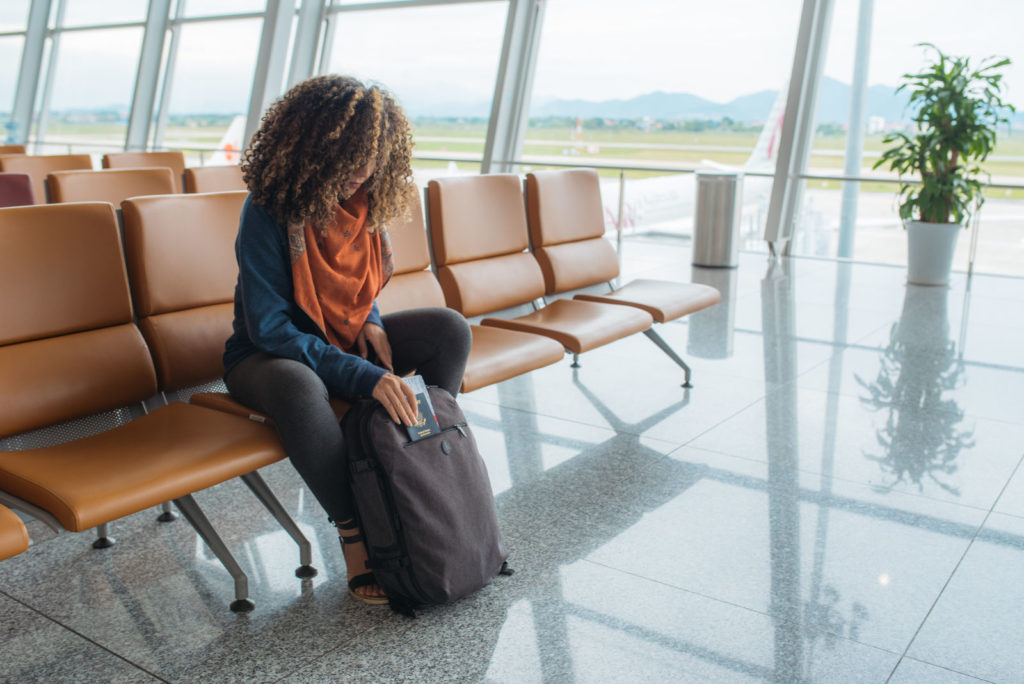 What Is a Personal Item?
A personal item:
Must sit under the seat in front of you.
Is used for carrying in-flight essentials.
Personal items are any smaller-capacity bag intended for carrying on delicate possessions, like laptops and cameras, plus necessities like books, snacks, and any important medications you might need.
Bags that are commonly considered "personal items" include small backpacks, laptop bags, briefcases, small duffel bags, and purses.
Check out our handy personal item packing list for a comprehensive look at what you might pack in yours.
Is a Backpack a Personal Item?
Yes, a small backpack qualifies as a personal item. The key thing to keep in mind is that it must be able to fit under the seat in front of you. A large hiking backpack won't work for this reason, but a more compact backpack like the Outbreaker Laptop Backpack will.
A backpack works well as a personal item especially if your carry on is a suitcase or duffel bag. Carrying backpacks as your carry on and as your personal item are more difficult because you'll have to carry one backpacks on the front of your body.
Is a Duffle Bag a Personal Item?
Yes, a duffle bag can also be a personal item. In fact, some airlines' personal item size guidelines are a better fit with a duffle. For example, on United Airlines, the personal item size limit is 17 x 10 x 9 in. A duffle bag would be perfect on Delta since the two shortest dimensions (10 and 9 in) are similar in size. Duffles often have a roughly square end and are the longest in the third dimension (length).
Duffle bags work well as a personal item paired with a backpack or suitcase as your carry on luggage.
Personal Item Size
Many airlines have no specific parameters for personal items, leaving it up to common sense. A few airlines do enforce limits, however, such as:
Some airlines will count non-bag items like umbrellas or pillows as your personal item, so if you hope to bring something like that along with your bags, check with your airline. Always check your airline's website or our personal item size guide before your flight.
One common question is whether or not musical instruments count as personal items. Yes, they do! In 2015, the Obama administration signed regulations stating that airlines must accommodate reasonably sized instruments like guitars, violins, and trumpets as long as there is space in an overhead bin or under the seat. I often travel with a guitar and have found that when cabin storage is lacking, many flight attendants will take pity on you and stow it in the closets intended for the flight crew.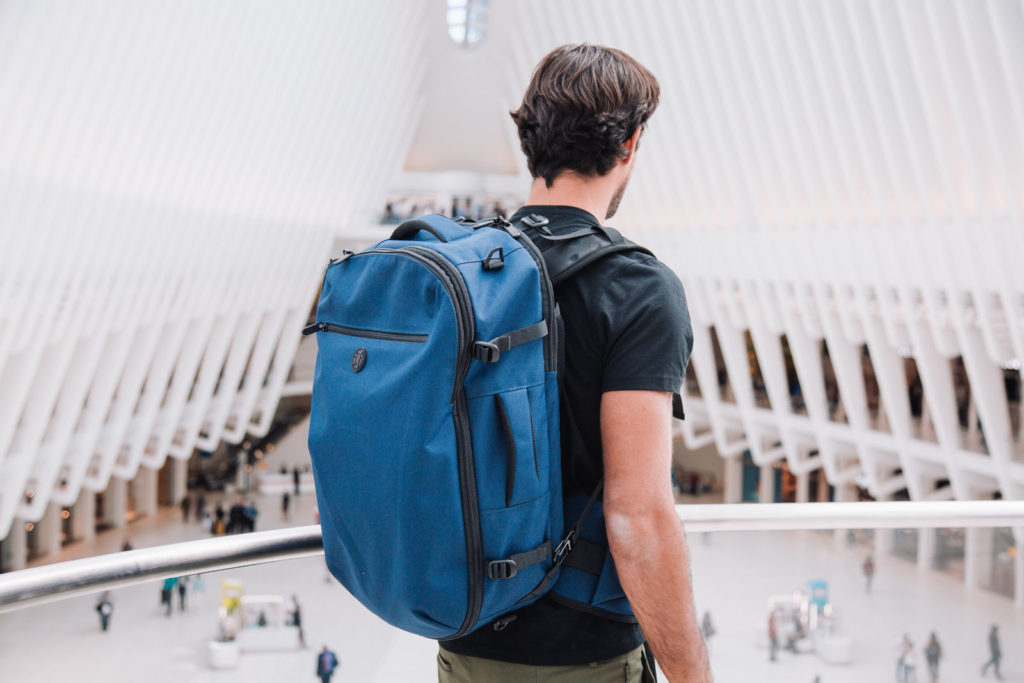 What Is a Carry On vs. a Personal Item?
Let's summarize.
Carry On
Primary bag
Fits in the overhead bin
Holds clothing and important items
Works as an alternative to checking luggage
Personal Item
Secondary bag
Fits the under seat in front of you
Holds electronics and in-flight essentials
Works in addition to a carry on
Packing Tips for Carry Ons and Personal Items
How can you get the most out of your carry on and personal item combo? Here are a few tips:
Make the most of your carry on.
Get a travel backpack or other bag capable of maximizing your carry on allowance. As I've already mentioned, I use the Travel Backpack 40L. I've packed it to the gills for dozens, if not hundreds, of flights. My Travel Backpack is the home I carry on my back, allowing me to carry on a truly impressive amount of stuff.
Get the right personal item bag for your needs.
Having a dependable personal item bag is essential. You can always bring it along knowing that it will fit any limitations and will do everything you need it to do. For some, that might mean a small purse or fanny pack intended for bringing along a few immediate essentials. For others, it might mean having a laptop backpack sized to fit under the seat.
Consider a packable personal item.
For my personal item, I sometimes like to bring along a small, foldable bag that I can stuff into my backpack when I don't need it but can bust out to pack snacks, a book, or whatever else I might need for a flight.
Only put what you might need immediately into your personal item.
Your personal item should be primarily reserved for packing those things you might need on the go. Think food, entertainment, medication, or an extra layer for chilly airplane cabins. Anything else belongs in your carry on in the overhead bin.
Related Articles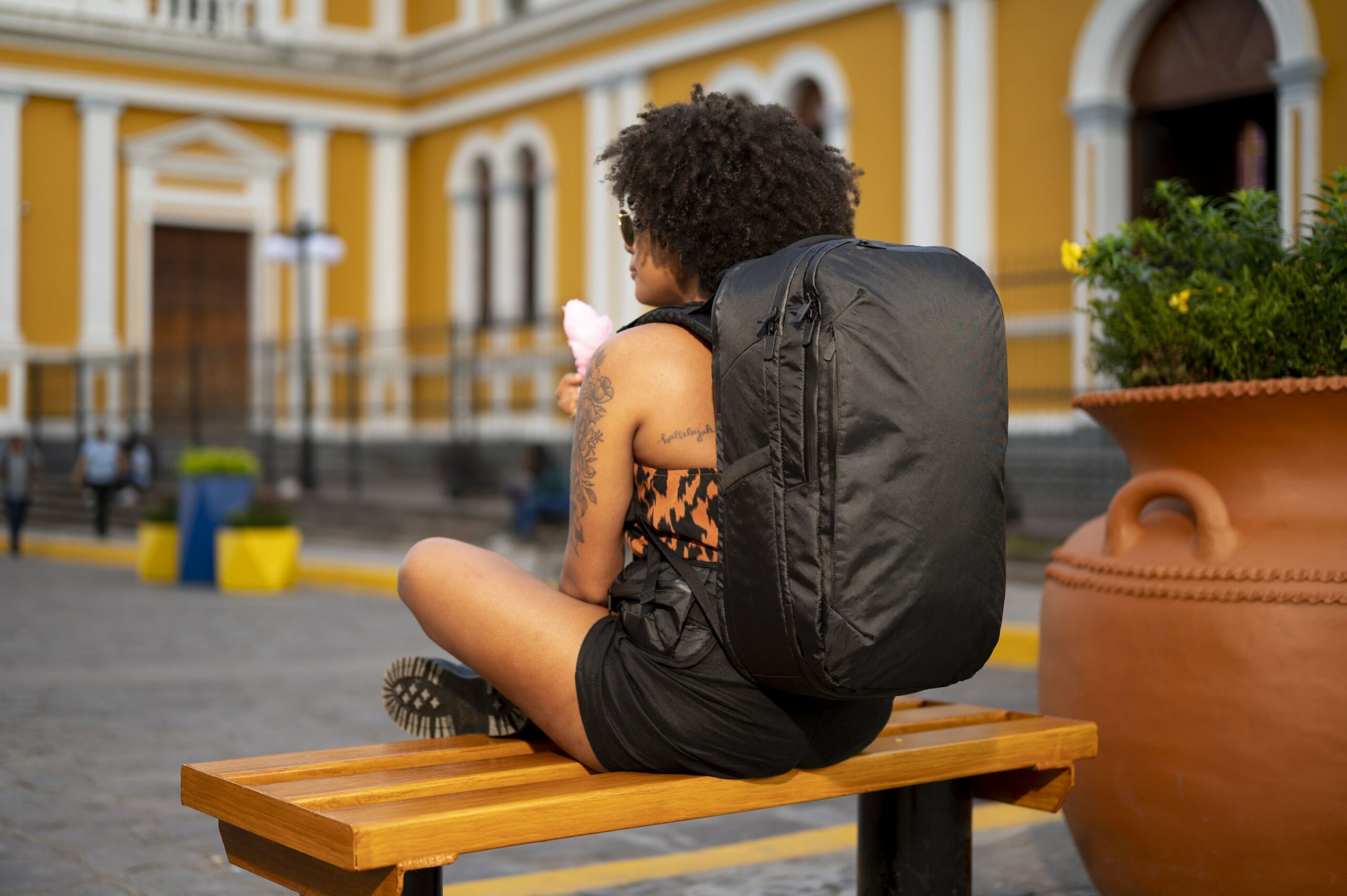 40L: Max International Carry On
Shop Now