Packing 101: How to Pack for a Flight
The Tortuga Promise
At Tortuga, our mission is to make travel easier. Our advice and recommendations are based on years of travel experience. We only recommend products that we use on our own travels.
If you're new to travel, packing probably doesn't seem like the fun part. You're right! But packing is important. We're here to answer your most common questions about packing so that it doesn't have to be stressful.
Committing to packing in a carry on bag will make your travels easier and less stressful. You might be worried about not having everything you might need, but you can get anything you do need at your destination without having to carry any "just in case" stuff around the world with you.
This article will cover what you can bring on a plane (excluding checked luggage), what to pack, and how to pack it.
Tortuga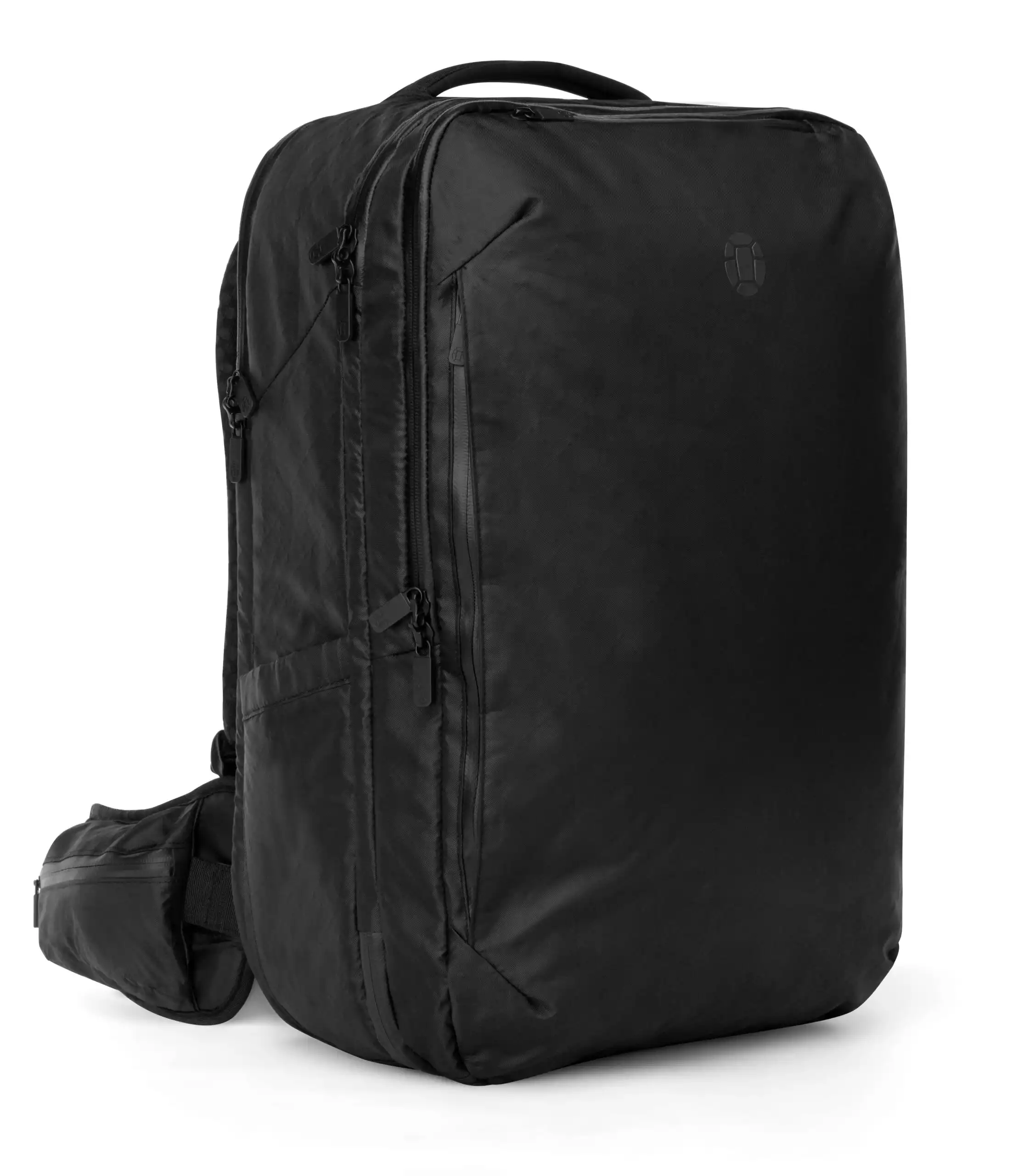 What Can You Bring on a Plane?
Let's start with your luggage then move on to what's allowed inside of it. You can bring:
One (1) carry on bag that fits in the overhead bin
One (1) personal item that fits under the seat in front of you
One (1) clear, quart-sized toiletry bag that fits in your carry on or personal item
The rules for carry on luggage are set by the airlines. The allowed sizes differ by airline and region. For a full breakdown of sizes and weights allowed by airline, see the Carry On Luggage Size Guide.
Personal items offer a bit more flexibility. Many airlines don't publish size guidelines and almost none have weight limits. The most important thing to consider is if the bag will fit comfortably underneath the seat in front of you. Also remember that a personal item is a "bag," not luggage. Choose a daypack, purse, or tote as your personal item, not a suitcase, regardless of the size. For more details, read the Personal Item Size Guide.
Toiletries are often the most challenging for travelers. The TSA has a 3-1-1 Liquids Rule which says that you can carry on liquids must be in 3.4 ounce (100 ml) bottles (or smaller) inside of a clear, quart-sized bag. You can only bring one such bag per person. For more details, read the Travel Toiletries Packing Guide.
Can You Bring This on a Plane?
Most of us pack a lot of the same stuff: clothes, toiletries, electronics, and maybe some snacks.
The TSA, not the airlines, decide which items are allowed through airport security and which are not. What makes it through security dictates what's allowed on a plane.
The TSA has a public list of almost 500 items and if they can be checked or carried on to a plane. The TSA's What Can I Bring page has answers for everything from "aerosol insecticide" to "yogurt." The first page alone has information on air mattresses, artificial skeleton bones, and axes. The TSA is the best source of information on specific edge cases. But let's cover the five most asked-about items.
Can You Bring Razors on a Plane?
Disposable and electric razors are allowed in your carry on luggage. Safety razors are allowed but only without the blade, which must be checked or bought at your destination. Straight razors are not allowed in the cabin but may be checked.
Can You Bring Batteries on a Plane?
All common types of batteries are allowed in your carry on except for "car batteries, wet batteries, or spillable batteries." Note that lithium ion batteries are allowed in your carry on but not in your checked bag due to fire risk.
Can You Bring Makeup on a Plane?
Solid or powdered makeup is allowed without any size limitation. Any makeup that is a liquid or gel is allowed but must comply with the 3-1-1 rules mentioned above.
Can You Bring Shampoo on a Plane?
Yes, you can bring a liquid shampoo on the plane as long as it's in a 3.4 ounce bottle or smaller. You can bring solid or dry shampoo of any size on a plane.
Can You Bring Deodorant on a Plane?
Yes, like other toiletries, you can bring a dry or stick deodorant of any size on the plane. If you use a liquid or gel deodorant, it must be in a 3.4 ounce or smaller container.
How to Pack for a Trip
Everyone's travel style is different.
You might travel in a t-shirt and joggers or prefer to dress up. You might travel with a laptop and tablet or prefer to unplug.
Whatever your style, there are a few basic principles to follow as you learn to pack light. With those tips in mind, you can move on to building a packing list for your trip.
How to Pack a Carry On
Most of your stuff will go in your carry on. Definitely your clothes, maybe your toiletries, and at least some of your electronics. I recommend packing your carry on such that you can put it in the overhead bin and never open it during your travels. Everything that you might need in-flight or transit should go in your personal item which you'll have at your feet.
There's no right list of what to pack for everyone, but the Ultimate Carry On Packing List is a good base list to start with. The list will take you through every category of stuff you might pack and give you an overview of the basics that you should bring. You can add your own must-haves on top of those basics.
Once you have your base list, you can move on to How to Pack a Backpack for Travel. You'll learn what to pack where to maximize your packing space and personal comfort.
The final step is deciding how to pack your clothes. We recommend rolling your clothes, not folding them, to make the best use of your space and to avoid excessive wrinkles.
Tortuga Travel Backpack
The Tortuga Travel Backpack is the ideal carry on for both new and experienced travelers. The Travel Backpack is carry-on-sized and opens from the front for easy organization and packing. You'll have space for everything from clothes to electronics in a durable bag that adjusts to your height for maximum comfort.
How to Pack a Personal Item
Your personal item is more of a catchall bag for odds and ends. Anything that you might need in transit, and especially during your flight, should go in your personal item.
That includes:
Travel documents (if they aren't in your pockets)
Extra layer of clothing for cold flights
Medications
Basic (or all) toiletries
Electronics and other in-flight entertainment (latop, tablet, Kindle, headphones, or a book)
Read the full article on How to Pack a Personal Item for more details.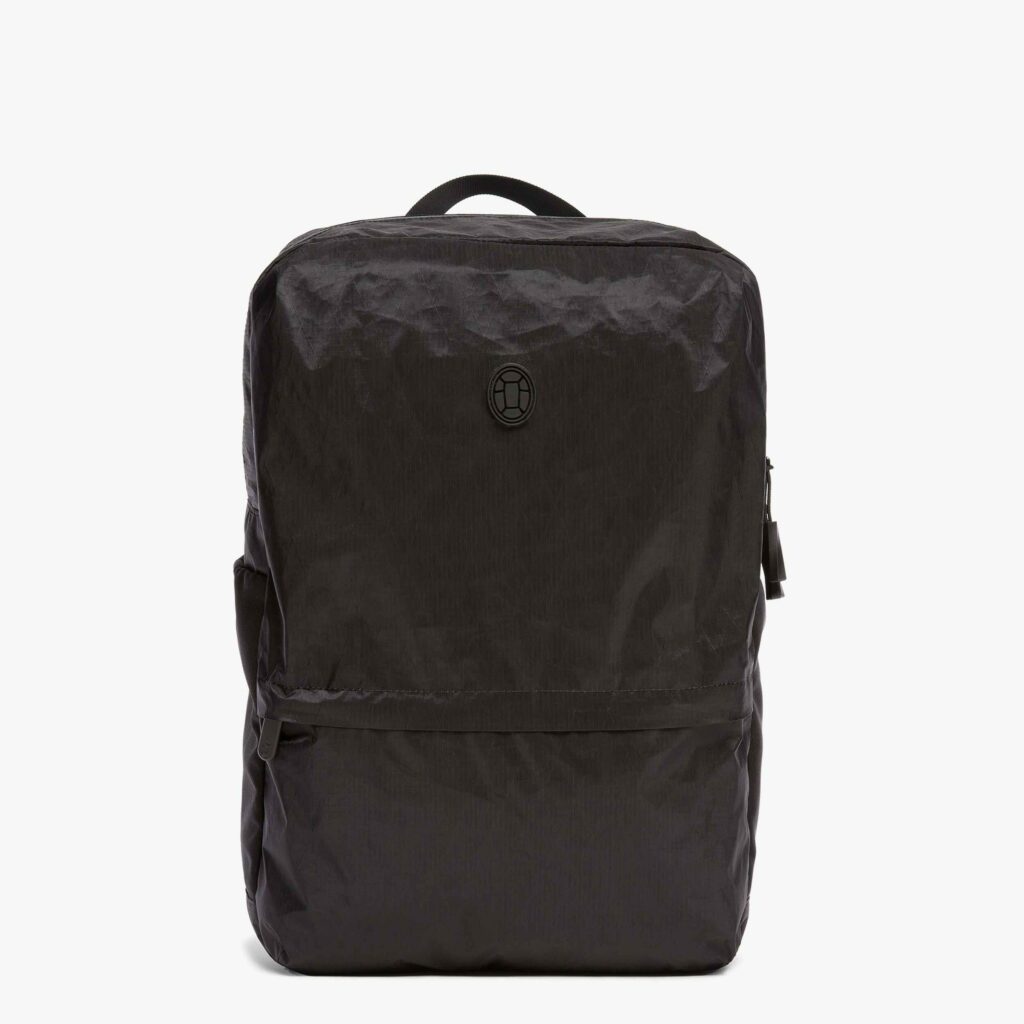 Tortuga Daypack
The Tortuga Daypack is a personal-item-sized backpack that packs flat in your carry on when not in use.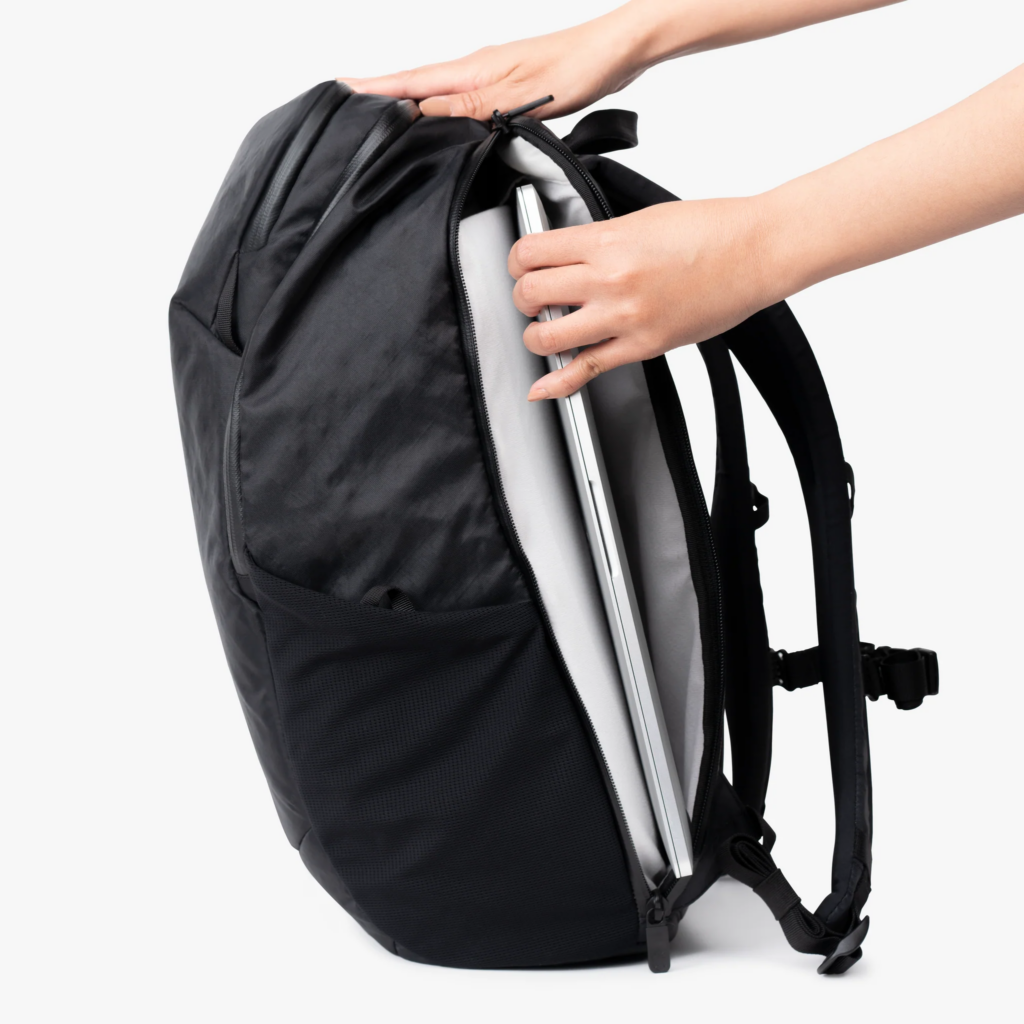 Tortuga Laptop Backpack
The Tortuga Laptop Backpack fits under the seat in front of you and is designed to comfortably carry your electronics and anything else you need in flight.
Things to Bring on a Plane
Clothes and toiletries are the easy stuff. You probably won't forget to pack those. Now let's cover what you might bring in your personal item to make your flight as enjoyable as possible.
For Comfort
Air travel (especially clothing) is far more casual than what travelers wore on Mad Men. But remember that you are in public. Let's maintain our dignity, dress respectably, and use our manners.
Dress in comfortable, travel-friendly clothes. Our buyer's guides cover the best clothes for travel that are versatile, easy to care for, and comfortable to wear (and re-wear) on your trip. Remember to pack an extra layer in your personal item if you get cold on flights.
Wear your bulkiest shoes so that you don't have to pack them. Slip-on shoes are best so that you can easily remove them at security.
Wear socks, preferably merino wool socks, to keep your feet warm and so that you aren't walking around barefoot like some monsters.
Consider an eye mask, earplugs, and a travel pillow if you want to sleep on your flight and need help drowning out the visual and auditory noise.
For Entertainment
I get restless on flights, so I always have multiple entertainment options to keep my mind busy and distracted on long-haul flights.
Check your airline's in-flight entertainment options before you leave. Many offer a seatback TV or, as is becoming more common, allow you to stream entertainment on your device. If that's the case, bring your tablet or laptop and headphones.
Depending on how you like to entertain (or distract) yourself, here are a few options for your flight.
Book, magazine, or Kindle
Laptop plus charger for work or streaming
Tablet plus charger for streaming or gaming
Phone plus charger for streaming or listening to music or podcasts
Headphones or earbuds for any of the above

Brain games like sudoku or crossword puzzles

Deck of cards or any other small game
Notebook and pen
Coloring books, crayons and colored pencils
For Eating and Drinking
You can bring your own food and drinks on your flight. Just remember that TSA rules apply for anything that you're bringing through security. You can buy food or drinks after security.
Bring your own reusable water bottle and fill it up after clearing security but before getting on your flight. You need to stay hydrated during your flight and the meager rations provided by the flight attendant won't cut it.
For food, choose snacks that are dry, non-perishable, non-liquid, non-stinky, not too crumbly, and if you can (for the sake of those highly allergic travelers sharing that circulated air with you) try to limit nuts and nut-butters. Think small, finger foods that can withstand the flight. While you can buy food at the airport, packing your own food from home is healthier and less expensive.
Read the full guide to airplane snacks for ideas and recipes.
What Do You Need to Get on a Plane?
You need two documents in order to fly: identification and your boarding pass.
The boarding pass is easy. Your airline will send it to you after you check in within twenty-four hours of your flight. You'll have the option to receive the boarding pass by email or text message. You will then be able to print it out or add it to your phone's wallet app for easy scanning at the airport. If you forget your boarding pass, you can always print it out at a kiosk at the airport or ask the ticketing agent for help.
The TSA requires all adult passengers over 18 to show identification in order to travel. For identification, they will accept:
Driver's licenses or other state photo identity cards issued by Department of Motor Vehicles (or equivalent)

Beginning May 3, 2023, if you plan to use your state-issued ID or license to fly within the U.S., make sure it is REAL ID compliant. If you are not sure if your ID complies with REAL ID, check with your state department of motor vehicles.

U.S. passport
U.S. passport card
DHS trusted traveler cards (Global Entry, NEXUS, SENTRI, FAST)
U.S. Department of Defense ID, including IDs issued to dependents
Permanent resident card
Border crossing card
State-issued Enhanced Driver's License
An acceptable photo ID issued by a federally recognized, Tribal Nation/Indian Tribe
HSPD-12 PIV card
Foreign government-issued passport
Canadian provincial driver's license or Indian and Northern Affairs Canada card
Transportation worker identification credential
U.S. Citizenship and Immigration Services Employment Authorization Card (I-766)
U.S. Merchant Mariner Credential
Veteran Health Identification Card (VHIC)
Do You need a Passport to Fly in the US?
You do not need a passport for domestic flights within the US. You do need a passport if you're flying internationally outside of the US.
You can, however, use your passport as your identification if you so choose. You can also use your passport in place of your driver's license if the latter isn't REAL ID-compliant by the deadline.
How to Pack for a Flight Roundup
Travel is supposed to be fun. Don't let worries about what to pack or what documents you need overshadow your trip. Packing isn't the fun part, so we're here to help.
Remember that you can bring one carry on bag, one personal item, and any liquids that fit in 3.4 ounce bottles in a quart-sized bag. Check the TSA's website for any specific questions and don't forget your identification.