If your favorite George Clooney character is Ryan Bingham in Up in the Air, you may have a case of wanderlust. Bingham's packing technique and frequent flyer points balance inspire envy. Watch this clip of him packing up then navigating an airport.
Jealous? You don't have to be.
Even the most clueless over-packers can be helped. This guide will take you from beginner to expert in five lessons on how to pack. You will soon be gliding effortlessly through the airport security line on autopilot. You will be as smooth as George Clooney… at least at the airport.
Step 1: Know the Rules
The first step to packing mastery is knowing your constraints. Airlines and the Transportation Security Administration (TSA) are not flexible, so obey their rules.
Packing light in a carry on bag is the only way to travel. With a smaller load, you will have less to carry and less to worry about. You will also save at least $25 on every flight by not checking a bag.
Once you've accepted the carry-on-only lifestyle, you can optimize within the TSA's and the airlines' rules.
Carry On Luggage
Most airlines allow carry ons up to 45 linear inches (length + width + height). Some airlines have more specific rules requiring that bags be less than 22 x 14 x 9 inches. Staying within these limits will keep you off the radar of gate agents looking to check bags.
The Outbreaker travel back pack in the 45L size, maximizes the dimensions of standard airline carry on rules. The smaller Outbreaker 35, is perfect for when you're flying budget airlines and are worried about those draconian carry on baggage rules.
Carry on weight limits vary more. Keeping your bag under 40 pounds is ideal. Budget airlines may have stricter weight limits.
Always check your airline's carry on baggage size and weight limits before flying.
Liquids & Gels
Airlines set their own carry on rules, but the TSA sets the rules for liquids and gels.
The rule of thumb is 3-1-1. Liquids and gels must be in containers that are 3.4 ounces or smaller. These containers must fit within "1 quart-sized, clear plastic, zip-top bag." Each person is allowed 1 bag of liquids and gels.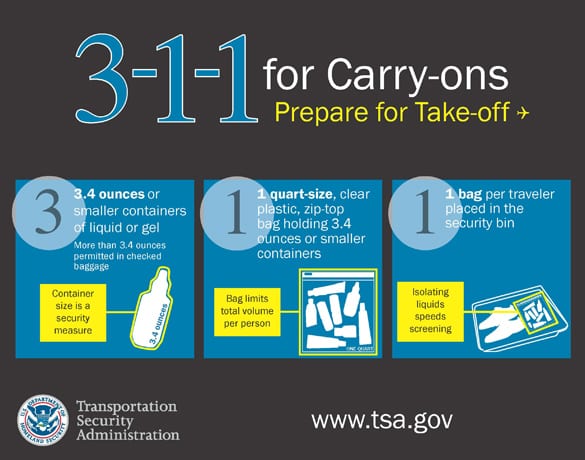 To prevent the TSA from discarding your liquids, buy travel-sized products or, for longer trips, buy toiletries at your destination. For any must-have brands that don't come in small sizes, transfer as much as you need into a GoToob.
Step 2: Choose a Versatile Wardrobe
Minimizing the amount of clothes you pack is essential to fitting everything into a carry on bag.
Skip the specialized clothes you will only wear once. Instead, pack neutral colored clothes that can be layered and combined in different ways.
You will find countless packing lists online. Anything from long-term, around-the-world packing lists to destination-specific packing lists for women. Google your type of trip, average out a few example lists, then adapt them to your personal style.
You can make and save packing lists for your trips with smartphone apps like Packing Pro and Travel List.
The most important tips to keep in mind are:
Dress in layers in cold or variable climates. Choose a warm, breathable base layer made of wool or microfiber.
Pack t-shirts and underwear that can be hand-washed and that will dry overnight. Under Armour and ExOfficio both make great products out of synthetic fabrics that fit both requirements. This tactic will help you avoid bringing too many of the same item.
Wear your heaviest items on the plane. Do not pack thick coats, bulky boots, or jeans. If you need a second pair of shoes, pack a compact pair of TOMS or flats.
Step 3: Pack Efficiently to Maximize Space
Now is the time to convert to the rolled packing method. Smooth out each item on a flat surface then roll it into a tube. Rolled packing will minimize wrinkles and reduce the amount of space you need. Even flight attendants recommend this approach.
Having a suitcase or backpack full of rolled clothing will make finding a specific item much easier. You can see everything at once. If you fold and stack your clothes, you will have to flip through the stack to find what you need.
Bundled packing will also conserve space but will require you to un-pack everything when getting dressed.
Packing Accessories
For more organization, use packing cubes or packing folders. I use a two-sided packing cube to keep my clean and dirty socks and underwear separated.
Packing folders are great for condensing dress clothes if you have to attend meetings or a formal event. I use one whenever I travel to a wedding.
Weight Distribution
Once you've rolled your clothes or packed them into cubes or folders, plan how to distribute the weight of your luggage. Pack the heaviest items (like shoes) in the middle of your luggage, closest to the spine of your suitcase. If you're carrying a backpack, put the heaviest items near the middle of your back. The lightest items should be at the bottom of your luggage when held vertically.
Distributing your luggage's weight will stabilize your suitcase or backpack and make the latter more comfortable to carry. Learn how to pack and fit your backpack for maximum comfort here.
Finally, place your toiletry bag in an easy-to-reach, external pocket so that you can quickly remove it from your bag at airport security.
Step 4: Navigating Airport Security
Your new expert packing skills will be tested at airport security. How quickly and efficiently can you make it through? Perfect packing won't help if you're a disheveled mess in the security line.
After showing your ID and boarding pass to the security agent, place them and the rest of the contents of your pockets into a purse or an external pocket on your luggage. You don't want your phone and money floating around a security bin. Make sure they're stored safely in your luggage.
Once you've emptied your pockets, grab two security bins if you're carrying a laptop and one if you aren't. Your laptop should be in a dedicated sleeve or pocket so that you can easily slide it in and out as needed.
Put your liquids and any clothing you have to take off in the first bin. This includes:
Quart-sized toiletry bag
Slip-on shoes
Belt
Jacket
In the next bin, place your laptop, if you brought one.
Finally, place your luggage on the conveyor belt and proceed through the metal detector or X-ray machine. If you re-watch the Up in the Air clip from the beginning of this article, you'll see that Clooney's character uses this same system.
As your luggage comes out of the other side, grab your shoes and clothes and put them back on. Then grab your toiletry bag and computer so that you can place them back in your luggage as it comes out of the X-ray machine. Once you have everything on or packed, get the hell out of there.
Step 5: Take it to the Next Level
Dedicated travelers won't have to jump through all of these hoops for long.
The TSA recently announced an expansion to its PreCheck program which gives fliers some relief from its onerous security protocols. Participants receive "screening benefits which include leaving on shoes, light outerwear and belts, as well as leaving laptops and 3-1-1 compliant liquids in carry-on bags."
PreCheck was previously only available to high-status members of frequent flyer programs. Now, anyone can apply for $85 and a background check.
The Wrap Up
Packing doesn't have to be a dark cloud hanging over your otherwise exciting trip.
Bring basic clothes, rolled up in a carry on bag. Game plan for airport security and apply for TSA PreCheck as soon as it's available.
Want more like this?
Get weekly gear reviews, travel hacks, and packing tips sent straight to your inbox. We'll send you a carry on packing list right away.