In 2012, Hurricane Sandy smashed into the Eastern shores of the United States. I was living in Long Beach, NY and volunteered for weeks at the Ice Arena which became our donation and distribution center for the entire barrier island. There I met Tracy. This television producer drove from Texas to New York in a tiny car with an even smaller camper attached in order to volunteer and help in the aftermath. During her time in New York, she received a job offer in Chicago – a spot with exceptionally different weather than what she'd always known. Fast forward five years and when we popped over to say hi, we found her happily ensconced in the Windy City, enjoying life by the lake and sharing her picks for favorite viewing spots and tapas treats.
The home of the recent World Champion Chicago Cubs is known for grit, grind, and hot dogs with the works. Spring and fall temperatures fluctuate, summer is hot, and winter brings a frozen tundra. Land at either O'hare or Midway, grab a bag of the famous Garrett Popcorn, quiz locals on their favourite pizza spot and find your version of a Chicago adventure.
From the ivy at Wrigley to the giggles at Second City, from the architecture showcased along the river to the throngs of crowds at Cloud Gate and every bit of that lakeshore in between – Chicago is abuzz with a culture all its own.  Go check it out and experience it all for yourself.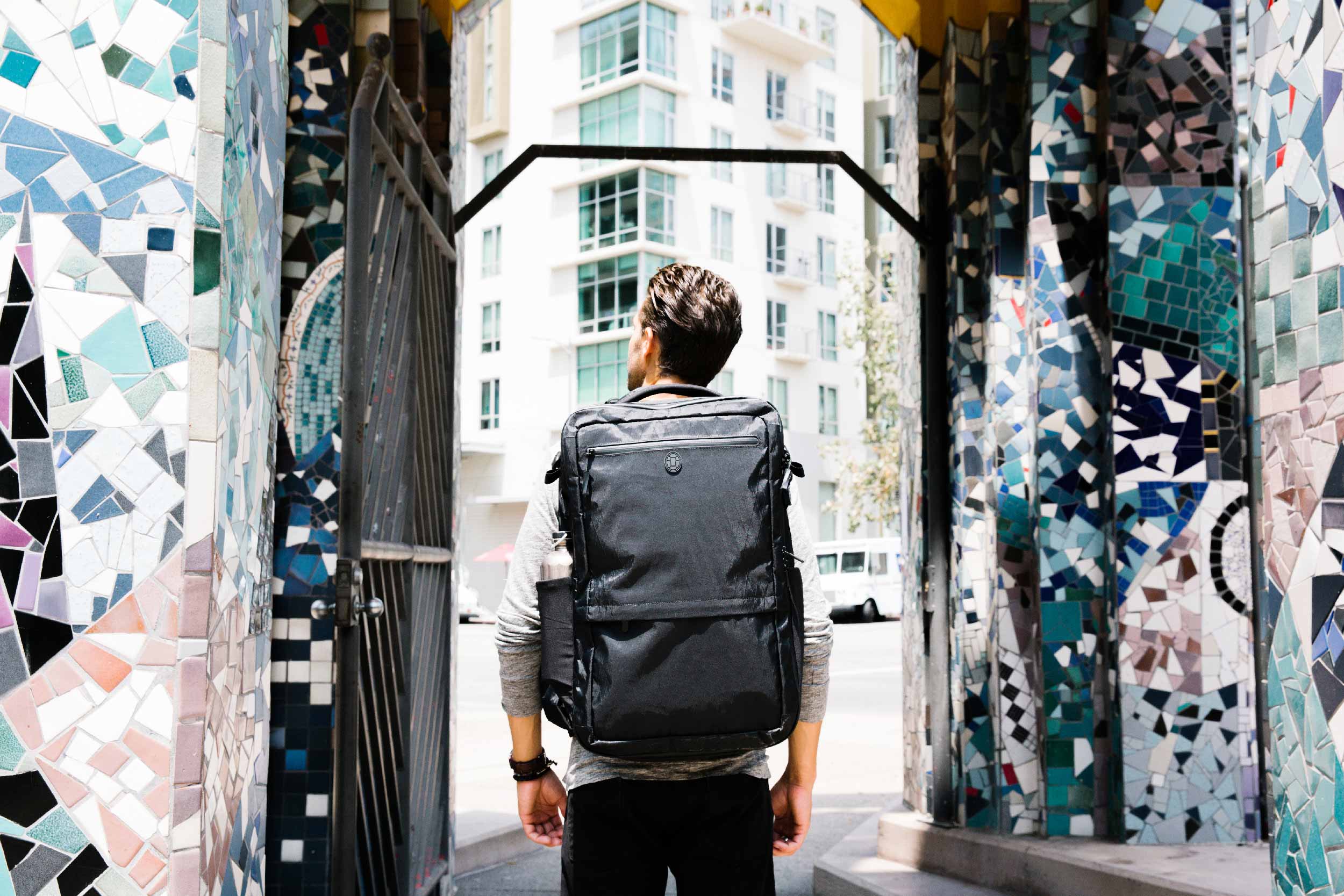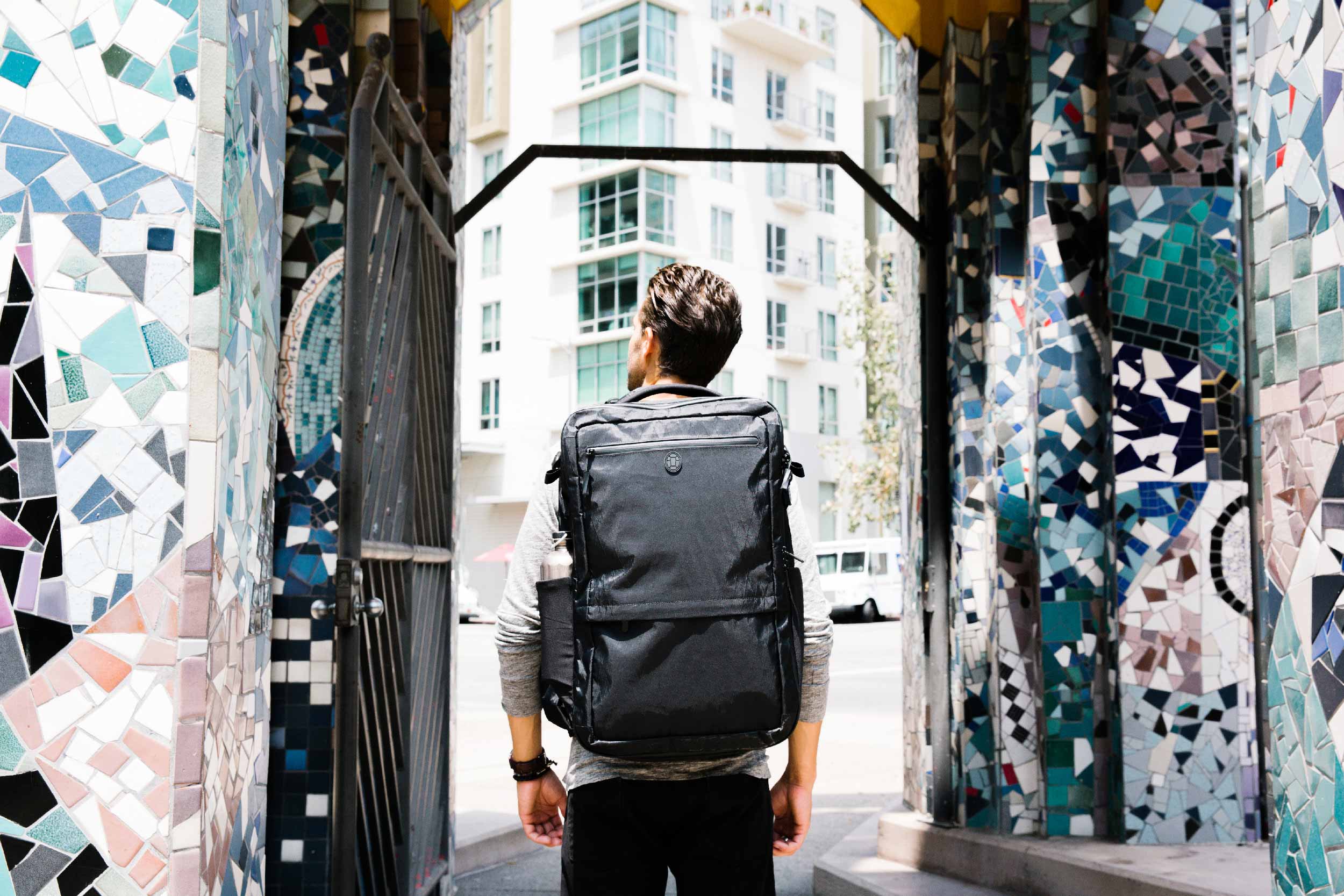 Choosing Your Bag
The fastest and least expensive way from O'Hare International Airport to downtown Chicago is on the Blue Line train for about $5.00. The easiest way to ride a train is without cumbersome roller bags that might ruin your trip.
Kill two birds with one stone, avoid wasting time at the baggage carousel and the risk of losing your luggage by traveling with a carry on backpack.
The Outbreaker backpacks are perfect for Chicago, whether you choose the 45L or the 35L. The sleek, low profile design suits the city vibe and the waterproof sailcloth construction means that you won't have to worry if there's a sprinkle as you step off the train downtown. Designed for a comfortable carry experience, you won't feel like you're lugging a heavy bag up and down over every bump and curb in the sidewalk.
Add the daypack and you've got the perfect bag for museum visits and adventures along the lakefront, whether you're stopping in a cafe to work or just trying to get the perfect reflected photo in the bean. Tuck in the packable duffle as a personal item sized overflow bag for the trip home; you know you're going to shop on the Miracle Mile!
Expect Weather
If you figure out how to get what you want from Mother Nature – fill us all in. Of course, you can bet on the freezing cold in winter and the ups and downs of wind and rain surrounding the equinoxes, and summer is often sticky goodness – the moral of the story: be prepared for the weather to change. Most significantly, always have something for rain, plan for air conditioning, pack layers for extra warmth, expect hot and humid in summer, and never go without sunscreen!
The Essentials
Bring those sturdy walking shoes for cruising the Magnificent Mile, a bit of smart casual clothing for evenings out on Armitage Avenue and if you're fashion forward, think trendy more than fancy. Here are the basics of what you need to pack for Chicago:
Clothes
4-7 pair underwear & 1 bra/1 sports bra

3-5 assorted tops for layering 

1-2 pair casual pants, capris, or skirts

1 pair jeans

1 pair of pajamas, which could double as a pair of leggings, shorts, tee, or sweats

3-5 pair of socks (keep in mind temperature and activity) 
1-2 cardigans or sweatshirt for chilly summer evenings and air-conditioned malls
Remember that you can do laundry while you're there, so pack for fewer days than you are traveling.
Shoes
Limit yourself to two pair of shoes. Choose them carefully to accommodate the expected weather and your activities. Consider:
1 pair flip-flops in summer

1 pair comfortable walking shoes year 'round

1 pair flats or casual shoes to dress up or down

In winter consider adding boots
Accessories
Make the most of your minimalist packing ethos and instead of more outfits, add a few extra accessories to make it all work together. Consider your weather options (whether it'll be a coat and gloves or sarong and sunhat). Nights out at those comedy clubs or trendy restaurants might be spiced up by that infinity scarf and boots while those daytime visits to Little Italy and University Village could need that extra layer packed away in your trusty daypack.
Toiletries
Most people pack too much when it comes to toiletries. Pack what you need and pack any brands that you are loyal to, but remember that everything you need can be purchased in Chicago. Your hotel is likely to provide the basics.
Some things you might consider including:
Tissues

Baby wipes

Soap

Shampoo & conditioner 

Toothpaste & toothbrush

Hair products & accessories (rubber bands have various uses)

Shaving gear

Travel laundry detergent (only if you are allergic to some)

Chapstick

Unscented lotion or baby powder

Travel towel (great for a day by the lake)

Hand sanitizer or anti-bacterial wipes

Sunscreen (buy locally unless you're brand specific)
Deodorant or antiperspirant
Hand, feet, or back warmers (only for winter)
Medical Needs
Staying safe and healthy while traveling is number one on most traveler's lists. Drink water, wash hands, and get as much sleep as possible. Chicago winters can be brutal on those with sensitive skin or immune systems and summer can blast out those UV rays like nobody's business. If vitamins or essential oils are your thing – bring them. If you're prone to bug bites, seasonal allergies or upset tummies – bring whatever you'll need to keep them at bay. 
Consider your medical needs and carry:
Travel Tech
If you'd like a way to record that stunning view from atop Willis Tower or your afternoon excursion to hang with the sea life at Shedd Aquarium, you'll want some tech. What do you need to record your memories, find your way around town, and keep in touch with folks at home? Less than you think. Maybe just your phone and nothing else.
See how low you can go:
Hey guess what? You can replace almost all of that with just your phone! If you don't have to work in Chicago, go lighter.
Places to Visit
The Windy City is one of varied neighborhoods, diverse ethnicities, educational institutions, sporting meccas, and one of the 'Great Lakes,' Lake Michigan. Whether you're taking in a Bears game at Soldier Field, wiggling your toes in the sands along Lakeshore Drive, people watching at the pier, or eating your way through deep dish mania – Chicago doesn't disappoint. 
Check out:
TL;DR
Explore the city that gave us not only Abbie Hoffman and Hillary Clinton, but the Prohibition era crime boss, Al Capone. Get your laughter on where some of the US comedy legends honed their skills, bring your appetite for popcorn and pizza and regardless of season. 
Chicago in winter is not for the faint of heart, pack for the cold with layers.  Practice packing light. Be ready for ever changing weather events, and remember that most everything you need (or forget to pack) you can buy in the Windy City. 
Want more like this?
Get weekly gear reviews, travel hacks, and packing tips sent straight to your inbox. As an added bonus, we'll send you a carry on packing list right away.