What to Pack for Puerto Rico: Tips & Packing Lists
The Tortuga Promise
At Tortuga, our mission is to make travel easier. Our advice and recommendations are based on years of travel experience. We only recommend products that we use on our own travels.
When packing your backpack for Puerto Rico, remember that the weather is tropical and beach-able 365 days of the year. But be prepared for chilly evenings, rainy interludes, and the possibility of hurricanes during the season.
Sitting on her favorite beach in Puerto Rico, a former colleague of mine books her return visit for the following year. She flies the same airline, books similar dates, and always tries to grab a few extra weekends in her special spot throughout the year. A friend's sister moved there to start her life with her new husband. A former student's family spent American Thanksgiving there every year. When we visited, I remember thinking this is one of the most relaxing holidays we'd ever experienced. I searched for shells, spent hours in and out of the water, practiced my Spanish with the locals, and ate exquisite foods.
Sharing its unique island culture with visitors and locals, Puerto Rico is an idyllic island destination. An American commonwealth set amidst a backdrop of neighboring islands in the Caribbean, this historic spot has a wealth of natural beauty, a beautiful language, deep history, and excellent cuisine.
Have you booked your ticket yet? Yes? Then let us help you figure out what to pack for Puerto Rico – no matter what time of the year you're traveling.
Tortuga
When's the Best Time to Visit Puerto Rico?
The best time to visit Puerto Rico is between March and early July when the weather is the best and hurricane season hasn't started yet. Traveling between April and July also means you'll avoid the high season when flights and accommodations are more expensive. Remember that Puerto Rico, like many other Caribbean islands, sits in the regular path of hurricanes.
Hurricane season in Puerto Rico falls from the middle of July through the middle to end of November (be sure to purchase travel insurance if visiting then).
High season

in Puerto Rico is December through April.

Consider visiting during shoulder season (late spring/early fall) for fabulous weather, better pricing, and fewer (other) visitors.
The ideal travel time is between March and early July.
Check cruise schedules before visiting. Areas around the ports are busiest and most crowded during high seasons.
Make an alternate plan if you have to reroute your holiday plans due to weather.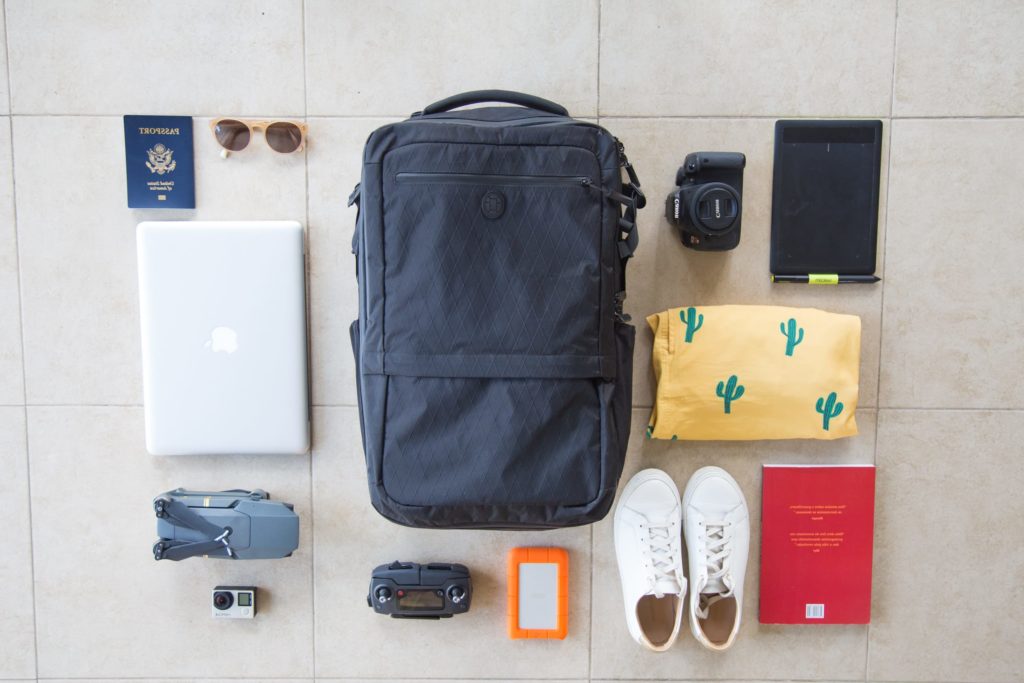 What to Pack for Puerto Rico
The excitement and anticipation of travel begin long before setting foot aboard your plane or cruise ship. What you pack will vary depending on your activities. Are you hiking in El Yunque? Does your itinerary include a kayak through Mosquito Bay or endless spa days? Are you cruising after your Puerto Rican stay or is the entire time designed around catching sun rays on the outlying islands?
When planning your packing list, think about daily needs and any special activities.
Luggage for Puerto Rico
Your Puerto Rican adventure is all your own. But whether you're "beaching it," staying active, participating in extreme sports, or grabbing a day ahead of a Caribbean cruise, you'll want to keep your luggage light. Start by choosing the right bag for your trip.
The Tortuga Travel Backpack is a great option for a trip to Puerto Rico. It packs like a suitcase and carries like a backpack for easy, organized, hands-free travel. Choose between the 30L or 40L sizes so you can take full advantage of carry on dimensions on any airline. You'll have plenty of room for everything you'll need in Puerto Rico.
Clothing Packing List for Puerto Rico
The core of your packing list will be straightforward. Build off of this list based on what you'll be doing in Puerto Rico, whether that's hiking in El Yunque, spending a week in Old San Juan, or celebrating a bachelorette party on the beaches of Culebra.
3-5 t-shirts or tank tops (something to double as pajamas)
2-3 shorts, capris or skirts
1 long sleeve shirt
1-2 sundresses (for day or night wear)
1 nightlife outfit for nights out in Old San Juan
5-7 pair of underwear
5 pair of socks
2 bathing suits (or comparable beach attire)
1 daypack
1 sarong or cover-up
1 rain jacket
1 hat
1 pair of sturdy shoes – wear them on the plane
1 pair flip flops or flats
Sunglasses
If you're going to the mountain regions of Puerto Rico, consider a light jacket or an extra sweatshirt for chilly evenings.
Personal Item Packing List for Puerto Rico
Your personal item should be a daypack or small duffle that fits underneath the seat in front of you on an airplane. During your trip, a personal item might be used as your day bag for outings to the beach, a ziplining adventure, a San Juan shopping day, or even a hike through the forest.
Inside your personal item, you should pack everything you'll need for your flight and everything you absolutely cannot afford to have out of reach.
Wallet & ID (and any other necessary cards)
Travel documents (including onward travel details if necessary)
Medications (daily, necessary, allergy)
Headphones or earbuds
Sunglasses, prescription glasses, or contacts (solution is harder to come by in PR)
Fuzzy socks (if your feet get cold on planes) or flip flops (stash them in the water bottle pocket on the side of your bag)
Scarf, pashmina, sarong, or travel blanket for chilly flights
Smartphone & charger
Portable battery pack & connectors
Notebooik and pen
Travel pillow, ear plugs and eye mask
Extra layer
Water Bottle (no need for a filter, water is safe to drink)
Toiletries Packing List for Puerto Rico
If you're flying to Puerto Rico, the 3-1-1 rule still applies. Each traveler gets to bring one quart-sized plastic zip-top bag. Fill your bag with any liquids or gels in sizes under 3.4 oz (100 ml). Things like Epi-pens, medications, and baby formula do not need to be fit into this bag.
Virtually everything you need, including your favorite brands, can be purchased in Puerto Rico.
Consider the following for your toiletry bag:
Sunscreen (if you have sensitive skin, consider bringing the brand that works for you)
Shampoo and conditioner
Toothpaste and toothbrush
Medications (know the generic names as many are available at local 'farmacias')
Deodorant
Razor and shaving needs
Bug spray and anti-itch cream (especially if you're sensitive to bites)
Makeup
Contacts (extra pair if necessary)
Travel-size contact solution (if necessary)
Eye drops (allergy or saline)
Tortuga
Travel First Aid Kit
When travel planning, those 'what if' scenarios often dance through our minds. We purchase travel insurance for those 'just in case" times but don't want to have to run to a clinic for a cut, scrape, or twisted ankle. There's no way to cover all of those possible moments but bringing along a small first aid kit is a good way to cover your bases.
For those with allergies, be sure to write down a list of foods, medicines and things to which you're allergic.
For those with specific medical needs, learn the generic names of the medications you take in case you need to refill a prescription. Carry a copy of the prescription with you. If you forget something, you can always pick up any first aid needs at a local farmacia.
Include in your first aid kit:
Pain reliever (Tylenol, Paracetamol, Ibuprofen)
Allergy meds (Benadryl, Claritin, Loratadine, other antihistamine)
Anti-itch cream (cortisone/benadryl)
After-sun gel
Immodium/Loperamide
Neosporin or antiseptic cream
EpiPen if necessary
Bandaids, athletic tape, and gauze
Tums, Pepto Bismol, or antacid tablets
Safety pins and tweezers
Ace bandage (especially if your vacation includes much hiking/walking)
Electronics Packing List for Puerto Rico
Puerto Rico runs on standard American outlets with the standard voltage. WiFi is readily available. If you're coming from the States or have electronics that work with a US converter, you'll be fine. If traveling from overseas, pack a travel adapter.
Phone and charger
Laptop ahd charger
Adapters (if necessary)
Portable charger or battery pack
Tablet
Kindle
Daypack Adventures
You're definitely going to want to pack a daypack for Puerto Rico. Ideally, your daypack does double duty as your personal item on travel days. Perfect for the beach, hiking, or shopping around town, your daypack will allow you to travel light while maximizing adventure.
Be sure to include:
Sunscreen and bug spray
Aftersun or aloe gel
Hat and sunglasses
Water bottle
Sarong or cover up for when you need less sun
Packable rain jacket or small umbrella
Dry change of clothes
Swimsuit
Extra zip top bag for any trash you create on your journey
Packable towel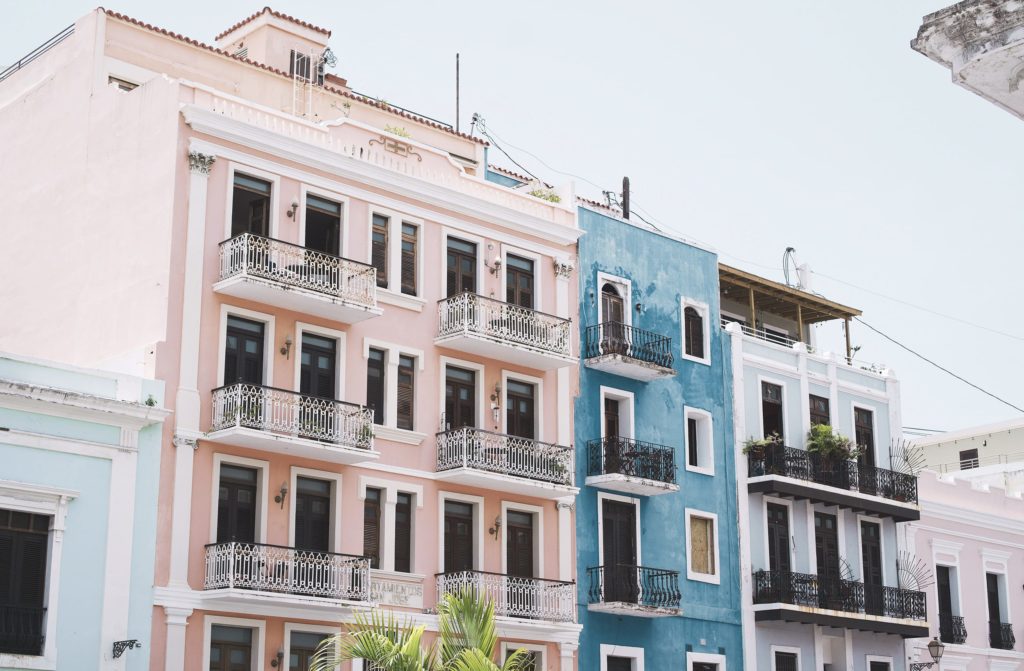 Places to Visit in Puerto Rico
Puerto Rico is more than sun, sand, sea, and surf. Although thousands flock to Rincon to find that surfing sweet spot, there's far more to learn and experience on this island paradise. Taste the flavor of Puerto Rico in tostones or mofongo. Take a walk through time in the UNESCO heritage site of Old San Juan, the heart of this historical city. Between Latin culture, Spanish colonial history, and natural beauty, Puerto Rico has something for everyone.
Here are some suggestions for places to visit:
Puerto Rico: Know Before You Go
Now that you've got your packing list, time for some Puerto Rico travel tips. The flight time from Miami to Puerto Rico is approximately two and a half hours. Puerto Rico is less than four hours from New York City with lots of direct flights. For anyone on the east coast of the USA, Puerto Rico is a viable long weekend getaway. Hop a flight after work on Friday evening and be home by Monday night having spent three full days in the sunshine.
Puerto Rico is Part of the USA
A self-governing commonwealth, Puerto Rico is part of the USA. US citizens only need a photo ID to travel to and from the US mainland to Puerto Rico. If you're considering traveling onward from Puerto Rico, bring a passport.
Puerto Rico has a Caribbean Climate
The weather is tropical and beach-able 365 days of the year. Be ready for cold evenings and rain too.
No Currency Conversion Necessary
Puerto Rico uses the US dollar. Credit cards are welcome and ATMs provide US currency. Travelers might consider bringing smaller denominations for use in tipping and for small purchases outside the cities. Puerto Rican holidays aren't cheap, but food and accommodations outside of the urban hubs are more affordable than those close to the action.
Public Transportation is Limited to Non-Existent
There are several ways to get around Puerto Rico. You could take public busses, but they don't go everywhere. Hire a car, befriend a local, or go on a local day tour if you want to see more of the island. Transportation between islands is available by boat or small plane.
Communication With Locals
Both Spanish and English are official languages of Puerto Rico. Although many locals in the city will speak English, it's best to learn some Spanish before you go in order to embrace the culture and communicate with people both in and out of the urban centers.
Legal Drinking Age is 18
Bring identification with you if you'd like to enjoy the rum capital of the world.
Travel Healthcare
Due to the tropical climate, Puerto Rico is prone to mosquitoes. Check the CDC or WHO websites prior to your journey for up-to-date medical travel warnings or suggested vaccinations. Typhoid vaccination is recommended. Zika is a risk, and dengue exists. Plan accordingly.
Puerto Rico is More Than Sandy Beaches
Puerto Rico is known for the water sports, outdoor lifestyle, and relaxation. But that's not all it has to offer. Old San Juan exudes history, El Yunque (National Rainforest) is the only protected rainforest in the US, and the caving system here is one of the largest in the world. Get off the beach chair and the beaten track to explore a little deeper in Puerto Rico.
Although it's associated with the United States, Puerto Rico has its own culture. Spending time with the people, sampling the flavorful cuisine, learning the heritage, and experiencing the island lifestyle entices thousands of visitors annually. Close in proximity to the mainland of the USA, yet a world away, Puerto Rico makes a perfect getaway.
When deciding what to pack for Puerto Rico, remember:
Pack light in a carry on-sized travel backpack
You can get almost everything you need at your destination
Puerto Rico is warm, but pack a layer for cool evenings and rain
Pack for both beach and hiking adventures