Business Trip Packing List
When packing in a carry on for a work or business trip, look for items that pull double-duty and that can be dressed up or down. Business trips are about professionalism and efficiency, so pack in the Outbreaker Backpack to streamline your day and stay organized. Pair that with the Outbreaker Laptop Backpack to carry your office set up from flight to boardroom.
Whether you're heading out on a last-minute, overnight business trip, or a 5-day long conference abroad, packing for a business trip is always a little different than prepping for a fun vacation.
For one, traditional business clothes are notoriously finicky and can be difficult to pack. Second, your work trip packing list will likely include items like a laptop, chargers, external battery packs, and other productivity-centric business travel gear.
To help you out, read our tips on how and what to pack for your business trip — from men and women's business travel wardrobe recommendations, to tips on stowing your laptop in your luggage properly, we've got you and your work trip covered.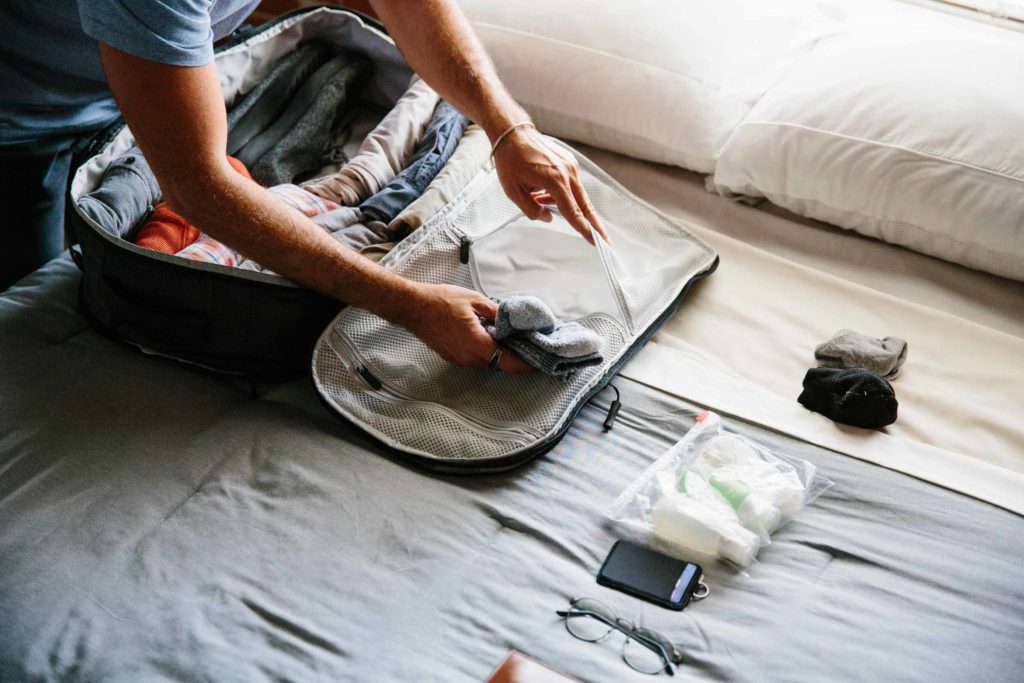 How to Pack for a Business Trip
When packing for a work trip, use a carry on size piece of luggage, and a personal item you can fit your laptop in. Then, use the following tips on how to pack for a business trip:
Select a Carry On Size Luggage
For a professional looking and hyper-organized bag, go with the Outbreaker Backpack , and keep the Outbreaker Laptop Backpack under the seat in front of you, with your in-flight essentials within easy reach. The designated shoe compartment in the duffle makes it particularly excellent for business travel, keep that extra pair of shoes separate from your clothes.
Add a Luggage Lock
A small, TSA-approved padlock is a great theft-deterrent, especially if you will be traveling on trains or buses. Make sure your suitcase or backpack has lockable zippers.
How to Pack Your Laptop for Travel
It's best to pack your laptop in your personal item when you travel, ideally in a daypack with a dedicated space for your laptop. If you're using a bag, like an oversized tote, that doesn't have a padded area for your laptop, invest in a laptop sleeve to protect it and keep your electronics organized.
If you're one-bagging it, make sure you select luggage that has a dedicated luggage compartment (all of the backpacks by Tortuga come with a dedicated, padded laptop sleeve that both protects it and makes it easy to get in or out). In-flight, remove it from your bag before stowing your bag in the overhead compartment.
Whatever you do, never, ever put your laptop in a checked bag and risk it getting broken, lost, or stolen from your bag in transit.
Roll Your Clothes and Pack Them in Packing Cubes
Once upon a time, I didn't use packing cubes. And my bag was a disaster. It took long minutes to find the shirt I was looking for or clean socks. Not anymore, thanks to packing cubes.
When you pack your clothes for a business trip, assign each packing cube a purpose. For example, a smaller packing cube holds underwear. A medium-sized one keeps your shirts organized and wrinkle-free. Then, roll them before zipping them away to make each item easy to find while preventing creases and wrinkles.
How to Pack Your Suit: Fold, Don't Roll
Unless your suit is made of a magical, wrinkle-resistant fabric (like those by Bluffworks and Ministry of Supply), you'll want to make sure you pack your suit properly to keep it in good shape while in transit.
While we have a full article on how to pack a suit, the general advice is fold, don't roll your suit and dress shirt. Place your cummerbund in a shoe to keep it from getting damaged. Make sure your shoes are stuffed (use socks, underwear, and other small, soft items) to preserve their shape.
Business Trip Packing List: Template
A good business trip packing list is built around a solid core, personalized to your needs and style. So, if you prefer 3-piece suits or flowy dresses to a standard black blazer paired with jeans, consider this your permission: pack according to your preferences.
Only then will you pack and travel light, feeling more confident than Batman on a bad-guy-busting day. To get you started, here is a basic business trip packing list you can adapt to your needs:
Passport
If your business trip takes you across borders, don't leave home without your passport. Please.
Boarding Pass
After your passport, your boarding pass is your most important document. Mobile boarding passes are convenient, but make sure that you'll have internet access via your phone if you plan to use one. Or, take a screenshot of the boarding pass and that will be available offline in your photos.
Copy of Your Itinerary
If you're traveling abroad for your business trip, know that some countries won't let you in without a guarantee of when you'll leave. Pack a copy of your complete itinerary, including evidence of when you'll leave the country, to show border security.
For your own convenience, print out the details of your transportation from the airport to your accommodations (if you've booked anything), the address of where you're staying (for customs forms and taxi drivers).
I use TripIt to save all these details; it's much easier and more convenient than juggling more random pieces of paper. However, paper copies are better for border crossings and for when you don't have WiFi access or a local SIM card.
Phone and Charger
Don't leave home without it.
Earbuds or Headphones
Bose noise-canceling headphones are a lifesaver on crowded flights. Opt for in-ear earbuds if you want to travel super light, or larger ones that cover your ears if you want more noise-cancelling protection.
Travel Adapter
Choose a travel adapter that you're sure will to work in the countries you'll be traveling in.
Power Strip
Pack a power strip so that you can charge all of your electronics through one outlet, instead of packing multiple adapters. The Belkin Mini Surge Protector is a popular choice among travelers. The Wirecutter recommends the Accel Travel Surge Protector.
Laptop and Charger
Apple's Macbook Pro and Macbook Air are the obvious choices. The smaller and lighter, the better. I use a slim-profile Toshiba laptop, but know many frequent business travelers adore their Macbooks.
Dave at Too Many Adapters wrote a helpful guide to choosing a laptop for work and travel.
Earplugs & Eye Mask
If you're taking long flights or overnight trains, earplugs and an eye mask make for all-natural, compact sleep aids. Graphic eye makse are fun. Think of them like socks to express your personality.
Book or Kindle
I'm still old-school and read physical books instead of using a Kindle. Either way, don't forget a good book to pass long hours waiting or traveling.
Water Bottle
Grayl is my favorite. This water purifier works like a French press, meaning your tasty water is ready to drink in 30 seconds in a coffee-to-go-mug style without any weird pumping. Get the filter for tap water and never worry about city water again. If you don't already have a favorite, check out our full list of recommended water bottles for travel.
Pen
Obviously. To write down any important notes or messages or contact info.
Clothes: Business Travel Wardrobe
When packing clothes for a business trip, look for items that pull double-duty and that can be dressed up or down. Meaning: that black dress looks equally stunning with a scarf for a casual business meeting or a statement necklace for a client dinner. Whatever your personal style is — jeans and a blazer? Flowy dress? 3-piece suit? (yes, you can pack a suit in a carry on bag) — pack items that make you feel comfortable. And, more importantly, like you.
Although the exact items will differ depending on your style and gender, the clothes section of a 3-day business packing list looks like this:
3 tops; 2 dress tops and 1 casual top
1-2 bottoms
1 dress
1 blazer
3 pairs of underwear
3 pairs of socks
2 bras
PJs
2 pairs of shoes: 1 dress shoe and 1 athletic/casual shoes
Workout clothes (optional)
Women's Business Travel Wardrobe
Use the above business trip packing list template and add the following for a 3-day business trip. If you don't already have a travel-friendly business wardrobe, take a look at our recommendations for the best business travel clothes for women.
2 Blouses and 1 T-Shirt
2 blouses
1 lightweight t-shirt to dress up or down
Pack two business-appropriate blouses or collared shirts and wear the more casual t-shirt one on the plane. I love J.Crew's cotton vintage t-shirts as they look chic (and feel comfy) with jeans or slacks.
Everlane has a range of modern, basic shirts that work for both business and casual attire. Their Japanese GoWeave line is especially good for travel, since the fabric is durable, wrinkle-resistant, and comfortable.
1 Blazer
1 dark-colored blazer or suit jacket
It's no secret that I'm a huge J.Crew fan. Their women's blazers fit well, look chic, and last a long time. Consider a wool blazer that keeps you cool in hot boardrooms and warm on chilly airplanes.
If you're willing to make the investment, consider a wrinkle-resistant blazer, like the Kinetic Blazer by Ministry of Supply, that you can pack without worrying about it turning into a rumpled mess. En route, wear your blazer so it doesn't get wrinkled in your carry on.
2 Bottoms and 1 Dress
1 pair of slacks or skirt (whichever you prefer)
1 pair of dark-wash jeans: wear on the plane!
1 dress (optional)
Opt for Betabrand's Yoga Dress Pants for sleek black pants made from stretchy material like your favorite yoga pants. Alternatively, look at ADAY's line of pants for a wrinkle, odor, and pill-resistant pair of business travel pants that are both technical and travel-ready and fashionable with their simple, modern cuts.
I live in jeans, and even on the dressiest business trip, I'd yearn for a pair. If you're like me, wear your jeans on the plane. My favorites are Lucky Brand jeans with some stretch woven in.
Love your dresses? Pack a versatile dress like this Draper James one full of Southern charm and style, or any of the odor- and wrinkle-resistant merino wool dresses by Wool&.
3 Pairs of Underwear and Socks
If you want to hand wash your underwear, you can get away with packing less. However, for a short 3-day business trip like this one, pack one pair per day. Because you'll save more on time vs packing space.
2 Pairs of Shoes
Pack one pair of professional shoes that are small, light, and comfortable, like this pair of classic black heels from Clarks, or a simple and easy-to pack pair of flats or loafers by Rothy's.
True, you can wear your heels through the airport, but do you really want to? I don't, which is why I wear a pair of black athletic shoes that I wear for a run or workout at my destination.
PJs
My fav packing light secret? Make your PJs and workout clothes the same outfit. Snag a quick, sweaty workout in the AM and hand wash your clothes in the sink. By the time you're ready for bedtime, your clothes will be dry and ready for you.
Men's Business Travel Wardrobe
Use the business trip packing list template and add the following for a 3-day business trip:
2 Collared Tops and 1 Casual T-Shirt
2 collared wrinkle resistant shirts
1 more casual shirt that's suitable for after-dinner drinks and on the airplane
Ironing dress shirts is a pain. So, instead opt for a wrinkle-resistant dress shirt (or two), like the Bluffworks Travel Dress Shirt ($125). As Shawn Forno says, "made from 98% polyester (that's a good thing), it has lots of stretch, breathes, and dries quickly. The best part is that it's machine washable. Perfect for happy hour, or the boardroom in any city you visit."
For your casual shirt, opt for a versatile merino wool t-shirt that will stand up to the rigors of travel.
2 Pairs of Pants
2 pairs of pants and/or jeans
For a pair of pants that can easily work for business and leisure alike, pack a pair of basic, but high-performance pants, like the good-looking Outlier's Slim Dungarees. If you prefer jeans, try Bonobos' Travel Jeans which are made from lightweight 10.5 ounce denim and have a 1% stretch. Stick to 1-2 pairs of pants and wear your more casual pair on your flight.
3 Pairs of Underwear and Socks
3 pairs of socks
3 pairs of underwear
Avoid doing laundry on a quick 3-day business trip and, instead, pack three pairs of underwear and three pairs of socks. For travel friendly underwear, check out our list of the best underwear for men and women.
1 Blazer or Jacket
1 dark-colored blazer or suit jacket
Shawn went deep when he broke down the best blazers for guys, coming up with the wrinkle-free Bluffworks Gramercy (Slim Fit) Travel Blazer as his top choice for men's travel blazers.
2 Pairs of Shoes
Think small, light, and comfortable for your shoes. Like the Lenox Hill Cap Toe Oxfords from Cole Haan or Vivobarefoot Porto Rocker.
Packing two pairs? Wear the heavier or bulkier pair through the airport.
PJs
1 lightweight shirt
1 lightweight, athletic pair of shorts
5-Day Business Trip Packing List
For a longer 5-day business trip, be prepared to hand wash your clothes mid-trip. Or, spend a quiet night in your hotel room, working, and do laundry at your hotel's washer and dryer. Check with the front desk: they likely have a laundry service available for guests.
Not keen on doing laundry? Prepare to pack a little more in your carry on. It's still doable to pack in a carry on for a 5-day trip, trust me.
Clothes getting a little wrinkled or stinky? Hang them up in the bathroom while you take a hot, steamy shower. The hot moist air eases wrinkles and smell from them.
What to pack for a 5-day business trip
1 pair of dress shoes
1 pair of athletic shoes for workouts
5 pairs of socks
5 pairs of underwear
2 bras
2 dress slacks or skirts
1 pair of "off duty" pants like jeans
3 dress blouses or shirts
2 more casual shirts to dress up or down
Laptop and charger
Phone and charger
Powerstrip
Water bottle
Headphones
Book or kindle
Pen
Earbuds and eye mask
Travel adaptor and passport (if international)
Overnight Business Trip Packing List
Ready for a quick, easy packing list for a 1-night business trip? Reduce the number of items in your 3 day work trip packing list template by two. Basically, pack an outfit, wear an outfit, and add the non-clothing essentials. Look at you, traveling light and fancy-free.
What to pack for an overnight business trip
1 dress shirt
1 casual shirt
1 pair of dress pants or skirt
1 pair of casual pants
1-2 pairs of shoes (one dress pair and one athletic)
1 pair of underwear
1 pair of socks
1 blazer or jacket
Laptop and charger
Phone and charger
Powerstrip
Water bottle
Headphones
Book or kindle
Pen
Earbuds and eye mask
Travel adaptor and passport (if international)
Steal a page from George Clooney's well-refined playbook from Up in The Air and streamline your airport experience by packing only in a carry on. Not only will you save time at the airport — no checking bags, baggage claim waiting, risk of losing your suitcase — but you'll also feel more confident.
Packing light is about trusting yourself to handle any situations that might arise. More stuff won't win that deal. It's about you. Just like your carry on.