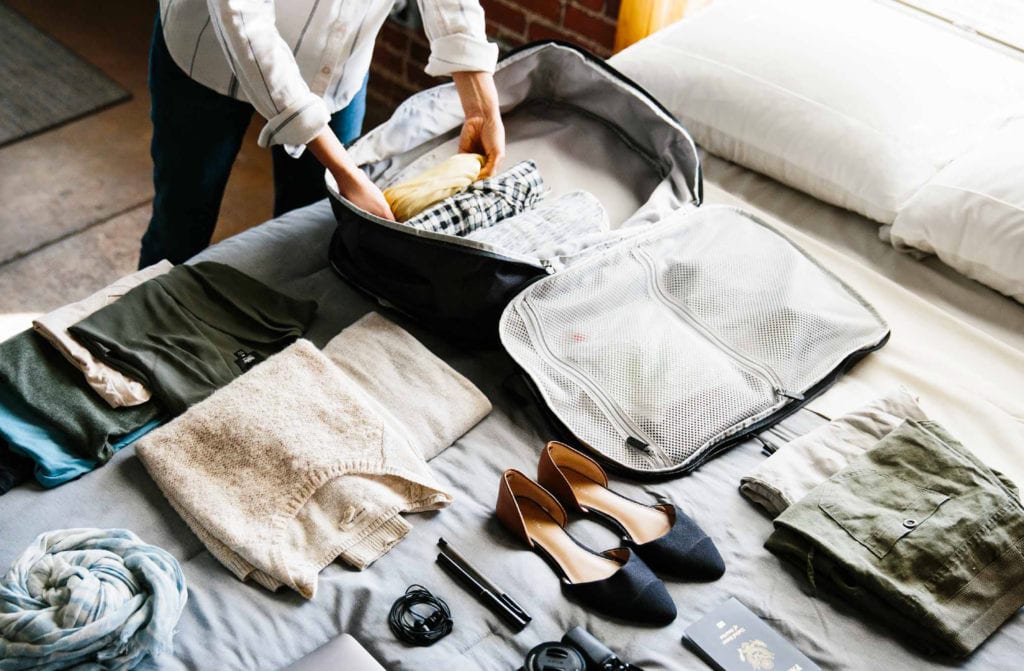 Packing isn't the fun part of traveling.
When you start out, you pack too much stuff. Then you cut back but aren't sure if you have everything you need. The hardest part: you don't know if you got it right until the end of your trip.
Packing the right stuff is the first step to happy travel.
You need travel resources and reviews written by experts, not inane advice cobbled together by someone Googling other people's experiences.
We're passionate travelers with decades of experience to share. We travel light, so the stuff we carry has to be the right stuff.

We've made our share of packing mistakes, too.
On a backpacking trip to Eastern Europe in 2009, we learned how hard it is to travel with the wrong gear. We brought too much stuff and packed it in the wrong bags. Despite weeks of pre-trip research, we couldn't find the perfect travel backpack. So we made it.
Childhood best friends Fred Perrotta and Jeremy Cohen founded Tortuga in 2010. After starting the company, we heard from travelers experiencing the same problems as we had. They wanted to know how to pack less and what gear they needed. We created Packsmith to share what we had learned. For the past decade, we've been working to make travel, and packing, easier.
We don't write a travel resource unless we've lived it. And we've lived a lot of travel.
Our Standards
Our packing lists are written by people who have been there – often multiple times. Our gear recommendations come from rigorous testing on the road in places that demand performance, like testing filtration water bottles in rural Guatemala and base layers in northern Sweden.
We don't just take a cursory glance at star ratings online, or review free products sent to us as promo from within the confines of a sterile office. We test travel gear on our travels. If a recommendation is based on someone else's experience from an interview or similar, we'll tell you that in the post.
While research is often a key part of writing a great article, you can rest assured that everything on Packsmith is written by someone who has "been there, done that" because in travel, like in life, experience matters.
Our Core Editorial Team
Jenn Sutherland-Miller – Editor
Jenn raised 4 children while traveling full-time for more than a decade– it's called worldschooling and it's awesome. Jenn has been published in numerous travel publications, partnered with brands to promote travel and education, she writes and speaks frequently on topics related to work-life integration for travelers, solo female travel, and family travel. Jenn has traveled deeply in more than 50 countries on six continents.

Shawn Forno – Writer
If you want to learn about budget travel, minimalist carry on packing, or how to travel (and even live and work) in dozens of countries all over the world, Shawn is your guy.
Shawn is not a New York Times bestselling travel author, but he is a full-time freelance blogger, copywriter, and content manager and is also a published photographer. He likes to rock climb, trek, surf, ride his bike, and read a bunch of sci-fi books.
Jessie Beck – Writer
Jessie is a writer, editor, and content marketer who covers travel gear and adventure travel. She's called many places home and traveled to 45+ countries.
She now lives in San Francisco with her husband where she splits her time between traveling, adventuring outdoors, and cooking (okay, eating).
Bennett Collins – Writer
Awkward Instagramer, hater of air travel, and intense lover of donuts, Bennet spent most of his 20s, as a nomadic human rights researcher. His time abroad has taught him to travel the world with care, respect, and in his own time.
Bennett treats globe trotting like a nice meal out – never rushed and savoring every moment.
Megan Lee – Writer
Megan Lee likes to joke that she majored in study abroad in college. Living in the Bay Area, she earned her chops as a writer, digital marketer, and urban traveler.
She's visited 40+ countries, and also writes for numerous travel publications.
Laura Lopuch – Writer
Laura's first trip was when she was 3 months old, instilling an insatiable wanderlust. She hasn't stopped traveling, or writing about it. As an expert in carry on travel, she's flown on over 100 flights with only a carry on bag. Even on trips with her husband and kids.
She believes travel is the great educator — and vital to our humanity.
Stacey Ebert – Writer
Stacey Ebert is a freelance writer, blogger, educator, yogi and traveler who has adventured through over 50 countries. After a 10-month honeymoon around the world, she started writing about adventure, journey and perspective changing life shifts.
She's a badass at finding travel discounts, drilling down the details and asking the hard questions. Her work has been featured in both travel and educational publications.
Occasionally, we publish work from Tortuga team members and other writers. That usually happens when one of us isn't the right person to write the post because they haven't lived that experience. If you're an expert traveler who's interested in contributing to Packsmith, pitch us here. We pay our writers because we believe in ethical compensation.
Our images come from real Tortuga customers traveling with our backpacks. We pay for those, too.