They may be known as unmentionables, but we're devoting this entire post to underwear.
Underwear is small, light, and easy to wash. Don't waste too much packing space on your undies.
This post outlines the best travel underwear options and how to pack them efficiently. You don't need special underwear for travel, but some brands lend themselves to the rigors of the road.
The best travel underwear have the same properties as other performance clothing. They're lightweight, breathable, and odor-resistant. Most importantly, they are quick-drying so that you can wash them yourself to cut down on the number of pairs you need to bring on longer trips.
In case you couldn't tell from the last paragraph, cotton underwear are the worst for traveling. You don't want your skivvies hanging around your hotel room drying for days and days.
Let's start with the best underwear for travel.
The Best Travel Underwear to Buy
We're long-time fans of ExOfficio underwear. The Give-N-Go line has multiple options for both men and women.
ExOfficio meets all of the qualifications mentioned above. They're light, odor-resistant, and quick to dry.
Eytan at SnarkyNomad recommends the very affordable Airism boxer briefs from Uniqlo. I haven't tried them yet but trust his recommendation.
For women, Her Packing List wrote an entire guide to travel underwear and bras.
By packing travel-friendly underwear, you can bring as few pairs as you can tolerate. Bringing fewer pairs of underwear will save space in your bag, but you'll have to hand wash more often. It's a tradeoff that many (but not all) travelers find worthwhile.
If you really want to optimize how many pairs of underwear you pack, Pack Like a Nerd has a helpful chart. The chart guides you in deciding how many pairs to pack depending on how many days you will be traveling and how many washes you're willing to do.
Okay, now you've got the goods. Time to pack them.
How to Pack Travel Underwear
In most cases, rolling clothes is more space-efficient than folding them. The same is true when packing underwear.
Roll your travel underwear to conserve space.
Like socks, underwear can be stuffed into any available spaces. For example, inside of your shoes. When packing, you can save your underwear for last. Fit them into any available space to act as filler in your pack.
If you like to be more organized, pack all of your underwear into a packing cube at the bottom of your bag. Lightweight clothes, like underwear, socks, and t-shirts, are perfect for packing at the bottom of your backpack as seen here.
Read more about how packing by weight-based zones can make your backpack feel lighter.
Underwear Packing Hacks for Women
As a man, I'm not qualified to tell women how to pack their underwear. We're calling in an expert: Cosmo.
In an article on packing hacks, Cosmo recommends two clever packing tricks for women's underwear.
7. Help your bras maintain their shape while also saving space by stacking your bras on top of each other, folding them in half, and tucking your underwear inside. Stuffing your underwear inside your bras will prevent the cups from folding inward and help extend the life of your bras beyond your trip.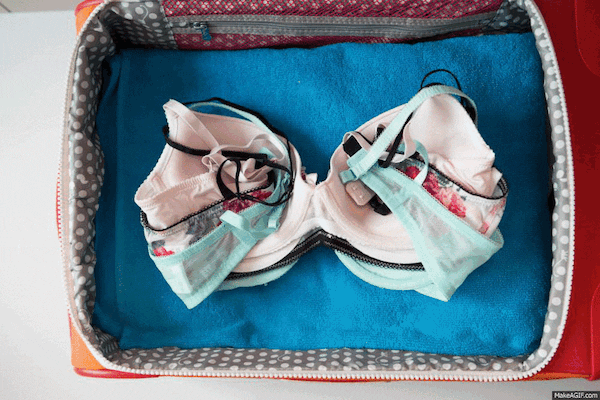 11. Protect your delicates from the rest of the items in your bag by tucking them inside the little cloth bag that comes with a new pair of shoes or a new handbag.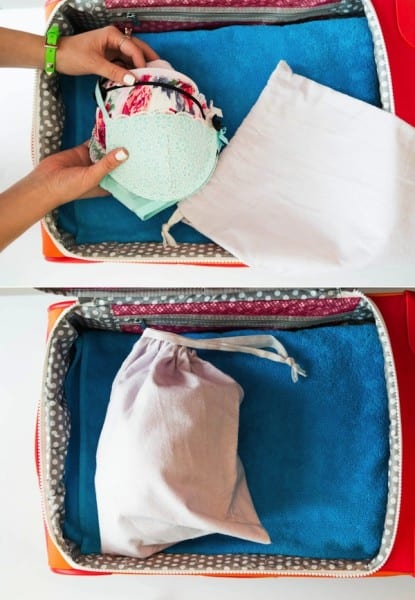 If you bundle your underwear like in the image above, pack the bundle near the top of your bag so that the rest of your clothes don't smash it. Or pack the bundle in a packing cube, which has more structure, and place it at the bottom of your bag as described earlier.
TL;DR
Buy underwear designed to travel well. Roll or bundle pack them to minimize how much space they use.
Pack your underwear and other lightweight items at the bottom of your bag for maximum comfort. Pack delicates near the top of your bag so they don't get smashed and become misshapen.
Want more like this?
Get weekly gear reviews, travel hacks, and packing tips sent straight to your inbox. As an added bonus, we'll send you a carry on packing list right away.