When I booked an assignment covering Iceland's Secret Solstice Music Festival this past summer I got crazy excited. Then I freaked out. Iceland is a photographers' paradise, but I was riddled with questions.
If the sun doesn't set for three days, do I need a flash?
How many batteries do I take?
What about a shotgun microphone?
Which lenses should I bring?
What kind of tripod?
Or should I bring a monopod?
Or a gorillapod?
What about time lapse?
The questions go on.
However, the most important question you need to ask when assembling your travel video gear kit is simply this:
What kind of video am I going to make?
That's it. The answer to your packing dilemmas is a good hour of preproduction.
Plan Your Shots
Do you want to do time lapse? Great. Make sure you have a quality tripod.
Hyperlapse? Bring a remote shutter.
Shooting street photography style video? Maybe you don't need all those lenses and you can stick with a fixed 50mm.
Is your video going to be heavily edited with a soundtrack? Don't worry about the microphone.
Are you conducting interviews? Grab a cheap lavalier mic and maybe a light.
It Doesn't Take Much Gear
It doesn't take a lot of gear to make a great travel video. Honestly, all you really need is your smartphone. But if you want to ramp up the production value of your next travel video, I've created a list of essential travel video gear to bring along that won't break the bank. And guess what? They're carry on compatible.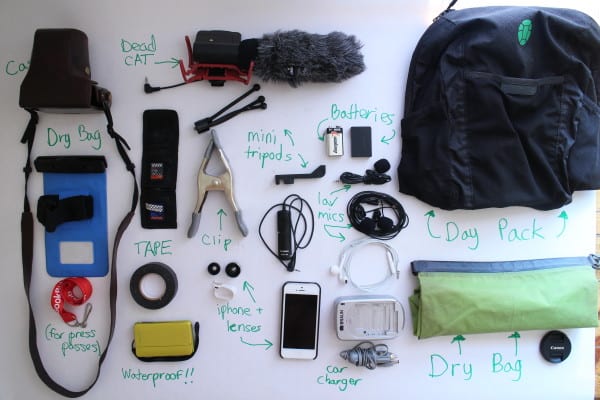 Camera
I use a simple, off the rack Cannon DSLR with an 18-55mm lens to shoot almost all my video.
It's cheap, light, versatile, and just plain works; but, what I like most about it is that it's inconspicuous. I like candid video (I don't stage shots very often) so pointing a telescope lens in someone's face won't give me the shot I want. That's for landscapes. I also prize long battery life (this thing lasts for days) quick start up time, and all around portability. The only thing this camera doesn't have is a viewfinder. But, you can't have everything.
Obviously the quality jumps up significantly on something like the Cannon EOS 5D Mark III—which I shot on a little bit—but carrying a $3k camera around freaks me out.
Keep it cheap and portable and you'll never be stressed out going for that crazy crowd shot or just banging around town. Also, chuck a padded leather case on your camera so you can swing it over your shoulder worry free. This leather camera case from Mega Gear (cool name, right?) only cost $25 and I get compliments on it all the time. No big deal.
Another arrow in my quiver is the handy little Sony Cybershot. It's a pocket-sized 16 MP point and shoot, but more importantly it's waterproof to 16 ft. I've had this green machine for 8 years and it just keeps getting me the shots I want. It's perfect for rainy days in SE Asia, tubing, swimming, and more. It's nice to have a camera in your bag that can take a beating without you worrying about how expensive it is.
If I had to buy a waterproof camera today though I'd probably go with the GoPro Hero 4. The quality is off the charts, the battery will outlive my grandkids, and the storage capacity is fantastic. It's waterproof, durable, and extremely versatile (I want to shoot some drone footage in the future). That being said, you don't have to drop $400 for a solid waterproof camera that gets the fun shots that you want. $99 point and shoots work just fine.
iphone 5 – You already have it
Your smartphone is more useful than you think. I shot a lot of B-roll footage on my iphone 5, and used it as a light, digital audio recorder, and flash. A lot has already been written about the 5 and 6, so I won't beat a dead horse, but it's pretty darn incredible that you can shoot video, edit it, and post it all from the palm of your hand. Don't hate on the smartphone. It's a great video production tool.
Sound Matters
Aside from shaky garbled footage, nothing will make a video unwatchable faster than bad audio. Don't overlook sound production.
I actually use the slightly larger version of this mountable Rode condenser mic, and I'm happy with it, but pound for pound the Rode Video Mic Go is just a better travel mic. It's smaller, lighter (73 grams), and pulls power straight from the camera (mine needs a 9v battery which sucks to carry). However, the best feature is that it's dummy proof. It doesn't have an on/off switch. When it's plugged in, it's recording. We lost some audio in Iceland because the audio wasn't turned back on in between takes. It happens all the time. Trust me.
I'm not a fan of lav mics (they're invasive), but for on-camera personalities and interviews they're a must. People turn their heads a lot when they talk, and an omni-directional condenser mic will miss things if they're not pointed right at your subject while—say while they're walking down the streets of Paris pointing out the sites. But good news: You don't have to break the bank with lav mics. I picked up this 3-pack of Neewer 3.5mm lapel mics for $6.50 on Amazon and they work great.
In a pinch your iphone headphones make a great lav mic. Just plug it into your camera, paper clip it to your shirt and go. If you want it on your subject, just open the voice memo app, hit record, and put your phone in their back pocket. Boom, now you have your very own digital audio recorder. Seriously, guys… smartphones are freaking amazing.
If you're shooting outside a lot (which I hope you are), invest in a windscreen. Windscreens—often called "dead cats" because of their grey fuzzy look—make a huge difference when it's windy. You can find a decent used windscreen for $10. Just don't get it confused with the pop filter that's already on the mic.
Stabilization
Selfie Stick
Don't you dare.
Tripod Versus Monopod
This age old debate (just kidding monopods are only a few years old) is all about your preproduction notes. I personally love monopods for stabilizing crowd shots on the go, and I've even seen some great hyperlapse video producers use monopods—but, the decision is up to you.

Obviously lighter is better, but you also want something sturdy enough to support your camera's weight on a windy day. I've heard good things about the Manfrotto, and it comes in customizable colors. Dibs on pink!
If you just can't decide between tripod or monopo, just get both with a 2-in-1. The Revolve is lightweight, aluminum, features a table top splayed setting (perfect for vlogging) and only costs $89. You can get cheaper tripods, but don't limbo too low on the quality scale. You get what you pay for. A cheap tripod that breaks your expensive camera is not a good deal.
I gave this stand a try on my Iceland trip and I was really happy with it. Simple slide your iphone into the slat and you're good to go. I mounted it to a cheap flexible tripod and strapped it to the dashboard during our roadtrip for some amazing timelapse footage and long exposures. Pound for pound and dollar for dollar, it holds up. Plus, you can prop up your phone to watch sweet YouTube videos. So, that's cool.
Accessories
Extra batteries
Please, please, please bring at least one extra battery. I brought two.
International Charger / Car adaptor
A car adaptor for your charger is a travel videographers best friend. We practically lived in our car for 2 weeks as we drove around Iceland, and we maxed out our camera batteries at every turn. That's the whole point. You want to be able to shoot everything without worrying about power. Nothing sucks more than searching for a cafe to charge your camera battery in rural Iceland. Spoiler alert: everything closes at 8pm.
Electrical Tape
It fixes everything
Large Clip
Attach your iphone for audio, B-roll, and more. Clip a mic up high for weird sound. Packing one large clip gives you a lot of options.
64 GB SD Card
Get at least 3 of these—more if you're going to shoot a lot of time lapse. I don't shoot in RAW because I'm not insane, but you want the ability to take photos and video at the highest possible quality. Get SD cards with lots of room.

I don't actually travel with a traditional "camera bag." Most of my gear is pretty battle-tested and I don't mind the occasional scratch since I'm not usually rolling with anything as nice as the Mark III, so the Tortuga Day Pack is perfect. It's inconspicuous, light, and has pockets for the little bits of gear I use throughout a shoot.
I also travel with this little dry bag rolled up in the bottom of my bag. It weighs nothing, but if I'm ever shooting on a kayak or in monsoon season, it's great to know that my gear is safe inside whatever bag I'm using that day.
Final Production Notes —"Handles" Rule
When I asked my buddy, Joel (a video editor for the Travel Channel) what he thought was the most important thing about video production, his answer wasn't about gear or shooting styles or any of that. It was about editing. "Leave yourself plenty of good handles," he stressed.
He went on to explain that "handles" are the 5 seconds of dead air on either side of a take. He said good handles are often the biggest difference between amatuer and professional video production.
"Rookies just turn the camera on and start panning or talking. Pros take a breath, let the shot roll for a second, then start. Same thing goes for the end of a shot. Let the camera roll. Digital film is free."
If you have the right gear (a tripod, mic, good battery life, and a big SD card) you can let the camera roll before and after each shot. Trust me, it makes a big difference when you're in the editing room.
TL;DR
The key to great videos isn't your gear. It's you. Know what you want to shoot and go out there and get it. Macgyver what you can't afford, and if you have to, shoot the whole thing on your phone. It doesn't matter how you shoot it, just keep rolling
Use the right lens – fixed 50mm for street video, zoom for landscape
Monopods are better than you think
Audio matters — bring a "dead cat"
Protect your expensive camera with a cheap case and dry bag
Always shoot long "handles" to make editing a breeze
Bring extra batteries
Want more like this?
Get weekly gear reviews, travel hacks, and packing tips sent straight to your inbox. As an added bonus, we'll send you a carry on packing list right away.