Odds are you've seen the dozens of travel hack videos and articles out there. They're everywhere. Heck, I even wrote one. But after a few clicks, they all start to look the same. Because they are.
I'm sick of the generic tips. That's why I wracked my brain to come up with 8 totally original travel hacks for you to use to make your next trip epic. Below I'll show you how to make each one with step-by-step directions and photos.
Disclaimer: I physically made each one of these hacks in my apartment in just a few hours. They require no sewing, glueing, or skill of any kind. My "tool chest" is a phillips head screwdriver and some twine. All told, every single project contained below cost me about $25. Combined. And $18 of that was the Never Wet… 
Rain Proof Your Bag with Never Wet
Ditch the nerdy rain cover (that you use) and simply make your backpack water-proof with Rust-O-Leum's "Never Wet" spray. Simply spray and let dry for a magic layer of water protection.
Cost: $18
Make a Deodorant Safe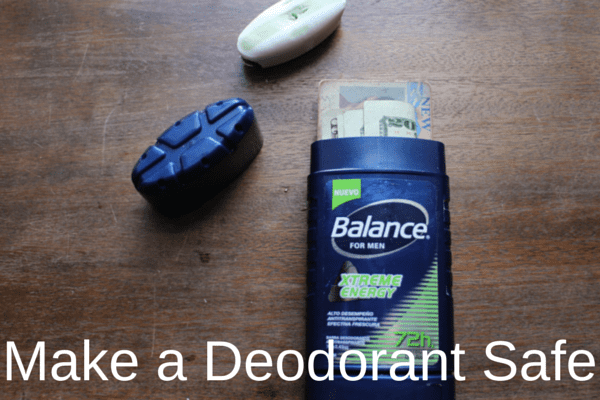 This hack takes, literally, no tools. Simply open your existing deodorant, twist it up to remove the top portion, place your valuables (credit card, cash, etc) inside, and replace the top. You can do this with a new deodorant and still have room for most things, but a nearly empty stick has a bit more space.
Cost: Free
Tennis Ball Safe
If you're still paranoid about your stuff getting stolen, use the tennis ball safe. To make this all you do is slit a 2-3 inch hole in a tennis ball and squeeze to open. That's it. The upside of this one is that it can hold more delicate items like SD cards and jewelry as well as cash. Plus, no one will think twice about a ball in your bag.
Cost: Free
Draw-string Knit Cap/Bag
I routinely carry a knit cap (I grew up saying "beanie," but, to each his own) through the elastic belt at my waist. It's great for windy days that aren't all that hot, and it doubles as a way to carry small items – cash, a snack, or small book.
In this hack I upgraded this classic with a drawstring from an old laundry bag woven through the knit of a cap. I didn't cut a thing and I can remove the drawstring from the hat with no damage. The hat is still a sweet hat, and now I can use it to protect delicate electronics – like an ipad – when I'm on the move.
Cost: $5
Make a "Journal Friendly" Thin Pen
I hate the way pens bulge my moleskin along the binding, and "thin pens" are weirdly expensive. The solution – take the pen out of the case.
All you do is remove the inkwell and tip from the casing, wrap it in electrical tape (to reinforce it and seal the bottom), and voila – a thin, flexible pen. I went the extra mile and attached a paper clip on the end to keep it in place and serve as a bookmark.
Cost: $1
Prescription Bottle Medical Kit
I mentioned this one in my last travel hack article, but it's worth noting, again, how simple yet useful it is to have a med kit along on your trip. The orange prescription bottle is water-resistant and is tinted to filter out UV light that degrades most medicine, making it the perfect container for your handful of diarrhea pills, Tylenol, ibuprofen, band-aids, Neosporin, and even a condom or two.
It's nice to know that when you get sick – and you will – you have a few ways to make it better in a hurry. Cost: under $10
Bike Lights vs. Headlamps
Headlamps suck. They pinch my head, look stupid, aren't rechargeable, and good ones are super pricey. The solution: bike lights.
A pack of generic front and rear bike lights costs about $5 and they're built to last. They're water-resistant, cheap, and are made to be abused.
"What about being hands-free?" you ask. Good question. Bike lights are designed to hook onto things, making them not only great substitutes for headlamps, but a vast improvement. Hook them to tree branches while camping. Clip them to your belt loop. cinch them around the top of a backpack strap like a CIA thug. Wear them like rings. Heck, you can even *gasp* clip them to a bike.
If you really need to upgrade, consider a bike light with a rechargeable USB hub like the one pictured here. You'll never have to buy batteries, and a charge is only an iphone USB hub away.
Cost: Generic – $5 / USB option $15
Brand Your Bag with Gold Spray Paint
The simplest hacks are often the best. That's why I love this one. Too often your bag gets confused with someone else's because it looks like it just rolled off the factory floor. Step out from the crowd and take ownership of your bag with a stencil and a dash of personality (a.k.a. gold spray paint). Don't be afraid to tag your bag – you bought it, make it yours. If you're feeling extra sassy use the stencil to mark a few of your t-shirts to avoid confusion when they're hanging out to dry.
Cost: $5
Bonus Hack: Mouthwash Liquor Smuggler
This last hack is only for anyone taking a holiday cruise. I worked on a cruise ship in Hawaii for two contracts, and the one thing that I know for certain is that cruise ships confiscate alcohol. And alcohol onboard is expensive.
The only way to sneak your booze past security is by using the old "mouthwash flask." Simply buy a reasonable size mouthwash container (8-12 oz), then fill it with your liquor of choice. Avoid the brown stuff – bourbon, etc. – and if possible use a non-clear package like this Crest clinical Pro-Health.
If you do use a clear bottle, just add a dash of green food coloring and pretend every day is St. Patrick's Day. I know I do.
TL;DR
Travel hacks are what you make of them. Make your gear your own, keep your stuff safe, and upgrade on the cheap every chance you get. A little elbow grease and imagination goes a loooong way.
Rainproof your bag with Never Wet
Bike Lights are Better than Headlamps
Stash Extra Cash in Your Deodorant
 A Pen is Better out of it's Shell
Want more like this?
Get weekly gear reviews, travel hacks, and packing tips sent straight to your inbox. As an added bonus, we'll send you a carry on packing list right away.