NYC Weekend Getaways by Train, Bus, & Boat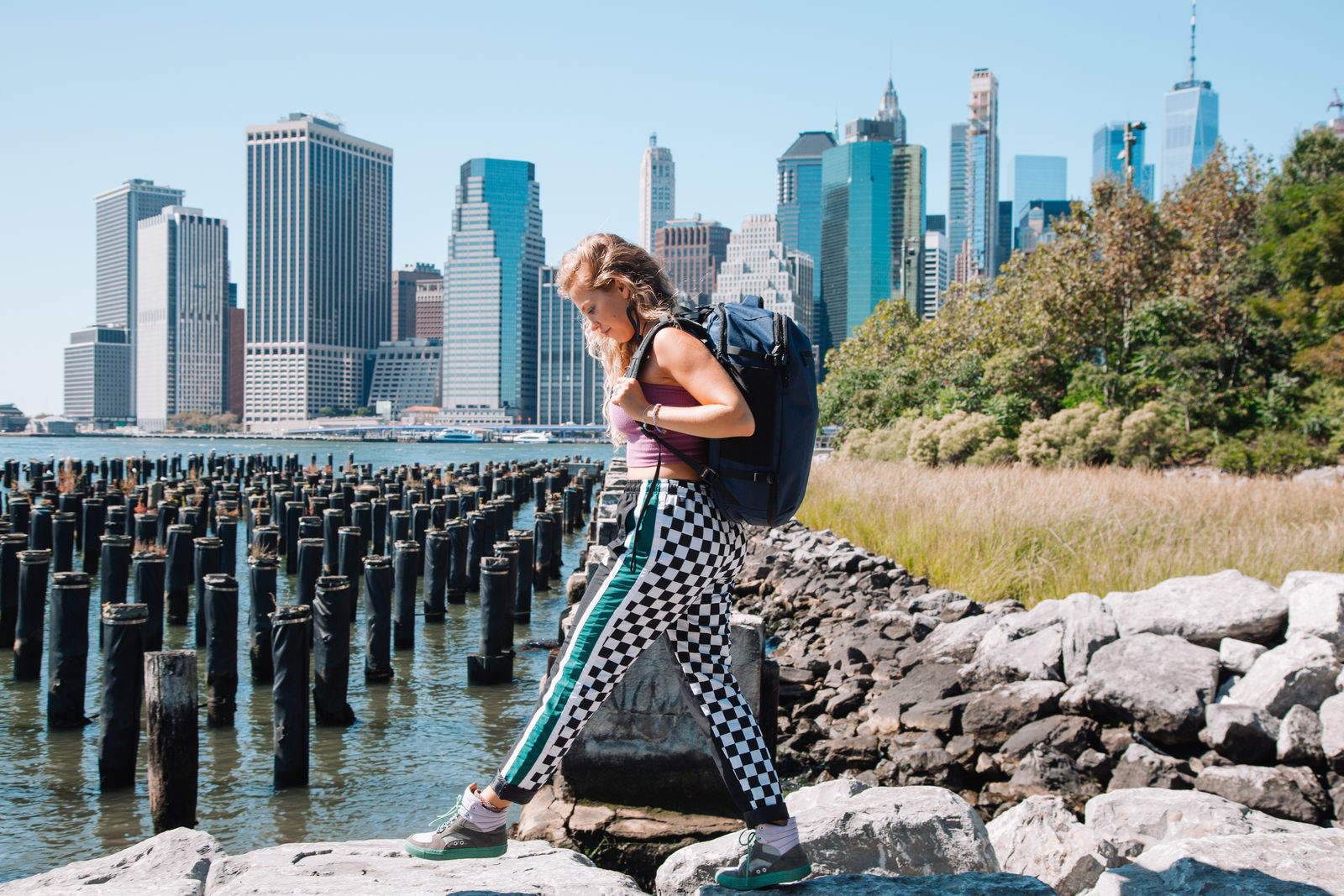 NYC is amazing, but some of the best reasons to live in New York are outside the city limits. Pop the essentials in a travel backpack and plan your NYC weekend getaways by train, bus, or boat and enjoy hiking, camping, museums, nightlife, vineyards, surfing, beaches, and more all within a few hours of NYC.
New York City is the greatest city in the world (come at me, bro), but sometimes even hardcore New Yorkers need a weekend getaway out of the city. There's just one problem with planning that #blessed weekend getaway—you don't have a car.
Worry not, New Yorkers. You don't need to "borrow" your roommate's car to have an awesome NYC weekend getaway. Here are nine awesome NYC weekend trips that you can get to on a train, bus, or even a boat. Yeah. Boats. That's how crazy this list is. Get excited.
9 NYC Weekend Trips by Train, Bus, & Boat
Surfing in Montauk
Wine tasting in North Fork, Long Island
Hiking the Appalachian Trail from Metro North
Surfing in Long Beach, NY
Rock climbing at the Gunks, New Paltz
Hiking the Catskills at Phoenicia, NY
Egging Trump Tower in Atlantic City
Storm King
Camping (and partying) on Fire Island
NYC Weekend Getaway Packing List
Before we get into all the logistics of the weekend getaway ideas listed below, you've got to pack your weekend bag. Every weekend getaway trip is different (shocker), but no matter the season or the reason, this packing list will function as template for practically every weekend trip out of NYC.
Setout Divide $179
If you need a little more space, pack in the Setout Divide. It expands from 26L all the way up to 34L.
The Setout Divide is the perfect flexible carry on for a weekend trip and light packers. You can fit all of the clothes you need for a weekend escape, plus your electronics essentials, even your laptop.
Because you can use the expansion zipper to give yourself an extra bit of space you've even got room to bring home the treasures you find along the way!
Outbreaker Laptop Backpack $225
The Outbreaker Laptop Backpack is the perfect bag for a minimalist or long weekend getaway from NYC.
At 27L, there's just enough room for a couple of days worth of close, your essential electronics, and toiletries.
This bag will take you to work and then seamlessly out of town for the weekend without taking the train all the way home to get a bigger bag. Just go.
What to Pack for a NYC Weekend Getaway
Here's a full packing list for longer NYC trips

Four NYC Weekend Getaways by Train
The best part of living in New York is that you never have to drive again. Ever. The train system serving NYC is one of the best in North America, and includes the following options:
Montauk: Surfing & Bungalows
I know what you're thinking. "Montauk?! Really, guy. Way to kick your NYC weekend getaway list off with the freaking Hamptons. What am I, a Rockefeller?" I hear you, but you've got Montauk all wrong. Montauk isn't the Hamptons (not really), which means a weekend getaway in Montauk is more affordable (and fun) than you think.
Things to Do in Montauk
Montauk has lovely bungalows, hip eateries, and blah blah—Montauk has always been about surfing. No, seriously, Surfer Magazine named it the 8th best surf town in America. That's no small feat for the East Coast. Go big on your weekend getaway and finally learn how to surf on some of the best waves in the country.
Rent a board from Air and Speed Board Shop ($40 day / wetsuits $20 extra) or bring your own. Montauk is surprisingly consistent (rare for the East Coast) with tons of different breaks for all skill levels. For the best results, download the Magic Seaweed app and check the surf before you go.
If surfing ain't your thang, no worries. You can go hiking in Camp Hero State Park (think of the Instagram selfies! #hero) and see the oldest lighthouse in NY—Montauk Lighthouse (you can even go inside). The best part—it's totally free. If walking sucks, rent a bike in town at the Montauk Bike Shop ($40/day).
Where to Eat in Montauk
If the waves suck (it happens), take a swim at Ditch Plains Beach and knock back a Driftwood Ale at Montauk Brewing. The burgers at The Gig Shack around the corner are also solid. If you're a cool kid (with the boat shoes to prove it), the millennial crowd at the Surf Lodge might be more your pace. Enjoy lobster rolls, overpriced cocktails and all the string lights you can handle next to a fire pit RIGHT IN THE SAND. I know. It's hip as hell.
Where to Stay in Montauk
Daunts Albatross Motel ($89/night off season)
This rad little family-run beach motel is packed with amenities like yoga classes, a pool, paddle boarding, horseback riding and access to sweet hiking trails. Keep your eyes peeled for off season deals and live the #blessed life you've always dreamed about.
Getting There: NYC to Montauk by Train (3 hours)
LIRR to Montauk (one way: $29.25 peak / $21.25 off peak)
Take the LIRR to Jamaica Station in Queens and transfer to the Montauk-bound LIRR train OR take the Hampton Jitney (it sounds fancy, but it's a bus) for $28 each way.
Wine Tasting in North Fork, NY
That's right. Despite the infamous "iced tea," Long Island is gaining notoriety for its vineyards in North Fork. "North Fork" is actually made up of 11 little hamlets—like Cutchoque, Mattituck, and Greenport—but don't worry, they're all on the water and all have wine.
Where to Eat & Drink
The steel-fermented chardonnay at Sherwood House Vineyards, and rosé at Lieb Cellars are popular vineyards, but honestly, you could throw a dart at the map and hit a good vineyard. Let spontaneity reign. The MTA even organizes day trips and wine tasting tours ($67) at the Duck Walk Vineyards Tasting Room in Cutchogue that includes transportation, wine tasting, lunch, and a stop at Briermere Farms if you can't decide.
You'll need to keep your tummy full to offset the day drinking so snag a grilled fontina, taleggio & marinated mushroom sandwich (snazzy) at the North Fork Food Truck or just pick your own farm fresh berries (literally everywhere) or go oyster…ing along the shoreline.
Worth mentioning, is that North Fork offers some great beach hikes and places to explore tidal wetlands, like Orient Beach State Park (they have kayak rentals), but let's be real—you're in North Fork to drink wine. Commit to it.
Where to Stay
The Silver Sands motel (and beach cottages) in Greenport are adorable ($125/night includes dinner for two).
Getting There: NYC to North Fork Vineyards by Train (2 hours)
LIRR Penn Station to Mattituk (one way: $29.25 peak / $21.25 off peak) OR take the Hampton Jitney Greenport or Cutchogue ($19 one-way).
Hiking the Appalachian Trail
Yeah. That Appalachian Trail. If you want to wow your coworkers with your weekend plans, just tell em you hiked the AT over the weekend. No biggie. There's just something badass about hiking even a small portion of this epic through hike.
Things to Do
Walking. Lots of walking.
Where to Stay
Camping along the Appalachian Trail is kind of a complicated issue, so I'll let you take a peek at this extensive article on camping along the AT.
Getting There: NYC to the Appalachian Trail by Train (2 hours)
Metro North to Appalachian Trail (one-way: $28 peak / $22 off peak)
The Appalachian Trail Metro North station might be my favorite station in the world. It's essentially a tiny platform with no building attached, no amenities of any kind, no cab service, and only exists for one purpose—to connect New Yorkers to the AT.

Fun fact: This station only cost $10,000 to build, which is amazing.
Surfing in Long Beach
"Wait, Shawn…is this another surf and beach themed NYC getaway destination?" you ask. You're darn right it is. I love surfing and New York City is right on the water, so get used to it.
Things to Do
Local surfers can take the A train subway line to Rockaway Beach, but Long Beach is nicer, less crowded, and the surf is just plain better. Yes, it's harder to get to, but that thins the crowds, and if you have the time to turn your stay into a weekend getaway, that's a good thing. Rent a board or book a surf lesson at Skudin Surf ($65 for a 90-minute group lesson / $40 board rental) and hang as many as you can.
Long beach does charge an admission fee ($12!), which sucks, but the surf really is great. The sand is within walking distance of the train station, so the only hassle is the short train ride.
Where to Stay
Long Beach has plenty of hotels to choose from, like the Allegria Hotel, but honestly, you're just gonna be at the beach all day. Don't waste money on a hotel you won't use. Find a nice AirBnB listing in Long Beach and plop your stuff there for the weekend.
Getting There: NYC to Long Beach by Train (1 hr)
Take the MTA E train to Jamaica, then LIRR to Long Beach Station ($13.50 peak / $9.50 off peak). The MTA even offers Long Beach packages during the summer that includes travel and beach admission for $21.
4 NYC Weekend Getaways by Bus
Yes, New York City buses aren't awesome. I know that, you know that, even people that haven't ever been to NYC know that. But sometimes, the bus is your best option for getting out of NYC for a great weekend getaway. Here are some of your best options:
Rock Climbing at The Gunks, New Paltz
The Gunks (short for Shawangunks) is one of the East Coast's premier rock climbing destinations. The granite rock is perfect for trad climbing (super hard) and the much safer bouldering option, where you don't use any ropes or harness and just… climb (closer to the ground of course). Pay the $17 Mohonk Preserve entry fee and enjoy this granite wonderland.
Never been climbing before? No problem, hire a guide and learn to rock climb the way nature intended—on a rock.
Where to Stay
The American Alpine Club operates a 50-site campground ($24 member / $38 non-member). Amenities are pretty minimal (it has a bathhouse and indoor space for rainy days), but honestly climbing in the rain is no fun, and super dangerous so skip it if the weather looks iffy.
If you're the kind of person that likes walls and doors, book a room at the New Paltz Hostel ($30 for co-ed dorms with private rooms available)
Where to Eat
Bacchus Restaurant Bar & Billiards has 500 beers to choose from, and chili to make you thirsty. You can stock up on snacks at the Bistro Mountain Store, but I'd recommend packing in your own meals.
Getting There: NYC to the Gunks by Bus (90 minutes)
Adirondack Trailways bus from Port Authority to the New Paltz village ($22) Just walk down the street to Rock and Snow and meet your guide. The bus leaves NYC every hour.
The Catskills: Phoenicia, NY
If you want to seem outdoorsy on Instagram, but hiking on mountain ridges isn't exactly your thing, check out Phoenicia, NY, in the Catskills. Secretly on the rise for the past decade, Phoenicia has become a hipster haven for part-time lumberjacks and antiquing couples alike, and features some pretty fantastic river trips.
Located juuuuuust far enough away from the city to keep away the unenthusiastic, Phoenicia is well worth the 3-hour trek. Also, as a (quirky) travel writer I'm contractually obligated to make a Swayze/Dirty Dancing joke if I ever mention the Catskills. But screw that, nobody puts baby in a corner. Damnit.
Things to Do
People in Phoenicia like getting on the water at Esopus Creek. I'm a big fan of making your own canoe, but if you're trying to pack light, Town Tinker rents rafting tubes (with seats!), life jackets, helmets, creek sneakers, and even wetsuits (the water gets cold) for just $40/day (for everything). Even better, they have taxi transportation service to and from the creek for just $5 per trip.
Where to Eat & Drink
The no-frills Phoenicia Diner (try the trout) put the town on the map, but if you're into that trendy tip, try Brio's Pizzeria or Peace Vodka, one of the best bars outside of the city.
Where to Stay
The Phoenicia Black Bear Campground on Esopus Creek is smack in the center of the Catskills, with rustic charm and access to swimming, biking, horseback riding and more. They've even got deluxe options available if you're all about glamping.
Rent a lake house at The Arnold House ($199 for a regular room), Graham & Co ($99) offers free bike rental for guests, and the Spruceton Inn ($69) is a nice budget option.
Getting There: NYC to the Catskills by Bus (3 hours)
Trailways NY runs a dedicated bus line from NYC to Phoenicia ($33)
NYC to Atlantic City by Bus
Yes, Atlantic City sucks. However, it might be worth taking a weekend getaway to the AC just to egg the defunct Trump Plaza before it's torn down. Just saying.
Getting There: NYC to Atlantic City (3 hours)
Take the AC Express Bus from Port Authority ($39)
Storm King Art Buff
I don't think you're legally allowed to have an Instagram account in NYC if you haven't been to Storm King. Located just 90 minutes north of the city, the Storm King Art Center is a sprawling 500 acre nature preserve/art gallery with dozens of sculptures and large scale installations. Some of them are even interesting.
Things To Do
"Look at art" seems like a copout, so pack a picnic and talk about the devolving state of cultural expression in the U.S. on one of the lawns. If you can segue from infrastructure collapse to the shrinking middle class beneath giant metal I-beam sculptures you unlock a special irony sticker on your Snapchat.
Tours are given daily at 2 p.m., but you're were an art history major for two whole semesters, so I'm sure you don't need it.
Where to Stay
A lot of people treat Storm King like a day trip, but the Storm King Lodge is just lovely, and one of the many AirBnB listings in the Storm King area (New Windsor) will let you take your time and really soak up all that culture.
Getting There: NYC to Storm King by Bus (90 minutes)
Coach USA offers a tour-package to Storm King Wed -Sun ($45 roundtrip).
NYC Weekend Getaway by Boat
I don't know how it happened, but everyone in NYC somehow forgot that they live by a bunch of water. Like… a lot.
The Hudson River, the East River, bays, inlets, dozens of creeks, streams, and brooks in every single borough, and oh yeah—the freaking Atlantic Ocean. I actually moved to New York with the East Coast surf scene on my mind, so I always balk when people question my love for the coast here.
New York's proximity to water means ample transport and so much aquatic recreation at your fingertips you might need to go full K. Cos and grow some gills. Here's my favorite weekend getaway in NYC that involves boats.
Camping on Fire Island
Fire Island is one of my favorite places near New York City because even though it's only a two hour trip, when I'm there I feel like I'm miles away from the city. Cars are banned on this 1-mile thick 32-mile long stretch of pristine beach, so you immediately feel the stress leave your shoulders the second you set foot on this slow paced refuge. Plus there's something magical about riding the ferry across the bay, even if it's only a 20-minute ride.
Things to Do
Most of Fire Island is super relaxed. You can stroll Robert Moses State Beach on the west end, hike around marshes and tidal flatlands in the 8-mile long wilderness preserve, or you can lose your mind partying in the Pines and the Grove—the LGBT party area that has thrived for decades. Don't miss the clam shucking festival in Kismet in August (it's kind of a big deal).
Where to Stay
The quaint charm and isolation also mean that there aren't a ton of rooms for rent on Fire Island. Most Fire Island rentals are summer homes that owners sublet by the week or month. Only a handful of hotels will rent for shorter-term escapes, but Ocean Beach, the largest community on Fire Island, has The Palms, and Blue Waters Hotel.
You can also camp at Watch Hill Campgrounds (my favorite spot).
Getting There: NYC to Fire Island by Train & Boat (2 hours)
Take LIRR to the Bay Shore station and catch the Fire Island Ferry ($19 roundtrip) to Kismet, Saltaire, Fair Harbor, Dunewood, Atlantique, Ocean Beach, Seaview, or Ocean Bay Park.
For Cherry Grove, Fire Island Pines or Water Island take the Sayville Ferry ($16 roundtrip / $4.50 for dogs).